History of the Birkin – Sell Handbags Boca Raton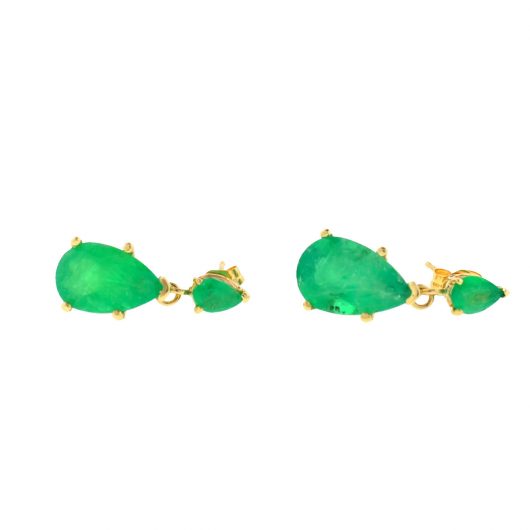 When it comes to high fashion purses, the Hermes Birkin is in a class of its own. Sell handbags Boca Raton.  This purse has been known to be toted around on the arms of countless celebrities and fashionistas. Like many objects of desire, this purse has an interesting history and a reputation that keeps growing in the fashion industry. Read on to find out more about how this purse came to be and its current status in the world of fashion.
The Birth of the Birkin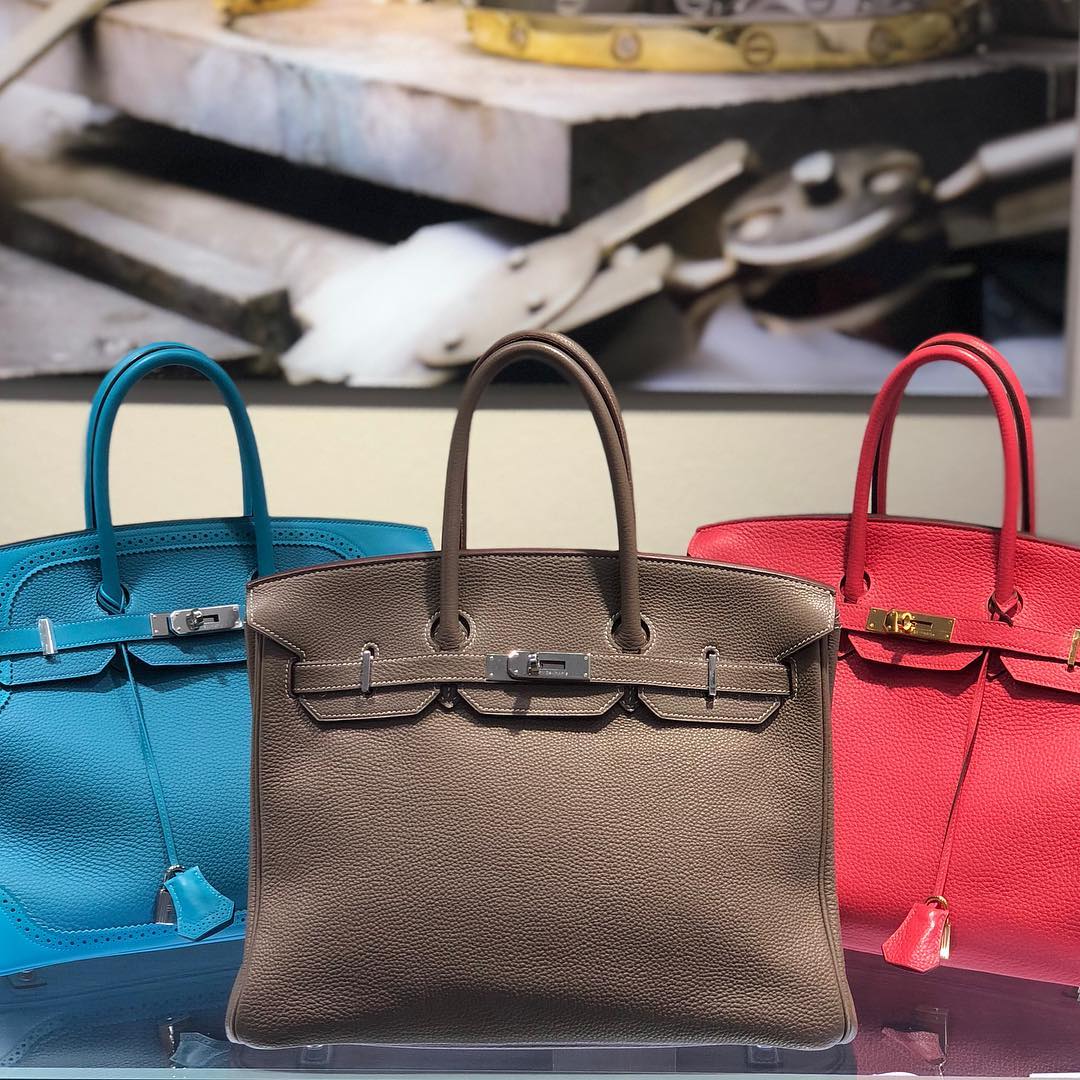 The Birkin first came into being in 1984. It was inspired by Paris based British actress Jane Birkin. The story goes that Birkin found herself sitting next to Jean Louis Dumas, the then chief executive at Hermes, on an Air France flight.
As the two were talking, the contents of Birkin's bag spilled out accidentally. As she was going to retrieve them, Dumas suggested the actress invest in a purse with more pockets. This sparked a conversation regarding the ideal purse and the actress ended up doodling her vision on a sick bag. The purse would be 'bigger than the Kelly but smaller than Serge (Gainsbourg)'s suitcase.
The drawing the actress made served as the model for the Birkin we know and love today.
The Perception of the Birkin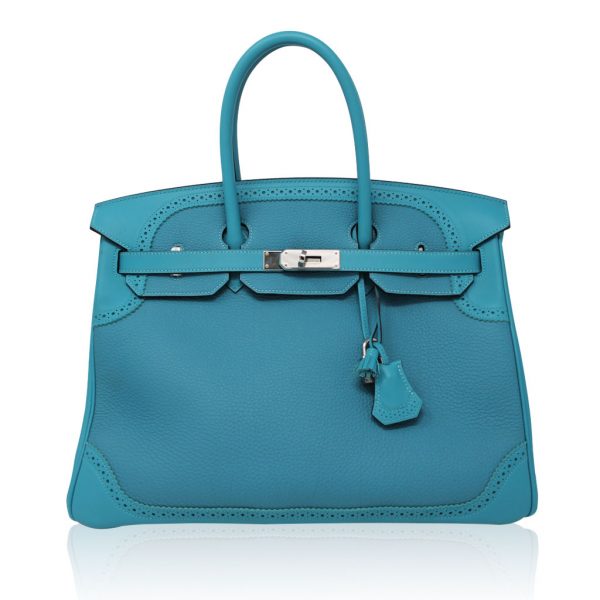 The Birkin marked the beginning of a modern era for Hermes. Previously, the only thing that compared was the Kelly big, which was stiff and boxy in comparison. (An interested aside on the Kelly bag, it was the only other Hermes model named after a celebrity. This celebrity was, of course, Grace Kelly. The purse was originally called the Sac a Depeches but it was renamed in 1956 after a picture was taken of Kelly using it to hide her pregnant belly.)
However, despite the revolutionary status of the Birkin, it didn't really take off until the 90's But once it took off, it took off in a big way. Some say it even changed the perception of the typical Hermes client offering an elegant yet sporty model for the modern woman.
Now, the bag is so high in demand, there is no longer even a wait list for it. The availability is so limited that you can only hope to get your hands on one. Those who can afford one would do so at a price of approximately $7500. However, due to its rarity, it has been known to go for much more than that. One pricey sale includes a red Porosus crocodile Birkin with white gold and diamond hardware that sold for $203,150 at an auction in Dallas in 2011.
Other bags have been auctioned off with the rarest catching the highest prices. Pink and purple top the list here, selling for anywhere from $1200 to $1600.
About the Birkin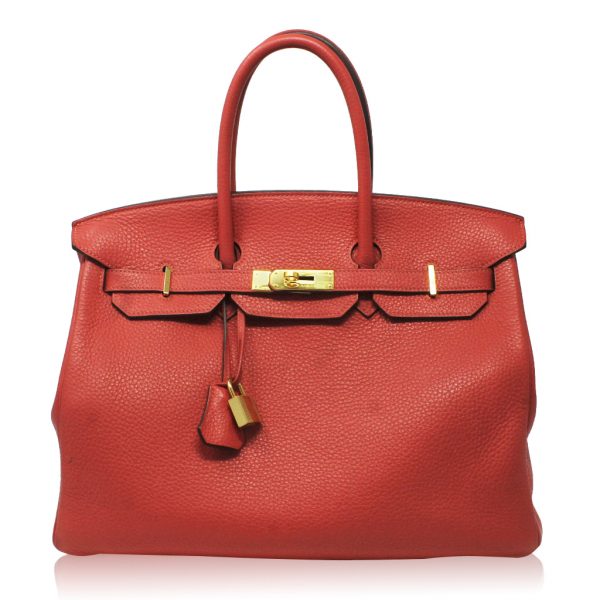 The Birkin can be described as a roomy, elegant yet sporty bag. It features shorter handles that allow it to be carried on the wrist or by hand. There are four studs at the base. It is a larger, rectangular bag with delicate hardware that adds to its upscale look. The bag comes in a variety of colors including over 20 shades of blue and is available in both plain and animal prints including crocodile and lizard skin.
One needs only to open the bag to see its roomy interior. The mouth yawns open and features a variety of pockets that are great for holding a number of items while keeping you organized.
The style of the bag hasn't changed much over the years. Only a few minor adjustments have been made which are featured on the lanyard that houses the lock key. The size of the bag has evolved though. It was originally created at 35cm but now includes mini and travel sizes.
Of course, for those that want to add even more luxury to their luxury, options are available for precious metal and diamond hardware. Other customization can include choosing the color of the seams.
Celebrities and the Hermes Birkin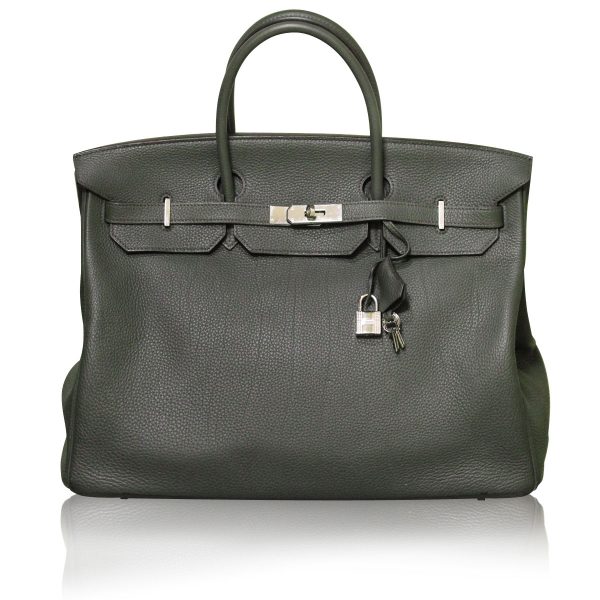 Over the years, several celebrities have been known to have the Birkin heavily featured in their wardrobes. Victoria Beckham is rumored to own around 100 with a price take of around $2.3 million.
In 2013, Kanye West bought then fiancé Kim Kardashian a $40,000 Birkin, custom painted by George Condo, the artist who illustrated West's My Beautiful Dark Twisted Fantasy album cover. Although it is rumored that the bag is unattractive, it's controversial status has made it a timeless piece.
Kate Moss has used the purse as a diaper bag.
Clint Eastwood's daughter, Francesca Eastwood participated in an art project with her photographer boyfriend, Tyler Shields. The two decided they would burn a Birkin, an act that reportedly lead to death threats. However, when all was said and done, the two claimed the bag was an imitation.
And of course, going back to the bag's origins, Birkin is still a proud owner of her own design although she only uses one Birkin at a time and carries them until they wear out. She has joked about the bag's tendonitis causing properties and asked the company if they could produce one from plastic of cardboard so it wouldn't be so heavy. She even plastered hers with badges, stickers and worry beads.
On the more philanthropic side, Birkin has put the making of the bag to good use, insisting Hermes donate a portion of it's proceeds to charitable causes. She has used some of the money she made off the bag to go to Japan for a benefit concert after the earthquake. She has also used it to feed the hungry in France and sold one of her purses to help the Japanese Red Cross.
Other Fun Facts About the Birkin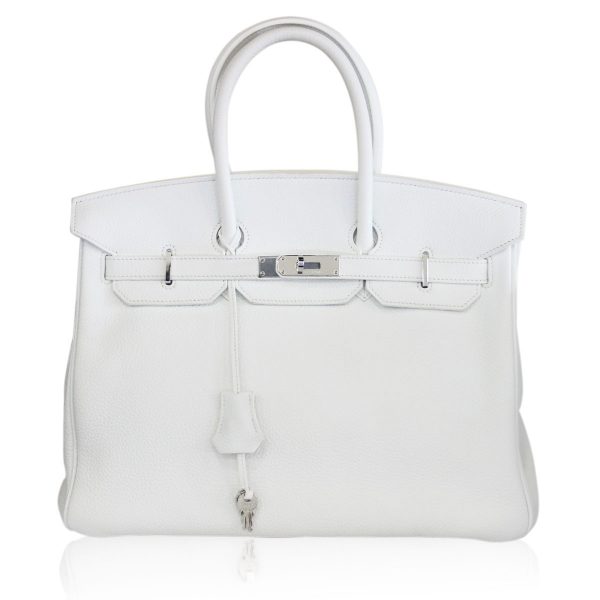 If you are a fan of this luxury design, here are some other things you might be interested in knowing.
It takes 48 hours to create a Birkin. They are crafted by a single artisan in one of the brand's workshops
There are around 200,000 Birkins in circulation. This contributes to its rarity and hefty price tags.
You can rent a Birkin! Though it may be difficult to get your hands on a Birkin to own, the look is rentable. The e-commerce site VillageLuxe will be happy to rent you one for $295 a week. If you love it, you have the option to buy.
A Birkin is a great investment. Studies have shown that a rare Birkin can have an average return of 14.2% over the decades. This beats out the S&P 500 index and the price of gold.
An empty Birkin can weigh up to 2 pounds. This might not seem like a lot, but it can add up when you throw in a phone, wallet, keys and makeup.
Things to Consider When Buying a Birkin
If you have made the plunge and decided to invest in a Birkin, and know where to find one, you should know this is not a decision to be taken lightly. Before you make a purchase, here are some things you should think about in advance.
Check the Condition: When buying a Birkin, you want to purchase one that is in the best possible condition. Though pristine refers to brand new, a rare find, if you are buying one used, you'll want one in excellent condition. This will mean the bag looks new from a foot away, even though it isn't. Very good condition will mean its been used causally and may have some scuffing or darkened handles. Good condition means it is worn.
If you are interested in the condition of your Birkin, online photos can be a good way to tell exactly how worn your bag is. Online photos will allow you to zoom and enlarge as opposed to a catalogue photo which will make the item look as attractive as possible.
Color: Most opt for Birkins in neutral colors like black, beige, gray, gold or brown. If you already have a neutral Birkin, you might opt for a second one in a more exciting shade. Hardware can be plated gold or plated palladium (of the platinum family) and may be a matter of personal choice.
Choose a Durable Leather: Avoid Swift (called Gulliver in earlier versions). This material tends to scratch easily and doesn't hold its shape. Popular leathers are Clemence and Togo which are textured and therefore hold shape better. Ardennes (which has been discontinued) and Fjord are bother strong and durable and these, along with Clemence and Togo, are scratch and water resistant. Calbox and Bernia are two attractive heritage Hermes leathers but they tend to scratch and darken over time.
Decide on a Price: Even though your Birkin will be a good investment, you don't want to go over budget. Figure out what you can afford and factor in a 25% buyer's premium that you will have to pay the auction house.
Bidding Live is an Option: You don't have to be live to bid. You can do so on the phone or online.
Don't Jump Right In: Wait for others to make their bids before making yours. If you are outbid, remember, its important to stay within your budget.
Keep Your Options Open: If you have your heart set on one bag, you are likely to overbid, letting your feelings rule your rationale. It is best to keep your options open, so if you don't get the bag you want, there will be another you are happy with.
Making Your Birkin Work for You
Because Birkins are such great investments, they may be able to get you out of a financial bind. Obviously, selling your Birkin is always an option, but many do not want to part with such a valuable and rare fashion item. Those that feel that way, may consider getting a loan with a pawn shop.
Pawn shops may have gotten a bad rap over the years, but many of them are city regulated, well lit establishments owned by people who are looking to build a reputation as a trusted neighborhood business.
If you are looking to get a loan for your Birkin and are looking for a trustworthy pawn shop in the area, make Boca Raton Pawn your first stop. Boca Raton Pawn always offers the highest values and lowest interest rates. They have been building a reputation in the Boca Raton area and have become well known as a trusted local business.
If you are interested in getting a loan for your jewelry at Boca Raton Pawn, here are a few things you should know in advance:
What items does Boca Raton Pawn accept?
In addition to your Birkins, Boca Raton Pawn buys other high end hand bags as well as luxury jewelry and watches. They are particular about the brands they accept, so it is best to consult their web site in advance to find out if your item will be eligible. Of course, items should be in good condition in order to be accepted for a loan and the better the condition, the higher evaluation you will receive.
How Does the Pawn Process Work?
You can stop into the Boca Raton pawn shop with your item at any time. Their trusted brokers will evaluate your item and let you know what they are prepared to give you in terms of a loan. Although pawn shops will not give you loans equal to the full amount of your item, Boca Raton will always give you the highest values possible.
Then you will discuss the terms of your loan. You will make monthly payments that include fees and interest rates. Once you are done paying off your loan, you will get your item back. If you are unable to successfully pay off your loan, the shop will keep your item, but this will never affect your credit or end up going into collections.
What Else is There to Love About Boca Raton Pawn?
Not only is Boca Raton a trusted local pawn shop that offers the highest values and lowest interest rates, they also have great deals on gently used luxury items. Come into their showroom to find out about the great savings this business offers or to help you get out of a cash crunch. BRP is here to help their community thrive.