Evolution of the Rolex Presidential – Pawn Rolex Boca Raton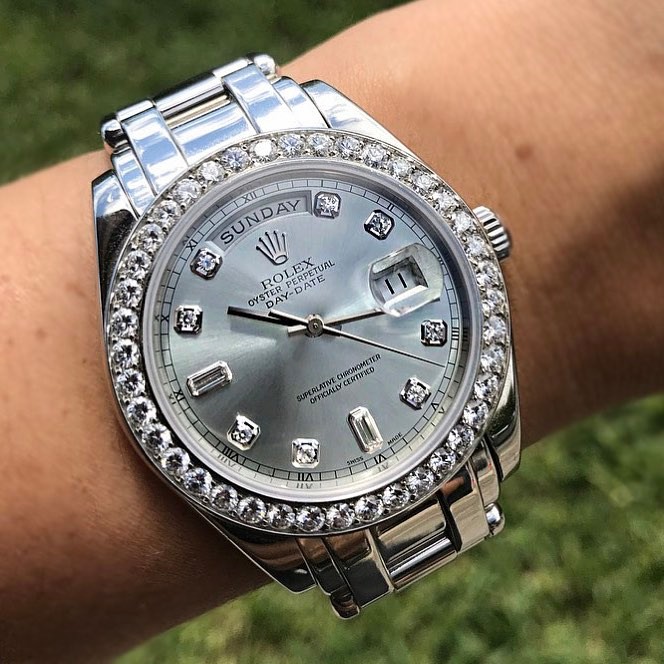 When we think of great watches, there are many that come to mind; but not many have earned the distinction of being called the President watch. Displayed on the wrist of many a great men, this watch was created in 1956 as the Day-Date but gained its title after being spotted on the wrist of President Lyndon Baines Johnson. Find out more about this great watch, the story of its illustrious past and why buying one might just be one of the best investments you'll ever make.  Pawn Rolex Boca Raton.
The Day Date Throughout the Years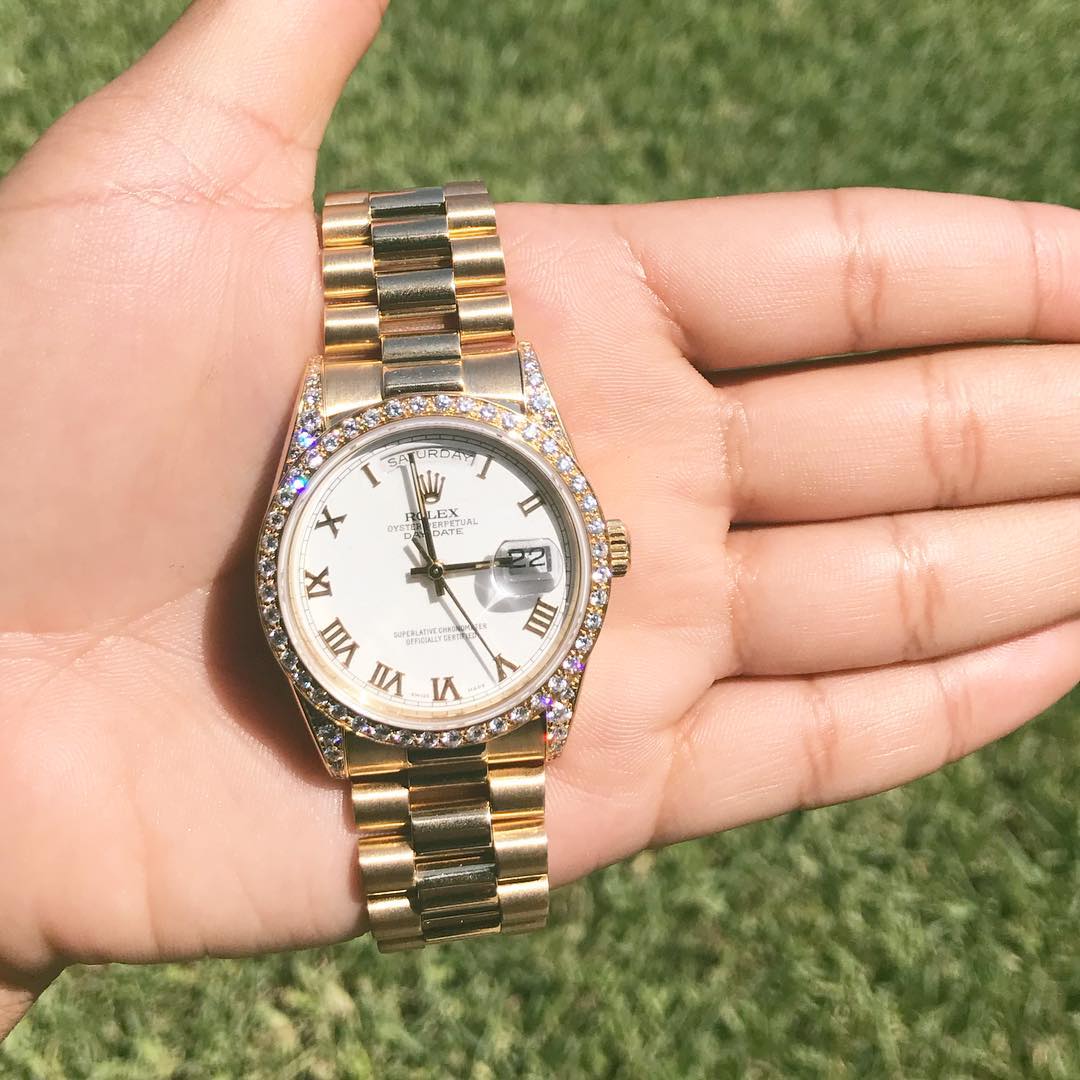 The first Day Date was created in 1956 and was the height of luxury watches since it first appeared. Made exclusively of precious metals, the watch was eh first to include the day of the week written in full along with a date window positioned at 12 o'clock.
Its band is another stand out that gives the watch character. Named the President bracelet, it is characterized by semi-circular links that make it almost as famous as the watch itself.
Updated models of the watch have been released over time, and some incremental technical modifications and design enhancements have been made, but the watch has remained mostly the same over time. Keeping this in mind, here are some ways the President has evolved over the years.
1950's – 1970's: The first Day-Dates to appear were the ref. 6510 and 6511. Though the watches were stunning, they were in need of improvement as far as the mechanics of the movement. To that end, the 1800's series was introduced in 1959.
Of the watches in the 1800 series, the 1803 is most famous. It is known for its gold 36mm case, gold fluted bezel and gold Presidential bracelet. It is available in yellow gold, white gold and rose gold. The rose gold model comes with a 'pie pan' style dial that features a perimeter that drops down and adds to the aesthetic appeal of the watch.
The 1803 model would remain in production until the late 1970's although the movement improved over the years. It originally ran on 1555 automatic movement but was later replaced with higher beat Cal 1556 automatic movement. In 1972, a hacking feature was added which meant the second hand would come to a complete stop when the winding crown is pulled out.
1970's – 1980's: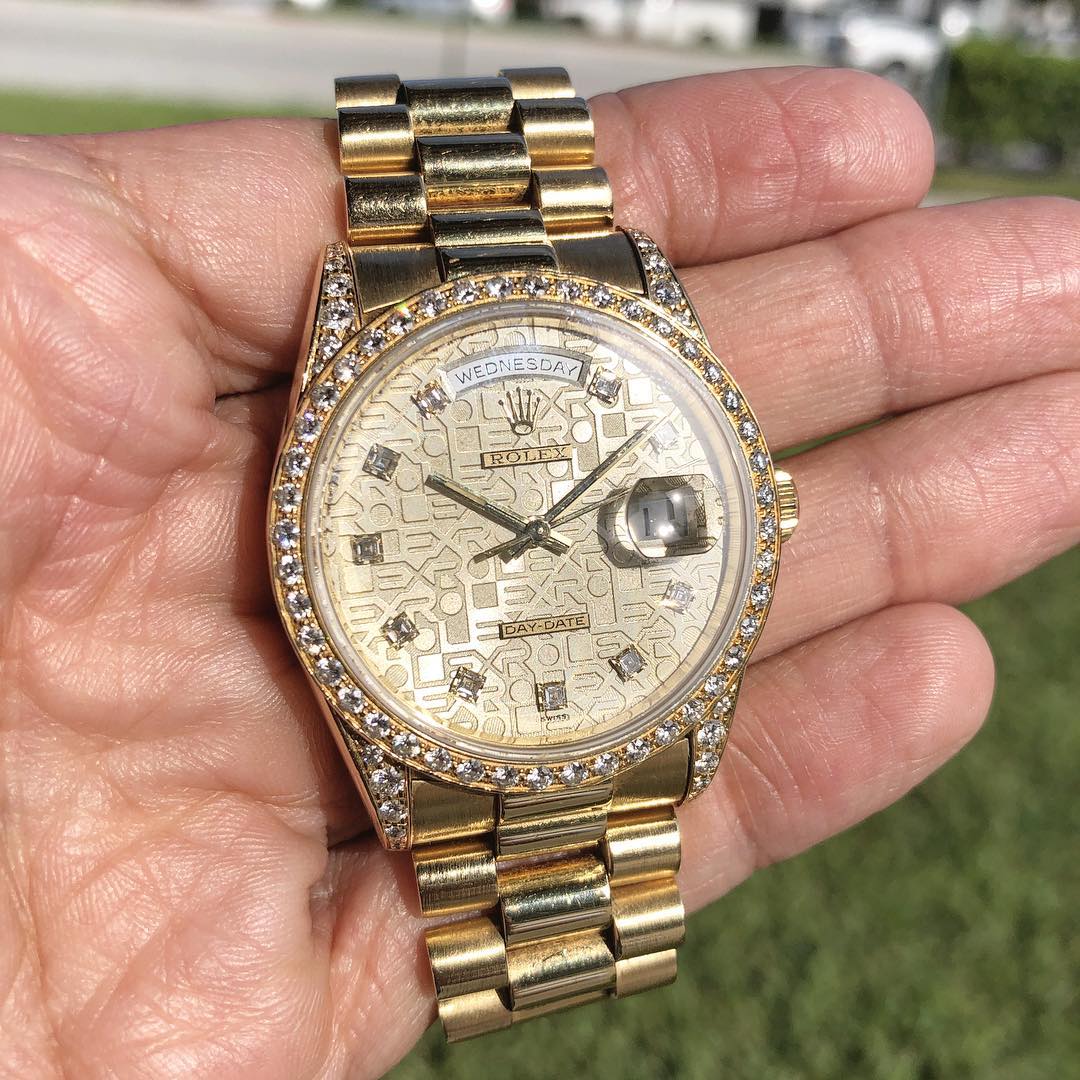 In 1977, the movement of the Day-Dates would be updated again. Though still available in various precious metals and with different types of bezels, the movement was now Cal. 3055 which featured a higher frequency rate of 28,800 beats per hour.
It also offered improved quickset date functionality allowing the date window to be set independently from the center hands.
That same year, Rolex would also launch another version of the Day-Date watch, he Oysterquartz. Powered by Rolex Cal. 5055 quartz movement its design was a bit different as compared to other Day Dates.
The Oysterquartz did feature the same 36 mm case, but it's distinctive angular shape made it appear to look a bit bigger on the wrist. It also features a unique integrated style which is characteristic of Oysterquartz watches. However, like other Day-Dates, it is available in both white and yellow gold.
1980's-1990's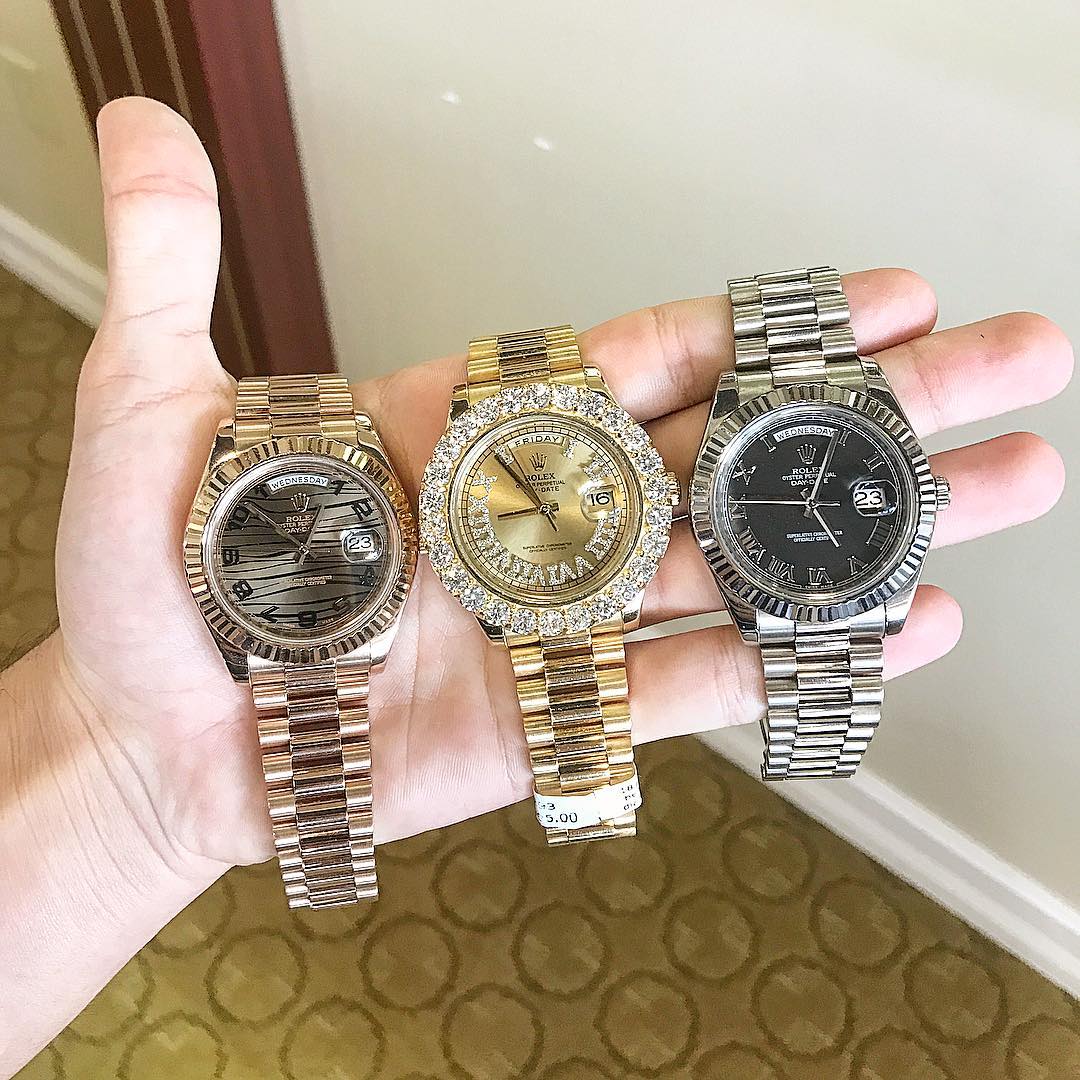 1988 would mark the debut of another day-date movement, the Cal. 3155. These watches featured 182xx and 183xx reference numbers with the 183xx's featuring diamond cases. The new movement brings double quickset functionality allowing wears to set the day and date windows independently of the center hands.
2000- 2008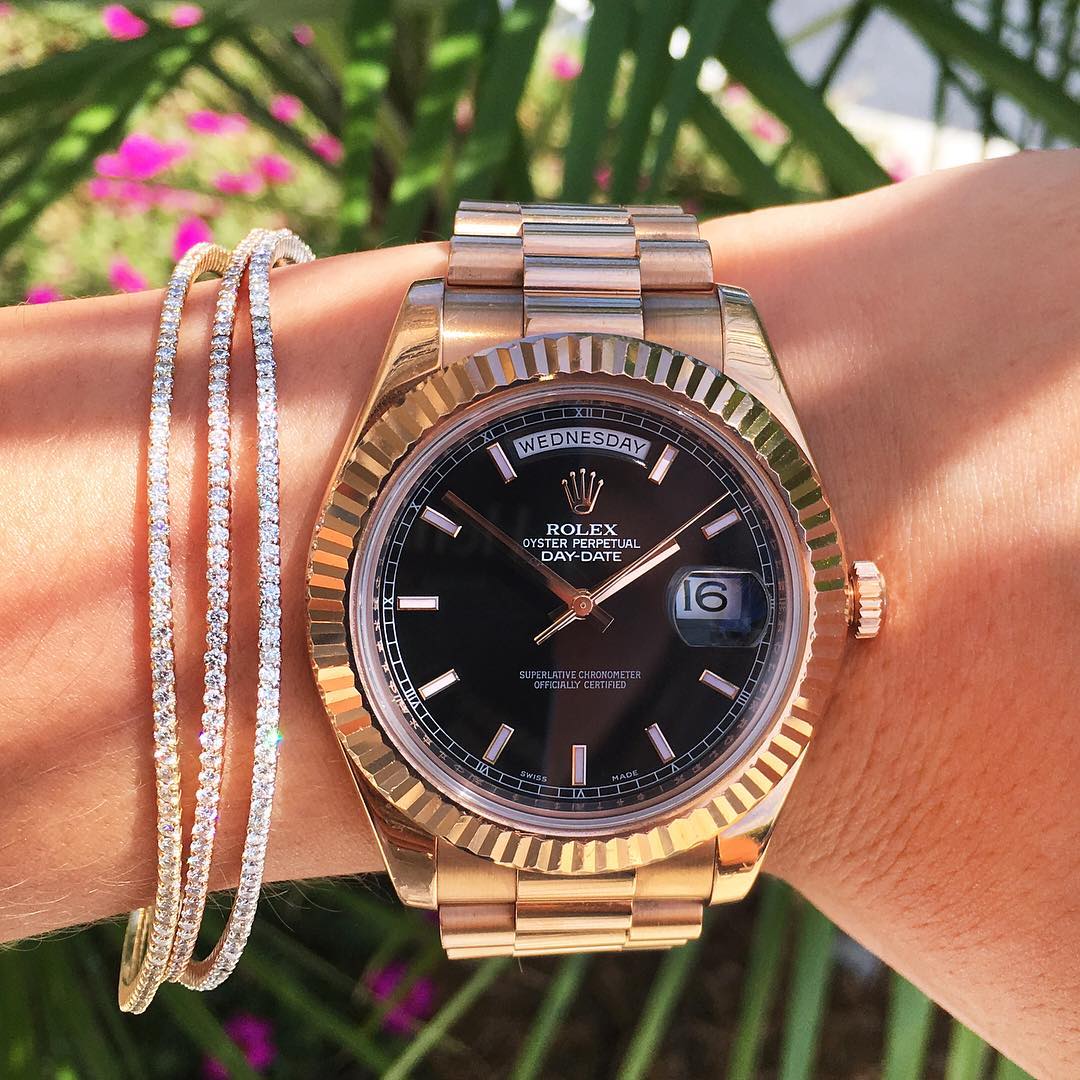 In the year 2000, the latest version of the Day Date would appear featuring a six digit reference of 118xxx. Thes watches had the same Cal 3155 movements and 36 mm Oyster cases, but have improved bracelets and clasps. They are available in white, gold and yellow gold and platinum. There are plenty of options in diamonds and dial choices and wearer can also choose a leather strap or the famous Presidential bracelet.
2008 – 2015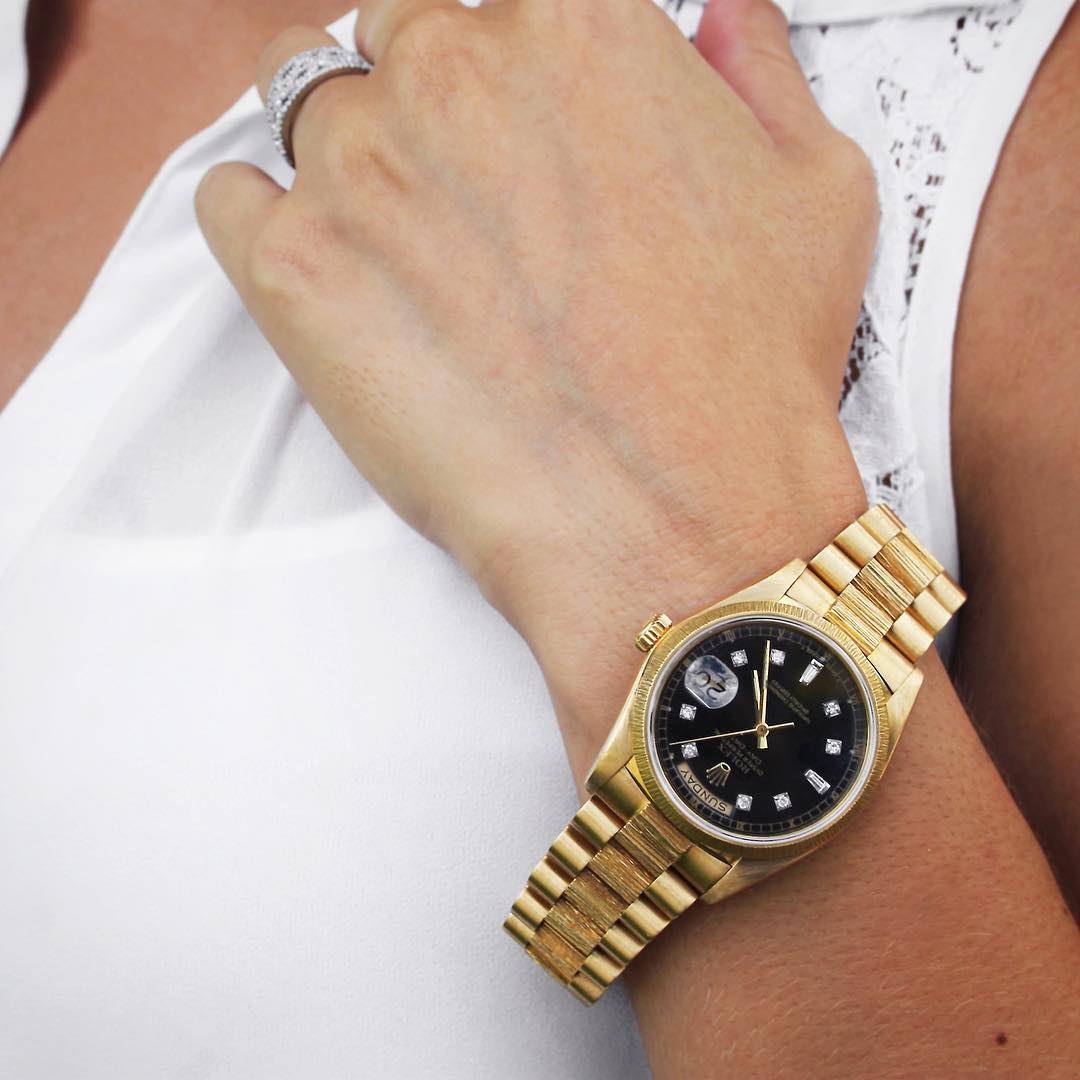 In 2008, the Day Date II collection was released. This more modern version brought the watch a sportier look with a larger 41 mm case, and was available in yellow white and rose gold as well as platinum. The watch used 3156 automatic movement and 48 hours of power reserve.
2015-present
The Day Date II would soon be replaced by the Day Date 40 which featured a slightly smaller case at 40mm. It also ran on updated Cal.3255 movement that comes with a longer power reserve of 72 hours and an improved accuracy rating coming with in 2 seconds of the correct time at all times of the day.
In 2016, a new Day Date was released at Baselworld to commemorate the watch's 50th birthday. The watch's metal was Everose gold and its dial featured its green signature color.
The President's Brushes with Fame
As stated earlier, the President watch got its name after being spotted on the wrist of President Lyndon Baines Johnson. But that wouldn't be the watch's first brush with fame…nor would it be its last.
The first Day Date was given to General Dwight D. Eisenhower in 1951, five years before its initial release. The 18 karat yellow gold watch was bestowed on the president in celebration of its 150,000th chronometer. The watch was engraved with the generals initials DDE as well as five stars for his rank. Eisenhower would later be pictured wearing the watch on the cover of Life magazine.
1962 would mark the year when Marilyn Monroe did her famous rendition of Happy Birthday for President John F. Kennedy. That same night, she reportedly gave him a Rolex Day Date inscribed "Jack, with love as always from Marilyn, May 29th, 1962. The President told an aide to get rid of it but apparently is resurfaced and was sold to a bidder for $120,000.
1963-1966 would mark LBJ's time in office. During this time, the President would wear the watch frequently, emphasizing its connection to the oval office.
Billionaire investor Warren Buffet has been wearing the same Rolex President for years. He relies on it to get him to meetings and admits he would like to add the company to his collection.
The Tony Soprano television character often sported a Rolex President. The one he wore was 18 karat gold with a champagne dial and served to establish him as a powerful businessman on the series. In real life, the actor who played him, Hames Gandolfini, preferred the Rolex Submariner.
Why the President Watch is a Great Investment
Any luxury watch can be a great investment, but Rolex is a name that is almost synonymous with luxury watches.
When thinking of Rolex watches that make the best investment, the Day Date is definitely up there. This may be due to their classic, streamlined appearances, exquisite finishes and reliable functionality. A platinum gold or 18 karat watch that is in god condition can definitely catch a pretty penny when sold at auctions, on auction sites or at a pawn shop.
But you don't necessarily have to sell your watch to cash in on it's potential to be a great investment. After all, for many these watches hold a great amount of sentimental value that makes them hard to part with.
That's why getting a loan for your watch can be another great way to get out of a cash crunch. If you've never gotten a loan for your luxury items, here's a bit about how it works.
Getting a Loan for Your Rolex President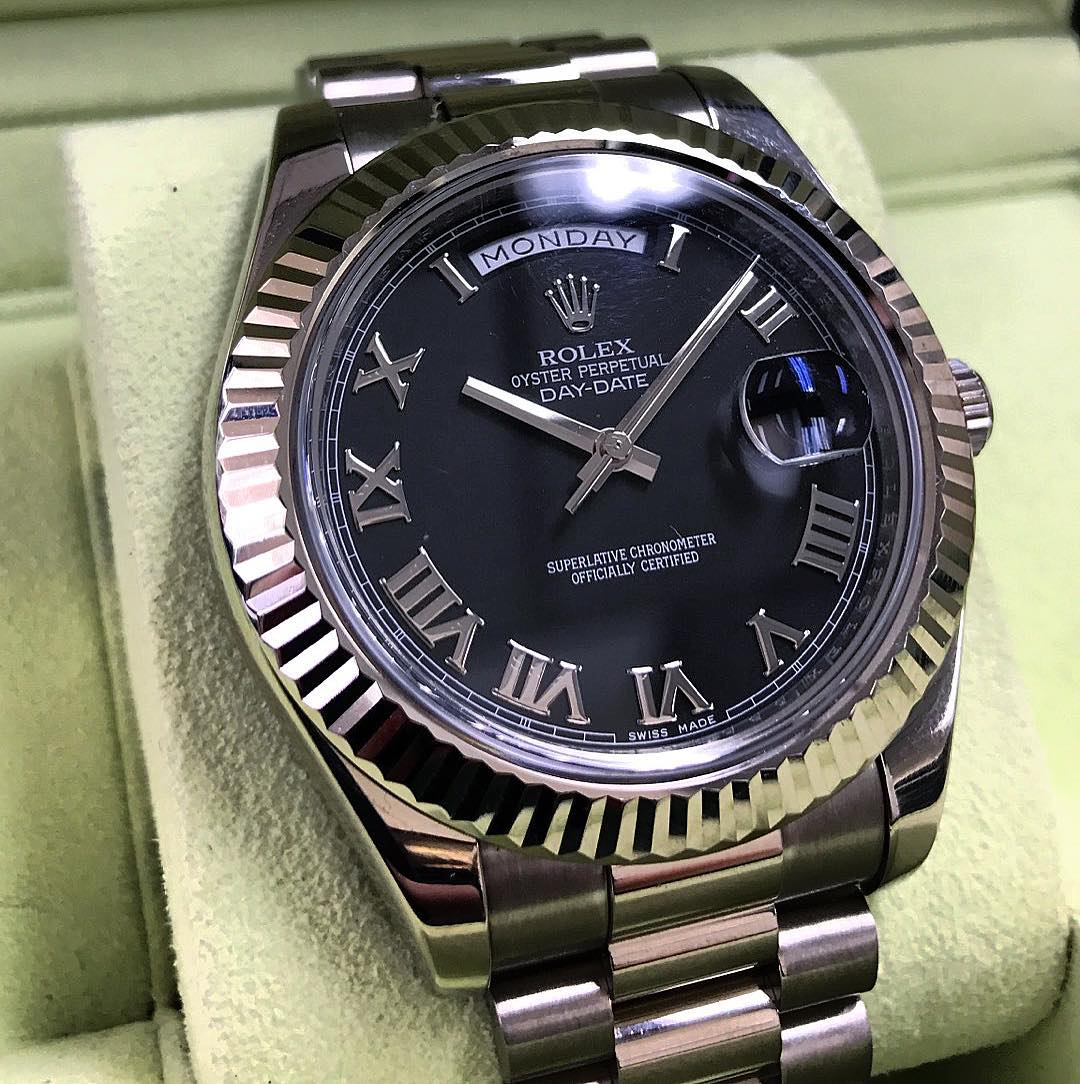 If you are interested in getting a loan for your watch, or any other luxury item, a pawn shop is the way to go. To get a loan at a pawn shop, just bring your item in at any time. Their brokers will appraise your item and offer you a loan which will be for a percentage of the total value of your item.
The terms of your loan will then be worked out. Though terms may vary from shop to shop, the general idea will be that you will make scheduled payments which will include the amount of the loan as well as fees and interest rates.
Once the loan is paid off, you will get your item back. If, for any reason, you are unable to pay off your loan, the shop will keep your item, but the unpaid loan will never go into collections or reflect poorly on your credit.
Finding the Best Pawn Shop for Your Loan
You may have heard things about pawn shops in the past that might make you think they aren't reputable places to do business. However, the truth is, most pawn shops are run by respected members of the community. On top of that, pawn shops are often state regulated so that they must follow a code of ethics that stay in line with respectable business practices.
https://www.forbes.com/sites/msolomon/2016/10/04/a-brief-history-of-the-rolex-president-watch/#538a61f27cd7