Why the Rolex 126331 Chocolate Diamond Watch is the Perfect Accessory for Your Professional Wardrobe
Why the Rolex 126331 Chocolate Diamond Watch is the Perfect Accessory for Your Professional Wardrobe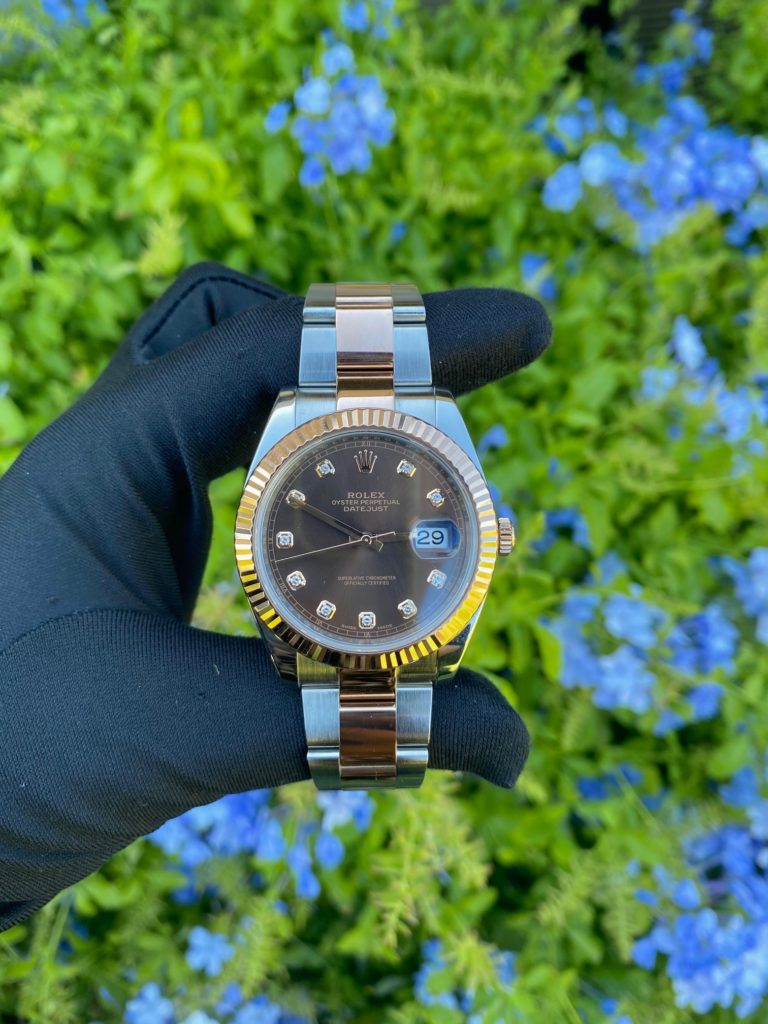 For many men, watches are a sign of status. The right watch sends a message of elegance, sophistication and success.
There are many watches out there that any man would appreciate wearing on his wrist, but the Rolex name says it all. Rolex is a well-known men's luxury watch manufacturer. The company stands for quality and the pieces they make have a classic look that endures the test of time.
Rolex makes various watches in all sorts of colors and designs, but the Chocolate Diamond watch is, by far, one of their finest. The watch has a broad, masculine face, diamond number markers and an oyster link band. There's a separate window for the date. And just the name Chocolate Diamond has a melt in your mouth appeal that lets you know they weren't fooling around when they made this baby!
Rolex watches are quite expensive, but the smart shopper will know there are plenty of opportunities to get one at a lower price point. Boca Raton Pawn is a luxury secondhand dealer who has the Rolex 126331 Chocolate Diamond and other luxury watches in stock. Read on to find out more about the Rolex Chocolate Diamond and how BRP can get you a great deal.
History of Rolex
Rolex was founded by Hans Wilsdorf and Alfred Davis in London, England in 1905. Originally called Wilsdorf and Davis, the company rebranded as Rolex in 1908. They preferred the name Rolex because it was small enough to fit on a watch face and it was easy to translate in a variety of languages.
The company started out importing Hermann Aegler's Swiss movements to England and placing them in watch cases made by Dennison and other manufacturers. The watches were then sold to jewelers who put their own name on the dial.
Wilsdorf and Davis's watch experience provided them with the insight necessary to address problems with watches and find solutions. They developed designs that were resistant to dust and water. They also patented a self-winding mechanism.
Rolex's innovative spirit made the company a leader in its field. It would continue to receive awards and be recognized for its' achievements. In addition to bringing innovative technology, Rolex makes watches with a classic look that is appealing to a wide variety of high-end clients.
Introducing The Datejust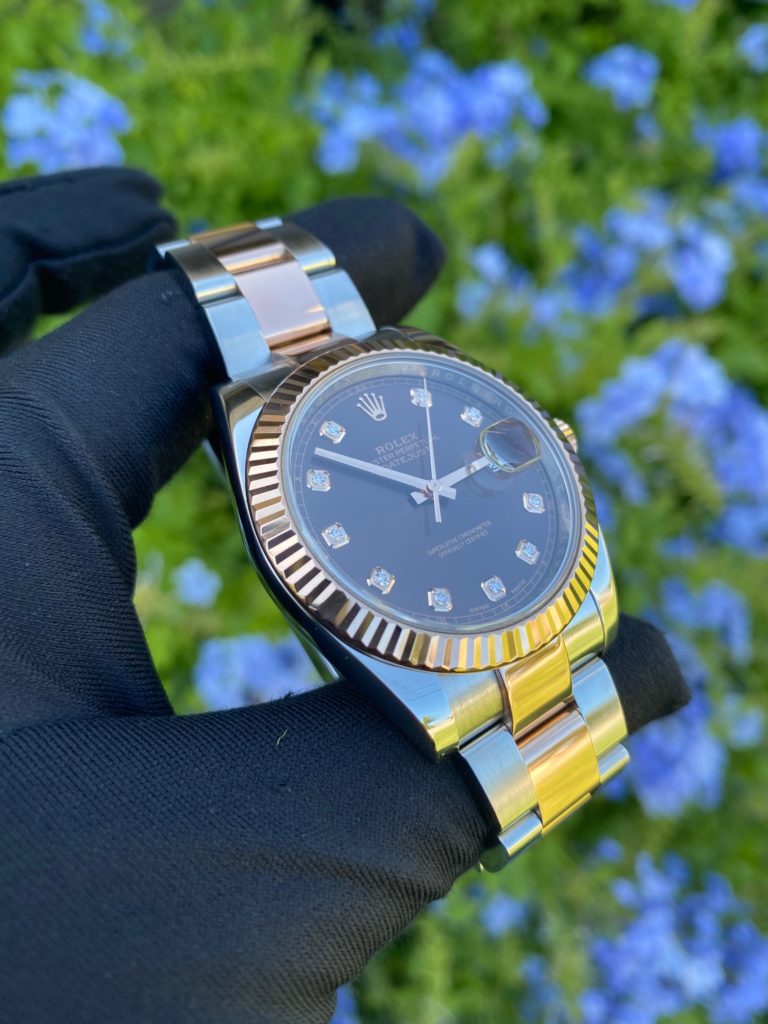 The 126331 Chocolate Diamond Watch belongs to the Datejust family.
The Datejust was first released in 1945 as the first self-winding waterproof chronometer watch to display the date in a window at 3 o- clock on the dial. It consolidated all the innovations Rolex contributed to the world of watchmaking up to that time. It still ranks as the best-selling Rolex.
The watch comes with a variety of bezels including smooth, domed, fluted or set with diamonds. The fluted bezel is crafted from an 18ct. white, yellow or rose gold. Bezels can be partially or fully set with brilliant cut diamonds selected by in house experts.
The Datejust may be equipped with calibre 2236 (for the Datejust 31) or 3235 (for the Datejust 36 and Datejust 41). These are self-winding movements that offer the utmost in precision, power reserve and resistance to shocks and magnetic fields.
The Datejust was originally released with a 36 mm face (Datejust 36) but, as demand grew, people wanted Datejusts in a variety of sizes. The 31 was created for those who preferred a more delicate face. The 41 had a broader face and a sportier look.
The 126331 Chocolate Diamond watch is a Datejust 41. Its broad face makes it easy to read and provides a look that transitions from elegant to casual.
The Chocolate Diamond Watch 126331
Rolex has made many watches in its time, but the Rolex 126331 is something special.
The 126331 belongs to the Chocolate Diamond family, so called because of the rich brown color of the face complemented by diamond number markers. Here are some other features that make the watch unique.
⦁ 18K rose gold bezel
⦁ Steel and 18K rose gold bracelet
⦁ Automatic movement
⦁ Scratch resistant crystal sapphire
The Face
The face of the Chocolate Diamond 126331 sets it apart. Its larger size makes it easy to read and gives it a sporty appeal. This is complemented by the etched detail surrounding it. Its sparkling number markers are set against a dark chocolate background that  provides a luxurious aesthetic.
The Bracelet
Rolex watches are known for their exquisite faces, but the technology of their bracelets is what sets the brand apart.
Rolex is known for producing bracelets that are the ultimate combination of form and function. Their glidelock feature makes for a double expansion bracelet that is perfect for underwater enthusiasts.
Divers can expand the band to 20mm in 2 mm increments while the Fliplock extension links enable the band to be adjusted by an additional 26mm.  This allows it to adjust so it can be worn over diving suits.
The Oyster bracelet is a Rolex trademark. Introduced in the late 1930's, it features flat three-piece links that are as comfortable as they are attractive.
The bracelets are also characterized by an elastomer material exclusive to the Rolex brand. The material has all the durability of a metal bracelet with the comfort and flexibility of elastic.
When to Wear the Datejust Chocolate Diamond 126331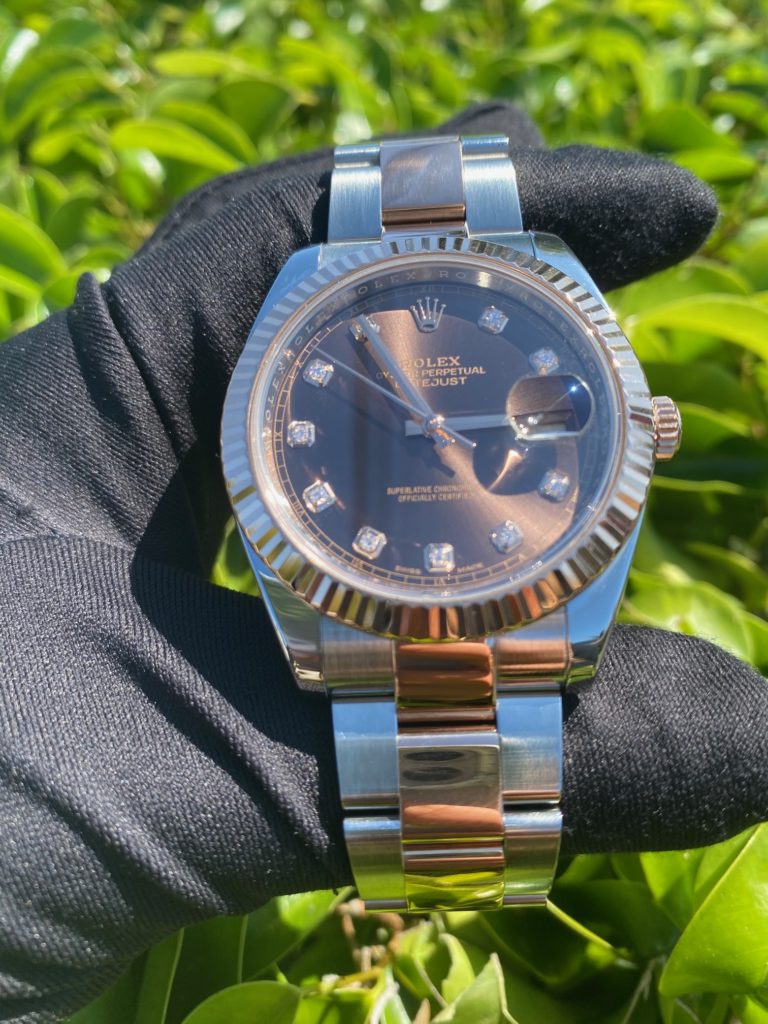 The Datejust Chocolate Diamond has a classic look that can be worn for any occasion. It goes as easily with a suit and tie as it does with a t-shirt and jeans. It's sporty characteristics also make it perfect for athletic events including deep sea diving.
Rolex makes watches that enhance the style without stealing the show. Therefore, they go with just about any look.
Some people will wear watches picking a face matches their outfits. The chocolate brown is a neutral color that will go with anything.
The bracelet features a mix of steel and rose gold. The steel has a casual look that is countered by the high-end gold. This allows it to transition easily from day to nighttime styles and makes it stylish for a variety of occasions.
How to Care for Your Datejust Chocolate Diamond 126331
A Datejust Chocolate Diamond is a valuable piece, and it must be treated with care. Fortunately, it is so well made, it will withstand the test of time. That being stated, there are a few things you can do to keep it in great shape.
If the watch is looking like it needs a pick me up, wipe it gently with a microfiber cloth. You can also wash the case and bracelet using soapy water and a soft brush. Before cleaning, make sure the stem is pushed in to keep moisture out of the interior.
If you go diving with the watch on, you may find remnants of salt and sand. These can easily be rinsed off. If you wear your watch in the shower, it should do the trick.
How to Get the Look for Less
A Rolex is a dream for many people. Unfortunately, it comes with a high price tag that makes it difficult to afford. The good news is, there is a way to get a Rolex at a lower price tag and that's buying used.
There are many avenues available for purchasing used watches, but the problem with many of them is you just don't know who you are buying from. For instance, if you buy from someone on Ebay, you take a risk on ending up with something that's not authentic. And if you are not buying from a business, you may not have many options when it comes to getting your money back.
Boca Raton Pawn is a trusted dealer in used luxury goods. Most of our items, including the Datejust Chocolate 126331 we have in stock comes with a watch, box and card that lets you know it's the real deal. And if you have an issue with the item you bought, you know where to find us.
The fact that we sell luxury items for less makes us a customer favorite, but that's not the only reason you'll want to shop at our store. Here are some other features we offer.
About Boca Raton Pawn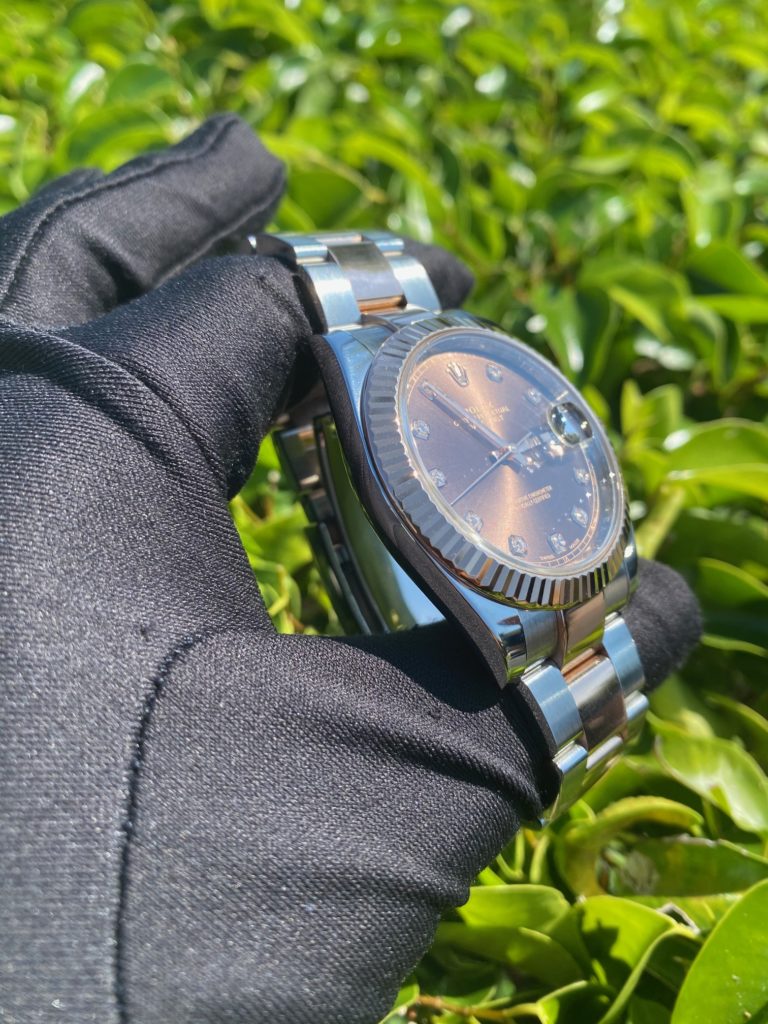 Boca Raton Pawn is located in the South Florida area. You can come into our shop or take advantage of our deals by purchasing online. We ship to anywhere in the United States.
In addition to selling luxury watches, we also sell other upscale items such as jewelry and handbags. Our extensive experience in the luxury industry means we know what we're dealing with when it comes to prices and authenticity.
Collateral Loans
Boca Raton Pawn is also a great source if you are short on cash because we offer collateral loans. Here's how the process works.
Let's say you have an item at home that you think may be worth some money. Despite being short on cash, you don't want to sell it, but how about putting it on loan?
To put your item on loan, all you have to do is bring it into your local pawn shop. The shop will appraise the item and offer you a loan based on how much it is worth. Note, the loan will not be for the full value of the item but a percentage of its cost.
If you agree to the amount, you leave your item at the shop and walk away with cash in hand.
Of course, you will have to pay off the loan. The payments you make will be for the amount of the loan plus fees and interest.
The terms of the loan may vary, but once it's paid off, you'll get your item back. If you are unable to pay the loan, the pawn shop will keep your item, but the transaction will never show up as a blemish on your credit score.
Boca Raton Pawn is a terrific destination for collateral loans. We offer discreet services and private appointments are available. Our fees and interest rates are low ensuring you get the most out of your loan.
Things to Know About Boca Raton Pawn's Collateral Loans  
If you have a piece that you think Boca Raton Pawn might be interested in, there are a few things you should know before you come in. These include the following:
Condition Matters: The watch you have may be listing for thousands of dollars, but remember, you won't get that price unless it's in good condition. Before loaning your item, take some time to clean it up and make any repairs that are necessary. This will all factor into how much it will appraise for.
Authenticity Matters: With all the fake stuff that's going around today, people want to know that what they are buying is real. Our experts can tell the real stuff from the fake stuff, but that doesn't mean the customers will take our word for it. If you want to get a high value for the item you are loaning, it's best to bring a certificate of authenticity. A receipt or the original box will also be helpful, but the certificate cannot be refuted.
Brand Matters: Boca Raton Pawn accepts a wide variety of designer brands. However, if your item is not on our list of preferred designers, we may not be able to accept it. You will want to look on our web site and find out if your item brand is listed before bringing it in.
A Rolex Chocolate Diamond Watch is an item to treasure. While most find this piece unaffordable, Boca Raton Pawn has a way for you to get it for less. Plus, we offer great service and collateral loans that will get you out of a financial bind.
So what are you waiting for? Visit our South Florida store or browse our web site. We guarantee you will leave with a smile on your face no matter what your reason for visiting may be.