History of the Chanel Flap Bag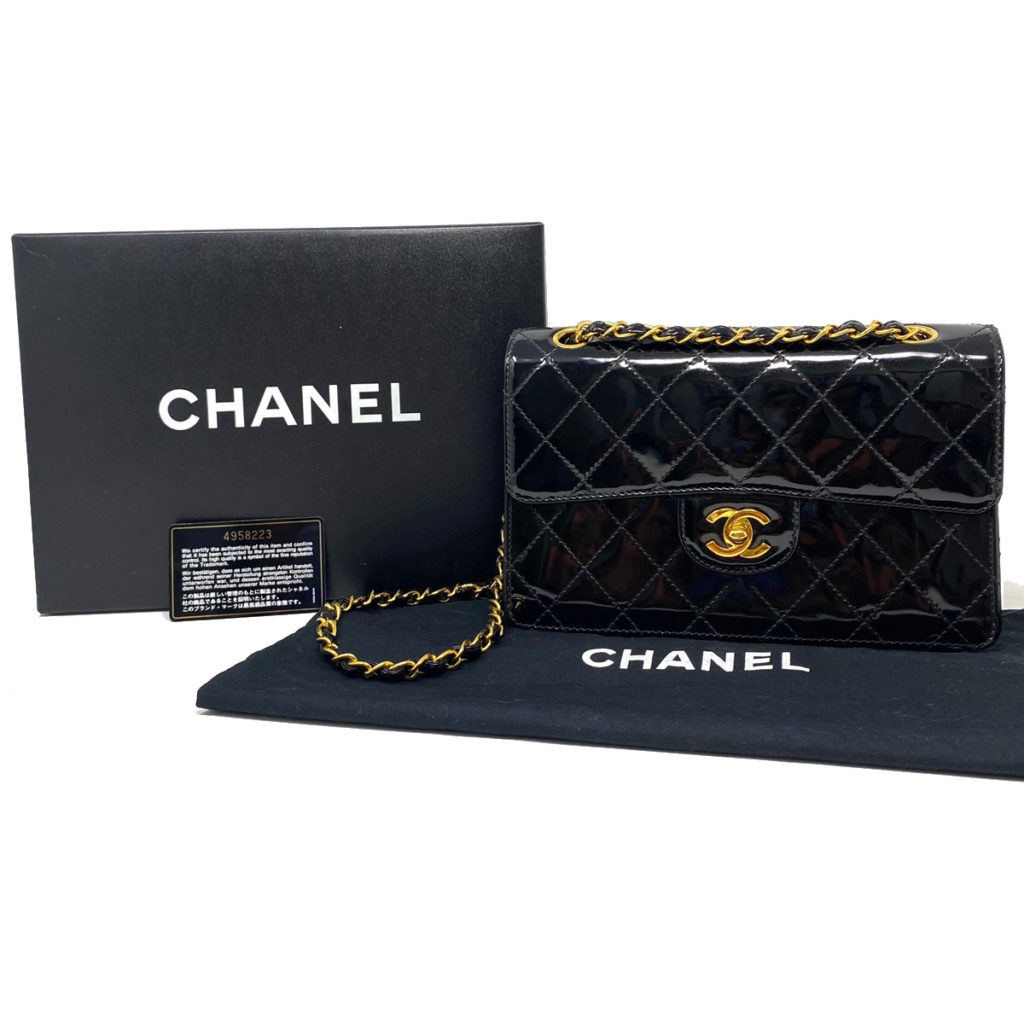 A fine purse is a great investment. It is both fashionable and practical and experts say that a good purse can dress up any outfit.
There are many purse designers who are considered among the greats, but Chanel comes in at the top of the list. Coco Chanel is known as an innovator in the fashion industry and her company is responsible for launching handbags and other items that have been coveted by colleagues and fashionistas alike.
Chanel boasts an impressive line of purse styles, but the Flap Bag is one of the most iconic. Read on to find out more about the style and how you can own one of these babies for considerably less than the going rate.
History of Chanel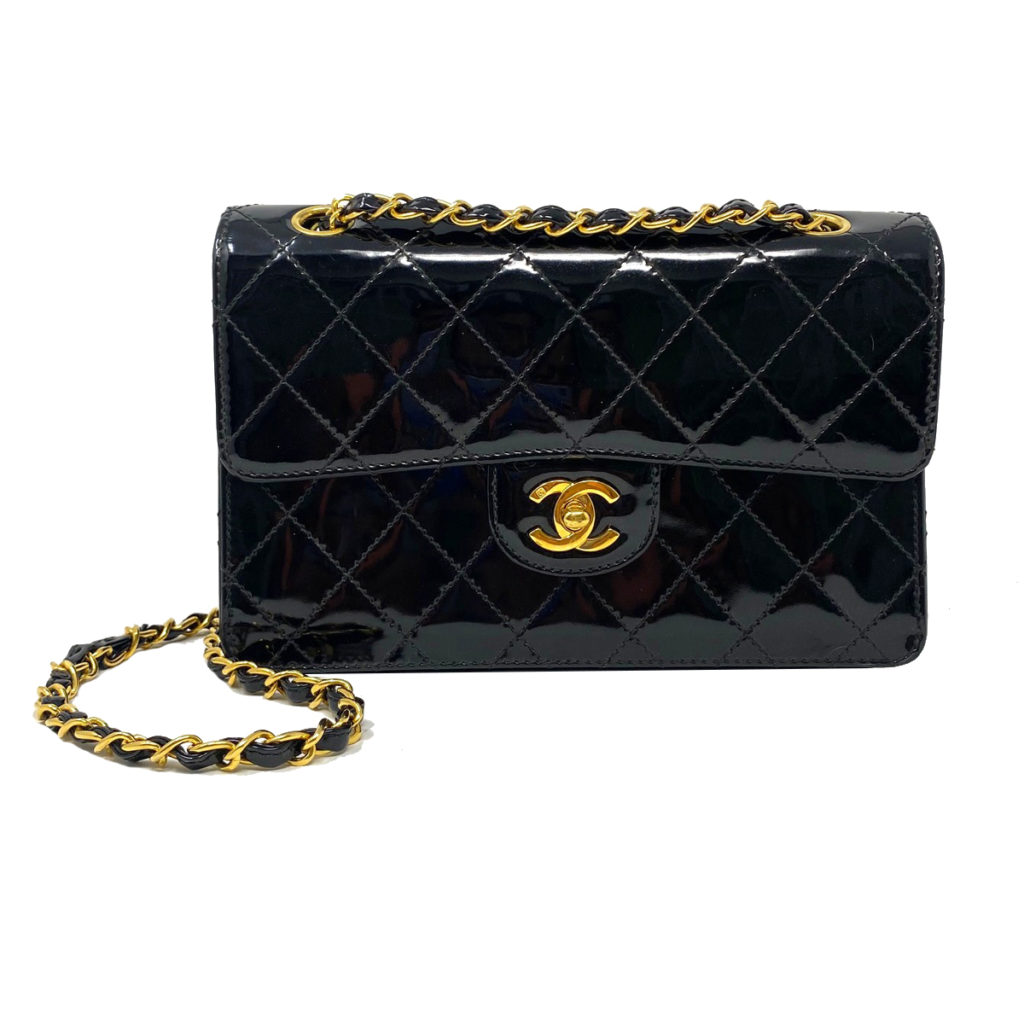 Chanel is a fashion luxury house that was founded by Coco Chanel in 1910. It is known for producing ready to wear clothing and high fashion luxury goods and accessories.
The brand stands out because it was among the first to veer away from hourglass shapes for women catering more towards 'flat chested designs'. It embraced masculine colors like gray and navy blue and used quilted fabrics and leather trims that encouraged women to be bold.
Chanel introduced a merging of feminine and masculine styles, but that wasn't all that made her an innovator in her field. She was also the first to introduce bags with shoulder straps.
The designer was tired of constantly having to clutch her bag when attending formal occasions. As a solution, she added a chain that was inspired by straps on soldiers' bags.
The first of its kind was a Flap Bag released in February of 1955. The date of its release earned it the model name of 2.55. It has kept the name ever since and has not changed much in style. This is a testament to its classic looks and enduring fashion.
A Guide to Classic Flaps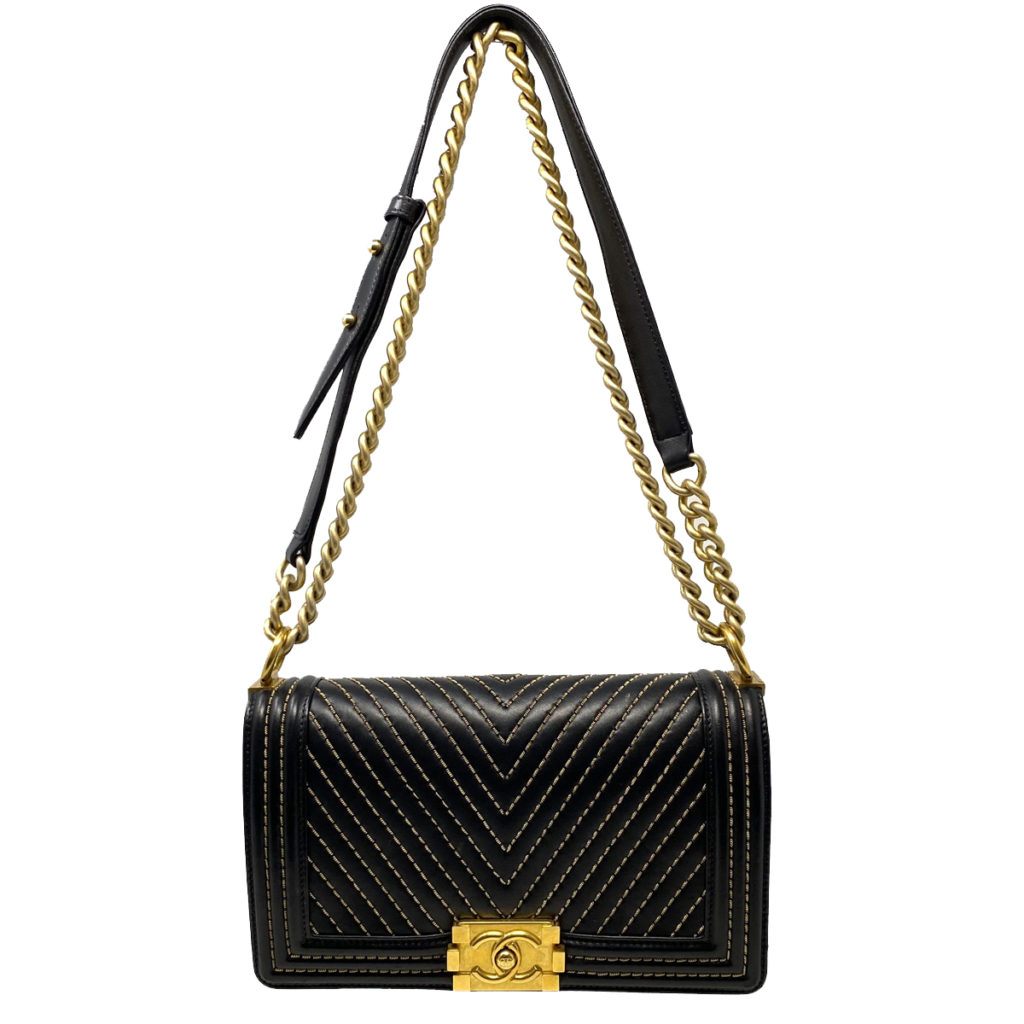 After the Flap Bag was released, several changes were made. However, the iconic style shines through. Here are a few things you should know when shopping for one.
Sizes
Chanel flaps come in a variety of sizes including the following:
Extra mini
Square mini
Rectangular mini
Small flap
Medium flap
Jumbo flap
Maxi flap
Serial Numbers
Each purse has a seven or eight digit serial number. The first two digits of the serial number are telling of the year when the purse came out.
The serial numbers started in 1986 so if your serial number starts with zero, it was made between 1986 and 1988. The numbers and years increase from there.
Single Flap vs. Double Flaps
Chanel's Flap Bags originally came out as double flaps, but single flaps were made available as well. The main difference is that the double flap has an exterior flap closure and an interior flap compartment while the single flap only has the single exterior flap.
Choosing a single or double flap comes down to a matter of preference. While a single flap purse is lighter weight because it is constructed with less material, a double flap's structure helps it keep its shape better.
Single flaps are also only available in certain sizes including mini flaps (which are only available as single flaps), jumbo flaps and maxi flaps (which are available as double and single).
It should be noted that Chanel no longer makes single flaps so if you are lucky enough to find one, you are sure to have a collector's item on your hands.
Hardware
Chanel Flap Bags come with a variety of hardware including the following:
Gold
Silver
Light gold
Antique gold
Matte gold
Ruthenium
Black (matte and shiny)
Rainbow
Materials
Flap Bags come in a variety of materials like:
Lambskin
Caviar (also known as grain calfskin available in matte and shiny varieties)
Sueded caviar
Patent leather
Calfskin
Denim
Tweed
Metallic lambskin and calfskin
The purse is also available in quite a few exotic materials that are not listed here.
Standard Features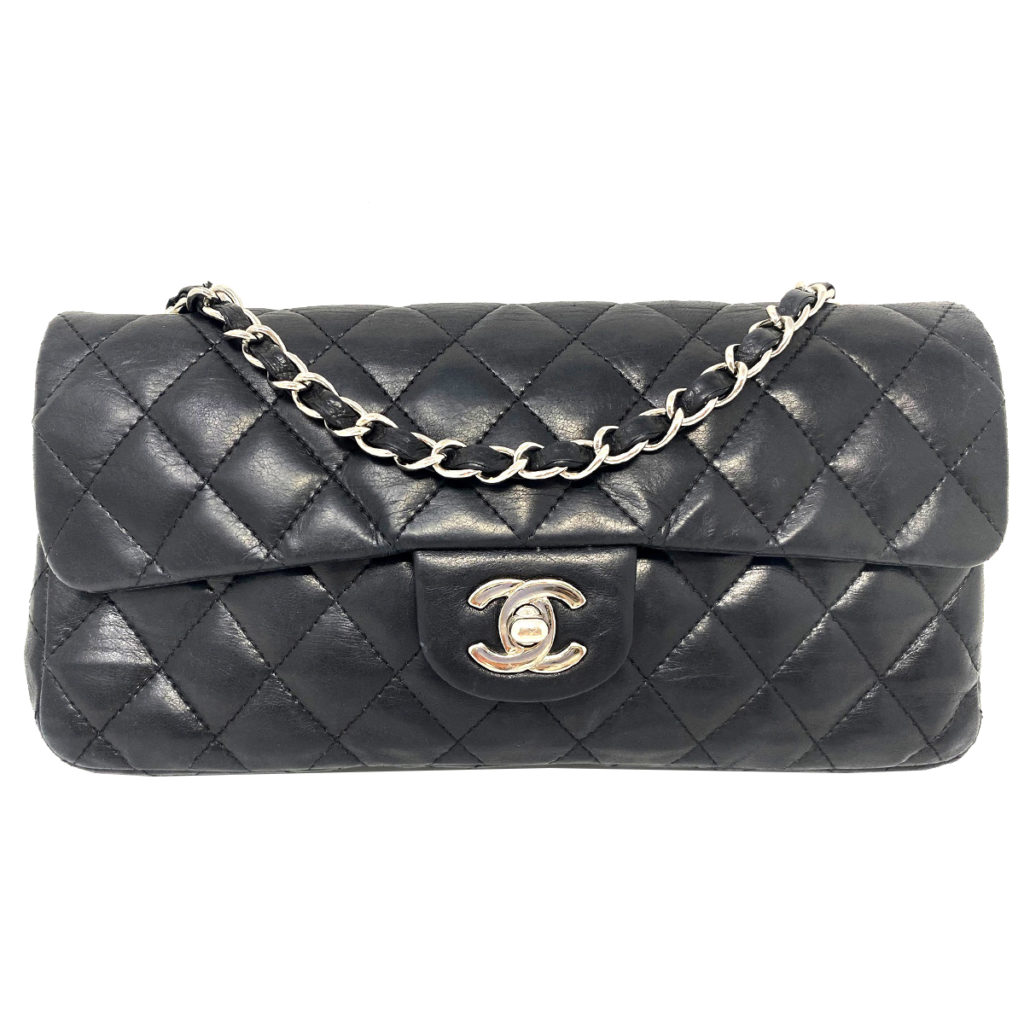 The Flap Bag comes with several standard features that are inspired by Chanel's personal life. For instance, it is said that the burgundy lining in the interior of the purse paid homage to the burgundy uniform she wore when she was raised at the Aubazine Abbey orphanage in Correz, France.
Fashion folklore also has it that the interior pocket of the front flap was created to hide love letters. Chanel, herself, was said to have been involved in several torrid love affairs. She called her original rectangular clasp Mademoiselle to signify the fact that she never married.
Alterations
Although the style of the Flap Bag has remained predominantly the same over the years, a few key changes have been made.
For example, Karl Lagerfeld, who is known for producing innovative handbag styles for Chanel and was named as creative director for the company in 1983, decided to add the signature CC turn lock to the bag. The company also made the bag available in more exotic materials like ostrich and alligator.
Another change was the addition of leather to the metal chain strap. When materials became scarce, Chanel began weaving leather into the chain of the bag to reduce the need for metal.
Different Types of Flap Bags
There are different types of Flap Bags in the Chanel line.
The 2.55 was the first flap to come out and it featured the Mademoiselle lock. While many use this catch all term to refer to all Chanel flap bag's that use the traditional structure, there are differences.
The Classic Flap is the updated version of the bag. It features the interlocking C closure that Karl Lagerfeld debuted in the mid 80's. The Reissue 2005 was also introduced by Lagerfeld. It was recreation of the original 2.55.
Flap Bags to Look Out For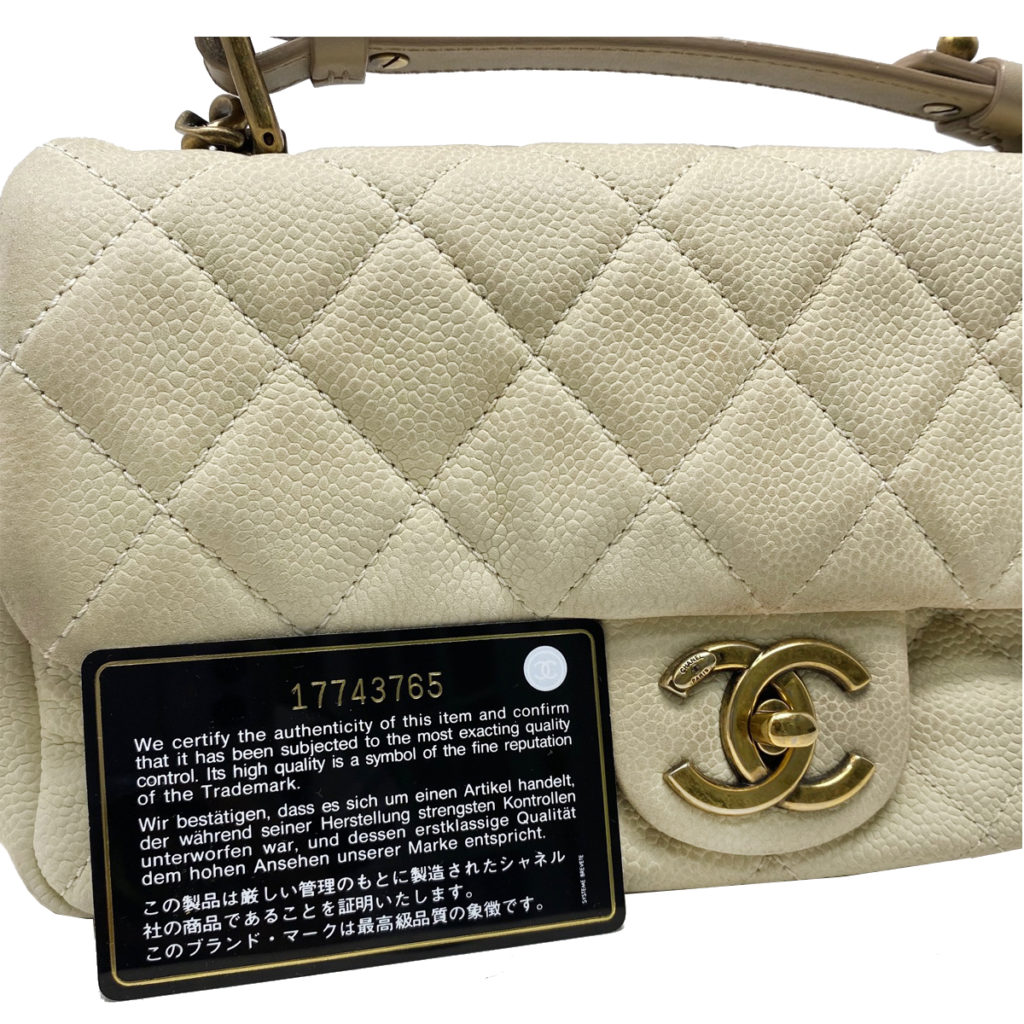 There are several Flap Bags on the market but here are some that stand out as terrific style investments.
Large Flap Bag Lambskin & Gold tone Metal Beige
This Flap Bag's larger size makes it convenient for those who love a sleek style but also want enough room to carry their goods. The beige and gold color scheme means it goes with everything and works well for all seasons. It features the interlocking C closure and a leather and chain strap.
Flap Bag with Top Handle Lambskin & Gold Tone Metal Pink
This bag has a top handle in addition to a metal and leather adjustable shoulder crossbody strap so you can carry it in a variety of positions. It is nice and roomy. It features an interlocking C closure, and the bright pink color is simply fantastic.
Mini Flap Bag Lambskin & Gold Ton Metal Yellow
Yellow is a Pantone color of the year for 2021 and one of the new neutrals. Celebrate with this lemon-yellow purse. The mini size makes it ideal for evening events.
Mini Flap Bag Sequins Mixed Fibers, Glass Pearls, Lambkin & Gold ton Metal Pink, White Yellow & Orange
This purse is just as lovely as it sounds. It has a terrific boho chic look and it's adorned with sequins and glass pearls that add to the glamour. Its mini size makes it perfect for a night on the town.
Flap Bag Lambskin Gold Tone and Metal Black
This black bag is anything but basic. It will go with everything and the charms on the chain strap that spell out CHANEL set it apart.
Chanel 19 Flap Bag Calfskin Crochet Gold Tone, Silver Tone & Ruthenium, Finish Metal White & Black
Geometrics are hot and this black and white bag makes the ultimate statement. The basic white features a criss cross black pattern complemented by an array of metals and a leather woven interlocking C enclosure…to match the straps of course!
Chanel 19 Large Flap Bag
This roomy tweed option is softer and lighter than leather and its texture adds depth. It's the perfect vegan option.
Are Chanel Flap Bags Worth the Money?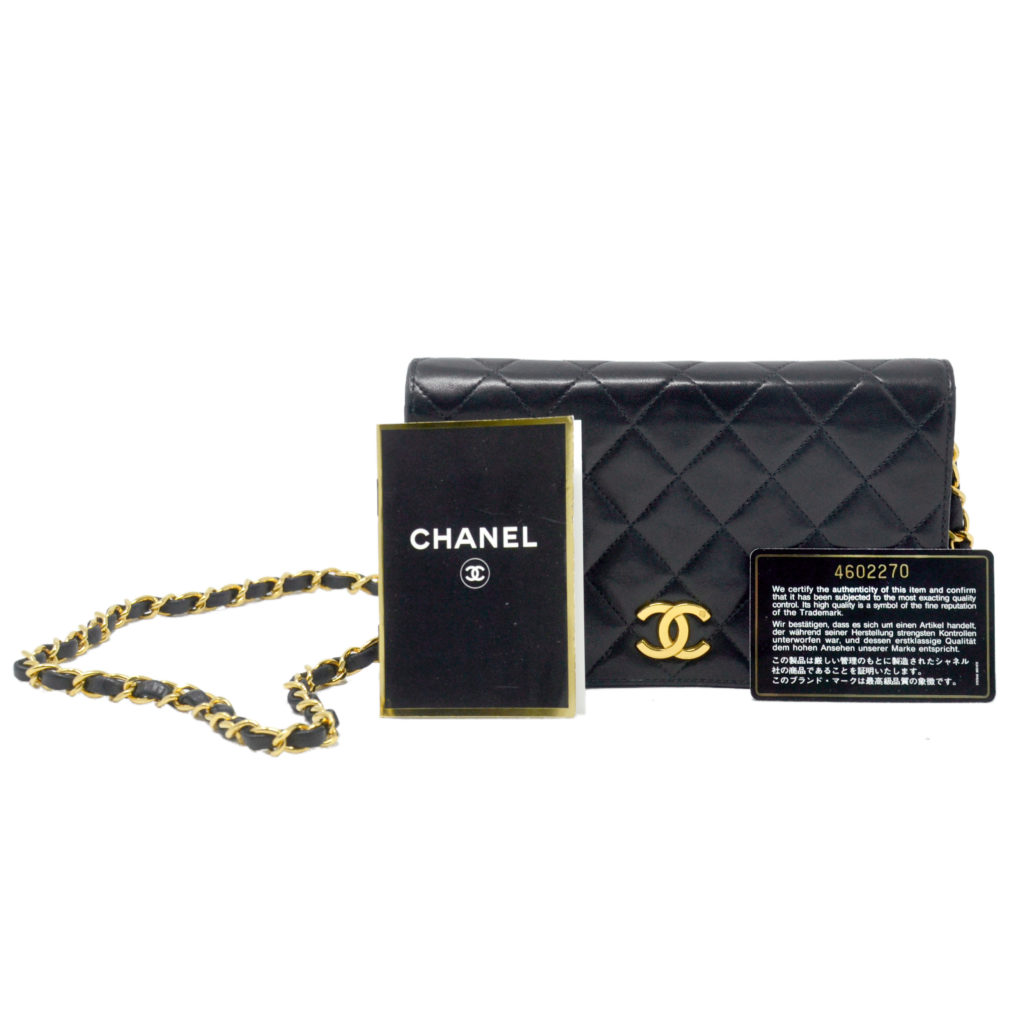 There really is no good answer to this question. Chanel Flap Bags may be worth the money to those who can afford to spend it.
However, the bags are beautiful and well-constructed. What's more, if they are kept in good condition, they can make a great investment if you decide to sell yours or get a loan for it somewhere down the line.
How to Get the Look for Less
Chanel Flap Bags are lovely, but they cost thousands of dollars. This makes them unaffordable for many people, but there is one way to get the look for less and that's buying used.
Buying used can be a slippery slope, especially if you buy from a dealer you're not sure you can trust. That's why it's important to buy used goods from a business that has years of experience helping customers find luxury goods at affordable prices. Boca Raton Pawn is recommended.
Boca Raton Pawn has a staff of knowledgeable salespeople who will help you find exactly what you are looking for. If you can't make it into our South Florida location, you can also shop our web site. We ship all over the country.
We guarantee that the items we sell are authentic and in good working condition. If you have any problems, you know where to find us.
How Boca Raton Pawn Can Get You Out of a Financial Bind
In addition to providing great deals for our customers, Boca Raton Pawn also offer attractive loans that can help you get out of a financial bind. Here's how it works.
Let's say you have a luxury item in your home. You're in a cash crunch, and you know selling the item can get you out of your rut. But you are unwilling to part with the piece as it is so lovely and surely has become meaningful.
Instead of selling it, you can loan it to Boca Raton Pawn.
Just bring the item into our shop. One of our expert dealers will assess it to determine its worth. Then we will offer you a loan. The loan will not equal the full value of the item but a percentage of the total.
If you agree to the loan, we will work out a payment plan. Terms may vary, but basically, you will be making payments that include the principle, interest and fees until the loan is paid off.
Once the loan is completed you will receive your item back. If you are unable to repay the loan, we will hold on to your item but the failure to pay will never show up as a blemish on your credit report.
What You Should Know Before You Sell
There are a few things you should know before you sell to BRP.
First off, we specialize in luxury handbags, watches and jewelry. As such, these are the items we are most likely to accept for a loan.
We also only deal with certain designers. These designers are listed on our web site. Be sure the piece you bring in was manufactured by one of these brands to ensure a successful transaction.
The condition of the item will also come into play. To get top dollar for your piece, make sure it is clean and in good working condition before taking it into our shop. Make any repairs necessary prior to stopping by.
Authenticity is another factor to consider. While we can tell whether your piece is authentic, shoppers may want that extra reassurance. Therefore, we are more likely to accept a product that comes with a certificate of authenticity. If you don't have the certificate, the original box or receipt may do the trick.
Your Privacy is Our Priority
We know that many people feel sensitive about their finances and may not want anyone to know they are loaning their goods. We completely understand. That's why we offer our clients the utmost in discretion.
We will not share your transaction records with anyone. If you prefer, you can even call in advance to make a private appointment when selling or loaning goods to our shop.
Chanel flap Bags are simply exquisite, but they are also quite expensive. Boca Raton Pawn can help you get the look for less. Shop our web site or come into our shop to take advantage or our terrific deals and high value, low interest loans. We are there for our community.