Authentic Alec Monopoly Paintings For Sale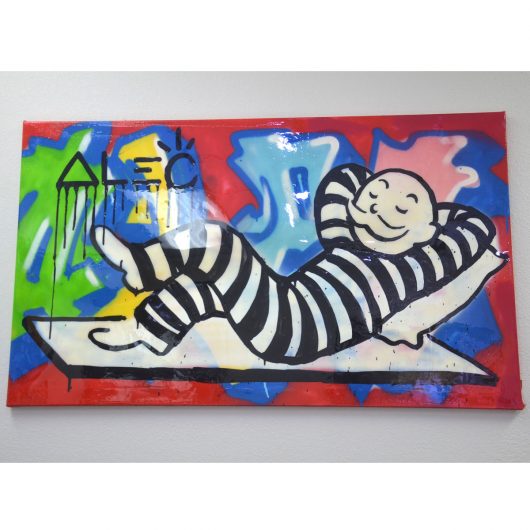 Alec Monopoly's Work and Why It's a Great Investment
Alec Monopoly (Alec Andon) is a graffiti artist from New York City. He is known for his urban art pieces which often include the Monopoly man as well as other iconic pop culture pieces. He has worked all over the world and incorporates many mediums into his work including the use of stencils, spray paints, epoxies, varnishes and newspaper.
Owning one of Monopoly's pieces is a privilege enjoyed by celebrities like Philipp Plein, Miley Cyrus, Robin Thicke, Snoop Dogg, Seth Rogen, Adrien Brody, Iggy Azalea and more. Those who join the ranks among these famous people can find out how owning his artwork can be a solution for their financial woes. Read on to find out more about Monopoly and how his artwork can be valuable to you.
Brief History of Alec Monopoly
Alec Andon was born in New York, NY in 1986. He was born to an affluent family. His mother was an artist who helped to shape his artistic career, but he soon abandoned traditional methods to seek out an environment he found more creative, making graffiti around the city.
Monopoly enjoyed painting on walls because he felt it allowed more people to see his work, as compared to work that was limited to being shown in art galleries and displayed on collector's walls.
His incorporation of the Monopoly man was his commentary on capitalist hierarchies presented in popular culture. The use of the character is based on Bernie Madoff and the theme was very much emphasized in his series Richie Rich and Scrooge, Money Mesmerized.
In addition to being influenced by pop culture and the political climate, Monopoly is also inspired by artists like Salvador Dali, Keith Haring and Jean-Michel Basquiat.
Monopoly currently lives and works in Los Angeles, CA.
Alec Monopoly Work
When you visit the Alec Monopoly web site, you will see the various types of art he produces. His paintings include those featuring the Monopoly man and other iconic fictional characters like Richie Rich and Scrooge. He also incorporates famous rock stars, actors and actresses into his pieces. His work features vibrant colors and a cartoonish, animated look.
The 'Editions' section of his web site includes toys, accessories and photos. Toys include the BH Monopi Art Figure Monopoly recently released. Accessories include sneakers, purses and Darth Vader-like masks that feature the artist's design. Photos are multi-media designs Monopoly added on to, creating a pop art look to add interest to the original image.
Monopoly is still active in producing street art which can be found in several public locations.
Those interested in purchasing Monopoly's work can expect to pay a pretty penny. Pieces typically range from $20,000 to $50,000.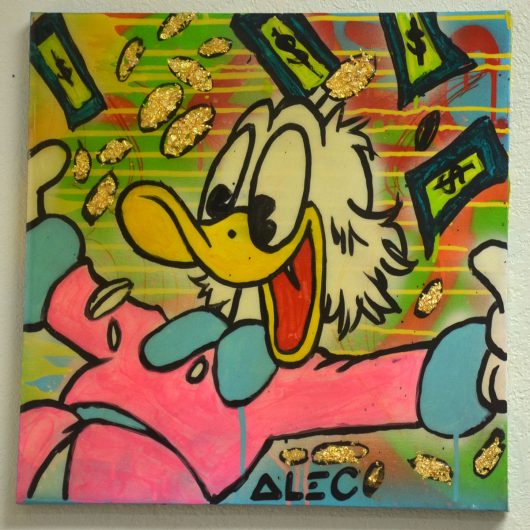 Events
Further exploration of Monopoly's site reveals that he also hosts several events which serve to promote his artwork. His gallery showings and exhibitions are places to see an be seen.
Monopoly recently threw a birthday party with dancers dressed in his signature 'surgical mask' look. During his 'Money is Snow Object' event, Monopoly painted snow equipment and displayed some of his wonderful artwork.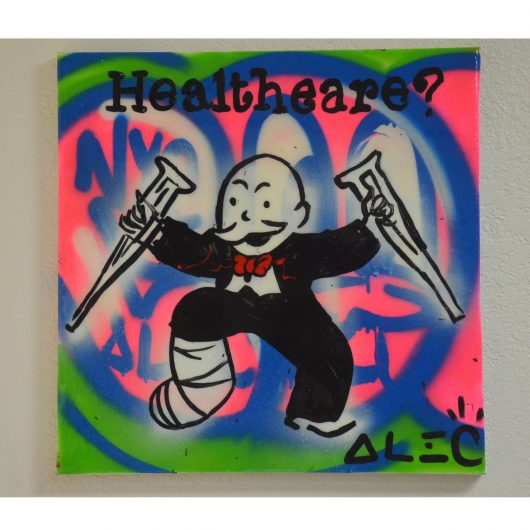 Why Does Monopoly Hide His Face?
If you search up images of Alec Monopoly, you will find that he often hides his face in pictures so that only his eyes are visible. He originally did this to keep his identity secret when he started painting in New York.
Despite Monopoly's attempt to hide his identity, there are pictures of him online with his face revealed. However, the artist feeds the ongoing mystery, filling his Instagram feed with pictures of himself in face masks and gas masks.
Monopoly as an Influencer
Years of Monopoly developing his persona in addition to his talent and hard work have certainly allowed the artist to build a name for himself. When it comes to press, his work and lifestyle have been covered in well known publications like the Wall Street Journal, London Times, New York Post, Rolling Stone, Playboy, Billboard, Vibe, the Huffington Post, Complex Magazine, Juxtapoz and the Dirt Floor, to name a few. Paramount Pictures also hired him to design the logo for their production company, Insurge.
Monopoly has also been commissioned for high profile projects with several companies and celebrities. Most notably, he has been hired on as the 'art provocateur' for the TAG Heuer watch brand. He has inspired several watch designs and was also asked to tag the TAG Heuer boutique in the Miami Design District as part of the city's contemporary art week.
The artist also worked with the W Hotel painting the resort's speedboat at the W Retreat and Spa Maldives. He helped design clothing featured in the Philipp Plein collection. Other businesses he collaborated with include Vitamin Water, Avicii and Cover Girl.
Keeping all this in mind, it should come as no surprise that the artist has racked up quite a following when it comes to social media. He is known for building a huge number of followers through an organic, authentic marketing strategy. Because his following keeps growing, I won't even bother to mention the numbers of his followers, although it ranges in the hundreds of thousands.
But more than that, his posts receive engagement in likes and comments from users that are genuinely interested in his work and what he is doing. His posts aren't promotional, and he isn't trying to sell anything. By providing his followers with pictures of his art and glimpses into his life, he has been able to build his following organically.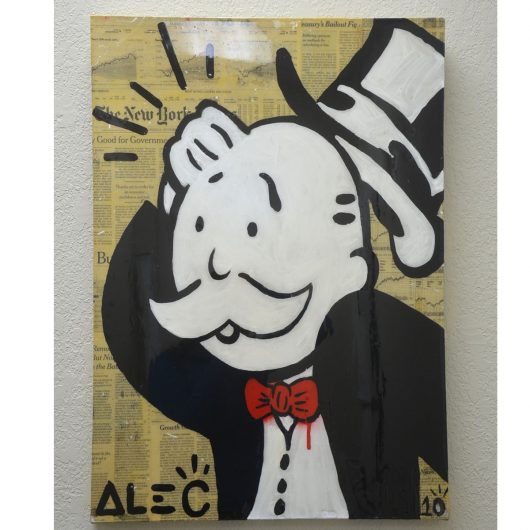 Monopoly's Pieces as an Investment
If you are passionate about artwork, you want to buy pieces you not only love, but ones that will increase in value. Monopoly's pieces stand out as artwork that are likely to increase in value because they are controversial and political and feature iconic images. Also, because Monopoly has already built a name for himself based on his persona, he has managed to earn price tags that range well into the thousands and should continue to go up as time goes on.
If you are buying artwork as an investment, there are other things to look for which will ensure that you will get the highest values possible if you decide to sell the work. A piece that is signed by the artist will fetch high price tags. Originals will always cost more as well. First additions will also be more valuable than second or third runs.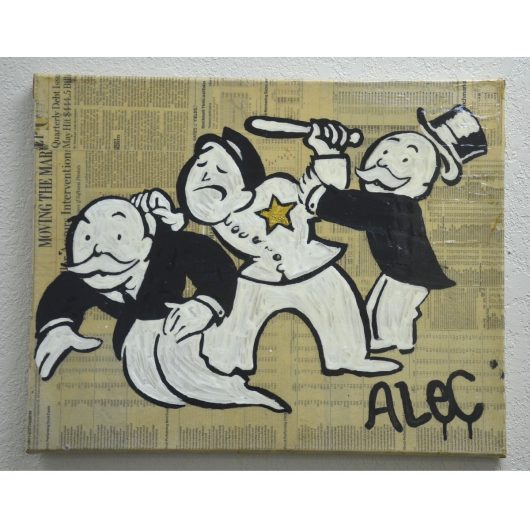 How Your Alec Monopoly Painting Can Get You Out of a Financial Rut
Of course, not everyone buys artwork and other luxury pieces, with the intention of selling it. Some may genuinely love their pieces and find them hard to part with. However, when faced with a difficult financial situation, the idea of selling your item could be awfully tempting. Well, did you know there is a way your items can help you get out from under financial woes without having to part with your precious belongings permanently?
Many pawn shops offer collateral loans. This means that you put up one of your valuable possessions as a loan to the pawn shop. Here's a bit about how it works.
You start by bringing your valuable possession into the pawn shop. The pawn shop will assess your item to determine how much they think it's worth. They will then offer you a loan. The loan will not be for the full amount the item is worth, but for a percentage of its total value.
If you agree to the amount of the loan, terms will be worked out so that you can begin paying off the loan. Basically, you will be making regular payments, that include fees and interest, until the loan is paid off. Once you pay off the loan, your item will be returned to you.
If for any reason, you are unable to pay off the loan, the pawn shop will keep the item, but the unpaid amount will never go into collections or show up as an unfavorable mark on your credit.
Finding a Pawn Shop for Your Loan
Pawn shops have gotten a bad rap in the past, but many of them are reputable businesses run by local members of the community who are looking to establish a good name in their area. However, not all pawn shops are created equal.
If you are looking for a pawn shop to get a loan for your item, you want to choose one that will offer you the highest values and lowest interest rates possible. That way, you will get a substantial loan and be able to make low payments until it is paid off.
If you are in the South Florida area, the pawn shop that gives you the highest values and lowest interest rates is Boca Raton Pawn. Find out more about why you will love working with BRP.
About Boca Raton Pawn
Boca Raton Pawn has been a part of the Boca Raton community for some time now. They are known for their affluent clientele and knowledge of luxury items.
Because they are so familiar with luxury brands, they know exactly how much your items are worth and are prepared to give you the best values. They know their clients will not settle for less.
They are also aware of how important it is to use discretion when dealing with their clientele. That's why they offer private appointments. Just call in advance to schedule if you feel that this would be the best option for you.
BRP also knows their clients don't like to be kept waiting. They can have you in and out of their offices quickly and you will always leave with cash in hand!
Another reason to love Boca Raton Pawn is, it's a great place to shop. With luxury items coming in and out every day, they always have discounted prices on the latest designs. Not in the South Florida area? They also have a terrific online selection so that you can get your items delivered right to your door.
What You Should Know About Selling at Boca Raton Pawn
Boca Raton Pawn is a great place to sell your items with easy transactions taking place every day. However, there are a few things you should know before selling your items. This will help to make your transactions go as smoothly as possible.
BRP specializes in luxury jewelry, watches and handbags. These are the items they are most likely to buy and sell. There are certain brands they are more likely to purchase and sell than others. These are listed on their web site. Be sure to consult that list before coming over with your luxury item.
Alex Monopoly's painted custom handbags and TAG Heuer designed watches are ideal pieces to put up for collateral at Boca Raton Pawn. They are sure to fetch a pretty penny! Other pawn shops may also make hefty loans for his artwork and other pieces and collectables.
Also, note, as with any pawn shop, you are likely to get the highest value for your item if it is in good condition. Be sure to clean your item and see to it that it's in proper working condition before you attempt to sell to BRP. Do your best to make any repairs that might be needed in advance.
A pawn shop will also feel better about buying your item if they know it is authentic. If you have a certificate of authenticity, a receipt or anything else to prove that your item is an original, this will do a lot in helping you get the best price for your item.
If you are in a financial rut and think you have a valuable item that you can put on loan to a pawn shop, contact Boca Raton Pawn today. They offer the best values and lowest interest rates while offering great customers service and discounted items for sale. Find out how they can help you leave your financial woes behind!