How to Pawn Watches in Boca Raton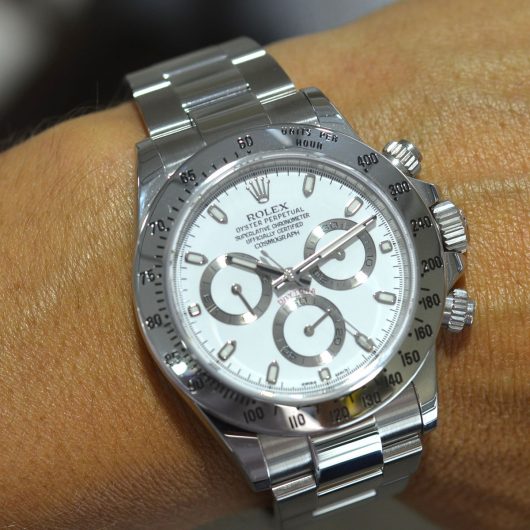 At Boca Raton Pawn Luxury store we provide the best financing options for high end watches in the Boca Raton area. We accept all high end watches, including Audemars Piguet,Blancpain, Breitling, Breguet, Bulgari, Cartier, Chopard, Corum, Ebel, Franck Muller
Gerald Genta, Harry Winston, Hublot, IWC, Jacob & Co., Jaeger Le-Coultre, Omega, Panerai, Patek Philippe, Piaget, Richard Mille, Roger Dubuis, Rolex, Tudor, Ulysse Nardin, Van Cleef & Arpels, Vacheron Constantin and more! Our collateral loans are extremely competitive with the lowest interest rates and highest loan amounts compared to other pawn store lenders. Boca Raton Pawn Luxury Store's secured high end watch loans are a better short term loan option when comparing to payday or cash advance.
The process for getting a loan is very simple. As the borrower, you will pledge your watch as collateral for a short term loan. For example, let's say you need $1,000 to pay a bill and you own a Rolex watch. Bring your Rolex as collateral to Boca Raton Pawn Luxury Store and we can give you $1,000. You pay interest on the loan every 30 days for as long as you keep the loan. If your interest rate is 3%, you will be required to pay $30 every 30 days. There is no term limit on the loan, so the loan will stay active as long you keep paying the interest amount owed each 30 days. Once you are ready to receive your Rolex watch back you simply need to pay back the $1,000 plus any interest that you owe. Once you pay the loan back, the watch will be returned. If you elect to not pay the loan amount, there will be no credit consequences and we will accept the pledged high end watch as payment for the outstanding loan amount due.
A Boca Raton Pawn Luxury's secured high end watch loan can be a fast and easy way to borrow money without credit checks or other hassles. Regardless of your credit, you'll be approved for a secured high end watch loan based on the current appraised value of the collateral. The condition of the watch is always taken into account during the appraisal process for the loan, so the better the condition of your watch, the more money we can loan you. If you kept the original box, service papers or authenticity cards, it's best to bring those in with you as well as those accessories can increase your loan amount against the collateral. Boca Raton Pawn Luxury Store guarantees the highest valuations on high end watches in the area in order to get the most money in your pocket. If you do not have time to visit the showroom, we made life easier with our online Collateral Loan Request Form. You will just need to fill out a brief form and provide photos of the watch in order for the associate to help you better. Consultations are always free, safe and confidential.
Compared to banks and other lending institutions, Boca Raton Pawn Luxury offers loans in less time. Banks usually take days to process a loan, but at Boca Raton Pawn Luxury you can walk into the store and exit with cash on the same day. There are moments in life when you need cash quickly, whether it is for paying bills, an unsuspected expense, or an investment opportunity, Boca Raton Pawn Luxury high end watch loans are here to provide quick liquid cash. To show how quick you can get a high end watch loan from Boca Raton Pawn Luxury Store, we have provided a simple quick process guide for getting a loan: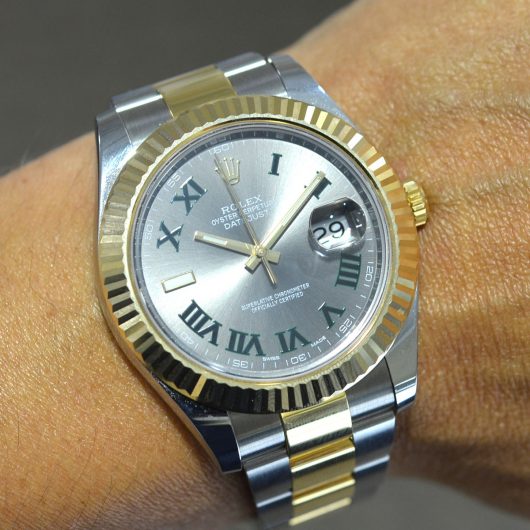 1. Arrive into the showroom with your high end watch. Bring any other accessories or items that you believe will improve the appraised value of the watch.
2. A Boca Raton Pawn Luxury associate will examine the high end watch to assess its value.
3. The representative will make a cash loan amount for the watch
4. You will either accept the loan terms and cash with Boca Raton Pawn Luxury holding the high end watch as collateral or you will reject the cash and keep the high end watch.
If you decide to accept the pawn loan offer, Boca Raton Pawn Luxury will hold the high end watch until the loan amount and remaining interest are paid. The collateral of the loan will be kept safe and maintain at current condition as the borrower left it. It is important to the Boca Raton Pawn Luxury to maintain the condition of the watch in order to protect the value of the collateral securing your loan.
When valuing your high end watch, Boca Raton Pawn Luxury Store considers four major key aspects of the watch:
Model and Make
The model and make of the watch is an important component to valuing the high end watch. Based of the model and make, we are able to assess the quality and market value of the watch
Condition
The functional and cosmetic condition play an important part in valuing the high end watch. We will assess the functional condition of the watch on how the internal mechanisms are working. For the cosmetic condition, Boca Raton Pawn Luxury Store will look to see the metal retains all of its factory finish and definition; the crystal is unmarred by scratches or chips, the dial and hands retain their factory state and appear untouched, and the bracelet or strap appears as new.
Age
Usually, older watches are highly desirable amongst collectors, and help increase the possible amount of money is loan from Boca Raton Pawn Luxury Store. Even though the age of the watch is important in assessing the value, the condition of the watch as mentioned earlier plays an important correlated role with age.
Certifications
Service papers, authenticity cards, and certifications help to increase the value of the luxury watch. Those documents help insure potential buyers about the authenticity and condition of the watch.
You might be asking yourself what watch brands hold their value over time the best. The website ChronoExpert compiled a list of the top 10 watch brands that hold their value. The top ten list includes Breitling, Rolex, Cartier, IWC, A. Lange & Söhne, Audemars Piguet, Patek Philippe, Jaeger Le Coultre, Breguet, and Omega. Out of a 1000 watch brands in the world, 985 brands do not hold any value. The five factors that help the other 15 brands to hold their value, as provided by ChronoExpert, are Heritage, Production, Materials, Demand, and Certification.
Heritage
The most valued brands have been around for over 100 years. These brands consistency and ability to survive harsh time periods has strengthen their brand.
Production
Many of the top watch brands produce their watches in Switzerland. Creating their watches in Switzerland compared to other countries such as China, helps maintain the prestige. On top of where the watches are created, top brands maintain a lower production number of watch models in order to not over supply the market.
Materials
The material used to create the watch plays an important factor in the value of a watch model. Oddly enough, the watches made of precious stones or metals are not always valued higher than their steel counterparts. ChronoExpert wrote "More complex movements in simpler materials are far more valuable than simpler movements in precious metals and gemstones and an iconic look can totally transform the financial success of a watch brand."
Demand
The top watch brands which maintain their value are usually most in demand or popular. The market for fake watches gives a great indication for the top brands' demand. Top brand watch makers are cognizant to not oversupply the market and decrease demand for the product.
Certification
Certification of watches helps to insure their values over time. Many of the most expensive and sought after watches are not quartz movement but mechanical or automatic movement. ChronoExpert stated, "The complexity of watches that have moving parts means that they are prone to losing or gaining time over the wearers lifetime. The top brand watches go through rigorous testing to ensure they meet the highest level of precision timekeeping." Having a certification is a good sign for the watch and most top brands will get the certifications for their watches.
If you are interested in receiving a pawn loan but do not have a high end watch, Boca Raton Pawn Luxury Store accepts other high luxury items as collateral. Boca Raton Luxury Store accepts jewelry like diamonds, gold, and high end designer brand handbags such as Louis Vuitton and Chanel. All these other luxury items follow the same lending guidelines as the luxury timepieces mentioned earlier in the blog.
Pawn loans are legal. Boca Raton Pawn Luxury Store, like other pawn shops in Florida, is regulated and license by the Florida Department of Agriculture and Consumer Services. On top of the local regulations, the loans provided by Boca Raton Pawn Luxury Store is subject to such federal laws as the Truth In Lending Act, Equal Credit Opportunity Act, Fair Credit Reporting Act, Patriot Act, and Federal Trade Commission Rules on Data Privacy and Security Transfer.
If you are not interested in obtaining a pawn loan from Boca Raton Pawn Luxury Store, we offer the ability to sell, shop, or repair luxury watches at the showroom. If you are looking to sell your high end watches, Boca Raton Pawn Luxury guarantees you the most money for your luxury timepieces. We guarantee to beat our competitors and provide you an offer you cannot refuse. If you are in need of repair to your luxury timepiece, come to the Boca Raton Pawn Luxury Store. We provide the best pricing on watch repairs in the Boca Raton market. Finally, if you are interested in purchasing a luxurious timepiece for yourself or a significant other, come down to the showroom or check out our website, bocaratonpawn.com, to view some of the best pre owned inventory in the South Florida market. We offer trade in services for luxurious watches as well. If you see a watch you want and do not have the cash but have a high end watch you do not wish to keep any longer. Boca Raton Luxury Pawn Shop is willing to work on a trade in order to get you to switch your watch for the one you desire. Please come by Boca Raton Pawn Luxury Store and let us see how we can help you.
We found some interesting facts about watches thanks to the Christoph Duval and Todd and Marlon websites and we wanted to share them as we close out the blog:
⦁ In the James Bond movies Sean Connery wears a Rolex Submariner while Daniel Craig wears an Omega watch. In the Bourne Ultimatum, Matt Damon wears a TAG Heuer watch. However, the self-claimed watch brand of the movies is Hamilton – they seems to appear in 151 movies from The Frogmen in 1951 (Robert Wagner – Frogman) to Interstellar in 2014 (Matthew McConaughey – Khaki Pilot Day Date; Jessica Chastain and Mackenzie Foy – Custom Murph Watch)
⦁ The most expensive wristwatch ever sold was 5016A Patek Philippe timepiece which was purchased at auction in 2015 for $7.3 million.
⦁ The world's most complicated mechanical pocket watch is the Patek Philippe Caliber 89 which was first made in 1989 and has 1800 separate components.
⦁ Watches, when displayed in shops, are often pre-set to show the time at ten minutes past ten o'clock or sometimes ten minutes to two o'clock ("Happy Time"). When displayed at that time the hands on the watch face resemble a smiley face. This helps to subconsciously raise the customer's mood, which subliminally encourages them to make a purchase.
⦁ Modern wrist watches, didn't become popular and used by men until during the First World War. For the first time in history, men (soldiers) wore watches around their wrists which allowed them more freedom of movement. At about the same time the first series-production of wristwatch with alarm was done by Eterna.
⦁ The digital watch concept had its origins in the 1968 sci-fi feature film '2001: A Space Odyssey'. Director Stanley Kubrick commissioned Hamilton Watch Company to design a futuristic-looking – but non-functioning – timepiece to be worn by the film's space pilots.