Sell Van Cleef Boca Raton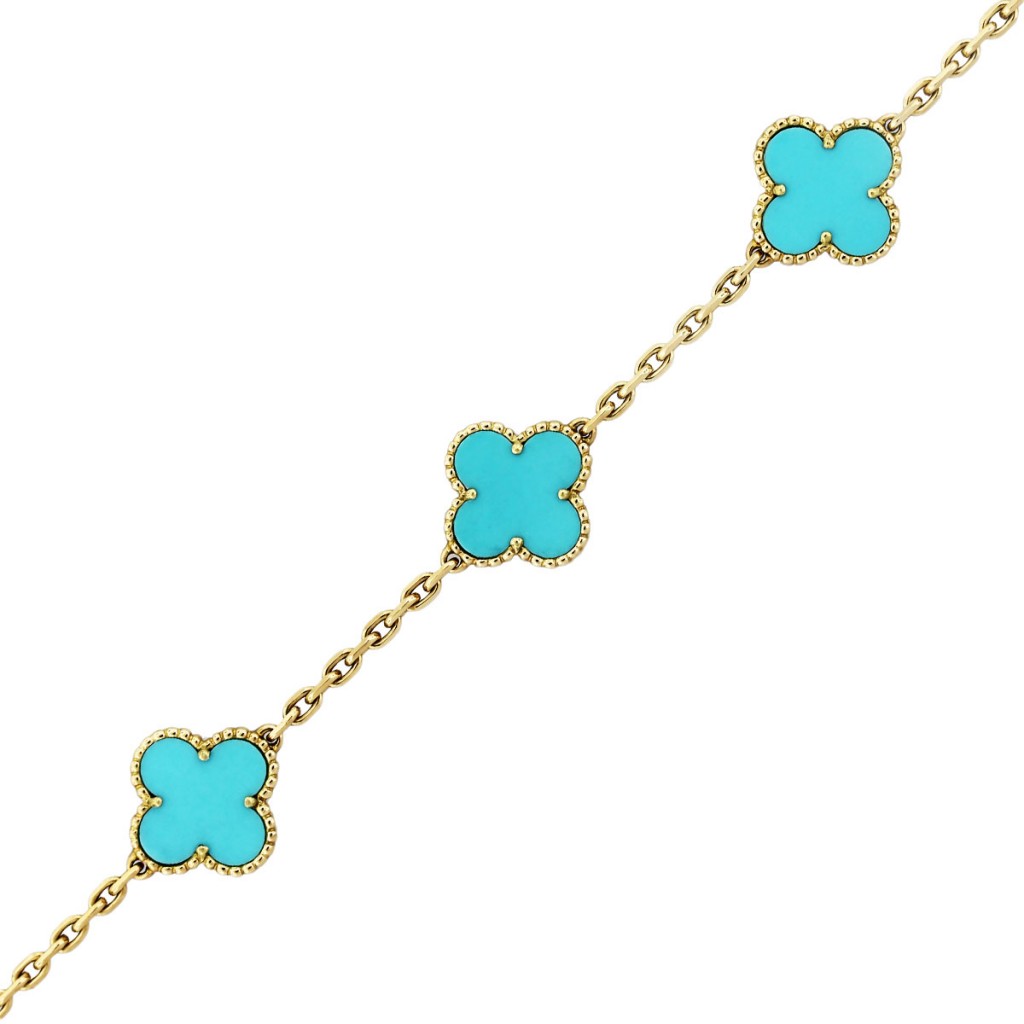 Van Cleef and Arpels is a famous jewelry designer. Sell Van Cleef Boca Raton.  It is known for it's high end jewelry, engagement and wedding rings, watches, fragrances…and its outrageous price tags! There is much speculation as to why the brand is so expensive and whether its pieces are worth the exorbitant amounts. This article will help clear some of that up and answer the question, why is Van Cleef and Arpels so expensive?
About Van Cleef & Arpels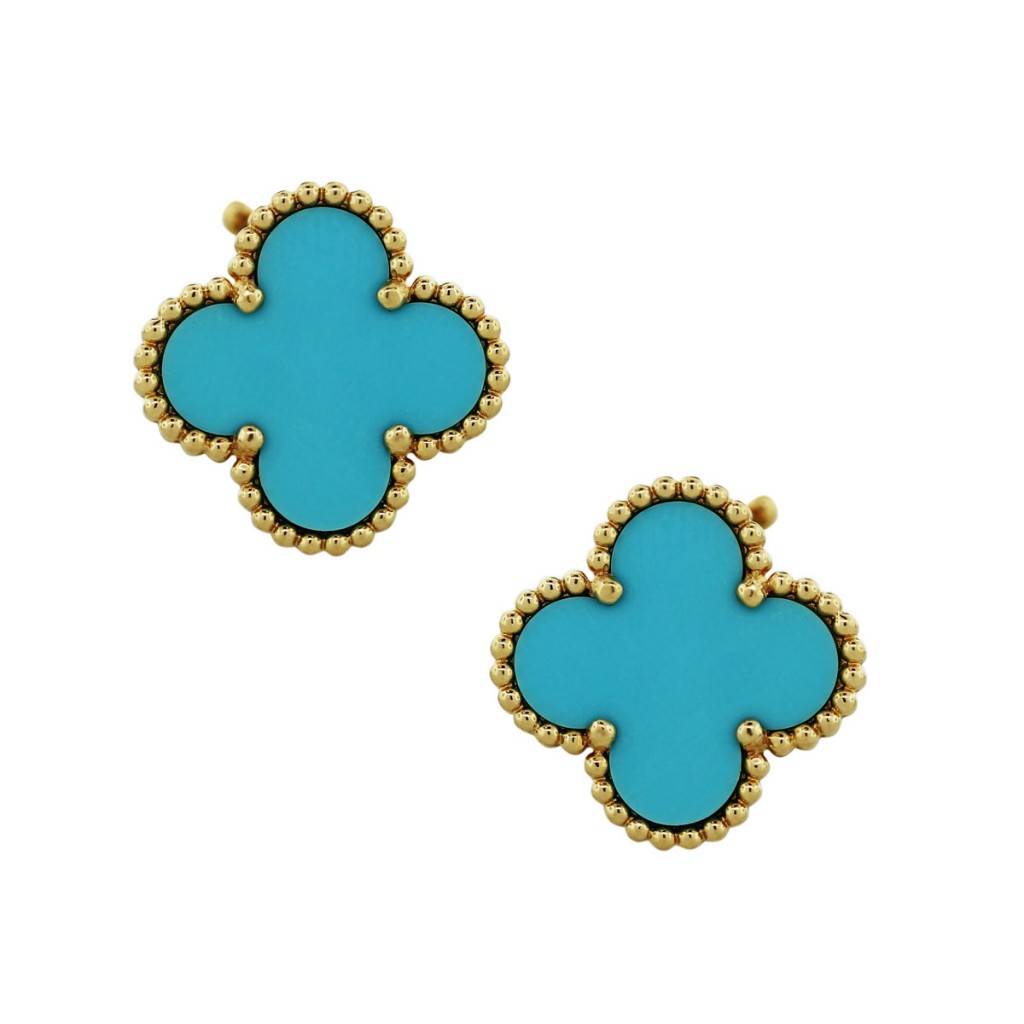 Van Cleef & Arpels is a French jewelry and perfume company. It was founded in 1896 by Alfred Van Cleef and his uncle Salomon Arpels in Paris. Their pieces typically feature flowers, animals and fairies.
Following Arpel's death, Alfred and two of his brother in laws would continue the name, opening boutique stores all over the world. Their pieces were highly celebrated, as one bracelet won the grand prize at the International Exposition of Modern Industrial and Decorative Arts in 1925. Other honors would include the company being charged with the task of creating a crown for Empress Farah Pahlavi for her coronation in 1967.
Van Cleef & Arpels would also see their creations worn by a number of celebrities and members of the royalty including the Duchess of Windsor, Grace Kelly, Elizabeth Taylor and Eva Peron to name a few.
However, perhaps the biggest honor would be when the company received the French Patent No. 764,966 for a proprietary gem setting style called Serti Mysterieux or Mystery Setting. This employed a technique which made the prongs invisible as each stone is faceted onto gold rails less then 2/10 of a millimeter thick. This technique can require 300 hours of work and only a few pieces featuring this setting are produced each year. A piece with this mystery setting sold at an auction at Christie's in New York for $326,500 in 2009.
Why is Van Cleef & Arpels so Expensive?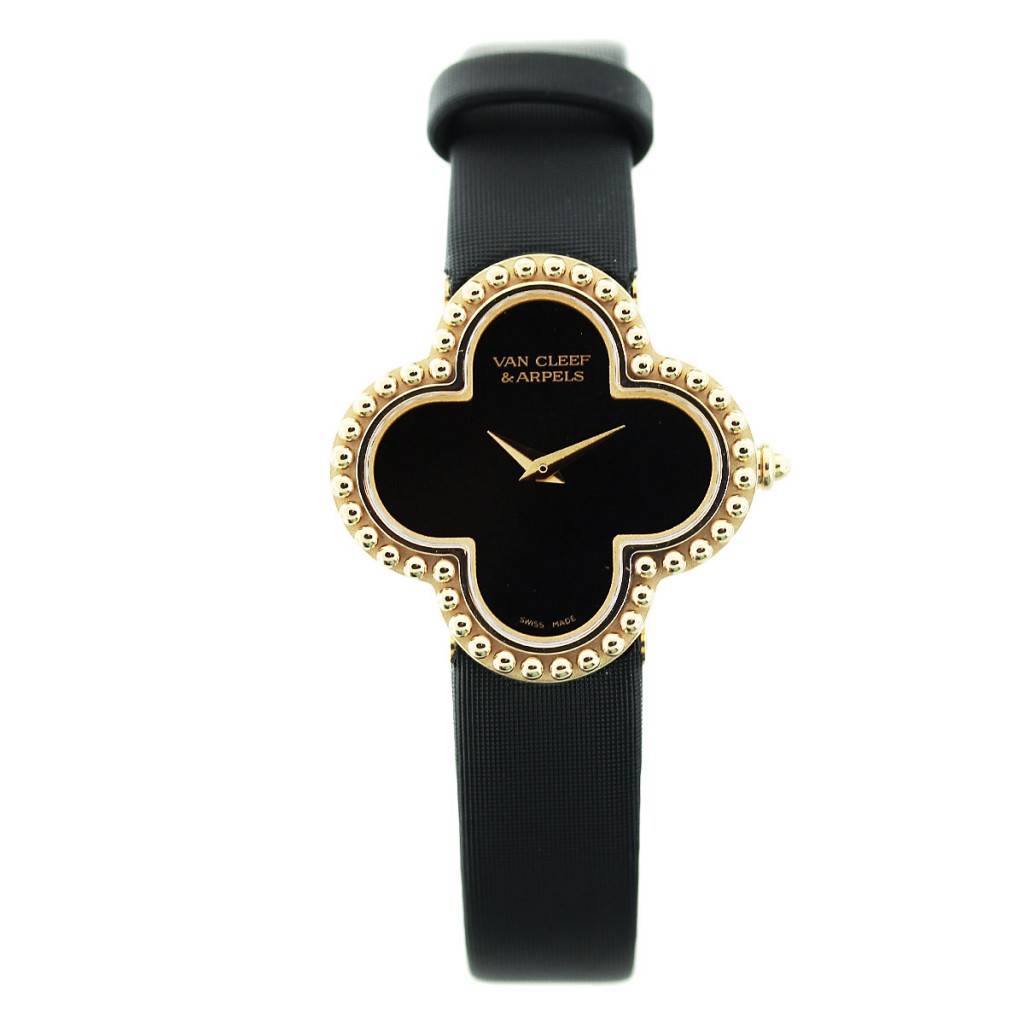 Knowing that this company has such an impressive reputation definitely contributes to the fact that their jewelry is highly priced. You spend more because you are spending on, not just a quality piece of jewelry, but the name that comes with it. For instance, even if there was a design that replicated a VCA piece exactly, but was not made by a luxury designer, the VCA name would increase the cost significantly.
VCA pieces are also known to be incredibly detailed, which also makes them worth their high price tag. They are well made and manufactured from the highest quality materials possible.
Another reason Van Cleef is so expensive is that it holds its value exceptionally well. Buying luxury items can always be a wise investment due to their excellent resale values. And when it comes to resale values, VCA ranks as one of the most worthwhile investments in high end jewelry.
VCA is also a company whose pieces tend to hold their value longest. VCA jewlery can sell at extravagantly high prices, even years after they first rose to popularity. While their exclusive pieces tend to fetch the best prices, their Alhambra collection is ranked next in holding value.
Popular opinion seems to dictate that it is Van Cleef's unique sense of detail, frivolity and femininity that bring them into a higher price level than most designers. However, when buying more standard pieces, like a simpler style of diamond ring, you may find a similar style by another designer that is much more reasonably priced.
But the true bottom line is, nothing is over priced if you have the money and the jewelry is worth the cost to you. The only true indication of an overpriced item is if it appraises for less than what you paid for it.
Pieces from the Van Cleef & Arpels Collection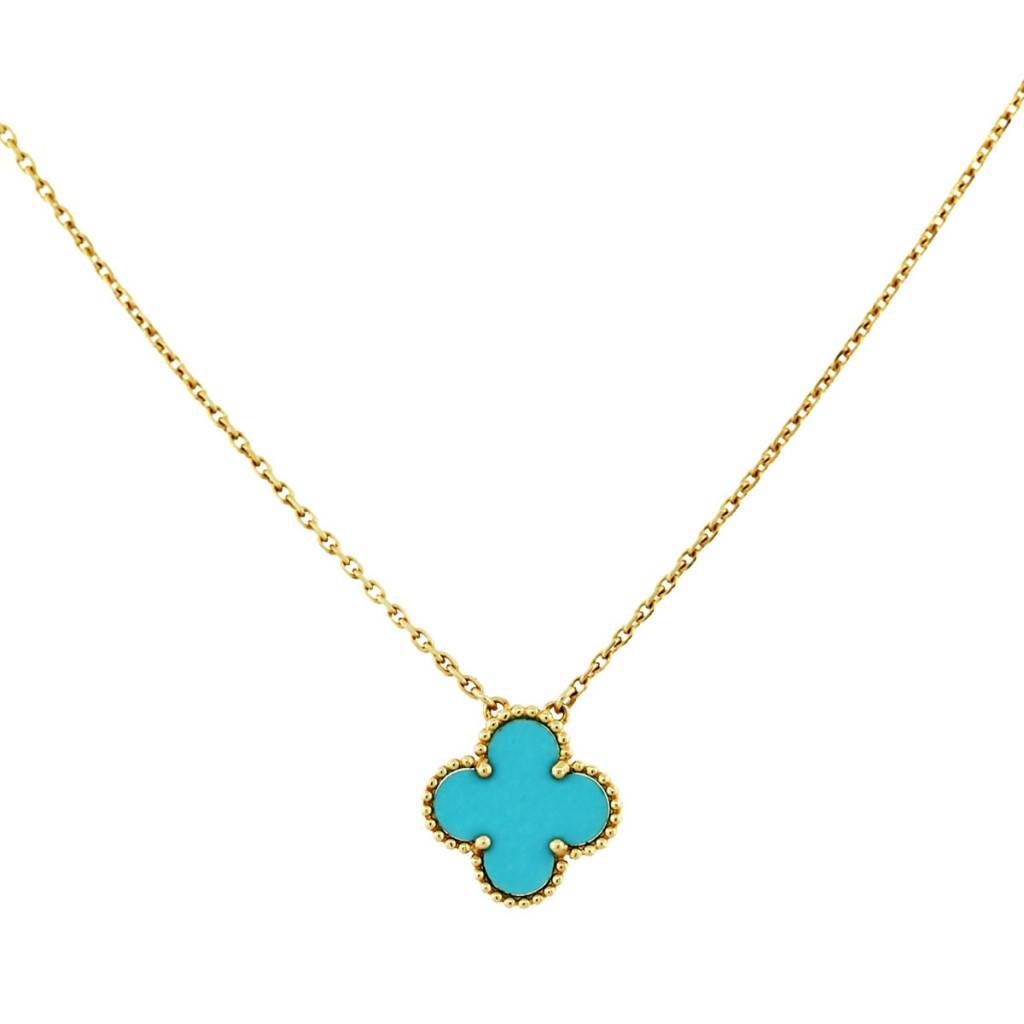 To give you some idea of the level of detail and unique pieces you can expect from the VCA collection, here are some terrific examples.
Naga Décor Bracelet: This exquisite bracelet visibly resembles a three headed dragon and is said to be fashioned after a mythical creature from Cambodian tales and legends. The beast is often represented with a stone on its head which is symbolic in its guarding of the vital energy of the oceans. Its creation was said to have taken 2900 hours, which allowed the piece to feature remarkable flexibility considering that it spans from wrist to forearm.
The piece is made entirely of white gold and is adorned with a purple tourmaline of 12.39 carats, diamonds, colored sapphires, tsavorite, Mandarin and demantoid garnets, red spinels and turquoise.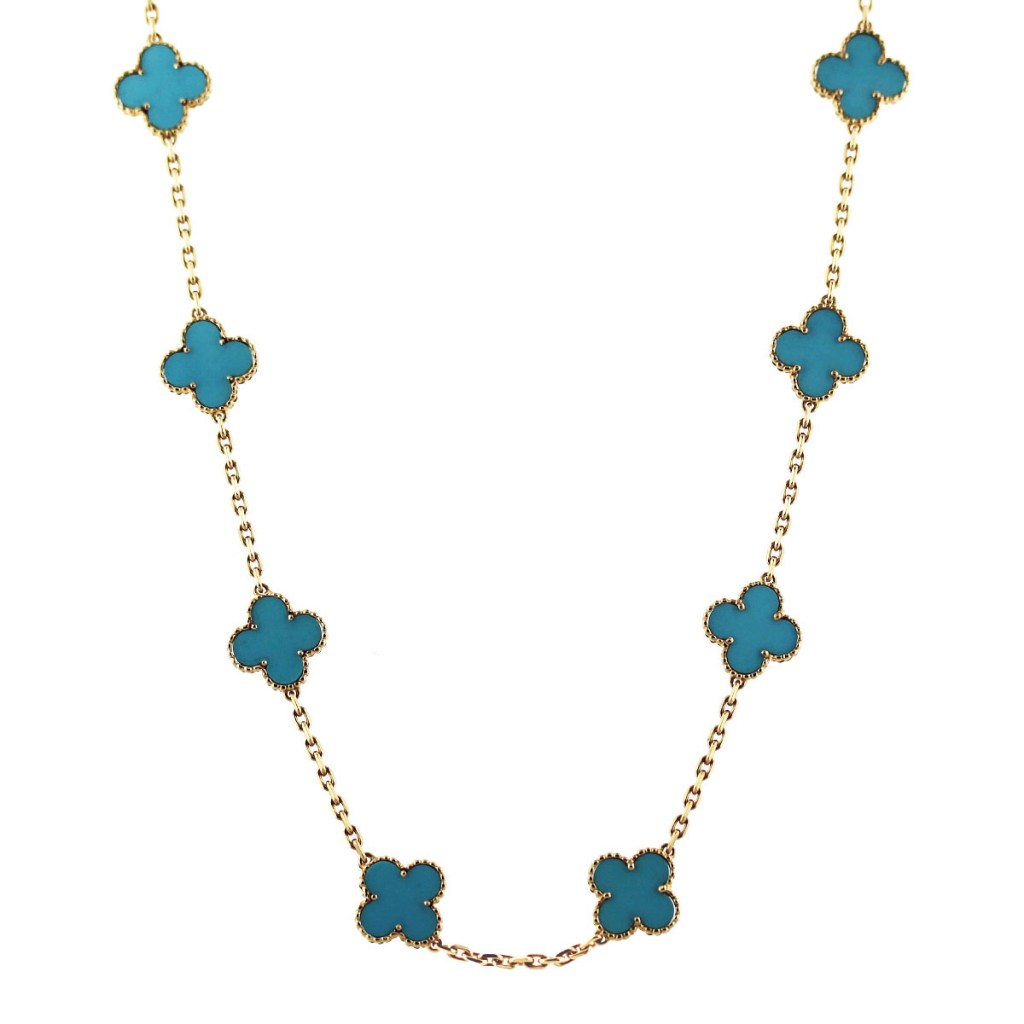 Alhambra Necklace: Once common motif you will see running throughout the VCA collection is that of the four leaf clover. This theme was based on the habits of Jacques Arpels nephew of company founders Estelle Arpels and Alfred Van Cleef. It was said he collected clovers in his garden and presented them to his staff along with a poem he had chosen. To Jacques, the clover was a symbol of hope.
A bestseller and great example of the clover theme in the VCA collection, the Alhambra necklace was created in 1968 and still remains a fan favorite. Its style is surprisingly modern, and it is typically inlaid with mother of pearl. The Magic Alhambra Long Necklace can be purchased for $5,500.
Pegase Necklace: This necklace is exquisite enough to look at as it features 45.10 carat emerald cut sapphire surrounded by diamonds, emeralds and sapphires, set in 18 carat white gold. Its cuff like closure fits the neck beautifully and drapes chandelier like with 3 large bejeweled hanging pieces.
The real surprise, however, is that the necklace opens up to reveal a tiny Pegasus crafted of diamonds. This is a removable pendant that makes the piece one of the most stunning of the convertible Le Secret collection. The price for this piece is available upon request.
The Pierre Arpels Watch: Not only does VCA make extraordinary jewelry, it makes great watches as well. The Pierre Arpels has been called the 'pink shirt of watches'. Designed by Pierre himself in 1949, its thin design made it easy to pull from behind shirt cuffs.
The watch was commercialized in 1971 making it still very much relevant to modern fashion sensibilities. Some consider the watch to be more elegant and less manly, while others look at it as a piece of true craftsmanship that only a real man can pull off.
Minaudiere: Continuing their varying collection, VCA also makes the minaudiere. This is a small vanity case that can be made of gold, silver or enamel. It was inspired by Frances Gould and pays homage to Alfred's wife Estelle who was famous for her smile. The minaudiere is a reference to her simpering smile.
The minaudiere comes in several shapes and sizes and are useful as pens, cigar holders, lighters, combs and more.
Knowing When to Spend and When Not to Spend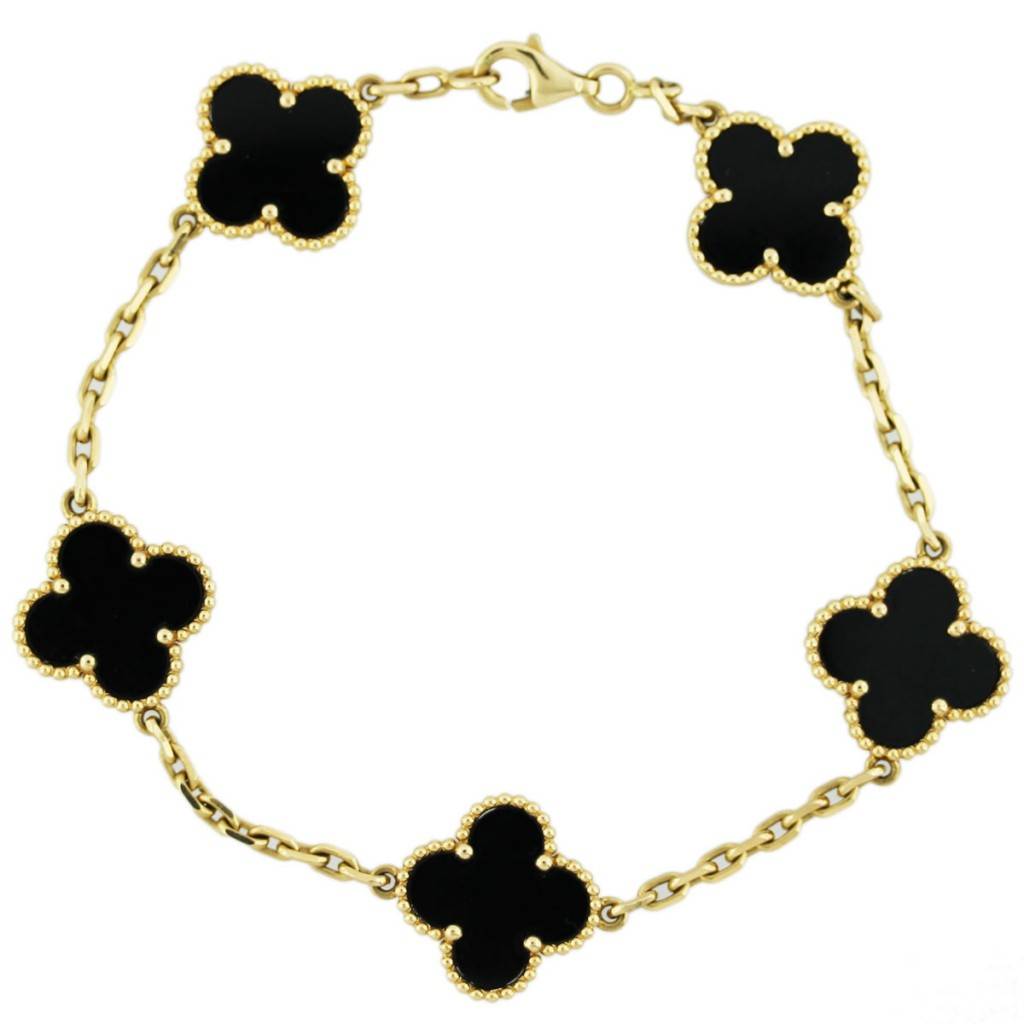 Even though VCA jewelry can be a great investment as well as a treasured piece for those who love the style, not all high end pieces are as worthwhile to buy and certain retailers may charge inflated prices. Keeping that in mind, here are some things to look for when shopping for luxury jewelry.
Build Your Eye: You can do this by haunting jewelry shops and museums and reading magazines and books. Get familiar with pieces that are popular and how much they should be worth.
Look for Specials and Sales: It is rare, but on occasion, luxury jewelry does go on sale. You can also try to negotiate with shop owners for lower prices.
Think of How Often You Will Wear It: When shopping for clothing, we often think of how often we will wear a piece. This doesn't come into play as much if you are purchasing jewelry which is more of a luxury item. However, you don't want to buy a piece that will just end up gathering dust in your jewelry box. Cost per wear should be a consideration here as well.
Go High Quality Vs. Generic: It's not a good idea to pay an inflated price for a generic design. However, if the design quality is high, the price will reflect it.
Cashing in On Your VCA Piece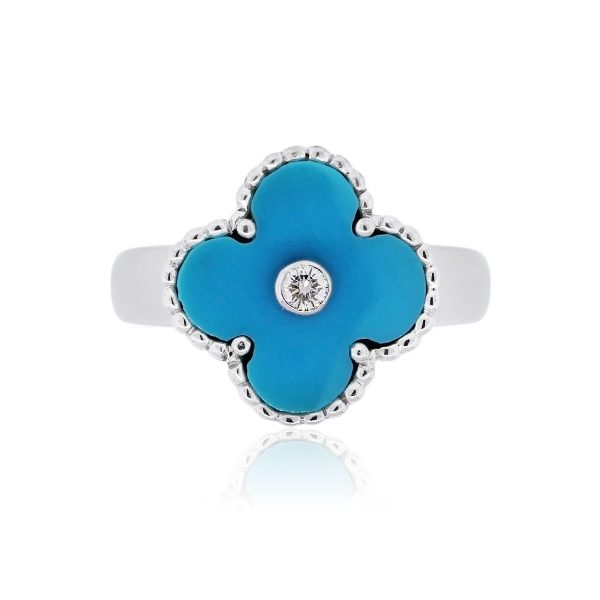 So we can see why a Van Cleef & Arpels piece is so expensive. Besides its beautiful design and high quality manufacturing, the pieces also have great resale value. If you are looking to cash in on your VCA jewelry, there are many avenues you can take.
Going to a jewelry buyer or selling online is one way you can get some value out of your luxury jewelry items, but, unfortunately, once you sell those items, they are gone forever and a lot of people want to hold on to their pieces due to sentimental value. Others see them as a sign of prestige.
For those who would rather hold on to their jewelry, another option is to go to a pawn shop. A pawn shop can buy your item outright, but there are also loan options that can help get you out of a cash crunch while still allowing you to get your items back. Here's a little about how it works.
If you have an item you wish to put up for a loan, you can walk into a pawn shop with that item. They will then appraise it and offer you a loan. The amount of your loan will not equal the full amount your item is worth, but a percentage of the total.
You will then work out the terms of your loan with the broker. Together, you will set up a plan that works for you, where you will make regular payments until your loan is paid off. These payments will include the amount of the loan as well as fees and interest rates.
Once your loan is paid off, you will get your item back.
If you are unable to pay off your loan for any reason, the pawn shop will keep your item. However, the payments will never go into collections, nor will the transaction end up reflecting negatively on your credit rating.
Why Boca Raton Pawn?
When considering what pawn shop to go to when putting an item up for loan, you want to go to one that is trustworthy, with a good reputation in their community. You also want a pawn shop that will offer high values and low interest rates. That's why Boca Raton Pawn is a great choice.
Boca Raton Pawn has been building a reputation in the South Florida community for years. They are known for offering the highest values and lowest interest rates making them a great place to put your high end jewelry up for loan.
BRP also specializes in luxury items. Therefore, they are familiar with high end brands and what they should appraise for. They also know how to take care of your items ensuring they will come back to you in the same condition they were in when you dropped them off.
The loan process at BRP is quick and easy. Just walk in any time for an appraisal. They will let you know how much you can expect from your loan and, if you decide to accept their offer, you can walk away with cash in hand.
What Do I Need to Know About Selling with Boca Raton Pawn?
If you decide to sell your items with Boca Raton Pawn, there are a few things you need to know in order to make the process as simple as possible.
BRP accepts luxury items including watches jewelry and handbags. There are certain brands they are more likely to accept than others, so it's a good idea to check their web site to familiarize yourself with these brands before selling. Items should also be in good condition in order to be purchased or traded in for a loan.
Boca Raton Pawn is not only a great place to sell and loan your items, it's also a great place to shop for discounted luxury items. Check them out to find out more about their terrific prices, excellent customer service and great selection. You'll be happy that you did!