Why Richard Mille Watches Are So Expensive and What Makes Them a Great Investment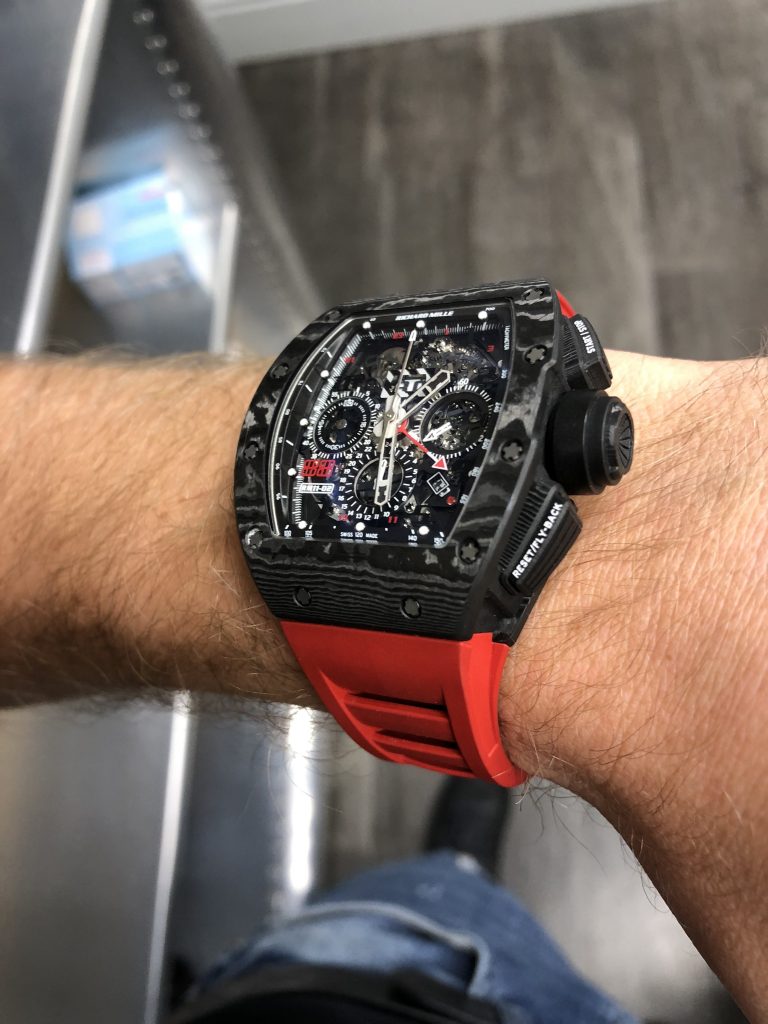 When thinking of luxury watches, the name Richard Mille might not be the first one to pass on your lips, but perhaps it is this sense of exclusivity that contributes to the price tags that can hover in the six and seven digit figures. Founded in 1999, this relatively new Swiss watch company is known for it's sporty and innovative designs and its countless celebrity endorsement. Find out more about the watch brand and why they are such an expensive catch.  Pawn watches Boca Raton.
About the Richard Mille Company
Richard Mille began his career in the watchmaking world when he was employed at a Bescancon based company called Finhor in 1974. When the company was bought by Matra, a French aeronautics, automobile and weaponry outfit in the early 80's, Mille was asked to manage the watchmaking arm of the business.
Gaining a reputation in the industry, Mille made the decision to leave Matra to work at Mauboussin, a French jewelry company in 1992. It is here where he would begin creating his first line of luxury watches.
Inspired by his own success, Mille moved on to open his own luxury watchmaking firm, Richard Mille SA in 1999. He grew his business releasing a collection of some of the world's most expensive, innovative and novel watches using materials never before seen in watches. Some are clearly inspired from his early experience with the aeronautics and automobile industry while others are completely original ideas.
Read on to find out more about Mille's most outstanding models.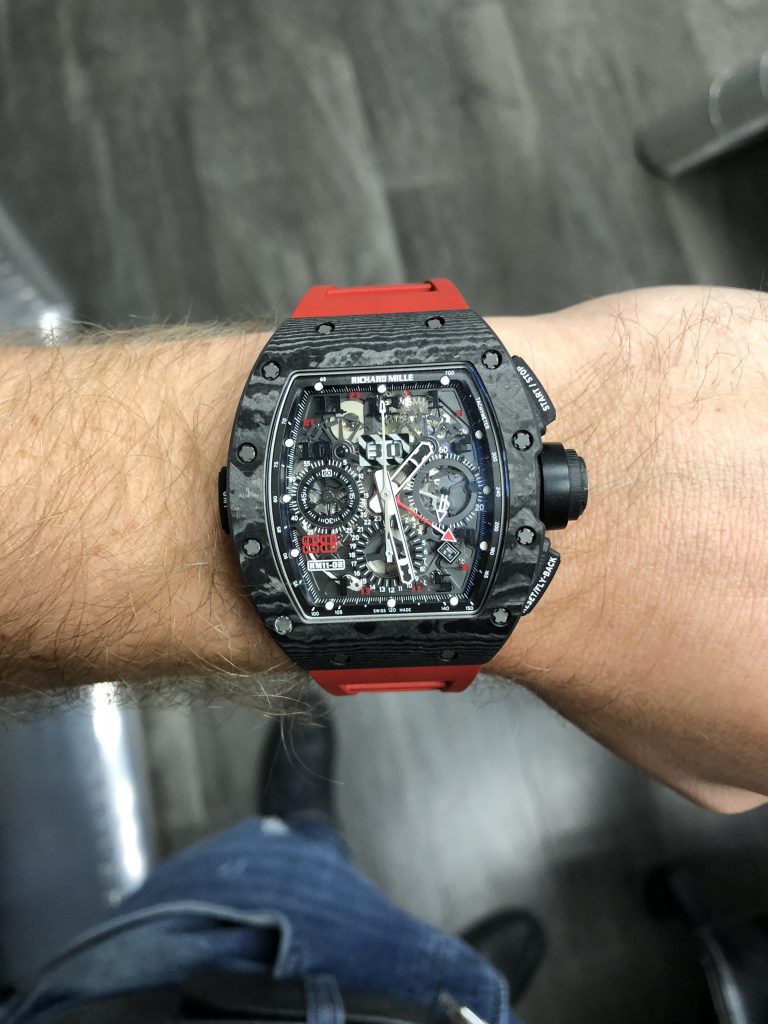 The Mille Brand's Finest Model Watches
RM 60-01 Regatta Flyback Chronograph: Named for the Voiles de Saint-Barth, a boating event Mille sponsors, this is the first navigational, technical watch released by the Mille company, It features an oversized, semi-instantaneous display date, month display, a sapphire dial and a double standard barrel system of optimal performance. Although the watch features a rather large 50mm diameter face, it is light as a feather due to its titanium composition. Pricing for the watch begins at $132,260.
RM 027 Rafael Nadal Tourbillon: Designed with the needs of the tennis player in mind, this watch has been frequently seen on the wrist of famous tennis player Rafael Nadal who is also a spokesperson for the brand. This great looking watch is made to withstand the movement used in professional sports and is lightweight (less than 20 grams) to allow for ease of movement. The carbon featured in the watch's case makes it resilient and its anti glare makes the watch easily readable in any light. Its tourbillon is powered by titanium and its high tech design allows for flexibility and shock resistance. The estimated value of the watch is $376,000.
RM 59-01 Yohan Blake Tourbillon: This watch was inspired by Olympic sprinter Yohan Blake who teamed up with Mille to create the watch. A bright color palette of green, yellow and red is a great representation of Blake's Jamaican heritage. The watch is compromised of magnesium, silicon and aluminum which makes it lightweight durable and capable of high performance. Only 50 of these watches were created which contributes to their high value, estimated at $620,000.
RM 008 Felipe Massa: This watch features a white gold composition, a leather strap and sophisticated technology that makes it worth its $850,000 plus price tag. Its tourbillon is comprised of 85 parts, taking manufacturers several months to create, the res of the watch not included. It is named for Formula One driver Felipe Massa who also serves as an ambassador for the brand testing each watch it releases.
RM057 Jackie Chan Tourbillon Dragon: This watch was released in 2012 in honor of the Year of the Dragon. One of Mille's most impressive looking watches, it is engraved with a Chinese Dragon. That along with its flawless precision, titanium bridges and celebrity endorsement owe to its high price tag of $860,000.
RM051 Michelle Yeoh RG Phoenix: This women's watch was a collaboration between Mille and the famous Malaysian Chinese actress. Another impressive design, the watch features a gleaming phoenix and dazzling details with a white gold case, diamond embellishments and a crocodile strap. With only 18 made in the world. it may come as no surprise that this watch prices at a hefty $900,000.
RM018 Meteorite Watch: This design is the brainchild of Mille's collaboration with the luxury jewelry company Boucheron. So called 'The Meteorite', the watch features tourbillon wheels that are made of an actual chondrite meteorite. Because this is a rarely sourced metal, only 30 of these watches exist. This, along with the innovative design the watch features, make it worthy of its million dollar price tag.
RM 52 01 Red Skull: One of the more distinctive of the Mille designs, the watch's face features a skull with red accents. Although a bit more of an alternative design, the high quality craftmanship and the fact that only 30 of these watches were manufactured make it a rare piece worthy of its $1.4 million price tag.
RM 56 Sapphire: The case of this watch may look plastic at first glance, but it's actually made of sapphire. This alone might make its worthy of its $1.56 million price tag, but it doesn't end there. The strap is made of aerospace grade material meaning it is likely it could survive a trip to outer space and still come out looking beautiful. Pushing the envelope on technology and engineering, there are only five of these watches existing in the world today.
RM 026 Panda: With a face that depicts a panda eating bamboo, its hard not to fall in love with this watch's adorable design. Add to that the fact that it is diamond encrusted and made of 18 karat white and red gold and was released in a limited edition of only 30 pieces and it may start to make sense that this watch is priced at a hefty $1.6 million.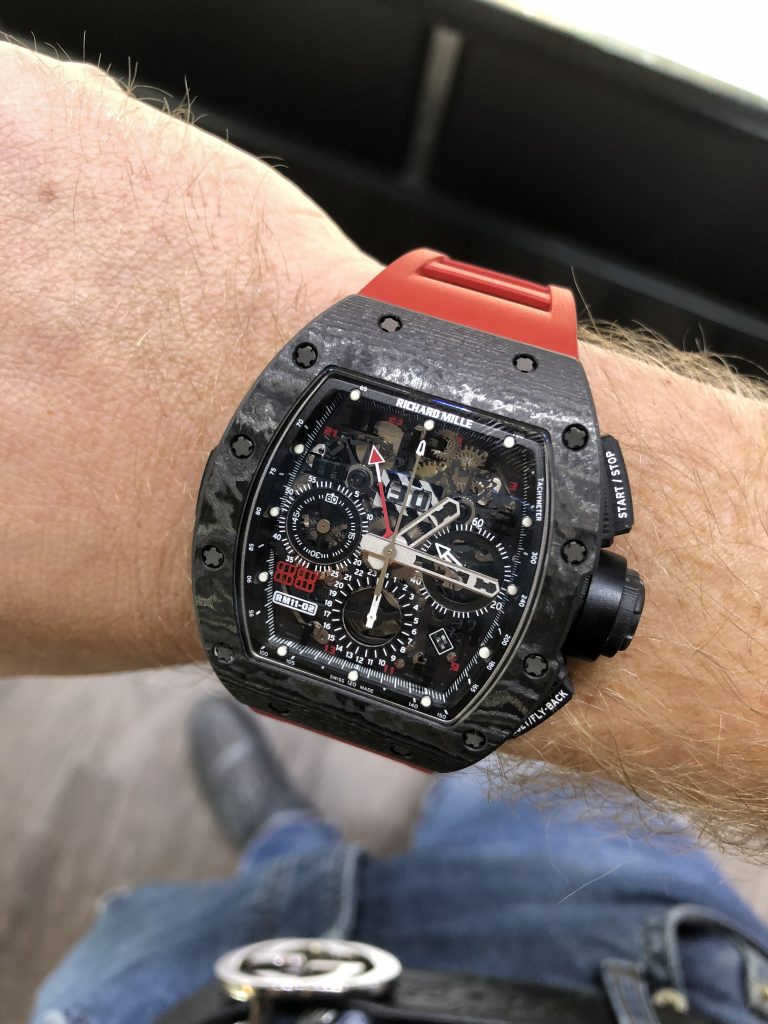 Why Are Mille Watches So Expensive?
At this point, there is probably little wonder as to why Mille watches are so expensive. The fine materials the company uses, cutting edge technology, limited edition status (for certain models) and celebrity endorsements and sponsorship all contribute to their high price tags.
But let's take a closer look under the hood to really appreciate what goes into the manufacturing of these watches to earn them their six and seven figure pricing.
The case: Unique to the Mille brand, the tonneau shaped barrel case is extremely difficult to manufacture. Comprised of three decks, front and back bezels and a middle section, each component is curved. This design makes machining easier and the curved nature of the surfaces make them fit together within a 100th of a millimeter to stop dirt and dust from entering.
The Use of High Tech Materials: Mille used only the highest quality materials when manufacturing his watches. His case and baseplate materials are those that are used in Formula 1 cars, aerospace racing and yachts and are considered high end, even in those industries. The incorporation of these materials in watch making is innovative and unique and Mille spends millions of Swiss francs just trying to understand how to use them in the manufacturing process.
Of course these materials pay off in making Mille watches extremely resilient and giving them a patina that owes to their exceptional appearance.
21st Century Movement: Mille watches also feature superior movement technology. High above normal watch standards, the interior pieces are coated in PVD (Physical Vapor Deposition) or Titalyt. These are materials not seen before in the world of watch making. The pieces themselves must also stand up to Mille's high standards. They are often a hybrid of titanium and other materials (and sometimes even semi-precious metals) that are micro engineered to perfection.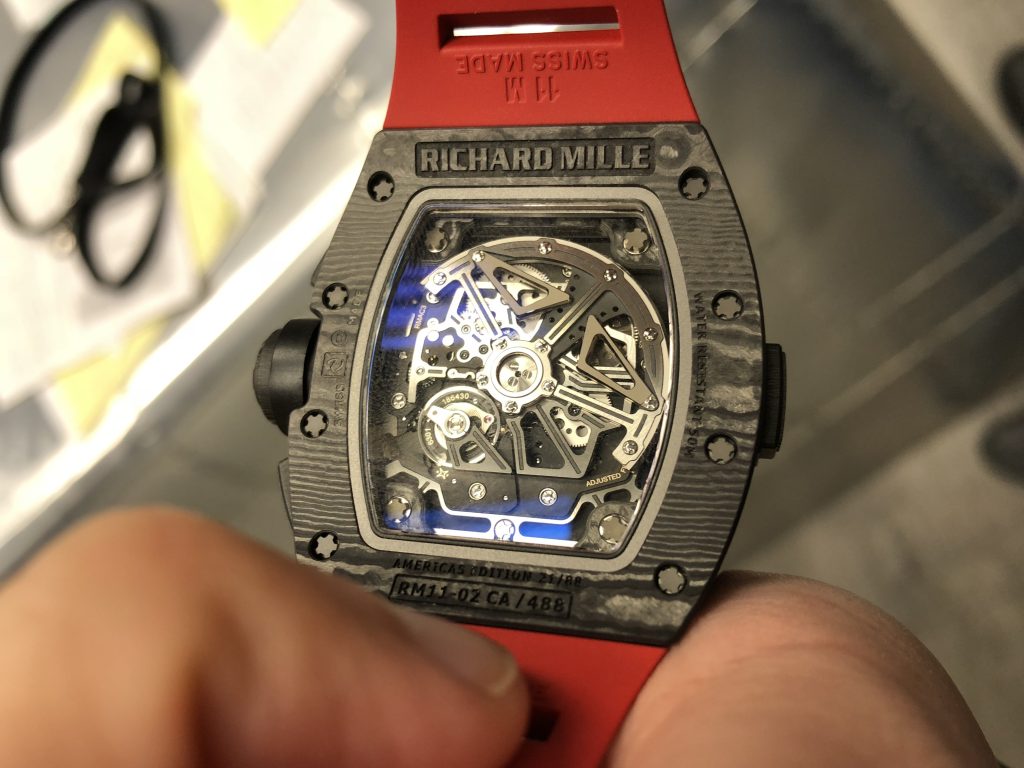 The Mille Watch as an Investment
Despite the fact that the high end materials and manufacturing can justify a Mille watch's high price tag, many will argue that they might not part with the bucks to score one watch when they can get a whole tray of Rolexes for the same amount of money. But if you do decide to take the plunge, one thing is for sure, these watches can certainly make a great investment!
Although most will not buy these watches with the intention of selling them, you never know when you will find yourself in a cash crunch and need to get cash for your luxury items.
Fortunately, selling isn't the only option when it comes to using your Mille watch to get out of a cash crunch. Pawn shop loans are available as well. Here's a bit about how it works.
The Pawn Shop Process
Most people think of pawn shops as places where they can sell their items, but did you know pawn shops offer loans as well? If you'd like to get a loan for your item, simply take it into a reputable pawn shop in your area. There, the brokers will access your item to determine how much they think it's worth. The loan they offer will not be for the full value of your item, but for a percentage of its total worth.
Terms for the loan will be worked out and may vary from pawn shop to pawn shop but, basically, you can expect to be making regular payments, which include fees and interest rates, until the loan is paid off. Once it is paid off, your item will be returned to you. If, for any reason, you are unable to pay off the loan, the pawn shop will keep your item, but the amount owed will never go into collections or reflect badly on your credit.
Not All Pawn Shops are Created Equal
When getting a loan for your item, it's a good idea to do a bit of research in advance. Some pawn shops will offer higher values and lower interest rates than others. If you are in the South Florida area, your best bet for a pawn shop loan is Boca Raton Pawn.
Boca Raton Pawn always offers the lowest interest rates and highest values for your item. What's more, they specialize in luxury brands so their knowledgeable brokers will always know exactly how much your item is worth and will take the best possible care of it while it is in their possession.
What's more, BRP offers great service making getting your loan a fast, pain free, and discreet process. In just minutes, you can walk away with cash in hand. Private appointments can be made in advance at well.
What You Should Know About the BRP Pawn Shop Process
BRP always offers fast and convenient service, but there are a few things you should know before bringing an item into our store to make the process even more pleasant.
Boca Raton Pawn specializes in luxury jewelry, watches and handbags. There are also certain designers they prefer to carry. These designers are listed on the Boca Raton Pawn web site. It is best to check with the web site to make sure the items you are brining in will be ones they are likely to accept.
Also, as with any pawn shop, items that are in good condition and proper working order will be more likely to be accepted and receive higher evaluations.
Other Reasons to Love Boca Raton Pawn
Not only is Boca Raton Pawn a great place to sell and get loans for your luxury items, it is a great place to purchase these items. With new stock coming in every day, BRP offers great deals on a wide selection of luxury items. Come in to find out about their new arrivals or browse their web site for added convenience.
BRP has established itself as a trusted member of the community for some time now. They always provide the best service, highest values and lowest interest rates for your luxury goods. Come in to find out how they can get you out of a cash crunch or to take advantage of the great deals they have to offer.