Pawn Cartier Boca Raton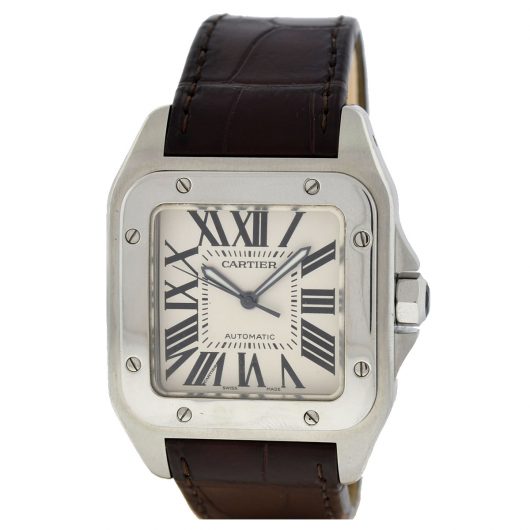 Why Your Cartier Santos Will Make a Great Investment
When we think of luxury watches, the name Cartier is one that is likely to be among the first to come to mind. Known for their timeless luxury, aesthetic appeal and quality craftsmanship, it is no wonder why they have long been a leading brand in high end watches. When considering Cartier watches, one model that particularly stands out as a popular choice is the Cartier Santos. Read on to find out more about this classic model and the brand behind it.  Pawn Cartier Boca Raton.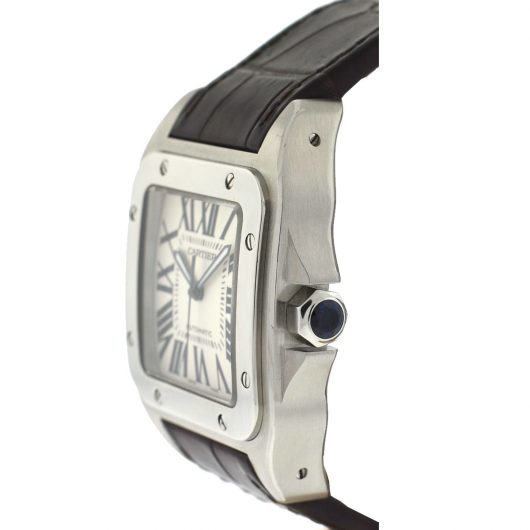 History of the Cartier Santos
During the 20th century, the world was obsessed with flight. Although the Wright Brothers were often credited for being the first successful fliers with their attempts made in 1903, it was Albert Santos Dumont who first flew an aircraft with embedded wheels three years later. These allowed the aircraft to take off independently, under its own power. (The Wright Brothers, by comparison, allowed their aircraft to catapult making their attempts more of a jump, some say.)
Dumont went on to fly successfully throughout his life, but one complaint he had was that he was unable to check his pocket watch while flying. He explained this dilemma to his good friend, watchmaker Louis Cartier. Cartier listened to him carefully and soon came up with the 'Santos Dumont Wristwatch' which would become popularly known as the first Pilot wristwatch.
The Pilot wristwatch was innovative for more than one reason. Not only was it the first Pilot watch, it was also one of the first wristwatches ever and the first of its kind to be designed for men. Though Phillipe Patek had created some models in the past, they had all been made for women.
Due to the attention the watch was getting, Cartier started producing them on a regular basis making them available to the public in 1911. The watch was a huge success despite the fact that fashions of the time were moving towards round shaped watches. (The Santos had a square face.)
And although fashion trends come and go, the watch continued to be in demand, so much so that in 1978, Cartier decided to produce a more affordable Santos to make it more accessible to the public. The watch used a combination of 18K and stainless steel and was an instant hit in men's luxury fashion.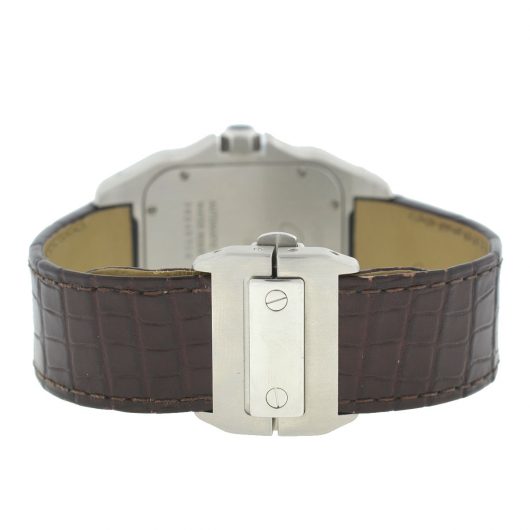 Models of the Cartier Santos
Even considering the affordable watch produced in the late 70's, the Santos watch did not change much until years later. There were slight alterations made between the 1920's and 1960's including updates in case styles and dial variations. Some featured baton hands while others featured Breguet style hands. Other than that, the basics of the watch design included a very flat yellow gold or platinum case with lunette and baton style hands and mechanical caliber movement by Frederique Piguet.
In 1994, the Cartier Santos would celebrate its 90th anniversary. In honor of the occasion, a 90 piece limited edition run of an updated model would be released. The style did not deviate much from the original but came in platinum and featured a salmon dial and Breguet style hands as well as an alligator strap with blue hand stitching.
For the watch's 100th anniversary 10 years later, Cartier debuted the Santos 100. In keeping with modern times, the watch would feature a considerably larger case, measuring 42×51 mm, an impressive jump from the original Santos that measured only 35mm.
The latest version of the Santos would be the Santos Triple 100 which was released in 2008. It is credited for having the first ever rotating dial mechanism. It also includes three different displays, the Cartier Roman numerals, one covered in diamonds and sapphires, and a portrait of a tiger. When the wearer turns the crown, the display rotates to reveal the next dial making it an innovative design in its own right.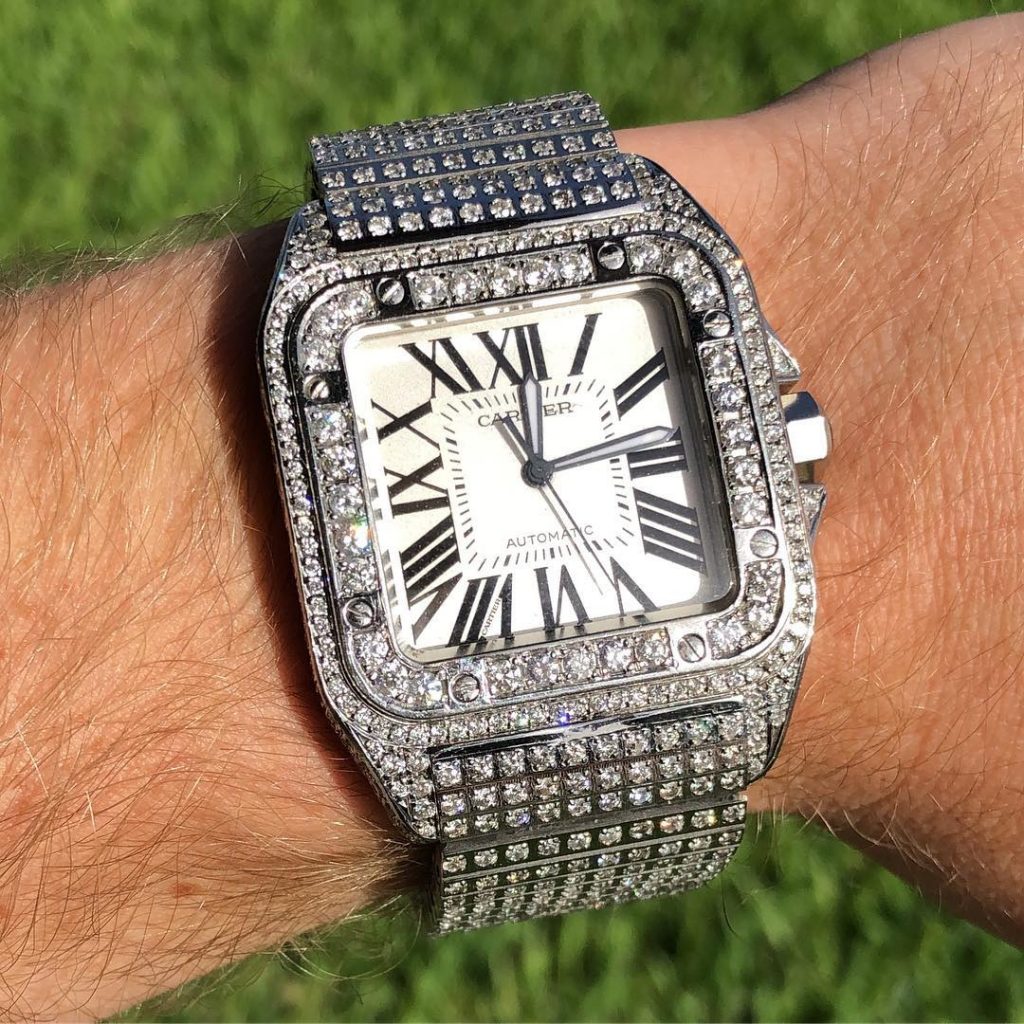 Other Cartier Watches to Look Out For
Although the Santos is one of Cartier's more popular watches, there are several other models to look out for. These include the following:
Cartier Tonneau: Introduced in 1906, the Tonneau was designed to please modern tastes that were turning away from traditional round cases. The new model was barrel shaped and curved to accommodate the contours of the wrist for an overall elegant and sophisticated look often worn by women of higher social status.
In 1913, a new version of the Tonneau would be introduced. This one was called the Tortue (French for tortoise). True to its name, the case was shorter and featured larger round movements as compared to its predecessor. The watch was re-released in 2002 to include a column-wheel caliber that was only 38 mm thick.
The watch would once again go under redesign as 2003 saw the release of the Roadster Chronograph. Its updated shape could be described as 'squat barrel' but was unmistakably an updated version of the Tortue. The dial includes a tachymeter scale with elapsed second hands to calculate average speeds.
Cartier Tank Watch: Inspired by the military tanks used in WW1, these watches debuted in 1917. Their design was focused on style with the face and dial being the stand out features. But those that look carefully will find the distinct caterpillar tracks of an army tank integrated into the band's design.
Because the watch was so popular, a number of variations followed. These include the Tank Cintree, an elongated version on the original square shaped watch which was released in 1921. In 1922, the Cartier Tank Chinoise was introduced. It featured prominent lugs inspired by the architectural lines of Chinese temples.
In 1926, an innovative update was made to the Tank allowing the watch case to rotate 180 degrees so the display would rest against the wrist. This new design would debut in the Tank Basculante model which was ideal for active wearers who wanted to safeguard the watch's delicate crystal.
1928 marked the release of the Tank a Guichets. The watch's elegance was apparent in the two small apertures that allowed wearers to read the hour and minute markers which rotate under the tiny windows. Despite its sophisticated appearance, the watch was designed for athletes and made to be durable during strenuous activity.
Newer versions of the Tank have been released more recently. These include the Tank Americaine, released in 1989 which is elongated and great for slightly formal events. The Tank Francaise was released in 1996 and features a modernized chain link bracelet. 2012 would see the release of the Tank Anlgaise which was a bulkier and sportier model, while the Tank MC which was released in 2013 would be the most impressive size wise.
Cartier Rotonde Central Chronograph: Released in 2009, the Rotonde Central Chronograph was considered ground breaking due to its advanced movement. The hour and minute hands are layered below a disk for reading elapsed chronograph minutes and the second hand. The simple design allows only the tips of the minute and hour hands to be seen and the chronograph is never obscured.
Even more innovative than the original Rotonde Central was the Rotonde Astrotourbillon which debuted in 2010. Unlike most tourbillon movements that rotate on their own axis, the tourbillon in this watch travels around the entire movement once every minute. Due to this updated technology, the watch quickly became a crowd favorite.
But the evolution of the Rotonde did not end there. In 2011, Cartier introduced the Rotonde Astroregulateur. Many considered the watch gravity defying due to its astonishingly accurate 9800 MC caliber. Cartier holds four patents for the watch's mechanism and complex movement which requires five times the components of a traditional tourbillon.
The Cartier Watch as an Investment
When thinking of watches that make good investments, the Cartier brand is one that will consistently come to mind.
One of the things that will contribute to a watch's value appreciating over time is a good story and historical significance. The Santos definitely has both of those characteristics as does the Tank watch, due to its tie in with WW1 and the fact that it was first presented to General John Pershing of the Expeditionary Force as a gift for his service during the war.
Another reason Cartiers can yield high price tags is due to their status as an innovative watch for their time. For this reason, vintage models are likely to fetch a pretty penny. The Ladies Tank Model Ref. 2625 has been known to sell at auctions for sums that can range from $12,000 to $21,000. Of course, the case metal of the watches, the condition and the manufacturer of the watch will also affect the value.
How to Make Your Cartier Watch Work for You
So, say you're in a cash crunch and maybe that Cartier is just sitting there, looking at you like the perfect solution for getting you out of your current financial situation. Of course, selling your watch is always an option, but we know how difficult it can be for some people to part with items that they have had for many years and may hold sentimental value.
In this case, it's good to know that selling isn't your only option. Did you know you can also get a loan for your luxury items? Here's a bit about how it works.
We all know we can sell items through a pawn shop…but did you know they offer loans as well? All you have to do is come into a pawn shop with your item and they will determine how much the item is worth. Then they will offer you a loan which will not be for the full value but a percentage of it.
If you accept the loan, terms will vary depending on the shop you are working with, but basically, a plan will be set up for regular payments which will include the principle as well as interest and fees. The pawn shop will hold on to your item while the loan is being paid off and will return it to you after the last payment has been made. If, for any reason, you are unable to pay off the loan, the shop will keep your item, but the unpaid amount will never go into collections or show as a negative mark on your credit score.
Why Not All Pawn Shops Are Created Equal
Pawn shops have gotten a bad rap over the years, but the truth is, most of them are locally owned by trustworthy businessman who are only looking to be trusted members of the community. In fact, state regulations are in place that keep pawn shops from doing anything that would not be considered above board.
That being stated, not every pawn shop is created equal, and when it comes to getting a loan for your item, you want to go with one that offers high values and low interest rates. If you live in the South Florida area, that shop is Boca Raton Pawn.
Boca Raton Pawn specializes in luxury items. They are able to use their knowledge to assess what your item is really worth and offer you the best values possible. Then they make payments as easy by offering you low interest rates. But it doesn't stop there!
When you come into Boca Raton Pawn, you can expect the highest level of service. If you are there to sell or get a loan for an item, we promise transactions will be handled quickly and discreetly. We even offer private appointments to customers who book in advance…and you will always walk out with cash in hand!
Before selling at Boca Raton Pawn, check our web site to make sure your item's brand is one we are likely to accept. Then come in to enjoy the convenience our knowledgeable sales staff has to offer. Oh, and be sure to check out the great deals we have on luxury items in store or on our web site. We can't wait to help you leave your financial woes behind you!