What Makes the Midsize Rolex So Cool?
When thinking of luxury watches, the name Rolex instantly comes to mind. The company is known for producing watches that are made for active lifestyles with styles like the Yachtmaster and Daytona being some of their most popular. And when we think of these sporty watches, we tend to think of them as being athletic and therefore oversized in nature.
However, tastes and trends change and in order to suit these needs, Rolex has several of their designs available in a variety of sizes including midsize. Let's find out more about Rolex's Midsize watches and what makes them so cool.
Brief History of Rolex
In order to become familiar with the styles a brand has to offer, it's important to start by learning a bit about the brand itself.
The Rolex company was originally founded in London, England in 1905 by Hans Wilsdorf and Alfred Davis. The company was named Wilsdorf and Davis and the two worked to import Swiss movements into England and place them into watch cases to sell to local jewelers who then put their names on the dials.
Within the first few years of business, several changes were made as the entrepreneurs began coming up with innovations that would establish them as the luxury watch brand they are today. One was that they would move the company to Switzerland in order to avoid Britain's high business taxes.
They would also change the company name to Rolex. This was preferred over the original name due to the fact that is was short enough to print on a watch face and it was easy to pronounce in any language.
As the company moved into the luxury watch manufacturing industry, they would be recognized for their innovative spirit. One of their greatest honors was being awarded the Class A Precision certificate. This is an honor given by the Kew Observatory that is normally reserved for marine chronometers. However, Rolex's impeccable time keeping technology deserved an exception in this case.
The company has also been recognized for its innovations in waterproofing, automatic date adjusts and its self-winding capabilities.
The Midsize Rolex
The midsize Rolex was born out of a need to appeal to as many people as possible. The company began providing watch cases in different sizes so that they would look good on any number of wrists.
However, defining what a midsize Rolex is can get a bit confusing. Here are some things to consider.
As the Rolex watch brand evolved, it came up with variations on their watch sizes that call for midsize watches to become redefined. For instance, the biggest size the Datejust was available in used to be 36mm. It is now also available in 41mm making the 36mm their midsize.
To better understand what constitutes a midsize, here is a basic size guide of Rolex watches that are available in various sizes:
Datejust: This watch is available in sizes 26, 28, 31, 36 and 41 mm. The smaller sizes are generally designed for women.
The Oyster Perpetual: The Oyster Perpetual is available in 34, 36 and 39mm.
Yachtmaster: This watch is available in 29, 35 and 40 mm. However, the 35 mm was later replaced by a 37mm model.
All watch sizes that fall in between their largest and smallest designs are considered midsize.
Financially, one might assume that mid-sized watches are less expensive than their larger counterparts. However, this is not necessarily the case.
In general, watch prices come down to supply and demand. Therefore, a more popular model will cost more no matter what the size may be.
Other factors that affect the price of the watch are the features and materials used. Often times, the Rolex company provides features on certain sizes of watches that are not available on other sizes. More expensive materials and more elaborate features will make for an increase in the price of the watch.
That being said, it may be interesting to note that the watches that come in midsize tend to be the simpler Rolex watches. Models with more complexities come in only one size. This may stand to reason as watches with more complexities may function better in their standard cases.
Even if you opt for a midsize watch, there are several features that can make the size appear differently when worn on the wrist. These can include the size of the lugs, crowns of pushers and the type of material it's made of. Rose gold watches, for example, can look smaller than yellow or white gold watches because the color tends to blend in with skin tone.
The size of the band can also make the watch look bigger or smaller.
The Rolex Datejust 31mm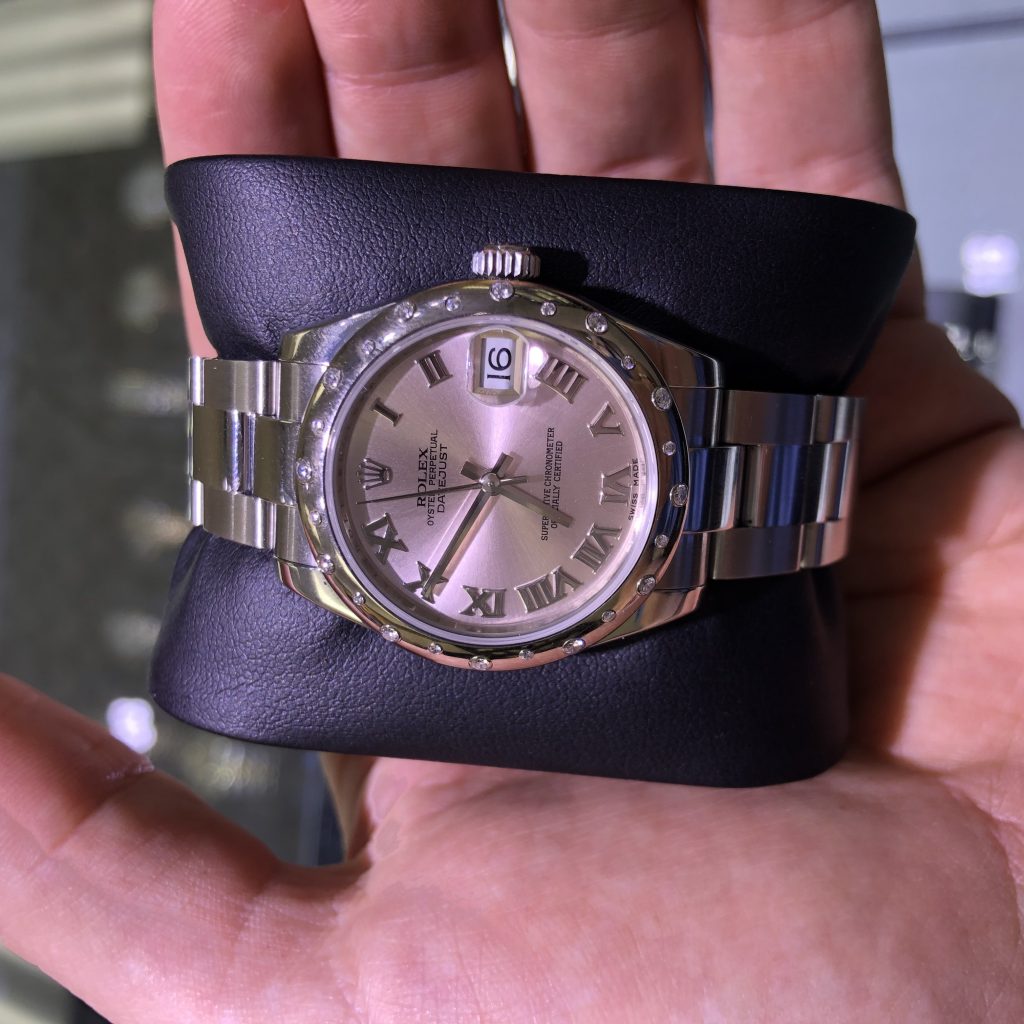 Among the midsize watches that have come out over the years, the Datejust 31mm is one of the most popular. Although it is considered a unisex watch, the 31 mm design is aimed at women. In fact, the tagline in one of its advertising campaigns was 'the men's watch women prefer.'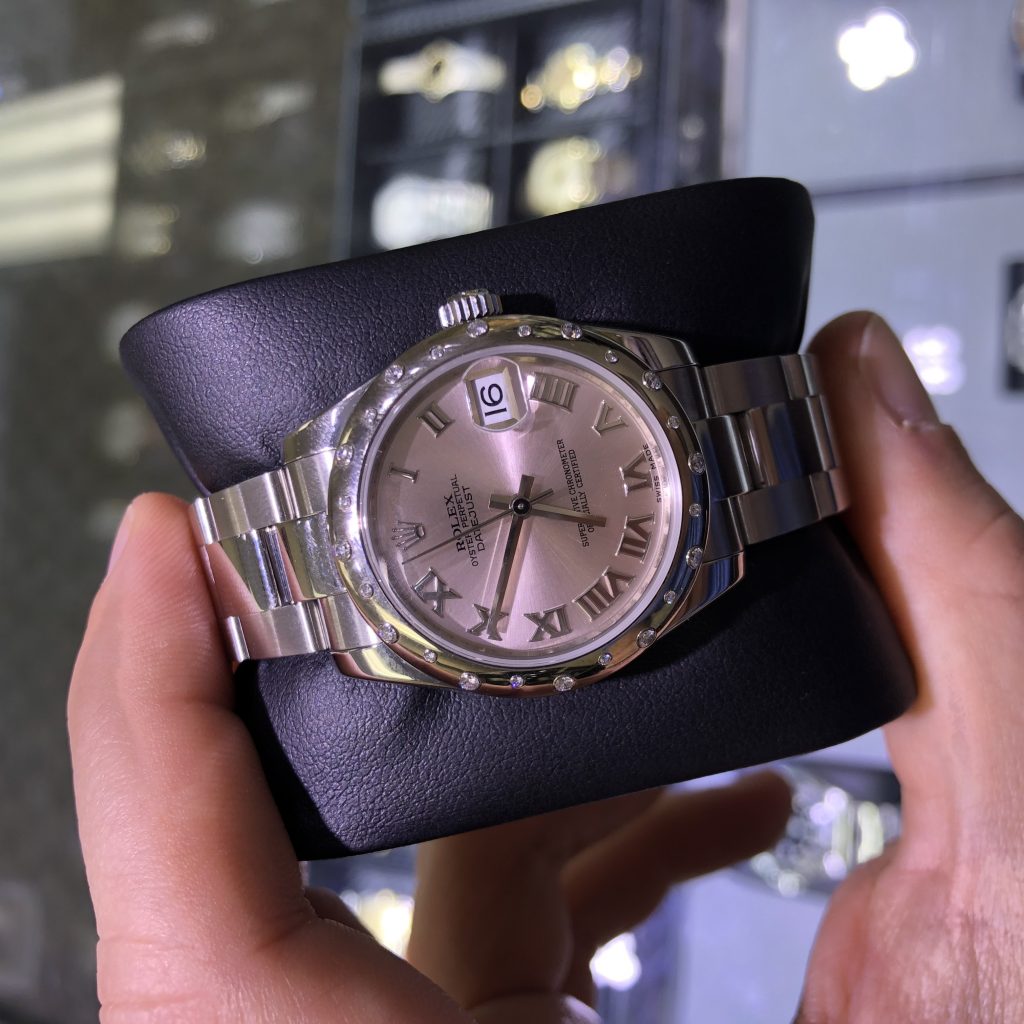 As opposed to other Rolexes that have a lot of bells and whistles that might attract adventurous types, the Datejust is rather simple. Other than its impeccable ability to keep the time and date, it may be its status as a classic that makes it a mainstay in the Rolex collection.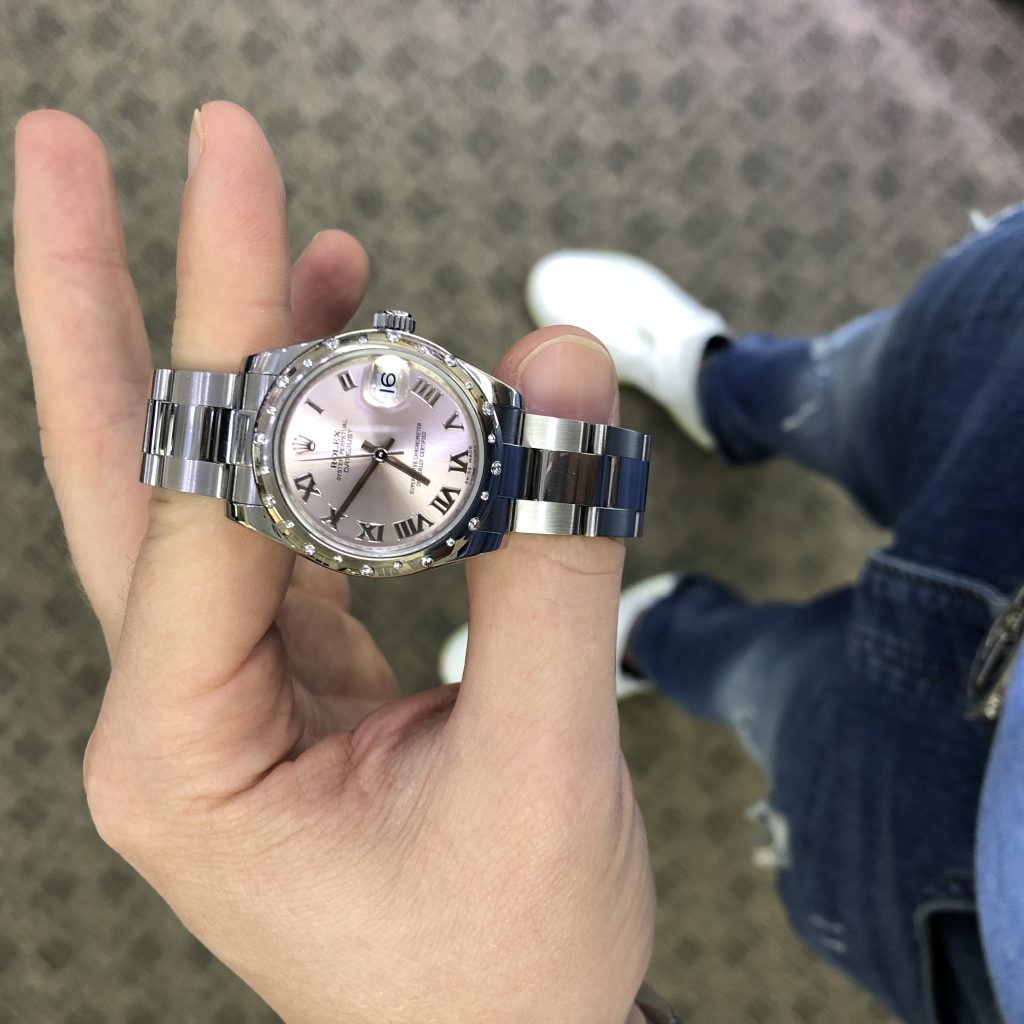 The Datejust was first introduced in 1945 and its quick changing date made it an innovator of its time. It was also the first Rolex to introduce the Jubilee bracelet, a type of band the brand still uses on many of its watches today.
Improvements would be made to the Datejust over time. Early on, a magnifier was added over the date window to allow people to see it better. The bezel also changed updating to a coin-style to replace the fluted design.
The caliber of movement also improved with updated technology. Currently the movement is at Calibre 3135.
A sapphire crystal was introduced, and different colors were made available for the dial.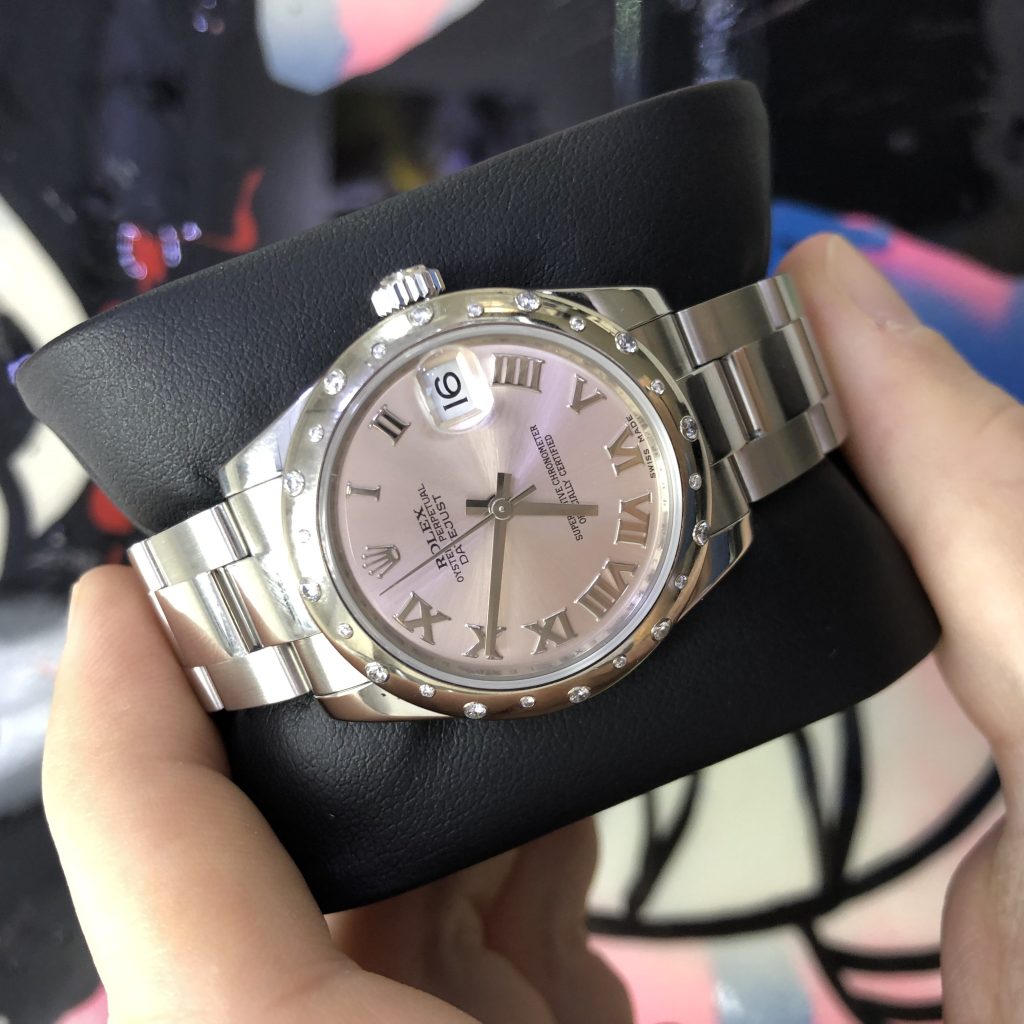 Of course, among the changes that were made, one of the most important would be the increased options in the sizes the watch came in. Due to the different tastes of their customers, Rolex would soon make the Datejust available in a variety of sizes including the Datejust 31.
Getting the Look for Less
Like any Rolex watch, the Datejust is not cheap. In fact, it is not uncommon to find the watch being sold for close to $20,000. However, you can get the look for less by purchasing it used. However, if you go that route, you can run into complications when it comes to the authenticity and condition of the watch.
If you want to feel confident about purchasing a used item, consider going to a pawn shop.
Pawn shops may have gotten a bad reputation in the past, but the truth is, many of them are government regulated and take every precaution to make sure that the items they have in stock are authentic and in proper working condition.
One pawn shop that has established a reputation for purchasing high quality, authentic items is Boca Raton Pawn. And it just so happens that they currently have a Datejust 31 in stock.
The Datejust BRP has is especially adorable due to its light pink dial. Other reasons to love it include its white gold diamond bezel, stainless steel case and bracelet and scratch resistant sapphire crystal.
But what's truly irresistible about this watch is the price. Available for about half of what this watch normally sells for, it can be purchased for just $9495, a price further discounted from BRP's original price tag of $10,600.
Pawn Shops Can Help You Our Financially
Pawn shops are not only great places to buy luxury jewelry for less, they can also be ideal for helping you out of a cash crunch. Here's how it works.
Let's say you go ahead and buy that adorable Datejust BRP has for sale, or maybe you own another luxury item. Suddenly, you find you are having financial difficulties and you realize that selling your luxury item could be a great way to get you out of your rut.
But of course, selling this luxury item won't be easy. It is a beautiful item that has grown in sentimental value over the years. Well, did you know there is a way to get out of your financial rut without having to part with your luxury piece? A pawn shop can help you out here as well.
Pawn shops can help people improve their financial situations by offering them loans for their luxury items. To start the process, just take your item into your local pawn shop. They will assess your item and determine what it's worth.
Then, they will offer you a loan based on the value of the item. The loan will not be for the full amount the item is worth but a percentage of the total value. If you agree to the amount they are willing to loan you, the terms of your loan will be worked out. Terms may vary, but basically, you will be making payments on the loan, including fees and interest, until the loan is paid off.
If you are able to pay off your loan, your item will be returned to you. If you can't pay off the loan, the pawn shop will keep your item, but it will never go into collections or appear as an unfavorable mark on your credit.
Finding the Best Pawn Shop for Your Loan
If you are looking to get a loan for your luxury item, it is important to understand that not all pawn shops are created equal. Some will offer you better values and lower interest rates so that you can get more money for your items and make smaller payments until the loan is paid off.
If you are in the South Florida area, the company that is known for its high values and interest rates is the same as the one that offers great deals on luxury items like the Rolex Datejust 31. That's right, it's Boca Raton Pawn.
Boca Raton Pawn has been serving its community for many years and it has built a reputation for its high level of customer service, great deals and genuine interest in helping its community. Visit their stores or web site to find out what items they currently have for sale or learn more about how they can help you out of your financial rut.
If you are planning on visiting Boca Raton Pawn to make a purchase or get a loan, there are a few things you should know in advance. The first is that they specialize in luxury watches, handbags and jewelry. These are the items they are most likely to buy and that they will be most likely to have in their store.
There are also certain brands BRP prefers to deal with. These are listed on their web site. Be sure to consult this list before heading into the store with your item. This way you can feel confident that the item you are loaning is likely to be accepted.
As with any pawn shop, make sure the items you are bringing in are in good condition. Clean them well and see to it that they are in proper working order. This will help you to get the highest possible value for your item.
You should also be sure to bring in any receipts or certificates of authenticity you have for the item.
Items like the Datejust are great to own and they can also make great investments. Pawn shops make it easy for you to use your luxury items to help you get out of a cash crunch. Turn to a reliable business like Boca Raton Pawn to find out how they can help ease your financial situation or help you find the luxury items of your dreams.