Spotlight on Audemars Piguet Royal Oak Offshore Navy
Every once in a while, a watch comes along that is so stunning, it immediately becomes one consumers can't wait to get their hands on and watchmakers aspire to imitate. One such watch is the Audemars Piguet Royal Oak Offshore Navy.
The watch offers a sporty look and a great blue and white contrast that makes it unique. Its timer hands offer a functionality that goes beyond that of what most watches offer.
Read on to find out why this watch is a must have and how you can get the look for less.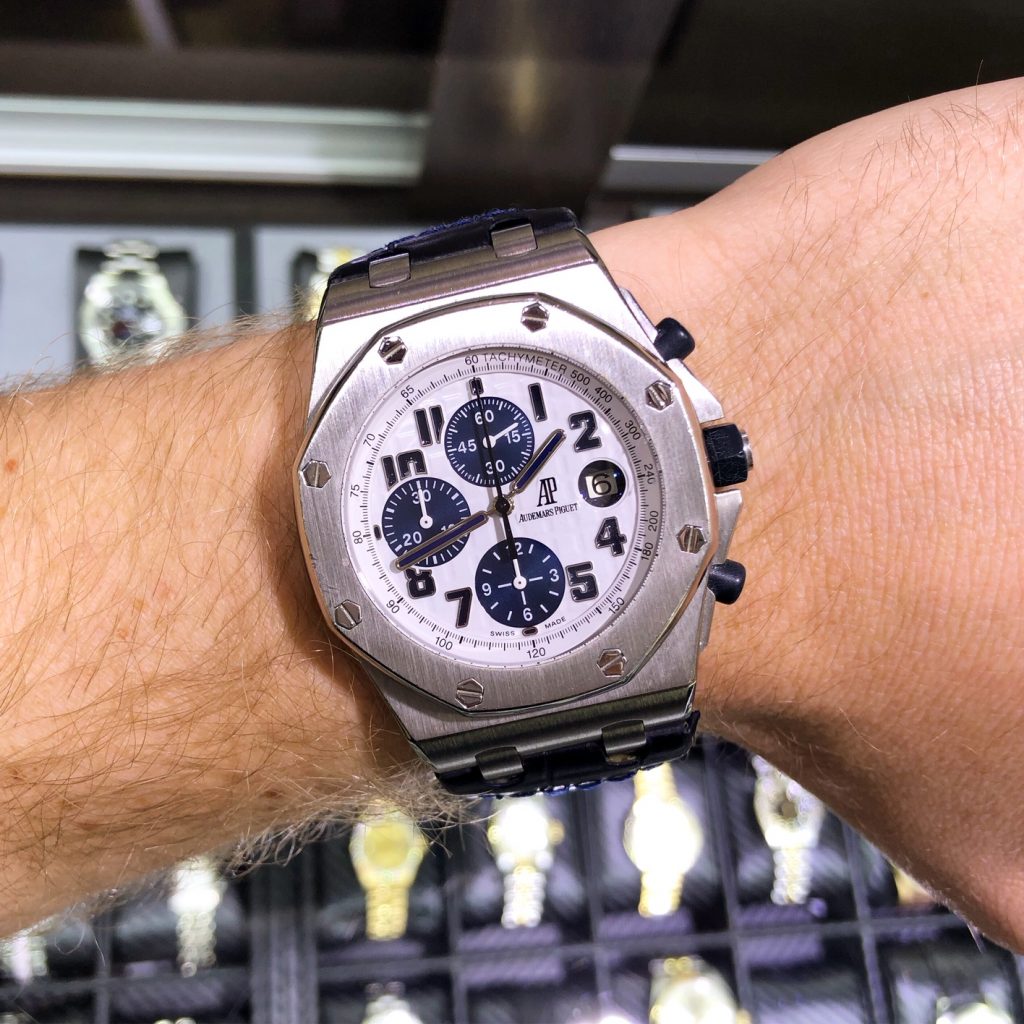 Brief History of Audemars Piguet
To get a good understanding of any luxury watch, it is a best to learn a bit about the history behind the company that manufactures it.
Audemars Holding SA is a Swiss manufacturer of luxury watches and clocks. The company was founded by childhood friends Jules Louis Audemars and Edward Auguste Piguet in 1875. The two had previous experience in the watchmaking industry and joined forces to take it to the next level.
Throughout the years, the company would make several breakthroughs that would establish them in the luxury watch industry. In 1892, they produced the world's first minute repeating watch. They are known for their ultra-thin models such as the automatic tourbillon and the skeleton watch. They are also responsible for designing the world's first jumping hour wristwatch and the first watch with a carbon case and movement.
But what the company is best known for is its Royal Oak Offshore collection.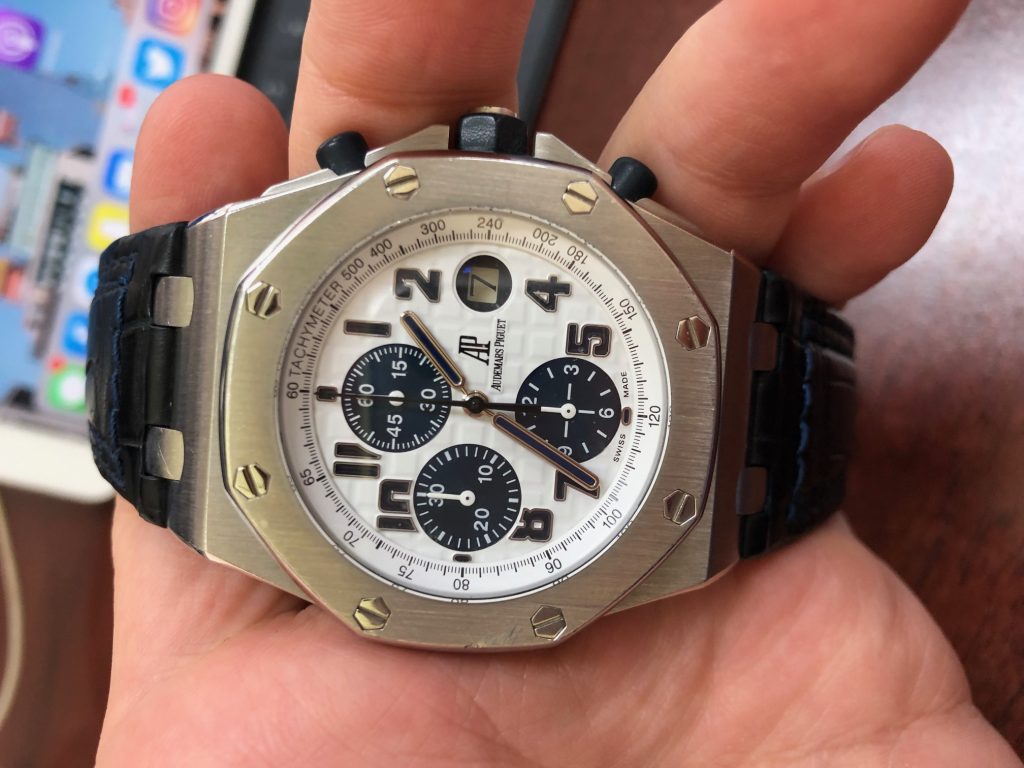 The Royal Oak Offshore
Legend has it that the Royal Oak was Audemar Piguet's response to a financial crisis. Like many Swiss watchmakers, the company found itself threatened by the Quartz watches that were being brought in from Japan during the early 70's.
In response, the company knew they had to come up with a design that was so innovative it would set the world of luxury watches on its heels. They called on a young designer named Gerald Genta to design an 'unprecedented steel watch', one which was suitable for all occasions and provided one of the most beautiful finishes ever seen.
In the morning, the designer presented Audemars Piguet with what would be the prototype for the Royal Oak, a model that would change the company and the world of watches forever.
After making some finishing touches, AP presented the first Royal Oak to the world at Baselworld in 1972. It was considered to be the first luxury sports watch in the world.
Genta's design was inspired by traditional diving helmets and featured exposed screws and a unique case design. It also has an integrated bracelet specific to the watch that is known for being one of its shining, unique characteristics.
The watch went on to become the company's most popular model of all time.
When the Royal Oak reached its 20-year mark, the company hired a designer named Emmanuel Gueti to design a new watch called the Royal Oak Offshore. This model was introduced in 1993 and featured a much larger case (42mm as compared to the original 39mm) and it is water resistant up to 100 meters.
As compared to the Royal Oak, the Offshore has a sportier look and is thought to be more durable than the original. It has distinctive features such as an octagonal bezel and visible screws as well as narrow hands that adorn the dial.
The watch is available in several colors and materials. Casings can be stainless steel or gold and dials can be seen in various colors with impressive details. Some feature diamonds as well as other elements that give them a more ornate appearance. It is known for its exceptional resistance to magnetic fields and gravity.
There are several models of the Royal Oak Offshore available. These include the Bumble, the Grand Prix, the Volcano and the Navy.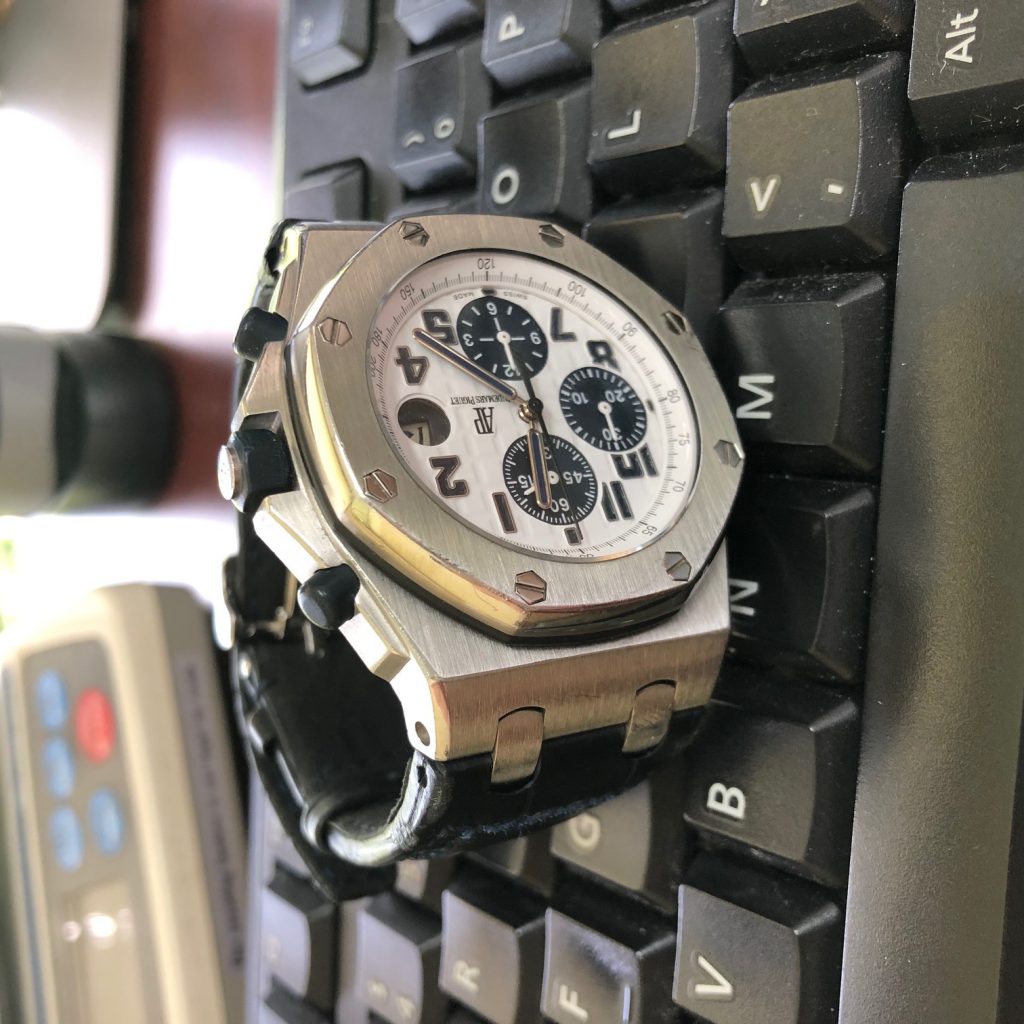 The Royal Oak Offshore Navy
The Navy was introduced in 2017. It is so called because of its distinctive dark blue and white coloring. It has a pristine white dial with navy blue chrono registers. The strap is a blue crocodile hornback with white stitching that complements the face of the watch perfectly. The strap is known to be very comfortable and it is fitted with a deployant buckle that make it easy to use.
Although most might think that hands are black, those with careful attention to detail will realize that they are blue as well.
The Navy is an update on some older offshore models featuring a newer Audemars Piquet Chronograph caliber 3126/3840. This contrasts to older models which featured a caliber 2326/2840. Other notable features include its 59 jewels, 365 parts, a power reserve of approximately 55 hours and navy blue 'Therban' pushers and crown.
Here are some other specifics of the watch that you may want to consider:
The case is stainless steel with a sapphire crystal and black rubber clad screw-locked crown and push pieces. It has a thickness of 14.3mm.
The white dial features a Mega Tapisserie pattern, Arabic numerals, a luminescent coating and a white inner bezel
The watch is self-winding with a mechanism that is powered by the natural movements of your wrist.
Complications include a chronograph and a small second hand that let's you clock time with unmatchable accuracy.
It should be noted that the Offshore Navy underwent an upgrade in 2014. Most notable changes are apparent on the dial which now features more streamline Arabic numerals and a reverse in the color scheme. It would no longer be fitted with a white dial and blue counters but rather with a navy dial with white counters as well as a blue flange with orange tachymeter scale and orange chronograph hands.
Other changes include a new cobalt blue rubber strap and updates made to the ceramic pushers and crown, crown guards and display case backs.
The updates went over surprisingly well with the watch wearer's lifestyle crowd.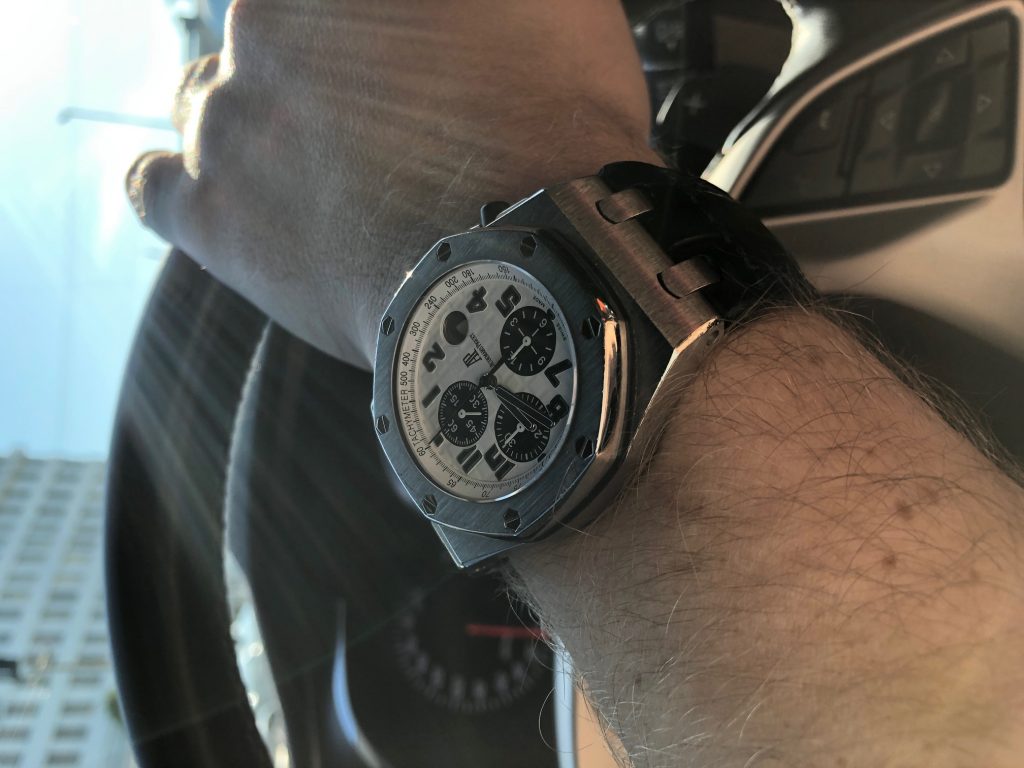 Other Types of Offshores
If you love the Navy Offshore, you may eventually want to explore other Offshores Audemars Piquet has available. These include:
The Chronograph: This watch is known for allowing wearers to easily measure small amounts of time. It is fitted with highly legible minute, hour and second markers as well as a date display. It is made of durable materials including stainless steel casing and a reflective sapphire crystal. Its crown and pushers are comprised of ceramics. It is available in a several color combinations each of which is guaranteed to be unique and elegant.
Tourbillon Chronograph: This watch is known for its astounding technicality and its sporty design. Wearers can witness its precise movements in its open-worked dial. It is available in several color schemes to appeal to a wide variety of individuals.
Diver: This watch is designed for professional and hobbyist divers. It features automatic winding as well as an ultra-bright ceramic case and luminous dial that allows for easy reading in poorly lit environments. Although the watch is a sporty piece, it has a stylish and timeless look that is perfect for any occasion.
Is the Audemars Piguet Royal Offshore Navy a Good Investment?
Because Audemars Piguets are so unique and luxurious, you can always expect to pay a pretty penny for them. The Navy, in particular, comes with a price tag that can be as high as tens of thousands of dollars. While this is a lot of money to spend, it can pay off as the watch is a great investment.
In general, any AP watch will hold its value or appreciate over time. This is especially true of any Offshore model because they are appealing to both collectors and fashionistas. That is why an Offshore can be a smart purchase for jewelry fans and collectors.
Your Audemars Piguet Royal Offshore Navy as an Investment
If you own an Offshore Navy and you find yourself in a financial bind, you may consider selling it. However, many would sooner go broke than part with this item that has grown in both monetary and sentimental value over time.
However, there are ways to use your watch to get out of a financial rut without having to sell it.
Pawn shops are not always known for having a great reputation, but the truth is, many of them are regulated by local government laws and owned by trustworthy businesspeople who are working hard to become an asset to their community.
In addition to this, pawn shops can be a great solution when it comes to helping you use your luxury jewelry to get out of a crash crunch.
Of course, one solution is to have a pawn shop buy your pieces outright. But if you would rather not part with these lovely items, getting a loan is a great alternative.
If you are thinking of getting a loan for your luxury items, bring them into your local pawn shop. The staff with assess your item to determine its value. Then they will offer you a loan. The loan amount will not be for the full value of your item but for a percentage of its worth.
If you agree for the loan amount, the terms of your loan will be worked out. Terms may vary but, in general, you can expect to be making regular payments until the loan is paid off.
If you are unable to pay off the loan, the pawn shop will keep your item, but the unpaid amount will never go into collections or show up as an unfavorable mark on your credit score.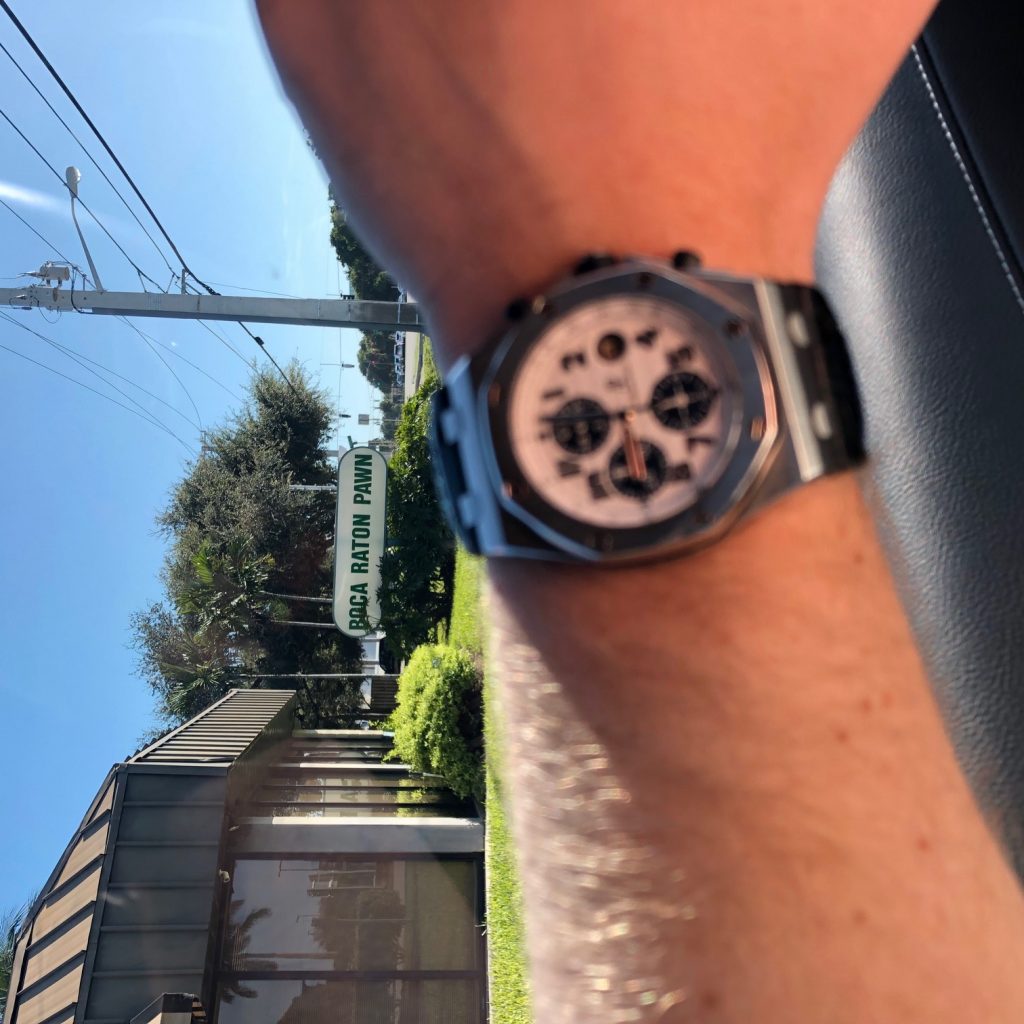 Finding the Best Pawn Shop for Your Luxury Item Loan
If you are thinking of going to a pawn shop for a loan, you should be aware that not all pawn shops are created equal. It is important to find ones that provide high values and low interest rates. This way, you will get a good amount of cash and you will be able to make low payments until the loan is paid off.
If you are looking for a pawn shop that provides high values and low interest rates in the South Florida area, Boca Raton Pawn is highly recommended.
Boca Raton Pawn is exceptional because they are a shop that really cares about their customers. They offer the utmost in service giving you great values, low rates and making sure that your appointment is handled in a timely manner so you can get in and out quickly and leave with cash in hand.
And not only is BRP a great place to sell or get a loan for your item, they are also a great place to find the luxury goods you have always dreamed about at an affordable price.
BRP is constantly getting in a new stock of gently used luxury items. Their knowledgeable sales staff will help you find exactly what you are looking for and sell them to you at an affordable price so you can take home items you only dreamed of owning.
If you are thinking of getting a loan with BRP, there are a few things you should take note of in advance. The first is that the shop specializes in luxury handbags, watches and jewelry. These are the items they are most likely to accept and the ones they are most likely to have available.
Also, there are certain brands BRP prefers to deal with. These brands are listed on their web site. Before selling an item, make sure it is one they are likely to accept to make your experience as pleasant as possible.
Finally, as with any used item you are looking to sell or loan, they should be in good condition to yield the highest values. It is a good idea to clean your item and make any necessary repairs before bringing them in.
Luxury items like the AP Offshore Navy can be extremely valuable when it comes to getting you out of a financial crisis. If you have any sitting around your house, consider bringing them into BRP the next time you are in a cash crunch. They are there to help their community thrive.