History of the Chanel Flap Bag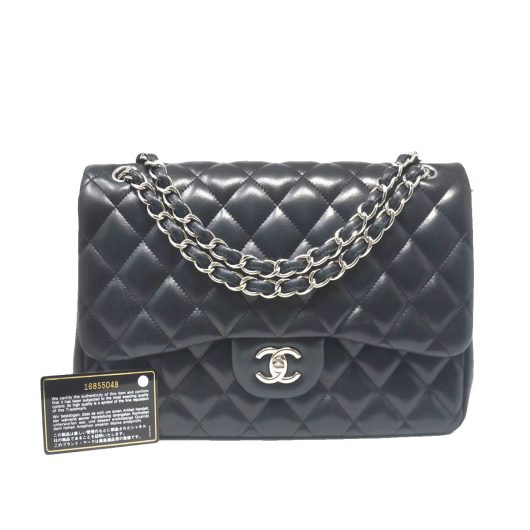 The Chanel Flap Bag is one of the most iconic in the history of fashion. Identifiable for its flap top, the bag comes in a number of colors and styles making it an ideal accessory for a number of outfits and occasions. The bag celebrated its 50th anniversary in 2015 and has only gained in popularity since its debut in 1955. Let's take a look at this bag's history and how it has evolved throughout the years.
1955: The Bag Makes Its Debut
The debut of the flap bag revolutionized fashion history. Up until the first one was released, bags were hand carried and cumbersome. The flap bag was not only a style revolution, but it was the first to bear a strap making it easier to carry. Following its debut, it soon became a mark of social status for women to wear a bag on the shoulder.
The Flap Bag Was Not the First Chanel Bag on the Market
The first Chanel handbag was introduced in 1929. Though early styles did feature a flap, it wasn't until 1955 that Chanel realized the convenience of creating a bag that featured a strap. It was then that the style began to be known as the classic flap bag we know and love.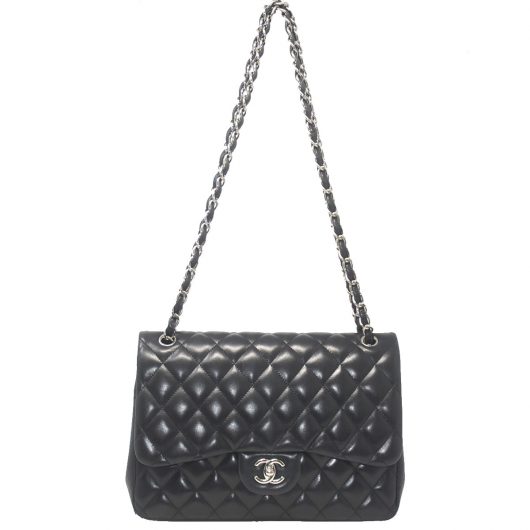 1980's: The Interlocking C's Make an Appearance
It's hard to imagine a Chanel purse that does not feature interlocking C's but, actually, this signature look did not make an appearance until the 1980's. The logo was first introduced by Carl Lagerfield.
Its take off, the Mademoiselle Lock, debuted for the 2.55 styles, so named in honor of their 1955 invention. This logo is known as the Mademoiselle Lock in honor of the fact that Coco Chanel never married.
Leather Woven Straps
The first Chanel purses featured all chain straps. However, as the years went on, leather filled straps were used when resources were scarce. The general rule is that older flap bags may feature a leather filled strap while the newer 2.55 use strictly chain straps.
The Burgundy Interiors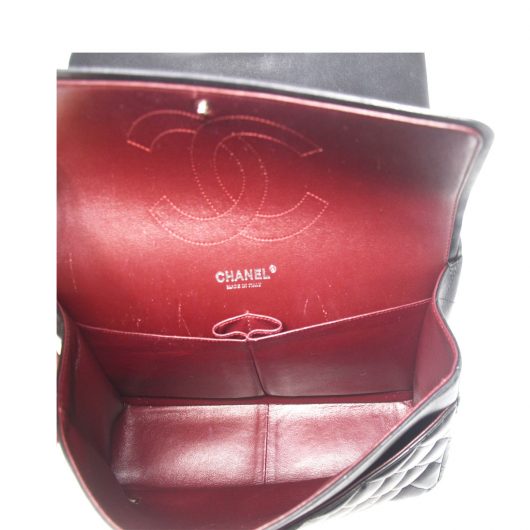 Whether classic style or 2.55, many of the Chanel Flap Bags feature a burgundy interior. This is in honor of Chanel's past. She was raised in an orphanage where the uniforms worn by the orphans featured a similar shade.
Flap Bags Inspiration
It may seem unlikely, but today's flap bags were heavily inspired by men's fashion. Chanel designed them after jackets her stable hands wore that she was particularly fond of. The Boy Bag, one of Chanel's more recent lines of flap bags, were inspired by her longtime lover, polo player Boy Capel.
Understanding Different Types of Flap Bags
When thinking of different types of flap bags, things can get quite confusing. Here is a quick rundown:
Classic Flap: This refers to Flap Bags with CC locks that follow the design Carl Lagerfield introduced in the 80's.
2.55: This refers to the Flap Bag with the Mademoiselle Lock but is often used to refer to all flap bags that feature the brand's traditional design.
Reissue: These were released in 2005 as an exact recreation of the original 2.55. Although reissue is meant as a term that only refers to these newer recreations, they are also often used to refer to all 2.55 models.
Boy Bag: As mentioned before, these bags were inspired by Chanel's lover, Boy Capel who supported her throughout her career. Released in 2011, the bag features the interlocking C lock, quilted leather and updated details like only one compartment making for a lighter feel and subtle, casual touches. Though often seen in black, it is also available in a variety of colors, like highlighter green.
Double Flap vs. Single Flap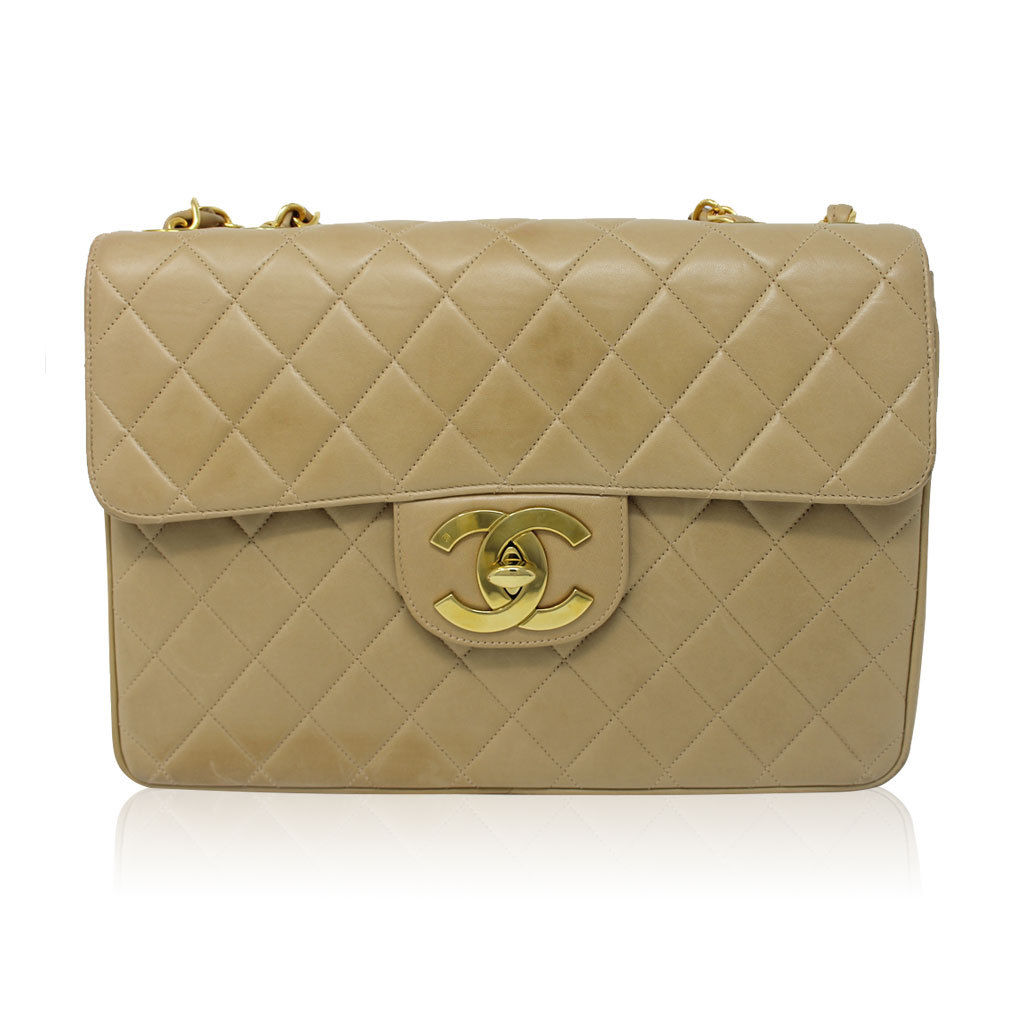 The double and single flap designs of the bag can also be a confusing issue. 2.55s and Classic Flaps are both double flaps. This means they have an exterior flap closure and an interior flap compartment.
The 2.55s have always been this way, but at one point there were Classic Flaps that only featured an exterior flap and an open interior. This style is considered a single flap.
Single flaps were discontinued a while ago and now all flap bags are double flaps. However, single flaps are still widely available on the resale market.
Price
Back in 1955, when flap bags were first introduced, they were available for only $220. Since then prices have increased so that plain leather versions can retail for up to $6000. That's quite a leap from the original price…even when you consider inflation.
The Hidden Zipper Compartment
Many flap bags feature a hidden zipper compartment. Oddly placed, this is not a common feature in many other handbags. The story goes that Chanel designed this hidden compartment as a place to stash her love letters. According to legend, she was having a very torrid affair at the time.
The Quilted Leather
Although not every flap bag features quilted leather, it is a common feature for many of the bags. This also was inspired by Chanel's love of riding fashion. It honors a time when quilted materials were worn by the boys who worked in the stables.
Flap Bags Making a Public Appearance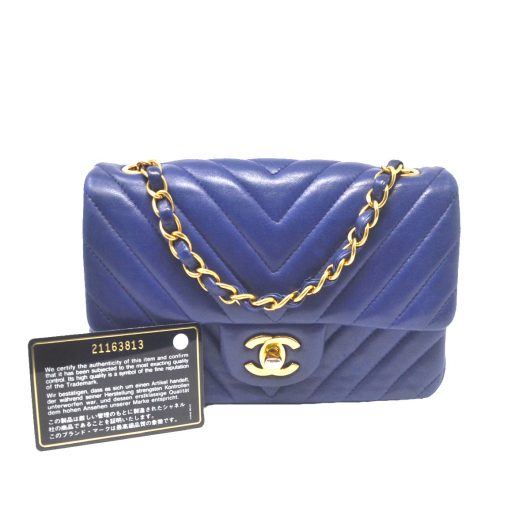 Of course, Chanel flap bags are, and have always been, hugely featured in print and in movies. Here are some notable mentions:
Elizabeth Taylor makes a public appearance with her Chanel 2.55, in 1961. She was accompanied by then husband, singer Eddie Fisher. Taylor wore the bag with an elegant white suit and hat.
Brigitte Bardot appears in the movie The Adorable Beast with her flap bag in 1963. Brigitte completes the look with roller set hair, tight pants and a comfy sweater.
Jane Fonda wears her flap bag for the movie La Curee in 1968. The short strap hangs near her wrist and is worn with a smart trench coat.
The flap bag also made appearances in a number of Chanel ads. This includes one street style shot of a model in a sailor style dress. The photo was taken by Gray Reginald in the 1970's.
Another famous ad campaign was an edgy shot featuring top fashion model Anette Stai in 1983.
A 1986 campaign shot by Albert Watson was a true sign of the times. It featured a super cute mini Chanel as well as some great Chanel high tops.
1990 would see a brightly colored head to toe Chanel outfit accompanied by a sunflower yellow handbag.
In 1995, Cindy Crawford wore all black while carrying her Chanel flap bag to a Chanel charity show.
Princess Diana and Chanel loved each other so much, there was actually a bag named after her called the Diana bag. The Princess was pictured with the black mini style bag while wearing a light mint green jacket dress in 1996.
In 2009, a photographer catches great street styles of the flap bag worn with a bomber jacket and sequins.
A fashionista appeared with her Chanel boy bag right before a fashion show in 2009. She wears a casual look of jeans, a sweater and bomber jacket.
In 2015, high fashion shots were taken of the Chanel mini which still remains one of the brand's most popular models.
In 2016, fashion blogger Aimee was caught on the street with her Chanel Classic Flap and Chanel sling backs.
Styles of Chanel Flap Bags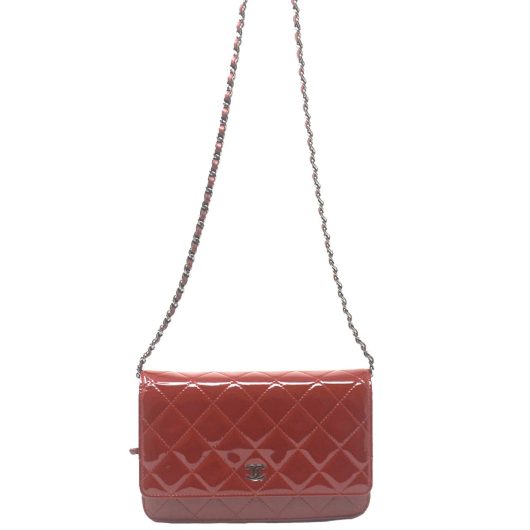 While Chanel Flap Bags were once pretty standard in shape size and color, now there is a wide variety available on the market. Here are some criteria that can guide your selection:
Size: The size of your flap bag can come in a wide variety. These include extra mini, mini regular, mini square, small, medium, jumbo and maxi.
Leathers and Materials: When it comes to leather and materials, there is a wide variety here as well. These include lambskin, caviar leather, patent leather, perforated lambskin, jersey, velvet, alligator, python and embellished.
Colors: When it comes to colors flap bags are now available in, the sky's the limit. Although black and beige are considered permanent colors for the flap bag, common colors include pink, navy, red and white. The bags are also available in a variety of prints.
Hardware Colors and Finishes: This refers to the color of the metal interlocking Cs which are likely to match the other hardware found on the bag. These can appear as silver, gunmetal, gold, bronze, black and more.
Chanel Bags are a Great Investment
Because Chanel constrains its supply, has a long history as a luxury brand and raises its prices on a regular basis, it makes for great resale value. A bag that features a hard to find style or any one that is in decent condition will hold its value very well.
How Your Chanel Flap Bag Can Help You Get Out of a Cash Crunch
Because Chanel bags hold their value very well, you are guaranteed to get a great resale value. This can come in handy when you are looking to sell your bag or pawn it for a loan.
Pawning your bag for a loan can be a great way to get yourself out of a cash crunch. This way, you can get cash fast without having to say goodbye to your valuable items.
Here's how it works. You simply bring your item into a pawn shop. The brokers will tell you how much they think your item is worth. They will then give you a loan for that amount. (This amount will not be for the total value of your item but for a percentage). You will set the terms of your loan allowing you to make payments which will include fees and interest. Once you have paid off your loan, you can get your item back.
If for some reason, you are not able to fully pay off your loan, the pawn shop will keep your item but this will not damage your credit score or result in any kind of collection. Most people are able to successfully pay off their loans and get their items back.
If you are looking to get a loan on your Chanel Flap Bag, Boca Raton Pawn is the place to go to. They always offer the highest values and lowest interest rates on your items. The process is quick and easy and you can leave the same day with cash in hand.
Boca Raton Pawn not only accepts Chanel handbags, but a number of other designer handbags and luxury items including watches and jewelry. Check their web site for brands they are currently accepting.
We know that many people think that pawn shops have a bad reputation but the truth is that many of these businesses are run by trustworthy businessmen who are looking to establish a good reputation in their community. Boca Raton Pawn is one of these trustworthy companies. With years of experience under their belt, they always offer the best prices and lowest interest rates possible.
BRP also understands that your finances are a very personal matter. That's why they offer their clients the utmost in discretion. Customers can even schedule a private appointment at their showroom in advance.
And not only is Boca Raton Pawn a great place to get a loan or sell your item, it's a great place to shop. They have a number of luxury items available at great prices. You can shop their Boca Raton location or their website for a great e-commerce experience.
Chanel flap bags are a stylish item that has only gained in popularity throughout the years. Available in a number of colors and styles, it continues to be a mainstay in the fashion world, increasing in value as the years go by. If you have one of these great items that is in good condition, and find yourself in a cash crunch, find out how Boca Raton Pawn can help you solve your financial woes. They are there to help their community thrive.