Great Jewelry Styles of the Royal Wedding
On Saturday, May 19, millions tuned in to watch the publicly televised wedding of Prince Harry and Meghan Markle. Every detail was taken into note including the fashions worn by all in attendance; the host of celebrity guest's hair, makeup, and of course jewelry. When thinking of the jewelry items that were being displayed, one can only think that such items  are the stuff that dreams are made of. In any case, this article will try to bring some of these glittery goods down to earth in the form of words and pictures.
Meghan Markle:
Of course the bride was the center of attention throughout this affair. Here are some of the stunning items she was wearing.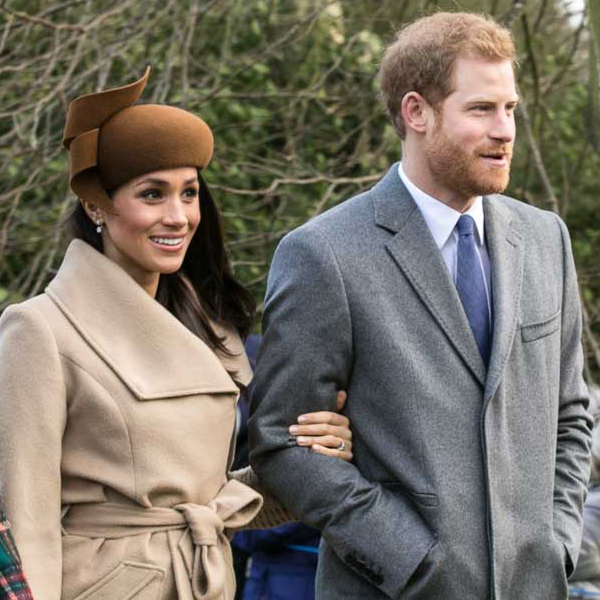 The Engagement Ring: Although Meghans' wedding ring may have been the most important piece of jewelry on the 19th, the engagement ring is where the bling is…and Ms. Markle's ring does not disappoint.
Originally, it was thought that Harry might propose with the Queen Mother's engagement ring, or her massive diamond and pearl ring. Instead Harry opted for a custom piece. The ring was designed by Harry and custom made by court jewelers Cleave and Company. The main diamond was sourced from Botswana while the two smaller stones came from Princess Diana's collection.
The main stone of the ring is a 3 carat cushion diamond with two side diamonds (Diana's) which are approximately .5 to .75 ct each. The band is yellow gold, a favorite of Markle's. The retail value of the ring is upwards of $50,000, but the actual ring could catch a pretty penny due to its royal provenance. It could easily sell from anywhere for $500,000 to $1 million.
Harry definitely mixed the right amount of sentimentality and aesthetic beauty to give his bride a ring that would be a romantic representation of their love.
The Wedding Rings: When it comes to wedding rings, the couple shows that they don't always play by the rules. Although it is traditional for both the bride and groom to wear rings made from the royal family's stash or Welsh Gold, Meghan gave Harry a platinum band with a textured finish. This breaks a tradition that has been followed by the royal family every since the Queen Mother's wedding in 1923.
Markle went the more traditional route wearing her Welsh gold band which was given to her by Queen Elizabeth as a bride to be gift.
Both rings were made by London Cleave & Company, the same company that designed Meghan's engagement ring.
Prince William carried the bands to the ceremony in accordance with his role as best man.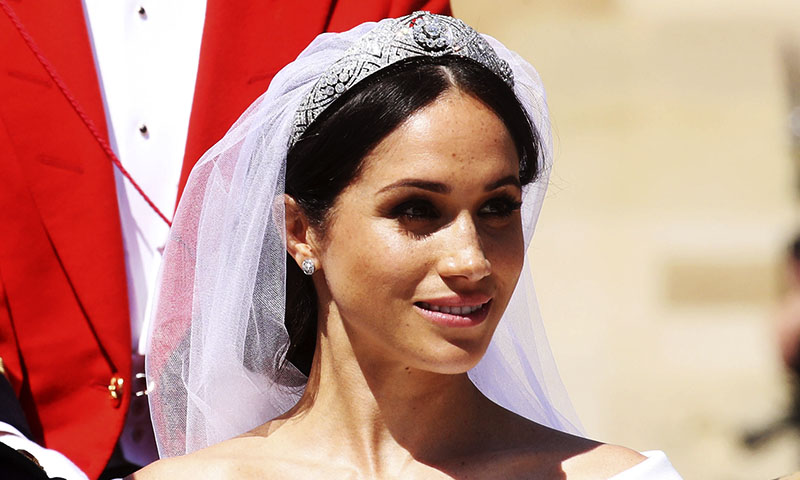 Tiara: Markle was lucky enough to be bestowed with Queen Mary's bandeau tiara which was given to her by Queen Elizabeth herself. The center stone of the tiara is a brooch which features ten diamonds that were given to Mary as a wedding gift. The platinum tiara was created specifically to accommodate those gems.
The tiara is a flexible band of eleven sections featuring interlaced ovals and pave diamonds along with large and small brilliant cut diamonds. It was bequeathed to Queen Elizabeth by Mary when she died.
Other Jewelry Worn By Markle
Of course, the rings were not the only jewelry Markle wore to the wedding. For earrings, she wore a pair of white gold diamond studs made by Cartier for the Galanterie de Cartier collection. These are both set and paved with brilliant cut diamonds.
Markle also wore a stunning 10.11 carat bracelet on her right arm. The piece was constructed with over 150 diamonds and is valued at $155,000. The bracelet is also Cartier and is featured in the Reflection de Cartier collection. It is set in 18K white gold.
The Reception
At the reception, the newlyweds made quite an impression. Markle's silk open backed gown was well accessorized with a pair of 18K white gold chandelier earrings. These are also from the Reflection de Cariter collection and feature 19 brilliant cut diamonds totaling .81 carats and 10 baguette cut diamonds totaling 1.08 carats. The set retails for $68,000.
Other jewelry worn paid tribute to the late Princess Diana. Markle was confirmed to be wearing the late Princess' aquamarine ring on her right hand. The ring was originally worn by Diana at an auction of her own clothes at Christie's in 1997. It is part of a set that includes an aquamarine bracelet connected by 5 strands of pearls. The ring is said to be not only a sentimental gesture to Diana but may be the something blue that is part of bridal superstition.
Kate and William
Also in attendance at the wedding was the relatively newly married Kate and William. Kate's engagement ring is one of the most famous rings in marital history. Here are some things fashionistas may want to know about her well known piece.
Kate's Engagement Ring: Kate wears a famous sapphire engagement that once belonged to William's mother, Princess Diana. William gave it to Kate so that Diana would not miss out on his wedding.
The ring is an unusual choice featuring a 12 carat oval blue sapphire rather than a diamond. The gem is cut into facets and surrounded by fourteen solitaire diamonds. The setting is made from 18K white gold.
When Diana first chose the ring, she was criticized for choosing a piece that was premade as opposed to custom made.  However, Diana quickly established herself as a fashion icon and women all over the world were soon eager to buy a ring in a similar style. In fact, It soon became the world's most sought after engagement ring style rising to popularity again when it was given to Kate in 2010.
The ring was originally created by Garrard & Co, the former Crown Jeweler. When it was originally given to Diana in 1982, it cost 28,000 pounds.  Since then, the price has increased and the current value is estimated at 300,000 pounds.
Wedding Rings: The fact that Kate wears an 18K gold band wedding ring is far overshadowed by the fact that her husband, Prince William, chooses to wear none at all. Though many wonder whether this is due to a lack or commitment to his wife, this is not the case. Rather, it is simply a matter of personal preference, as William does not like jewelry.
Seemingly, this choice is one that is not uncommon in British royalty. William follows in the steps of his grandfather, Prince Philip and the Duke of Edinburgh who also chose to go without.
Kate Middleton's New Ring: And while Prince William might not like jewelry, it seems his wife Kate more than makes up for it. She was seen wearing a new stunning piece at the royal wedding.
You didn't have to look too hard to see the large rock worn on Kate's right ring finger. The large citrine gem seems to be a new addition to the Duchess' collection. It is speculated that this may have been a gift from William in honor of the couple's third child. Citrine crystals are said to bring newborns intelligence, health, happiness, curiosity, confidence and healing wisdom.
Kate Middleton Earrings: Middleton's earrings were also standouts. Her large pearl and oval drop earrings were designed by one of her favorite jewelry designers, Kiki McDonough. They featured lemon quartz stones surrounded by diamonds and are said to retail for over $5,000.
Queen Elizabeth
Although Queen Elizabeth was kind enough to open her royal vault to Markle, the lady is not to be outdone. She could be seen wearing her favorite go to, a three strand pearl necklace. This is an elegant, simple piece that can go well with other jewels.
The Queen also wore the famed Richmond brooch. This is a large pin made from diamonds set in silver and gold featured in a scrolling design. There is a central pearl and diamond pendant that hangs down from the piece. Like the tiara Markle wore, the brooch was also bequeathed to Queen Elizabeth upon Queen Mary's death. It was given to Elizabeth as a wedding present and was worn by Mary at several important events.
Other Guests
The wedding had a cast of A list celebrities and royal relations, all of which were decked out to the nines. Those notable for their fashionable accessories include Princess Diana's niece who wore a Bulgari necklace which featured 14 yellow diamonds and 112 diamonds as well as a diamond ring and studs which were also from Bulgari. Bulgari also saw to it that her mother, Victoria Lockwood and sister Lady Amelia Spencer were bejeweled in diamonds as well.
Here are some other standouts:
Oprah Winfrey wore large, square diamond drop earrings and a large diamond ring to help her sparkle.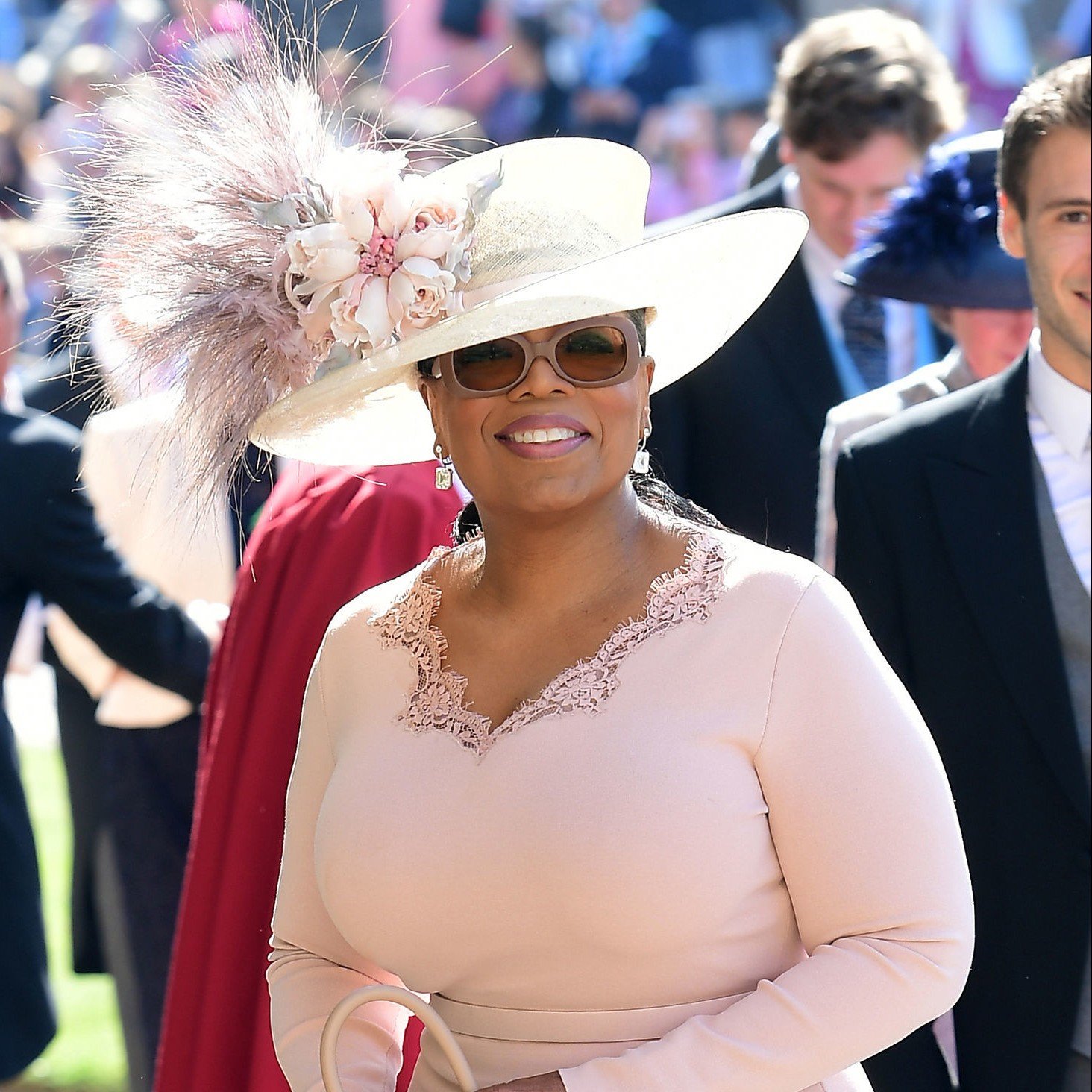 Prince Charles' wife Camilla wore a stunning choker featuring multi strand pearls and a large pink sapphire centerpiece.
Amal Clooney wore 16 carat pear shaped drop diamond earrings designed by Lorraine Schwartz.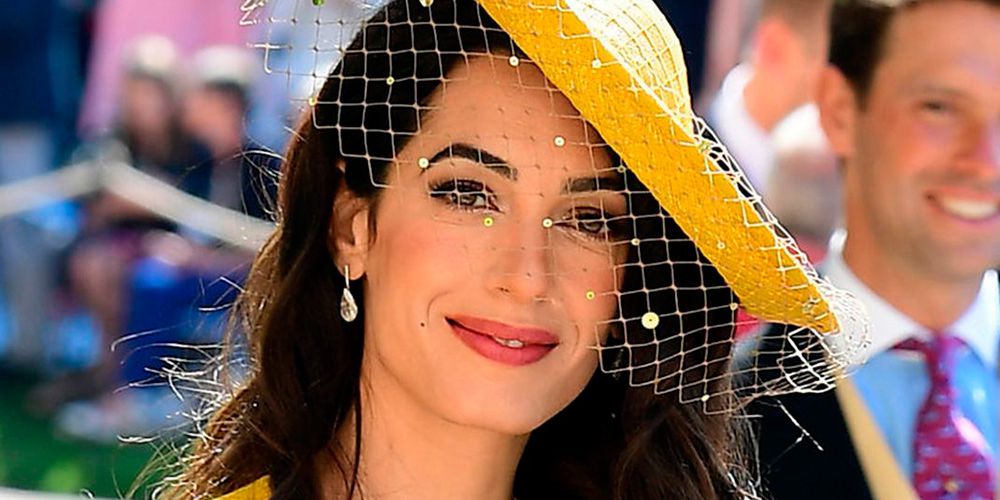 Actress and good friend of Markle's, Priyanka Chopra wore 18K gold and diamond lightning bolt earrings, also designed by Schwartz.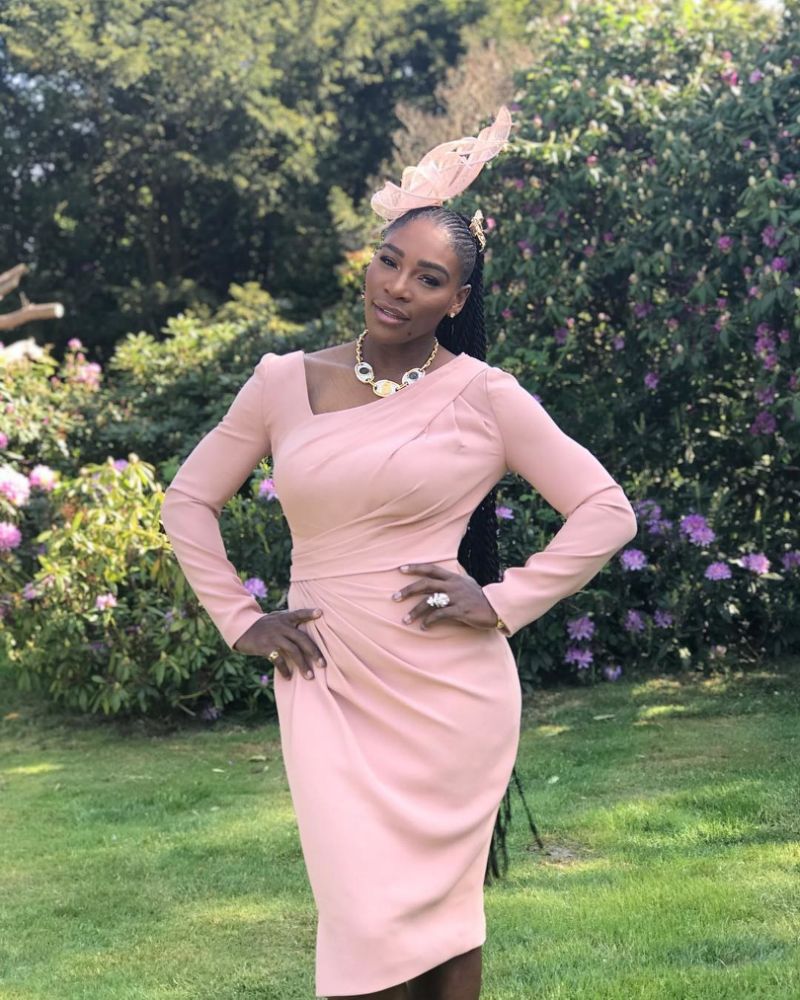 Tennis star Serena Williams wore a vintage necklace featuring Roman imperial silver, gold and bronze coins and pave diamonds from 1975. She also accessorized with an art deco style Dolce Vita ribbon brooch and diamonds dating back to 1952.
Get the Look to How These Jewels Can Help You
After the royal wedding, the jewelry styles featured often begin trending. While not all of us may be able to afford these same pieces of jewelry, high end designers can adopt the looks and bring them to consumers at lower price points.  In any case, this jewelry can be a great investment as these pieces may be able to get you out of a cash crunch. If you find yourself dealing with short term financial woes, find out how Boca Raton Pawn can help.
Boca Raton Pawn is always looking for high end, trending jewelry. Some of the brands they accept include Bulgari, Chanel, Cartier, David Yurman, Roberto Coin, Van Cleef & Arpels, Tiffany & Co., John Hardy and Chophard. If you have updated styles or vintage jewelry manufactured by these designers, BRP may be able to help you with your financial difficulties.
Boca Raton Pawn offers the highest values and lowest interest rates for your luxury items. In addition to jewelry, we also buy high end handbags and watches. All you have to do is come into our showroom with your item. Our trusted brokers will appraise the item and let you know how much they are willing to pay. Although you are under no obligation to accept the offer, if you do, you will leave with cash in hand.
Boca Raton Pawn offers loans or we can buy your item outright. We always prefer to do loans as we hate to see our clients part with their valuable items. However, no matter which you choose, we will always offer the highest values. Clients who opt for a loan will always get the lowest interest rates and we will work within your comfort zone to make sure you are okay with our terms.
Boca Raton Pawn understands how sensitive financial matters are and we work hard to handle transactions in as confidential a manner as possible. Our customers will even have the option to schedule an appointment to be handled in our private offices.
And Boca Raton Pawn is not just a great place for selling and loaning jewelry. It is also a great place to shop. Check out our selection of affordable high end items. Can't come into our Boca Raton showroom? Browse our web site for a terrific e-commerce experience.
The royal wedding was an event that will be remembered for years to come. While some love to watch for sentimental reasons, fashionistas will always keep a close eye on what was being worn, right down to the selection of high end accessories. If you have luxury accessories similar to those worn at the royal wedding, or any other items you think Boca Raton Pawn might be interested, come in to see how they can help get you out of your cash crunch. This trustworthy company is there to help the community continue to thrive.