Brief History of the Audemars Royal Oak
The History of the Audemars Piguet Royal Oak Watch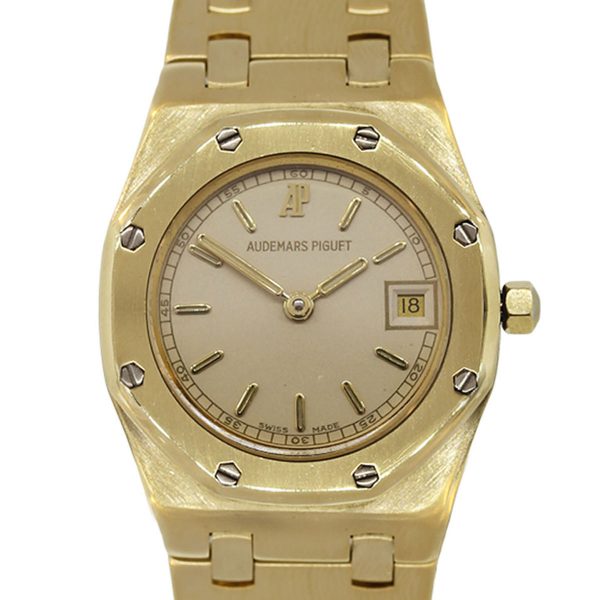 When thinking of great watches, the Audemars Piguet Royal Oak is one that is not rivaled by many. Known for its steel case, octagonal bezel, tapisserie dial and integrated bracelet, the Royal Oak has quickly become a modern icon as far as watches go. Find out more about this impressive piece of jewelry, its history and why it can be a great investment when added to your collection.   Pawn Audemars Boca Raton.
History of Audemars Piguet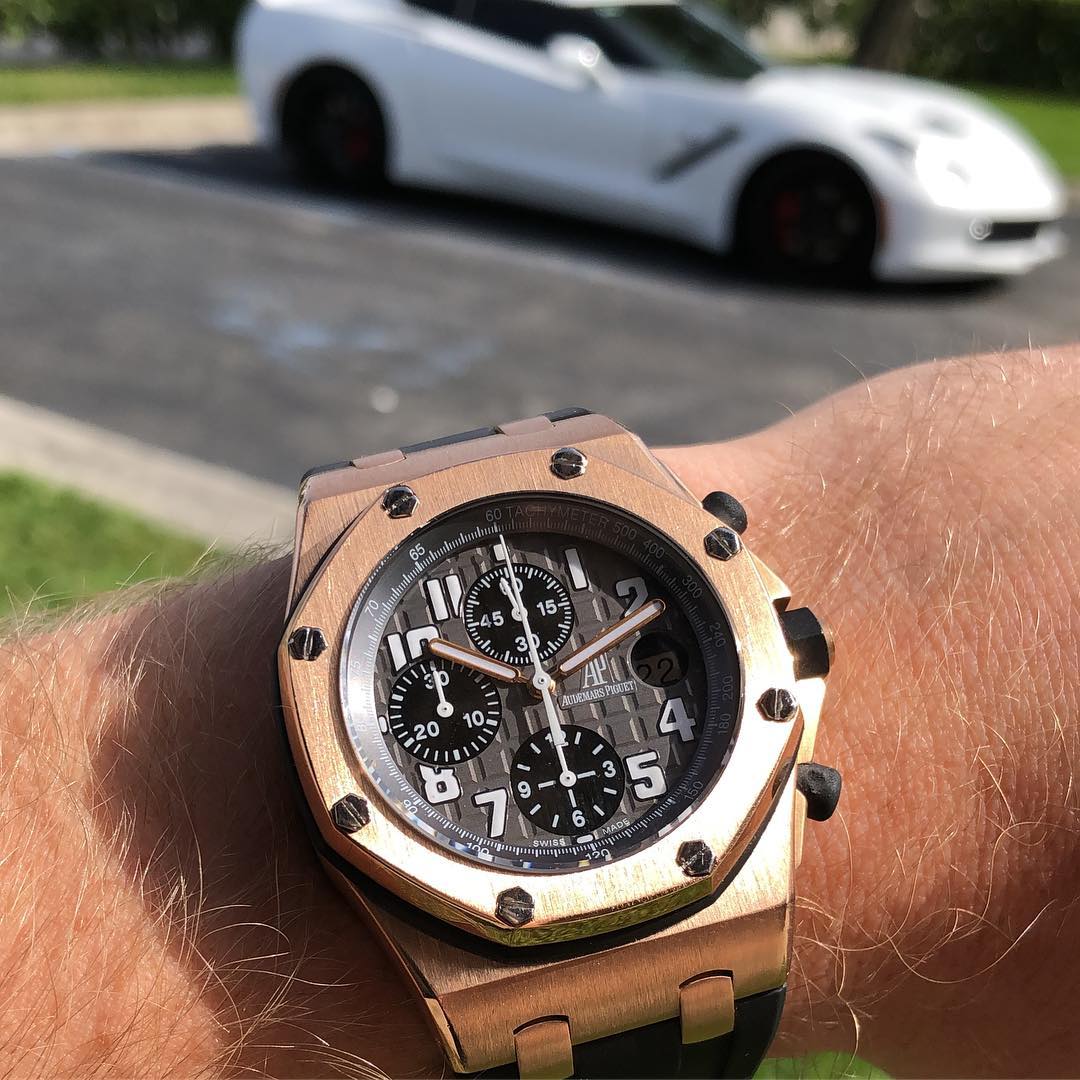 Before diving into the luxury that is the Audemars Piguet Royal Oak, let's first examine the men behind the company who made it.
The company was founded in 1875 by Jules Louis Audemars and Edward Auguste Piguet. Audemars was creating complicated blank watch movement for manufacturers to fit, while Piguet was self employed, performing the final regulation on watches. The two combined their skills to forge the highly successful Audemars Piguet company we know and love today.
Audemars and Piguet made groundbreaking developments in the world of watches as the 'Grand Complication' pocket watch, the first minute repeater wristwatch, was released in 1899. The watch featured 7 different complications, all of which made for an impressive piece of technology at the time.
Audemars and Piguet passed away in 1918 and 1919 respectively, but the company would continue to grow, becoming more successful and famous as the years went by. The jewelry manufacturers continued to bring innovation to the world of watches, specializing in models that were particularly small and thin, paving the way for the Royal Oak, which would be a breakthrough design for the company.
History Audemars Piguet Royal Oak Watch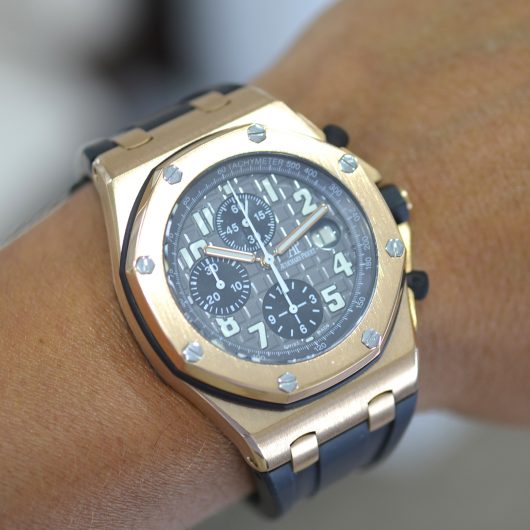 Designed by Gerald Genta in 1971, The Audemars Piguet Royal Oak was released in 1972 at Baselworld, a prestigious watch and jewelry show that takes place in Basel, Switzerland annually. The watch stood out as a ground breaking fashion statement as most luxury pieces out at the time were small and gold in nature.
Audemars Piguet broke the rules with its Royal Oak model, offering a sports timepiece made from steel. Its avante garde style became its trademark and one that would stand the test of time, holding up as a stylish timepiece as we look forward to its upcoming 50th anniversary.
But it is not only the watch's innovative style that makes it so intriguing; the origin of its name bears a great story as well.
The watch was named for a historical tree in England where King Charles II hid from Cromwell's army in 1651. The tree ended up saving the king's life and became a historical political symbol throughout England.
Between 1769 and 1914, there were four British naval ships named for the famous Royal Oak tree. And, because the watch's octagonal bezel was inspired by the porthole of a naval ship, it took on the name as well. The company also liked the name because they felt it was a sign of royal prestige and longevity.
The Audemars Watch Throughout Time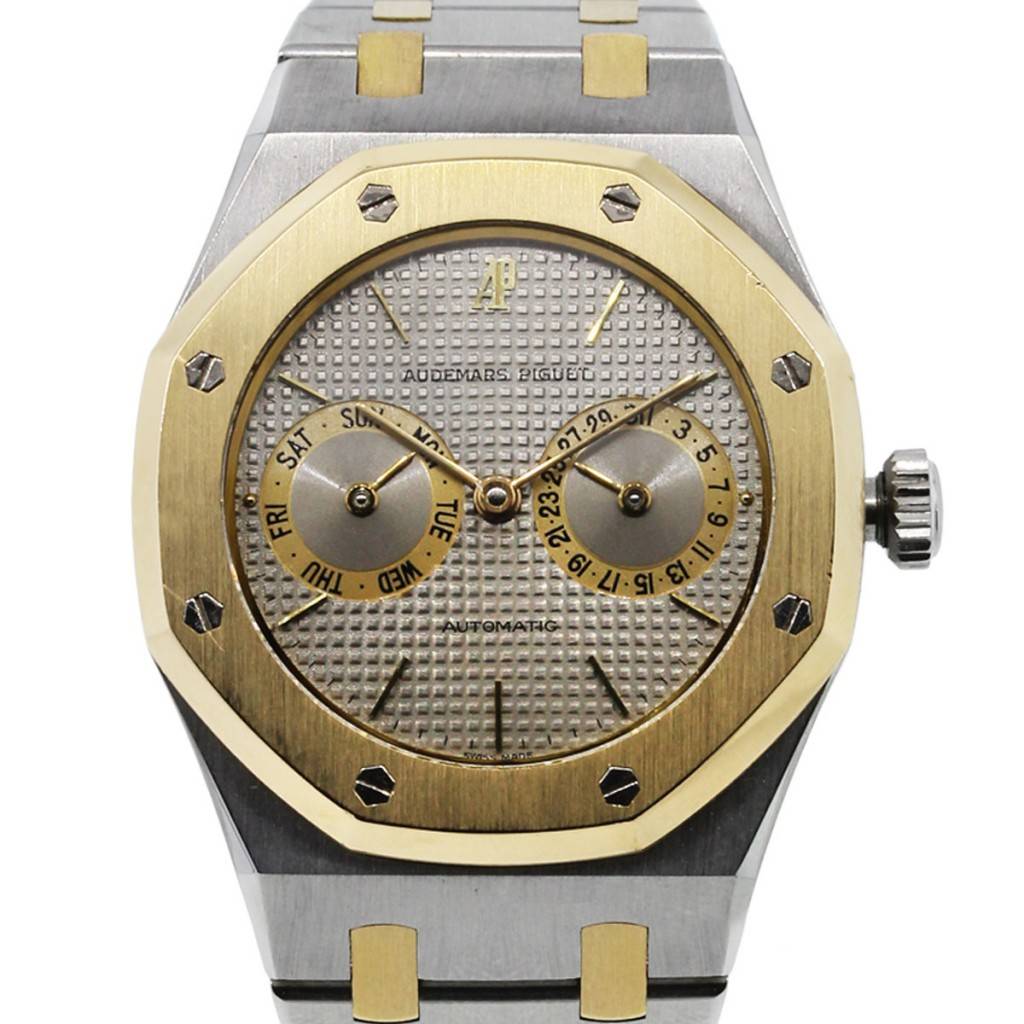 The Royal Oak watch has gone through a number of changes since it was first introduced in 1972. Read on to find out how it has evolved over the years.
The Reference 5402: The first Royal Oak watch to debut was the reference 5402 which remained in production until the late 1970's and was produced in four series, A-D with each series featuring minor changes to the clasp or slight technological advancements in the movement.
Characteristics that were common to all in the 5402 models including its steel casing and measurement of 39mm in diameter by 7mm thick, making for a relatively small, thin casing overall.
The tapisserie dial is one of its signature features and can be described as a weaving pattern that forms a square or lozenge motif that captures the timepiece's geometric relief when light hits it. An AP logo is placed at six o clock.
The watch is powered by AP caliber 2121, making the watch the thinnest full rotor self-winding movement in the world.
Of the 5402 models produced, one short lived in the series is the 5402BA. Released in 1977, this watch ended its production in the early 80's. Today, it is a highly collectible cult classic.
The Reference 14802 and 15202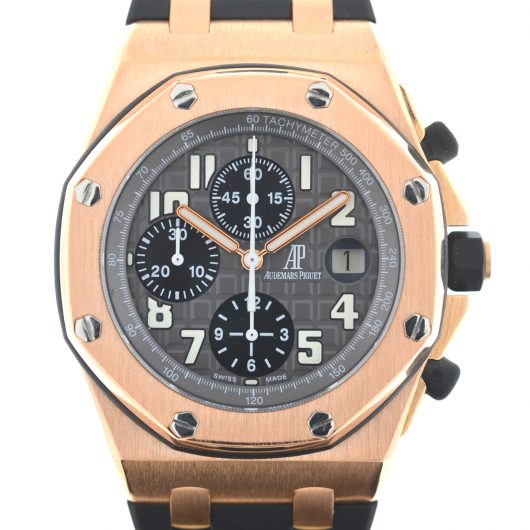 Known for being an exceptionally thin watch, few models would come close to the 5402 in terms of its delicacy…until the 14802 was released in 1992 in honor of the Royal Oak's 20th anniversary. It featured a sapphire crystal caseback and was limited to a series of only 1000 pieces total. 700 of these were steel with a blue or pink tapisserie dial, 280 were in yellow gold with ardoise, white, gilt or ivory tapisserie dials, and 20 were in platinum with dark or Tuscany blue tapisserie dials.
The Tuscany blue featured diamond indexes. These watches were sold until the year 2000.
12 years later would mark the release of the 15202 in celebration of the watch's 40 year anniversary. These steel rose and gold watches had the same thin proportions of the originals as well as their 2121 caliber movement and AP logo at 6 o clock.
The Reference15400 was also released in 2012. Slightly thicker than the 15202, it measured 41 mm in diameter and used caliber 3120 movement with a center seconds hand.
The New 15202
2017 would mark the re-release of the 15202 model in yellow gold. Not much had changed in this watch since the original model was first featured. The case is slightly thicker due to the addition of the sapphire crystal so measurement of this newer model is now 8.1mm.
The bracelet of the watch is still beautifully crafted with multi-link construction, but is slightly more durable than the original. The details in the beveling and finishing are still present and offers a comfortable fit overall.
What is exciting about the new release is the combination of yellow gold with the blue tapisserie dials. This is a unique combination that is rarely seen in watches. Along with the AP logo present at 6 o' clock, it works to add to the watch's aesthetic appeal.
Another update from the original is the date wheel, which now matches the dial in a yellow gold. Previous models featured a white date dial that stood out from the watch and did not blend in quite so elegantly.
The Royal Oak Offshore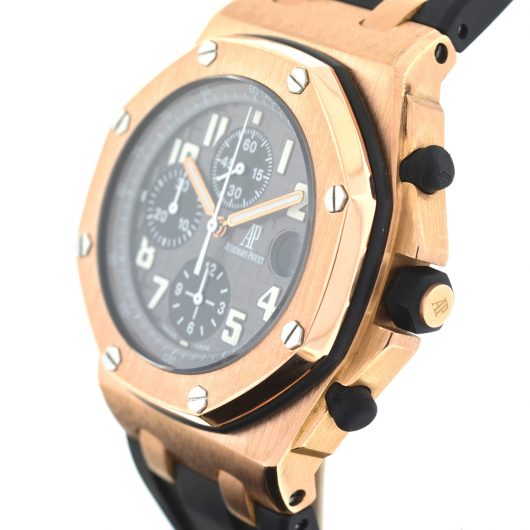 As time goes on, fashion continues to evolve.
The early 90's was marked by a more masculine sensibility as hip hop moguls and action stars became more and more iconic. the need for a bigger, sportier watch became apparent to the designers at AP, hence, in 1993, the Offshore was born.
The Offshore was a more casual and masculine take on the original Royal Oak, featuring a 42 mm diameter, a size that set the standard for future trends.
Pushpiece guards were fitted into the case to increase sturdiness and add powerful lines. Still present were the octagonal bezel with eight screws and the trademark tapisserie dial.
The watch was a celebrity favorite, promoted heavily by Arnold Schwarzenegger. As it continued to evolve, variations were released. The casing on some measured up to 44 mm providing a chunkier, sportier look. Women's models were released in later years as well.
Royal Oak Fun Facts
Now that you are more familiar with the Royal Oak watch, its various models and how it has evolved over the years, here are a couple of things you still might not know.
The watch was created in a day: Once the design brief was handed to watch stylist, Gerald Genta, it only took him a day to respond with the Royal Oak as we know it today, complete with octagonal case and exposed mounting screws.
The prototypes were made of white gold: Although the Royal Oak is well known for being made of stainless steel, the first watch was actually made of white gold. Because the AP company was still ironing out the details of how to work with steel, they didn't have the time to develop the necessary tools and techniques to finish the Royal Oak's complex case and bracelet in time for the big reveal. Therefore, they opted for metal, since that fell within their area of expertise.
Its parts were inspired by a diving helmet: After being handed the design brief for the Royal Oak, Genta happened upon a diver emerging from Lake Geneva. He was inspired by the screws that held on the faceplate and how they ensured a watertight seal on the helmet. He went on to use this inspiration in the design of the Royal Oak, providing a watertight seal for the watch as well.
Audemars Watches as An Investment
Audemars watches typically feature a hefty price tag with some of the latest models coming in at over well over $50,000. However, as with most luxury items, they carry a great resale value making them terrific investments in the years to come.
Although selling your watch is always an option, it is understandable that many would not want to part with these items which are likely to hold a great deal of sentimental value. If you're having financial difficulties and are looking to your luxury watch to get you out of a cash crunch, a pawn shop loan might be the perfect solution.
How a Pawn Shop Loan Can Help to Get You Out of a Financial Crunch
If you have never gotten a loan at a pawn shop, here is a bit about how it works.
When you take your item into a pawn shop, they will appraise it. The loan they offer will be for a percentage of the value of your item.
Terms of your loan will be worked out so that you are making regular payments which will serve to pay off the loan and will include fees and interest rates. Once you have paid off you loan, your item will be returned to you. If you are unable to pay off your loan, the pawn shop will keep your item, but the unpaid loan will never go on into collections or damage your credit rating in any way.
Finding the Best Pawn Shop
Though loans can be arranged through any pawn shop, not all pawn shops are created equal. Some offer better interest rates and higher values for your items than others. One shop that is exceptional in this sense is Boca Raton Pawn.
Boca Raton Pawn always offers the highest values and lowest rates when working out the terms for loans your items. Also, because they specialize in luxury, they know what your item is worth and will give your items the greatest care while they remain in their possession.
But another thing that is great about Boca Raton Pawn is that it is a great place to shop for luxury items at discount prices. With a regular stock of items coming in every day, they are guaranteed to have the great bargains you are looking for.
Fans of the Audemards Piguet Royal Oak collection will be pleased to know that one of the items Boca Raton Pawn currently has in stock is the Audemards Piguest Royal Oak 18k Rose Gold Chronograph watch. This watch features a rose gold case with a measurement of 42mm. The bracelet is a durable rubber and the watch features a silver/black dial. The bezel is also 18K rose gold and the crystal is a scratch resistant sapphire.
The movement on the watch is mechanical automatic and added features include a chronograph, date, hours, minutes and seconds.
While a watch like this can cost upwards of $50,000, Boca Raton Pawn is selling it at the reduced price of $36,950.
Boca Raton Pawn is a great place to buy, sell and loan items in the South Florida area. They offer a high level of service and care that is exceptional in their industry. Their many years in business have made them a trusted name in their community. They offer discreet services and customers can even set up private appointments in advance.
When you are ready to buy or take a loan out for your luxury item, call Boca Raton Pawn first.