Brief History of the Cartier Love Bracelet and Why it is So Desirable
When we think of luxury jewelry, there are certain pieces that tend to stick in our minds more so than others. These are the pieces that tend to be most desirable and popular, seen on the wrists of the lucky few that can afford them. A piece that fits the bill well is the Cartier Love Bracelet. Find out more about this item and why it is so popular.
Every great piece of jewelry has a great story behind it. Here is the one surrounding the Cartier Love Bracelet.
The Love Bracelet was designed in New York City in 1969 by Aldo Cipullo, a young Italian jewelry designer. It quickly became a must have item for those who had an eye for luxury jewelry.
The bracelet was inspired by a chastity belt and the idea that love should be everlasting. It is unique in that it features a locking mechanism where two C shaped halves unhinge to clasp together and can then be screwed on with a miniature screwdriver which is included with each bracelet. This sends a symbolic message that love shouldn't be taken lightly.
Cipullo commented on the bracelets creation saying, "Life without love is nothing…What people want are love symbols that look semi-permanent, or, at least, require a trick to remove. After all, love symbols should suggest an everlasting quality."
Once the love bracelets took off in popularity, myths began to form around the bracelets, adding to their lore. Some said they could only be purchased by couples who surrendered their screwdrivers to one another. Cartier capitalized on this by giving their bracelets to celebrity couples like Elizabeth Taylor and Richard Burton and Ali McGraw and Steve McQueen.
Others said that New York hospitals actually kept Love bracelet screwdrivers on hand in case patients needed the piece removed.
Love Bracelets Look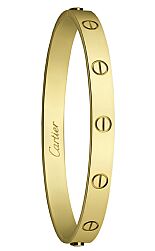 Love bracelets can best be described as a flat bangle studded with screws that locks to the wrist. They are unisex in style.
Early versions of the bracelet feature gold plating but more recently, Cartier has made the bracelet available in a wide variety of metals. These include solid gold, pink gold, white gold and platinum. Some models feature diamond studs in place of or in rotation with the screw motif. Ceramic details and special colored gems have been offered. Pave diamond versions were made available as well as cuff versions that do not close or lock.
Another feature added to the Love Bracelet's design is the inclusion of serial numbers. This feature became necessary due to the fact that so many counterfeit models were starting to come on the market. Each serial number is unique and kept on file at Carter headquarters. There are other trademarks of the bracelet's design that can vouch for their authenticity.
Take Offs on the Love Bracelet
Because the Love Bracelet was such a popular design, it inspired many other Cartier products. One of these is the Love Charity bracelet. This version consists of a silk cord and golden ring bearing the word LOVE. For every one sold, Cartier donates $150 to a variety of charities backed by a celebrity. The 2009 charity bracelet was backed by Eva Mendes.
But the Love Bracelet take offs don't end there. Cartier also makes love necklaces which feature miniature versions of the bracelets interlocked with each other or featured by themselves as pendants on chains. The company also sells cufflinks, rings, earrings and watches that boast love bracelet features.
Criticism of the Love Bracelet
Any product that is as popular as the love bracelet will be met with its share of criticism. One of the most popular cases is that the bracelet is very expensive, not only to buy but to repair. With costs ranging from $4,000 to $40,000 a replacement screw can cost as much as $50.
The bracelet has also been compared to a chastity belt, and Cipullo himself has been criticized for having a fascination with men who locked up their wives to ensure their fidelity when they were away on the battlefield.
Finally, the bracelet was criticized by airline security personnel for being 'the biggest problem item' due to the need for airline passengers to remove all metal items when passing through airport security metal detectors. The tool needed to remove the bracelets caused an unnecessary hold up.
Celebrities Who Love the Love Bracelet
Despite these criticisms, the bracelet has grown in popularity to be seen on the wrists of countless celebrities. Originally given to celebrity couples, a number of others followed suit including Lindsay Lohan, Katie Holmes, Pippa Middleton, Cilla Black, Elizabeth Hurley, Nancy and Frank Sinatra, Joan Collins, Princess Diana, Jane Seymour, Elton John, Jennifer Aniston, Angelina Jolie and Rosie Huntington-Whiteley.
Two Cartier gold bracelets belonging to the Duke of Windsor and Wallis Simpson were among the items sold at a 1998 Sotheby auction of the Royals' private collection. The pieces ended up making more than three times their estimated value.
The Fit of the Cartier Love Bracelet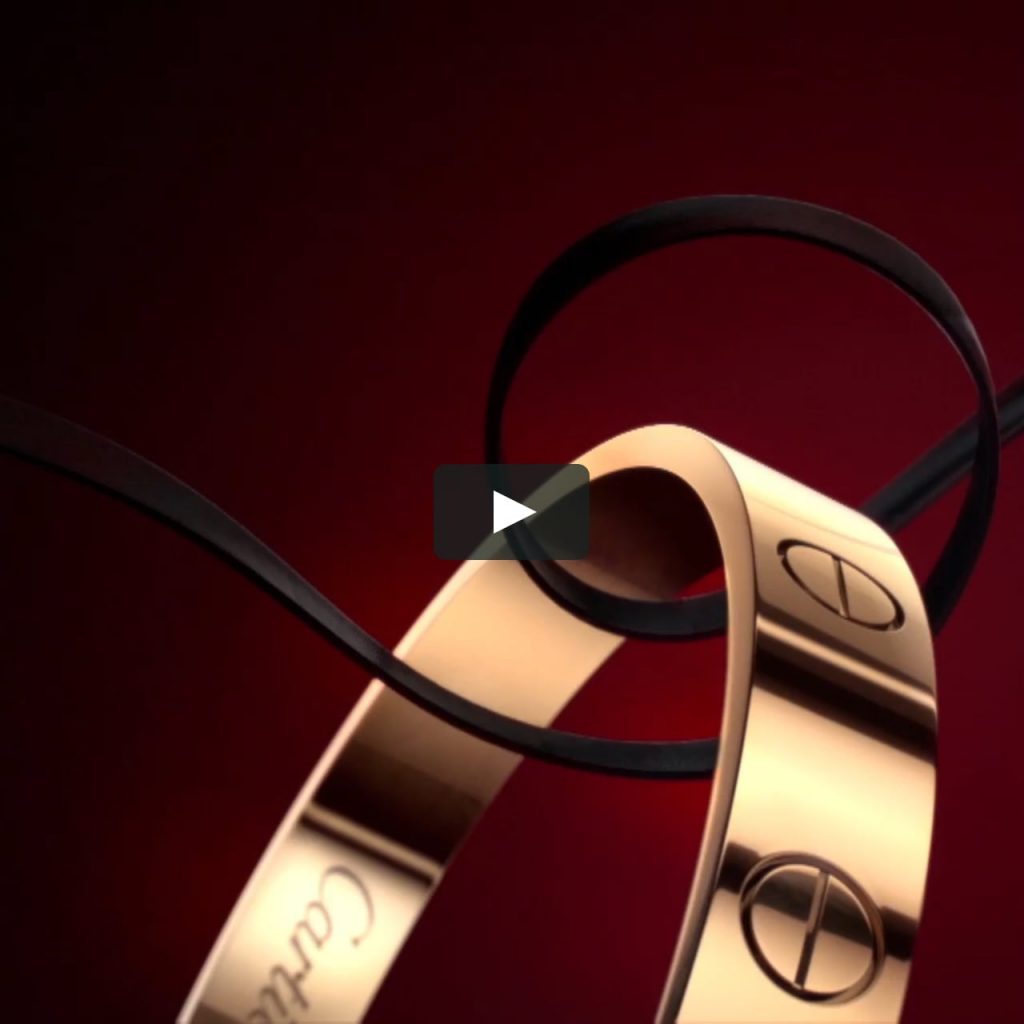 The Cartier Love Bracelet features an oval shape which is meant to fit snugly on the wrists of those who wear it. It is thought to be a 'modern handcuff of love'. It is recommended that you visit a jeweler for a sizing before purchasing these bracelets to ensure you get the perfect fit. Because of the nature of the bracelet, it can not be resized so it is best to get it right the fits time.
Is the Cartier Bracelet Worth It?
Criticized for its high price tag and considering the cost of repair and replacement as mentioned earlier in this article, some may wonder whether the Cartier is worth the price. Some say yes just based on the fact that it carries significant name recognition and reputation.
Others cite it as a timeless investment. It is a unique design that carries mass appeal and continues to be highly in demand.
The value of the bracelet will also be affected by the type of metal the bracelet is and the gems it features, if any. Some metals, like platinum, are more expensive than others but the yellow gold can be considered valuable due to the fact that that was the original metal featured on the bracelet.
But ultimately, as with most other items, the value of the bracelet is determined by the amount that is being charged by the seller and what the buyer is willing to pay for it. Considering the popularity of this bracelet, it seems like there will never be shortage or people willing to pay a pretty penny to sport one on their wrists.
Your Cartier Love Bracelet as an Investment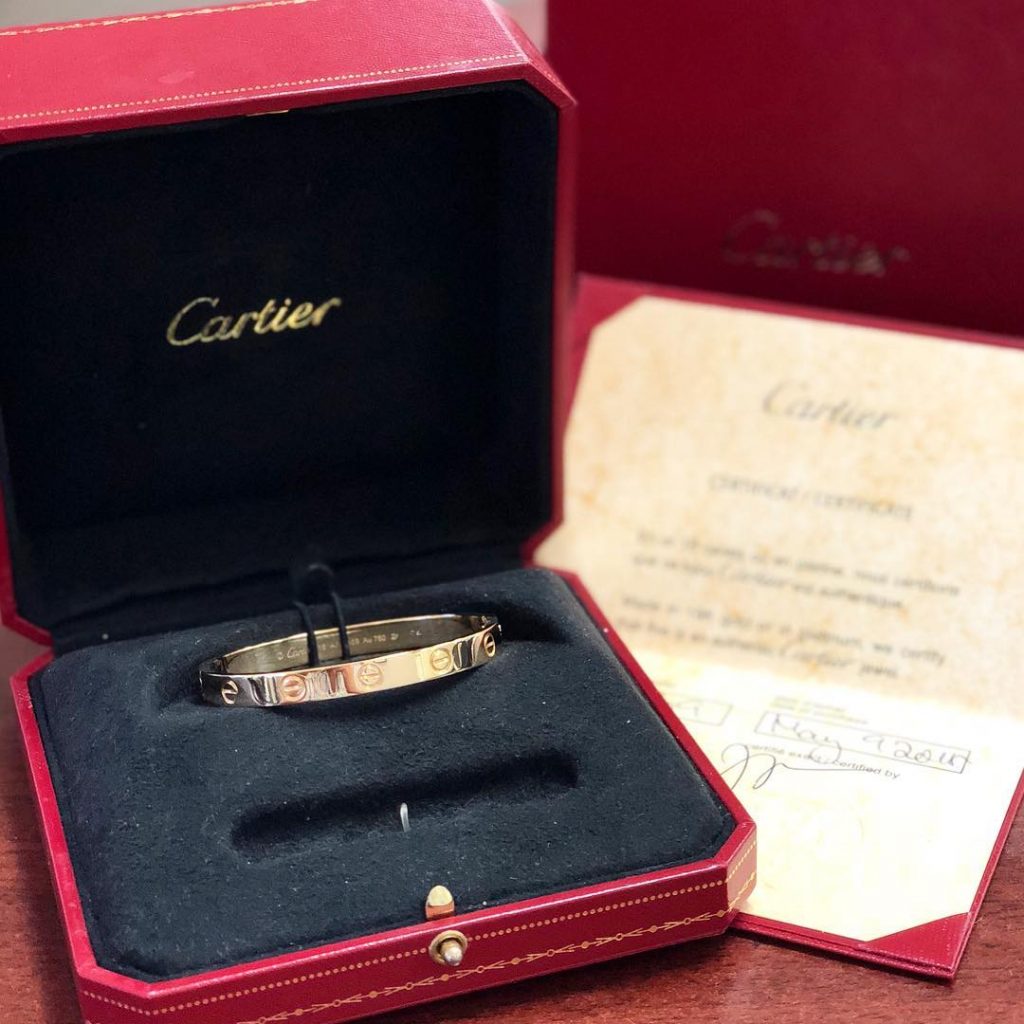 Although it may not be pleasant to think about, there may come a time when you are caught in a financial bind and your Cartier Love Bracelet may be there to help you out.
Those who own a Cartier Love Bracelet may not want to part with these beautiful items, but luckily selling is not the only option. You can put your bracelet up for a loan as well. Here is a little about how it works.
Pawn shops not only buy luxury items, they make loans for them as well. To get a loan for your luxury item, you start by bringing it into the pawn shop. The pawn shop will assess your item to see how much it is worth. Then they will offer you a loan which will not be for the full value of your item but a percentage of its total worth.
If you are okay with the offer they are making, terms for paying off your loan will be worked out. Terms may vary depending on the pawn shop you are dealing with but, basically, you will be making regular payments that include the loan amount as well as interest and fees.
Once you pay off your loan in full, your item will be returned to you. If you are unable to pay off the full amount of your loan, the pawn shop will keep your item. However, the unpaid amount will never go to collections or show up as an unfavorable mark on your credit report.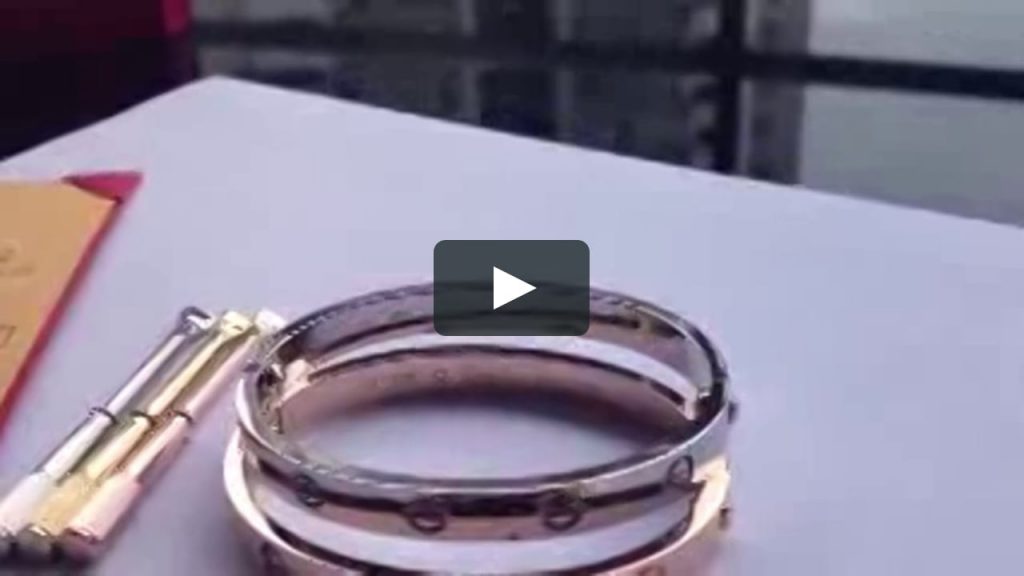 Finding the Best Pawn Shop for Your Luxury Item
When you are looking for a pawn shop where you can sell or get a loan for your item, it is best to do some research in advance. Despite popularly held beliefs, pawn shops are, for the most part, trustworthy establishments. Many are owned by trusted members of the community and all are regulated by laws that prevent them from engaging in dishonest business practices.
However, when it comes to getting a loan for your item, there are some that offer better values and interest rates than others. If you are located in the South Florida area, Boca Raton Pawn will be the shop you want when it comes to getting a loan.
Boca Raton Pawn guarantees the best values for your items and provides low interest rates meaning lower payments on your loan. Their expertise in the luxury field and great customer service also sets them apart. However, if you are looking to sell your items at BRP, there are a few things you should know in advance.
What to Know Before Getting a Loan at Boca Raton Pawn
The first thing you should know about Boca Raton Pawn is that they specialize in luxury watches, jewelry and handbags. For the most part, these will be the only products accepted when you are trying to sell or get a loan.
Boca Raton also only accepts certain brands. It is best to consult the web site in advance to be sure that the brands you are bringing in will be ones BRP is likely to accept.
As you would with any other pawn shop, or whenever you are selling an item, you must make sure the item is in the best condition possible. Do your best to clean the item and get it in the best possible working order. Any signs of damage will affect the final price you will get for your item.
Finally, be aware that the buyer will want to determine the authenticity of the item. This will factor in prominently with the Cartier Love Bracelet since it has been counterfeited so often in the past.
Luckily, the bracelets come with their own serial numbers which will be a good way to determine their authenticity. There will also be a hallmark near the logo to indicate the quality of the metal. An 18K gold bracelet will be engraved with an 18K mark and a 750. Platinum bracelets will have a 950.
Another sign of the authenticity of the bracelets is their weight. An authentic bracelet will be heavier than any imitation weighing anywhere from 30 to 40 grams depending on the type of metal that is used.
Cartier is also known for its attention to detail, so the screws will be lined up perfectly in on an authentic model whereas imitations may feature flaws.
Why Else to Love Boca Raton Pawn
Boca Raton Pawn is a pawn shop that puts it customers first when it comes to offering high values and low interest rates. But that's not the only reason why you should love them.
BRP also offers a terrific selection of discount luxury goods. Come into the store to see all the items they have available. If you are not in the South Florida area, you can shop online as well.
If you are looking to sell, get a loan or buy a luxury item, Boca Raton Pawn is an obvious choice. They provide superior service, have a knowledgeable sales staff that is familiar with luxury items and always offer the lowest interest rates and highest values for the things you are looking to sell. Put your precious goods in the best hands possible by choosing Boca Raton Pawn.