Cartier Love Bracelet Boca Raton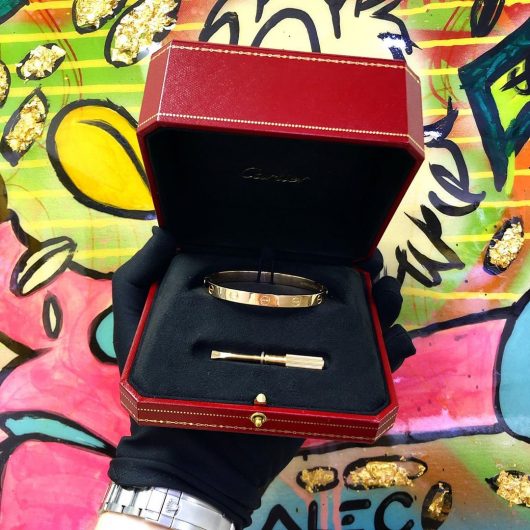 Why the Cartier Love Bracelet Makes a Great Investment
If you are looking for luxury jewelry, there are certain pieces that are must haves. They are known for being iconic items that are sure to be noticed and respected and will also come to have great sentimental value and increase in worth over time. One such piece is the Cartier Love Bracelet Boca Raton. Find out more about this bracelet and how it came to be one of the most desired pieces of luxury jewelry.
About Cartier
To truly appreciate the Cartier bracelet, it is important to learn a bit about the company that is behind it.
The Cartier company was founded in Paris in 1847 by Louis Francois Cartier when he took over the workshop of his master, Adolphe Picard. He began making fashionable wristwatches and other jewelry that featured an Art Deco design. He is credited as the first designer to create the men's wristwatch, a more convenient alternative to the pocket watch.
Cartier remained a family owned company until Louis' death in 1964 when his son and daughter sold the business and it became a wholly owned subsidiary of the Swiss Richemont Group.
The Cartier company has grown over the years and is now known as one of the most prestigious jewelry manufacturers in the world. It was ranked as Forbes 59th most valuable brands and has a history of sales to royalty.
King Edward VII ordered 27 tiaras from the company and issued a royal warrant to Cartier in 1904. After that, many kingdoms followed suit and similar warrants were issued from the courts of Spain, Portugal, Russia, Siam, the House of Orleans and more.

The Cartier Love Bracelet
With a history of terrific jewelry, you know there has to be something very special about the Cartier Love Bracelet that makes it one of the designer's most iconic pieces.
The Love Bracelet's locking mechanism is its defining feature. Most bracelets can be slipped over the wrist or easily opened to be put on. The Love Bracelet can only be opened using a special screwdriver which comes with every bracelet.
The bracelet is therefore locked on the wrist of its wearer and can only be taken off by the possessor of the screwdriver, ideally the person they are in a relationship with. The screwdriver can be sold as a necklace and worn around the neck of the loved one.
The bracelet is a thin bangle which has circles around its circumference that have a horizontal line through them. This design alludes to the bracelet's locking mechanism.
It was designed in 196 by Also Cipullo for Cartier SA. Early versions of the bracelet were gold plated but more recent designs were sold in gold or platinum.
Over the years, there have been many variations on the Cartier Love bracelet. It is available in 18k yellow, pink and white gold as well as platinum. However, the platinum bracelets have been discontinued.
Some bracelets feature diamonds in place of or in rotation with the screw motif. Other additional features include ceramic details and other precious gems. Cuff versions that do not close or lock are available and thinner versions of the bracelet have been produced as well.
In June 2006, Cartier introduced the Love charity bracelet which consists of a silk cord and golden ring bearing the word love. Cartier donates $150 of the sale of each of these bracelets to a celebrity backed charity. The 2009 version was promoted by actress Eva Mendes.
Prices for the Love bracelet can vary depending on its material and features, but the classic version starts at around $6300 for the yellow and pink gold. The white gold starts at around $6750. Even though the white gold has a heftier price tag, the gold metal version of the bracelet is the most popular and the most likely to increase in value over time.
But when it comes to the price of these bracelets, the sky is the limit. Some can fetch over $56,000.
As of 2019, the bracelet is still in production. Cufflinks, rings, earrings, necklaces and watches have been created as an expansion on the design which has been considered the 'most successful collection in Cartier's history'.
Although the bracelet has been well received by most, it still gets its share of criticism. Many compare it to a medieval chastity belt which enslaves a woman to her lover. Airline call is the 'biggest problem item' because it needs to be removed when passengers go through security, but this requires a special tool that is often not on hand.

Fun Facts
Now that you know a bit of history concerning Cartier and the Love Bracelet, here are some fast facts you might enjoy.
The bracelet was not designed at Cartier headquarters but at the brand's New York workshop.
The bracelet was made in an oval shape so that it was closely fitted to the wrist like a handcuff. It can be worn by both men and women.
The Love Bracelet's was the first bracelet designer, Aldo Cipullo created for Cartier. He later went on to create the Juste un Clou 'nail' bracelet which would be another iconic style for the brand.
The Love Bracelet was one of the first pieces of jewelry that was not made to match an outfit and could be worn day or night.
It was rumored that Cartier once had a policy prohibiting individuals from buying a Love Bracelet. It could only be purchased by couples.
The diamond studded version of the Love Bracelet was introduced in 1979.
The distinctive screws found on the Love Bracelet were inspired by the screws featured on the bezel of Cartier's Santos watch.
When the bracelet was first launched, Cartier gave pairs to some of the most famous couples of the 20th century including the Duke and Duchess of Windsor, Elizabeth Taylor and Richard Burton, Ali MacGraw and Steve McQueen and Sophia Loren and Carlo Ponti.
Love Bracelets didn't originally have serial numbers but eventually so many counterfeits were made, this became a necessity. Now each bracelet is carved with a unique serial number which Cartier keeps on file.
It is rumored that some New York City hospitals keep Love Bracelet screwdrivers on hand in case pieces of the bracelet need to be removed from patients in an emergency.
Getting the Love Bracelet at An Affordable Price
Pawn shops have gotten a bad rap over the years, but many of them are owned by reputable businesspeople who are looking to become trusted members of the community. They are also great places to buy luxury items at an affordable price.
When it comes to the Love Bracelet, there is one available at Boca Raton Pawn, a terrific South Florida location known for providing great service and prices.
The Love Bracelet they have on hand is an 18k rose gold bracelet in a newer style. It is a size 17. It is guaranteed 100% authentic and comes with a screwdriver, box, certificate and receipt. It is available for the low price of $5995.00 a discount from the already lowered price of $6600.

Is the Cartier Love Bracelet Worth It?
With such a steep price tag, many have to ask themselves whether buying one is worth it.
Although opinions on this may vary, here are some reasons many people are saying yes.
The bracelet's locking mechanism gives it an innovative, luxury design while the variety of features and metals it comes in takes the bracelet to the next level.
Love Bracelets are symbols of love which gives them sentimental value. When you consider the legendary status that surrounds them due to the many myths that have circulated over the years as well as the many celebrity couples that have worn the bracelets, this gives the bracelet an allure that adds to its overall worth.
The high end quality of the bracelets is another thing that makes Love Bracelets a great investment. They are available in several different metals, they have luxury features like diamonds and other gemstones and they come in different styles ensuring there is one that is perfect for you.
Your Love Bracelet as an Investment
A pawn shop is a great place to buy a Love Bracelet at a discounted price, but it is also a great place to get a loan for your bracelet.
Let's say you find yourself in a cash crunch…and there's your Love Bracelet just staring at you! You know you could sell the bracelet to get out of your cash crunch, but you are reluctant to part with it. Well, there is a way you can leave your financial woes behind and still get to keep your bracelet.
Here's how it works.
Take your bracelet into a pawn shop. The broker will assess it to determine its worth. Then they will offer you a loan. The loan will not be for the full value of the bracelet but a percentage of its total worth.
If you agree to the amount of the loan, terms will be worked out so that you can make payments until your loan is paid off. Your payments will include interest rates and fees.
Once the bracelet is paid off, it will be returned to you. If you are unable to make the payments, the pawn shop will keep your bracelet, but this will never show up as an unfavorable mark on your credit score and the unpaid amount will never go into collections.
Finding the Best Pawn Shop for Your Love Bracelet Loan
If you are looking for a loan for your Love Bracelet, it is important to be aware that not all pawn shops are created equal. Some will offer higher values and lower interest rates than others.
Coincidentally, Boca Raton Pawn, the same shop that is selling the Cartier Love Bracelet, offers the highest value and lowest interest rates in the South Florida area. It's no wonder why their selection features some of the finest luxury bracelets!
But it isn't only Boca Raton's great selection, low interest rates and high values that set this pawn shop apart. They also have terrific service.
If you come into the shop to get a loan or sell an item, they will provide service quickly and conveniently so you can leave with cash in hand in a matter of minutes. And if privacy is a concern, you can call in advance to schedule a private appointment that will allow you the utmost discretion.
If you come in to buy an item, you are guaranteed terrific service as well. Our knowledgeable staff can help you find the items of your dreams, all at low discount prices.
And if you can't make it into our store, check out our web site to find out about the amazing items we have in our selection. We can have them shipped right to your door!
Things You Should Know About Loaning or Selling with Boca Raton Pawn
If you come into Boca Raton Pawn to sell or get a loan for an item, there are certain things you should be aware of in advance.
BRP specializes in luxury handbags, jewelry and watches. These are the items we are most likely to purchase or accept for a loan. They are also the items you are most likely to find in our store.
There are also certain luxury brands we are more likely to buy or give loans for. These brands are listed on our web site. Please consult our site so you can determine if we are likely to accept your item and to make your experience as pleasant as possible.
The Cartier Love Bracelet is an iconic piece of jewelry. Boca Raton Pawn makes it easy to buy, sell or get a loan for your Love Bracelet or any other high end item that we sell in our shop. Check us out to say goodbye to your financial woes and to make your dreams come true.