The Rolex President Boca Raton and Why it is Such a Great Investment
When it comes to luxury watches, Rolex is one of the first that come to mind. Going back in history, the designer has released so many exceptional models, but one that truly stands out is the Presidential Day Date. Read on to find out more about the watch, why it makes a great investment and how to get one in excellent condition at a reduced price.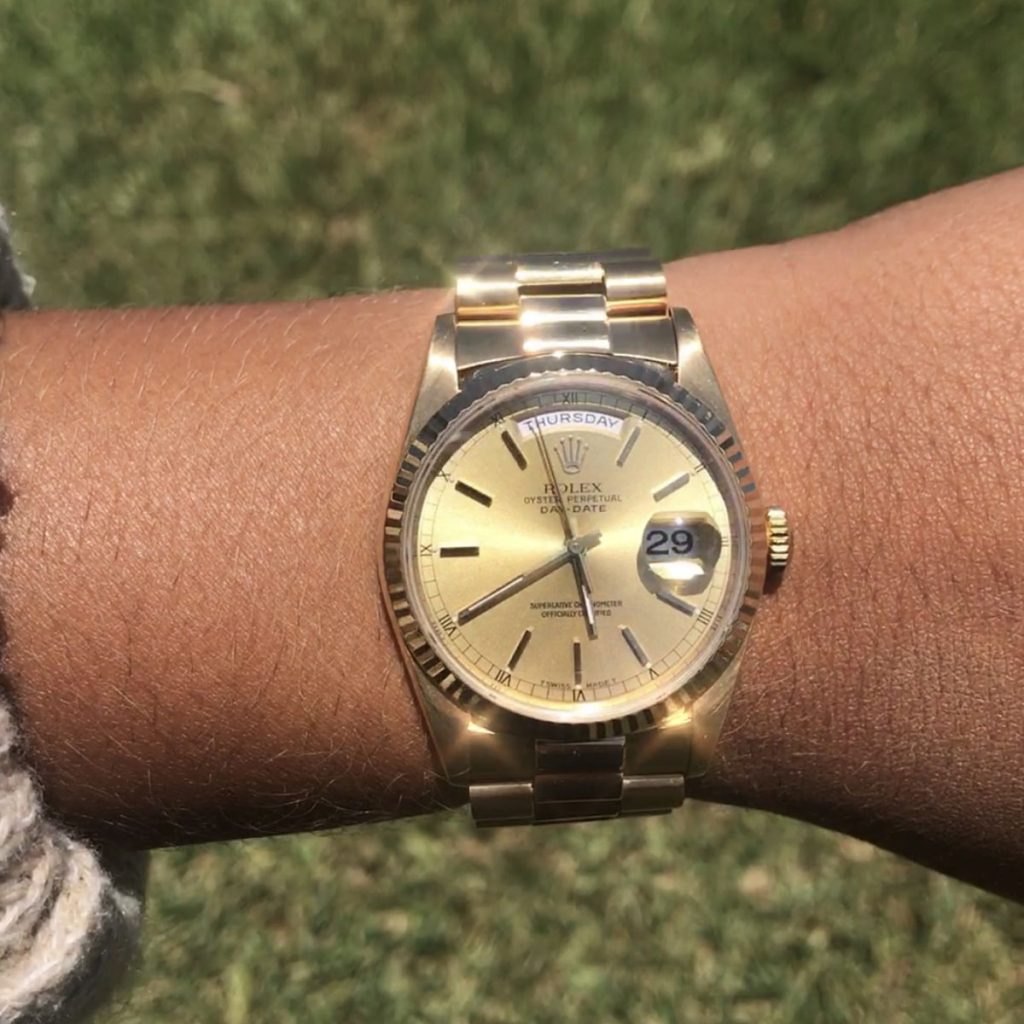 History of Rolex
The Rolex company was originally founded by Hans Wilsdorf and Alfred Davis in London in 1905. The company was first known as Wilsdorf and Davis, but the name of the company changed in 1908. Legend has it that Wilsdorf chose the new name because it was onomatopoeic and pronounceable in any language. Because the name was short, he knew it would work well when written on the faces of watches.
A few years later, the company would make another major change when they moved to Geneva in Sweden to avoid the heavy taxation of the British government.
Rolex quickly began to establish themselves as one of the top names in watch design. In 1914, Kew Observatory awarded the brand a Class A precision certificate, a distinction normally granted to marine chronometers only.
The company was also known for being innovative in their production of the self-winding and waterproof watches. Although they were not the first company to produce these types of watches, they updated the technology to make them more convenient for everyday use. They also offered new technology in watches that featured the date and various time zones.
Today, Rolex continues to be recognized for producing watches that are among the most coveted in the luxury industry. Forbes ranked them as the world's 71st most valuable brand and three Rolex watches were included in a list of the ten most expensive watches ever sold at an auction.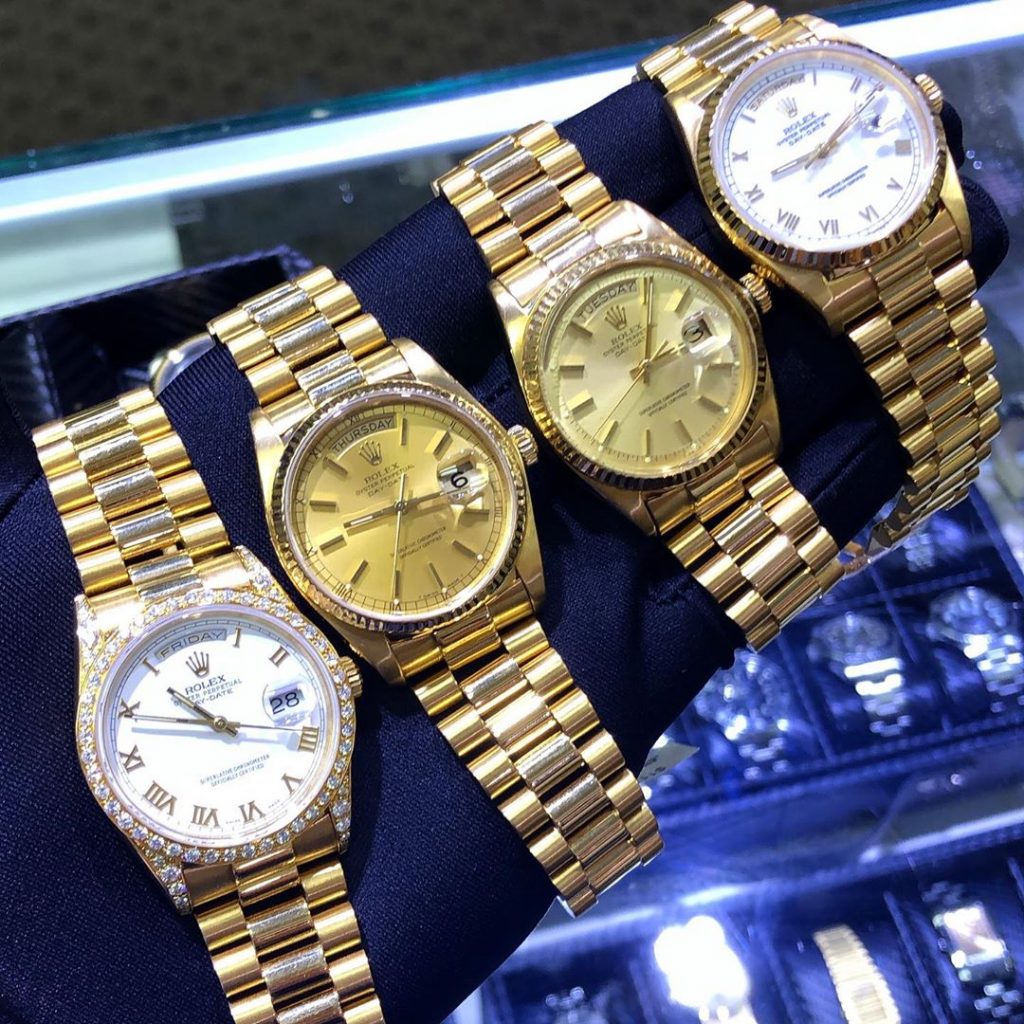 History of the Presidential Day Date
Rolex has released some terrific models in its time but one that is particularly well known it the Presidential Day Date. First released in 1956, the Day Date is considered the brand's signature status watch to this date.
When the watch was introduced, it was the first to include the day of the week written in full at the 12 0'clock mark along with a date window at 3 o'clock.
It is also known for its band which is officially named the President bracelet. It is known for its semi-circular links and is almost as famous as the watch itself. It is so named because it has been worn by several American Presidents including Eisenhower, Johnson, Nixon and Reagan.
The watch hasn't changed much throughout the years although there have been some technological developments that have been made. Here is a brief history of how it has evolved.
1950's-1970's: The first models of the Day Date were the 6510 and 6511 but when it became necessary to make certain improvements on the watch, the 18xx series was released.
The 1803 is the most famous of the Day Date watches. It features a gold 36 mm case, a gold fluted bezel and a gold Presidential bracelet. It is available in rose gold, yellow gold and white gold.
The 1803 was in production until the late 70's, Early models ran on Cal. 1555 automatic movement which was eventually replaced with a higher beat Cal 1556 movement in the mid 60's. It is known for its hacking feature which forces the watch to stop when the winding crown is pulled out.
Late 70's to Late 80's: During this era, Rolex continued producing watches in the 18xx series only these featured different precious metals and different types of bezels. The movement was updated to Cal 3055 which had a quickset date functionality that allowed the date to be set separately from the center hands.
One popular model from this time was the Day Date 18038 which featured a 36 mm yellow gold Oyster case, a yellow gold fluted bezel and a yellow gold President band.
Late 70's to 2000's: An unlikely move for Rolex, during this time the company produced a quartz watch known as the Day Date Oysterquartz. It runs on Cal 5055 quartz movement, but it wears slightly bigger than some of its counterparts although it too features a 36mm case size.
Its unique integrated style-a design is another feature that sets it apart from other mechanical Day Dates.
Late 80' to Late 90's: This era would see the launching of the 182xx series. It features Cal 3155 movement and is best known for its double quickset functionality which allows users to set the day and date window independently from the center hands.
One well known model is the 18238 which features a 36 mm Oyster case, a fluted bezel and a yellow gold President band. Its champagne dial with vertical lines owes to its elegance. It is available in yellow gold, white gold and platinum.
2000-Present: The 2000's saw the launching of the 118xxx series. These feature the same 3155 movement and 36mm case as well as improved bracelets and clasps. They also come in a variety of options when it comes to metals, diamond accents and more. Some are even available with leather straps as an alternative to the Presidential bracelet.
A notable model is the 118205 available in rose gold. It features a crisp, white dial, Roman numerals, smooth bezel and Presidential bracelet.
2008-2015: In 2008 the Day Date II was released. This model featured a large 41mm case that appealed more to a modern audience. The movement is Cal 3156 and it is available in a variety of metals.
2015: The Day Date II was only in production for seven years. In 2015, Rolex introduced the Day Date 40 to replace it. So-named for its large 40mm case, it also features a new generation of movement; the Cal 3255. This movement has a longer 72 hour power reserve as well as an improved accuracy rating.
One Day Date model that stands out is the 228238 which has a gold fluted bezel and black dial with featured lume-filled gold baton indexes. It also features the Presidential bracelet in 18k gold.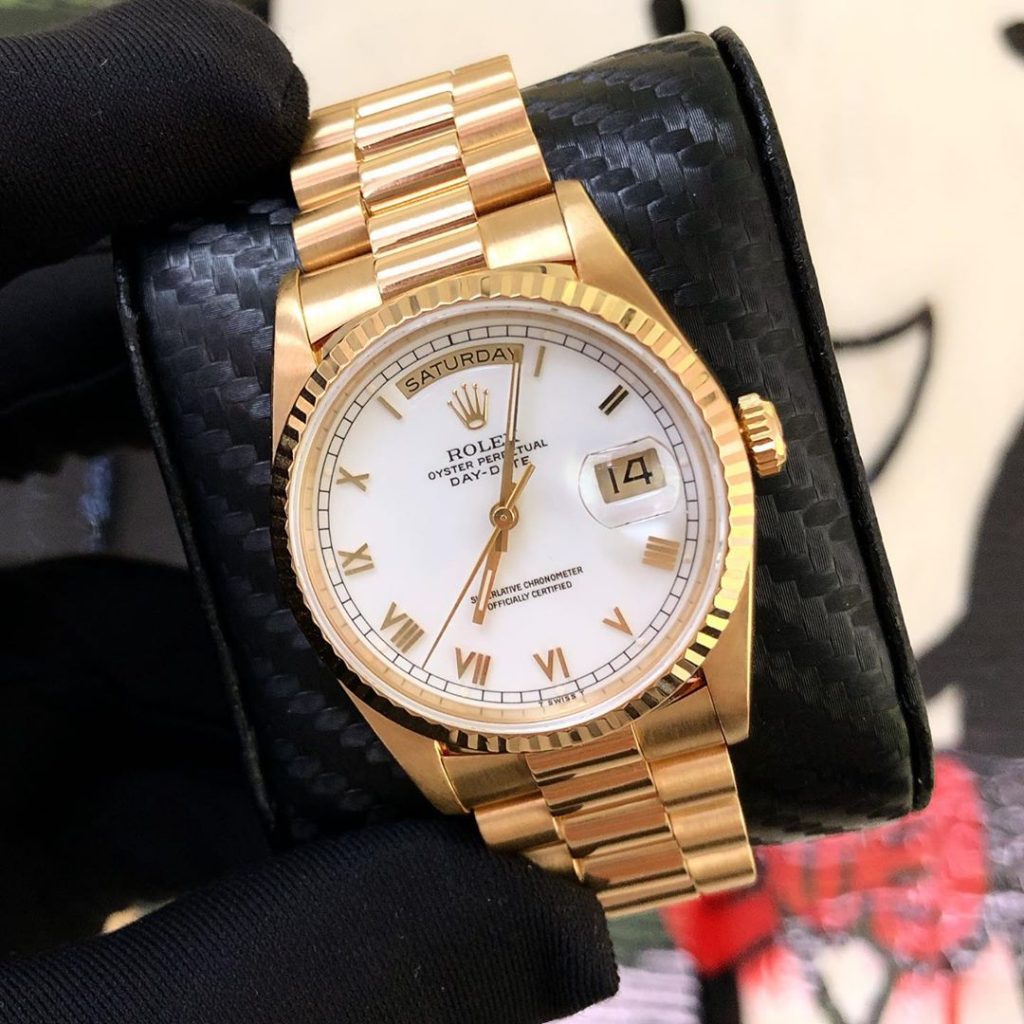 How to Find an Affordable Day Date Watch
If you are thinking of purchasing a Day Date watch and have been browsing the internet, you will notice that prices can be upward of $30,000. This is unaffordable to many. However, a great way to get the look for less is to buy one second hand at a pawn shop.
Pawn shops have gotten a bad rap in the past, but the truth is, many of them are owned by reputable business-people who want to make a name for themselves as trusted members of the community. Furthermore, pawnshops must adhere with government regulations to assure their business practices are aboveboard.
When it comes to the pieces they accept in their stores, they put them under rigorous testing to make sure they are authentic and in proper working order.
If you are looking for a pawnshop you can trust in the South Florida area, Boca Raton Pawn is highly recommended. And, as luck would have it, they have a terrific Day Date President available for sale.
This is an 18238 President Double Quick 18k Yellow Gold Champagne Dial Men's watch. It features a 36mm case and fits wrist size 7.5. Its champagne factory Rolex dial was originally white.
The crystal is scratch resistant sapphire, the movement is automatic, and it includes the day, date, hours, minutes and seconds.
But the best part is the price. This watch is going for $14,950, less than half of what most new Rolex Day Dates are listed at.
Your Rolex Day Date as an Investment
As mentioned earlier in the article, Rolex is considered one of the most valuable watch brands in the industry with many of their watches fetching a pretty penny at auctions. That means, if you own a Rolex watch, its value is likely to increase over time.
Armed with this information, it can be tempting to sell your Day Date President if you find yourself in a cash crunch. But it may be difficult for some to part with their items because they are beautiful pieces that must have gained sentimental value over time.
Well did you know there is a way to use your watch to help you leave your financial difficulties behind without having to sell? Here's how it works.
Pawn shops are not only great resources for buying luxury items at a discount price. They can also offer loans that can help you get out of a cash crunch.
All you need to do is bring your watch into the shop. The broker will assess your watch to determine its worth and then offer you a loan. The loan will not be for the full amount of the watch's value but a percentage of that amount.
If you agree to the terms of the loan, you will begin making regular payments until the loan is paid off. Once the loan is paid in full, you can get your item back. If you are unable to pay off the loan, the shop will keep your item, but the unpaid amount will never go into collections or show up as an unfavorable mark on your credit score.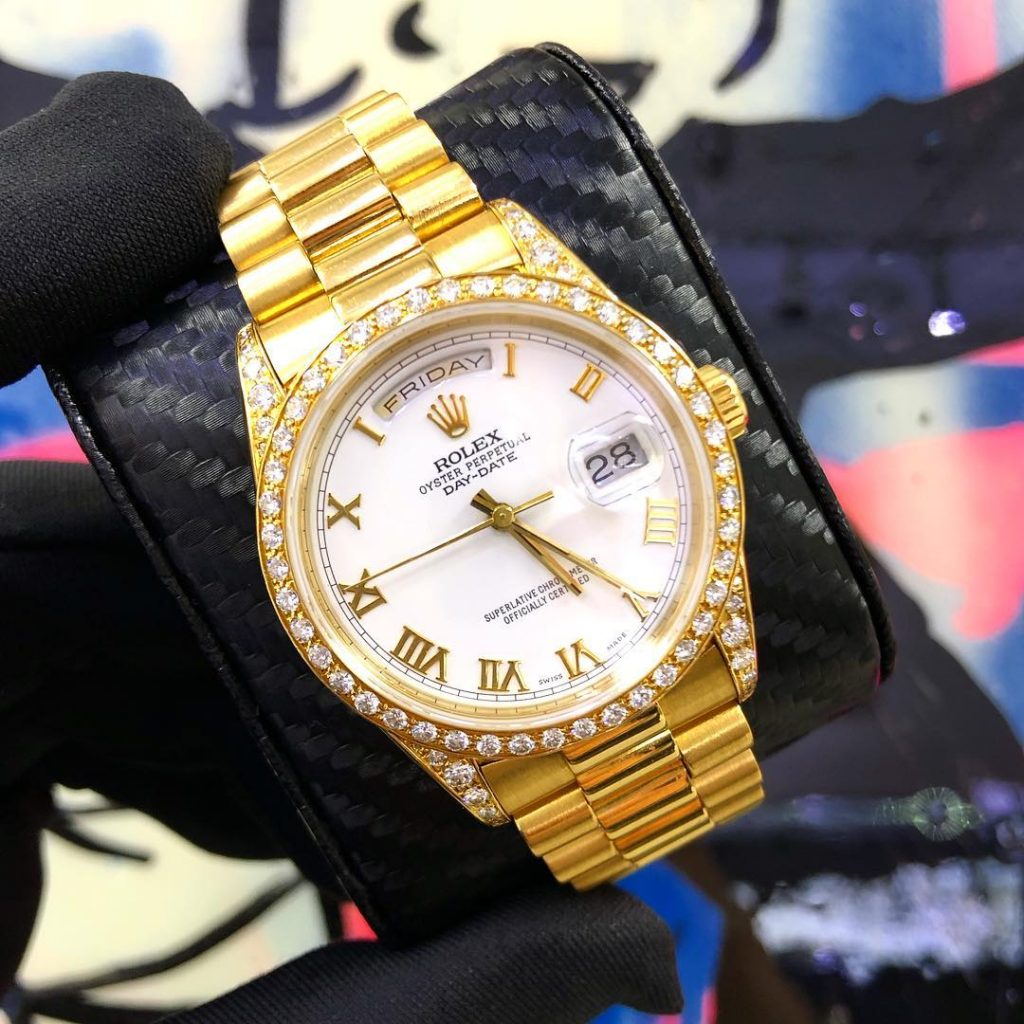 Finding the Best Pawn Shop for Your Luxury Item Loan
If you are thinking of getting a loan from a pawn shop for your luxury item, it is important to note that not all pawn shops are created equal. Some will offer higher values and lower interest rates getting you more cash up front and allowing you to make lower payments.
If you are looking for a pawn shop that makes great deals on loans in the South Florida area…you guessed it…Boca Raton Pawn is the one to turn to. That's right, not only do they have great deals on luxury items, they can also set up loan terms that can help you get out of your financial rut.
But offering great loans and luxury items for less aren't the only reasons you will love BRP.
They also offer great service. Their knowledgeable brokers will make it easy for you to find the items of your dreams. And when it comes to selling, they will assess your item and draw up the terms of your loan quickly so you can leave with cash in hand and get on with your day.
BRP understands that your privacy is important, and they offer private appointments that can be scheduled in advance to assure the utmost discretion.
And if you can't make it into the BRP shop, you can always visit the web site. The site lists the wide variety of luxury items they have available at discounted prices. Order on the internet to have these goods delivered right to your doorstep.
If you are thinking of getting a loan with Boca Raton Pawn, there are a few things you should be aware of. First of all, BRP does not only accept watches. They also accept luxury jewelry and handbags. These are the items they specialize in and have available for sale in the shop and on the website as well.
There are also certain brands that BRP are more likely to accept than others. These brands are listed on their website. It is best to consult the web site in advance to make sure the item you are trying to sell or get a loan for is one that is likely to be accepted so that you have the best experience possible.
Getting into a financial rut can be stressful and no one wants to part with their luxury items. Boca Raton Pawn can help you leave your money woes behind and you never have to say goodbye to your beautiful watches, jewelry or any piece that means so much to you. Come into BRP to find out about all the ways we have been working to help our community thrive.