Rolex 178383 Boca Raton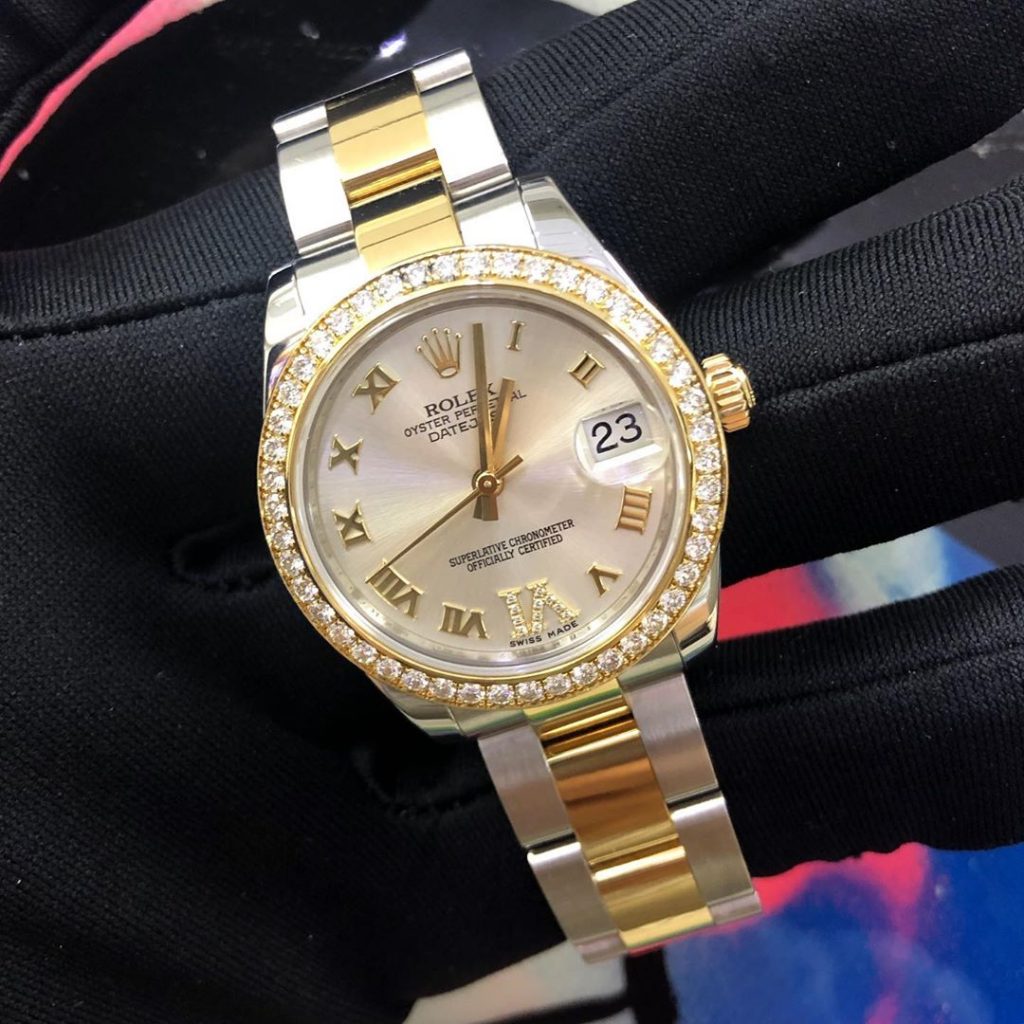 Why the Rolex Datejust 178383 Makes a Great Investment
In the world of luxury watches, the Rolex name is certainly one that stands out. Known for being an innovator in the field of designer watches, Rolex has made models that can be considered elegant, practical, controversial and groundbreaking.
One type of watch that is particularly revolutionary in the Rolex line is the Datejust. This self-winding, automatic chronometer wristwatch was the first watch with an automatically changing date function.
This article will focus on the Datejust paying particular attention to the 178383 model letting you know more about the history of the watch, why it is such a great investment and how you can get the look for less.
A Brief History of the Rolex Company
It is impossible to get a clear understanding of any model of luxury watch without knowing a bit about the company that is behind it.
The Rolex company was founded in London in 1905 by Hans Wilsdorf and Alfred Davis. It was originally called Wilsdorf and Davis but soon changed its name to Rolex. The Rolex name was favored for its onomatopoeic properties, it's ability to be easily pronounceable in different languages and its limited characters which would be easy to print on a watch face.
Another important change the company made early on would be its move to Geneva Switzerland. Reportedly, this move was made so the brand could avoid the heavy business taxations of the British government.
The brand took off quickly and immediately began distinguishing itself as an innovator in the world of luxury watches. In 1914, Kew Observatory awarded Rolex a Class A precision certificate, a distinction normally granted for marine chronometers.
The company continued to earn distinctions for its advancement in the development of waterproof watches, self-winding watches and watches that featured the day and date.
Today, Rolex continues to be a successful brand. In 2018, It was ranked as the world's 71st most valuable brand.
The brand was also included in a 2018 list of the top ten most expensive watches ever sold at auctions with three of its models appearing on that list. The Paul Newman Rolex Daytona is listed as the most expensive wristwatch, quite a distinction for the brand.
The Rolex Datejust
The Datejust was first introduced in 1945. It was meant to commemorate the company's 40th anniversary. It is one of the oldest collections in the Rolex line that is still in production today. The Datejust is the first self-winding watch that featured a date window that automatically changes at midnight.
The first Datejust to make an appearance was the reference 4467. It was first available in 18k yellow gold only.
In the 1950's, two new variations came out, those being the reference 5030 and 5031. These came in stainless steel and Rolesor (two-tone) metals. Another new feature, the Datejust name would now be printed on the dial.
The Datejust also introduced a new style of bracelet called the Jubile. This is a five-piece, metal link bracelet that has been a feature synonymous with the Datejust line ever since.
In the late 50's Rolex introduced their Caliber 1560 movement which would usher in the 160x series. These watches featured the date window although other features varied when considering the hands, bezel, hour markers and crystal. The updates made at this point in time are still included in many current models.
The 1970's would mark another update to the Datejust as Rolex introduced their Calber 3035 movement which would be featured in the 160xx series. These also included a 'quickset' date feature which allowed users to adjust the date display without having to adjust the hands that display the time.
One of the best-known models to come out of this generation was the 16013 which is a Rolesor version fitted with Rolex's iconic fluted bezel.
The newer models still featured a 36mm case, but there were several design updates. The crystals were still made of acrylic, but the sloped style dial was replaced by a completely flat surface. This update is one that is still used in today's Rolex watches.
In 1988, yet another generation of Datejust watches would be released, the 162xx series. This new generation featured their updated Caliber 3135 movement.
Although many features of the watch stayed the same as compared to previous models, there were some slight updates. One of these involved the crystal which was no longer constructed from acrylic but rather a scratch resistant synthetic sapphire. This is another improvement that has withstood the test of time and is still included in modern Datejust models.
2009 would mark the arrival of the Datejust II. These would bear the 163xx reference. In keeping up with more modern styles, a 41mm case was released alongside the 36 mm case. Other updates included a 3136 caliber movement.
Those interested in the larger case model could choose from a Jubile or Oyster band while the 36 mm case featured the Jubile bracelet only.
Although it was thought the larger case would appeal to more modern sensibilities, it never caught on quite as the company had hoped. As a result, the model was taken out of production after just a few years. However, in 2016, the brand reintroduced a Datejust with a 41mm case, this time, simply known as the Datejust 41.
In addition to a larger case, the Datejust 41 also had a new reference number, new movement and other minor aesthetic revisions.
The Datejust 41 is still in production today and is available in case sizes that range from 28mm to 41mm. It comes in a wide variety of metal combinations and more dial, bezel and bracelet options than any other line of Rolex watches.
When we think of watches like the Rolex Datejust, we may think of them as men's watches. However, the designer created several women's watches as well. The Datejust, specifically, was made available for women in the 1950s' shortly after its release.
Some popular models included the Ref 17913 and 17916 which featured a 26 mm face. Slightly larger models included the ref 178273 and 178248 which featured a 31mm case. These Lady Datejust's were instant classics with a striking mother of Pearl face.
The Rolex 178383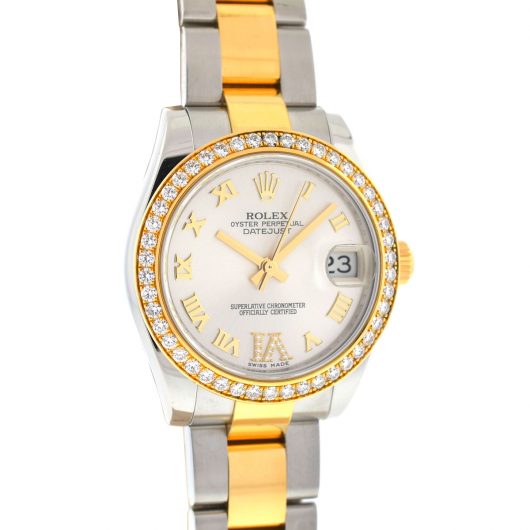 Another popular model is the 178383. This model has a 31 mm and has been released with a variety of features. The band is typically two toned and is available in both Oyster and Jubile. The face can be Mother of Pearl, gold or a solid black. Some even feature textured characters.
The numbers can appear as slashes, Roman numerals or jeweled placeholders and the face is surrounded by diamonds.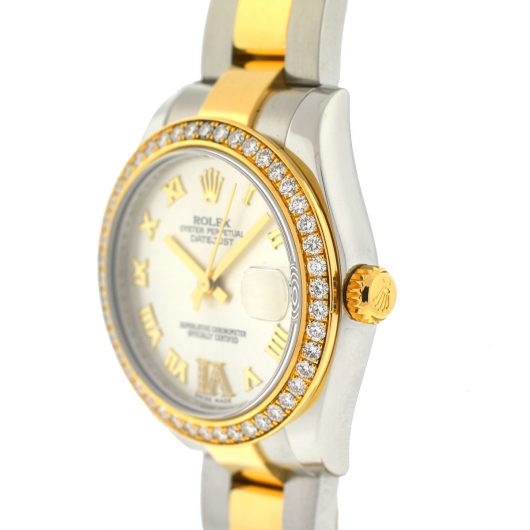 The price for a Lady Datejust varies, but it can easily get near to the $20,000 mark. This is a price that is unaffordable for many of us. However, buying second hand can save you a considerable amount of money.
One problem with buying second hand is you can never be sure if what you are buying is authentic or in proper working order. Therefore, you must be sure to buy from a reliable seller. When it comes to buying second hand, pawn shops can be very reliable.
Although pawn shops have gotten a bad rap in the past, many of them are owned by trusted businesspeople who are trying to make a good name for themselves in the community. Furthermore, many of them are government regulated which forces them to use high standards when it comes to the merchandise they can sell and accept.
So, if you are looking for a Datejust at a discount price, a pawn shop can be a terrific source.
Boca Raton Pawn is a reliable company that serves the South Florida area. They specialize in luxury goods and it just so happens that they have a Datejust 178383 in stock.
In accordance with the standard features of the 178383, the watch BRP is selling has a 31mm face and two tone band that fits up to a 6" wrist. The case metal is stainless steel and the dial is gray with a diamond at 6 0'clock. The bezel is 18k yellow gold with factory diamonds. The crystal is a scratch resistant sapphire and the movement is automatic.
But the best thing about this watch is the price. Further discounted off its already marked down $17,250 price tag, the watch is available for just $12,950.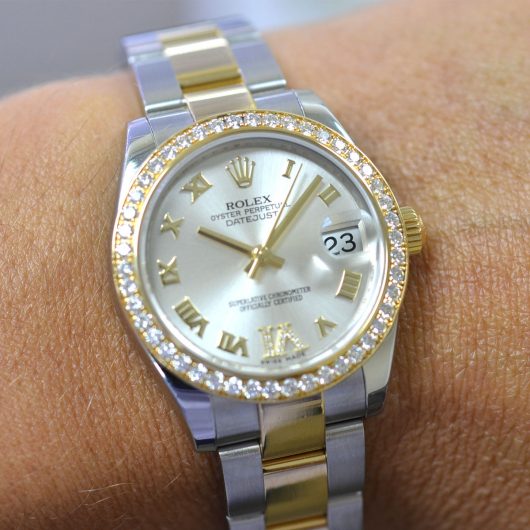 The Datejust as An Investment
The Datejust can be a great addition to any wardrobe, not just because it is a terrific luxury piece, but it can also make a great investment over time.
If you find yourself in a cash crunch, and you have a luxury piece of jewelry like the Datejust, it may be tempting to sell it. However, this lovely piece has surely gained sentimental value and may be hard to part with. Well, did you know there is a way to get out of your financial difficulties without having to part with your luxury item?
A pawn shop can help you in this capacity by giving you a loan for your luxury item. Here's how it works.
All you have to do is bring your item into a pawn shop. They will appraise it to determine its worth. Then they will offer you a loan. The loan will not be for the full value of your item but for a percentage of its total value.
If you agree to the loan, you will begin making payments which will include fees and interest rates. Once your loan is paid off, your item will be returned to you. If you are unable to pay off your loan, the pawn shop keeps your item, but the unpaid amount will never go into collections or show up as an unfavorable mark on your credit score.
Finding the Best Pawn Shop for Your Luxury Item Loan
If you would like to get a loan for your luxury items, you must be aware that not all pawn shops are created equal. Some will offer lower interest rates and higher values allowing you to get more cash up front and make lower payments.
If you are looking for a pawn shop in the South Florida area that offers low interest rates and higher values, yes, you guessed it, once again Boca Raton Pawn can not be beat.
And Boca Raton Pawn does more than just offer you great discounts on luxury items and great deals for your loans, they offer a terrific level of service as well. Their knowledgeable sales team can help you find the item of your dreams.
When it comes to getting a loan or selling an item, they can get you in and out quickly so that you can leave with cash in hand and get on with your day.
If privacy is a priority, call in advance to make a private appointment. Their brokers offer the ultimate in discretion.
When lending or selling to Boca Raton Pawn, there are a few things that should be noted in advance. First, they specialize in luxury jewelry, handbags and watches. These are the items they are most likely to accept and the ones you are most likely to find for sale in their shop.
BRP also prefers select designers. These designers are listed on their web site. Be sure the items you are bringing in are manufactured by the designers on this list to increase the chances that they will be accepted by the shop.
Finally, as with selling any item, be sure what you are selling is in good condition and proper working order and provide whatever documents you have available to prove their authenticity.
The Rolex Datejust is a classic watch that has endured the test of time. A reliable pawn shop can help you get this item for less and use it later on if you need help getting out of a cash crunch. With so many possibilities, it sounds like you can't go wrong working with Boca Raton Pawn.