Rolex Hulk Boca Raton 116610LV Review

Rolex is a name that is synonymous with luxury and style in fine watches. Over the years, it has grown into a brand that is known for being one of the most innovative in the world of high end timepieces.
One model that Rolex is known for is the Submariner. This article will take a look at the history of Rolex, the Submariner and its special Hulk model. We will let you know why this particular watch is such a great investment and how you can get the look for less.
Brief History of Rolex
The Rolex brand was founded in London, England in 1905 by Hans Wilsdorf and Alfred Davis. The two started off by importing Hermann Aegler's Swiss movements to England and placing them in watch cases made by other designers. These watches were then sold to jewelers who put their own names on them.
In 1908, Wilsdorf decided he wanted to take a more personalized approach moving forward to create his own watch brand. He decided on the name Rolex since it was onomatopoeic and would be easily pronounceable in any language. It was also short enough to look good on the faces of most wristwatches.
Another major change the company made early on was to move to Geneva, Switzerland to avoid the high taxes of the British government.
As all this was happening, the company continued to flourish with its innovative designs. In 1914, the brand was awarded a Class A precision certificate, a distinction normally reserved for marine chronometers.
In the following years, the brand would continue to be recognized for its innovative technologies in watches that were self-winding and waterproof.
The History of the Submariner
Of all Rolex's designs, the Submariner is one of the most recognizable. It was first released in 1954 but there are years of history proceeding it that made its introduction possible.
In 1926 the brand introduced the Oyster which featured the first hermetically sealed case. This would be a breakthrough in the world of waterproof watches.
In 1931 Rolex patented the first self-winding mechanism with a perpetual rotor allowing the brand to update with the Oyster Perpetual.
From there, Rolex continued to make watches with rotating bezels while improving on their water-resistant features.
All this led to the release of the Oyster Perpetual Submariner which would be the first commercially available timepiece capable of submerging to 100 meters. More improvements would be made as follows:
Late 50's and Early 60's: In 1955, the first Submariners available were the 6538 and the 6536. These featured caliber 1503 movement. The 6538 model was chosen for use by the British Royal Navy.
In 1956, a new design was made for the hands. The luminous circle was moved a bit closer to the center of the dial and the bezel updated to feature a minute index for the first quarter. The watch also became the pick of the Royal Canadian Navy.
1958 saw the introduction of the 5510 and 5508. These both featured 1530 caliber movement. The bezel was updated slightly on the 5508 as the zeroes had more of a square shape.
In 1959 the watch updated to feature a depth resistance of 200 meters. The current models, 5512 and 6538, featured wording on the dial stating. 'Superlative Chronometer, Officially Certified'. The case size also increased to now be available in 40mm as opposed to the 36mm of the past.
In the 60's, a cyclops magnified date window would be added to models that featured a date. For many, this begged the question of why Rolex didn't simply enlarge the date itself. The brand responded by noting that the additional thickness would have slowed down the movement in the watch.
1962 was the year of the 5513. During this time, Submariners were released that were fitted with crown guards. Prior models featured smaller crowns, but Rolex determined they were too delicate for the sporty models.
Other updates that became signature features of the watch included the luminated markers and the inverted triangle at 12 o'clock.
1962 was also the year when the Submariner would reach new heights in fame. It was the first time Sean Connery would be wearing the watch when playing James Bond…and it would not be the last.
In 1963, the 5513 was updated to feature 1520 movement.
In 1966, red writing would appear on the dial of the newly released reference 1680. This was a feature that would continue until 1973. Movement was also updated to a 1575 caliber.
1969 saw the release of the 16618 series and the first Submariners available in gold.
1970's: In 1973, the Submariner would once again be featured in a James Bond flick. This time it was used by Roger Moore as a life saving tool when the bezel of his 5513 was modified to work as a circular saw which helped cut him out of ropes and escape his captors.
In 1979 Rolex started updating its watches to include sapphire crystals. Its water depth increased to 300 meters.
1980's: 1981 was the year of the 16800 and the 16618. The Submariner received a uni-directional bezel and an update to caliber 3085.
In 1983, the 16610 was released. This would be the first Submariner to be available in Rolesor, a combination of gold and steel.
In 1988, the 16610 would appear featuring a caliber 3135.
2000's: 2003 would mark the Submariner's 50th anniversary. In celebration, the 16610 LV was released with a green face and bezel. It would be nicknamed the Hulk.
2009 saw the release of the 116613LB, the first Submariner to be fitted with a ceramic bezel in Rolesor. Case lugs became fat and a new bracelet was added.
2010 would mark a new style for the Submariner as the white gold 116619 was released with a blue dial and ceramic bracelet.
Another release that occurred this year, the 116610LN/LV was introduced with a green dial and green ceramic bezel.
2012 would mark the last update to the Submariner as the 114060 was released with a ceramic bezel, fat case lugs and a new bracelet.
The Submariner Hulk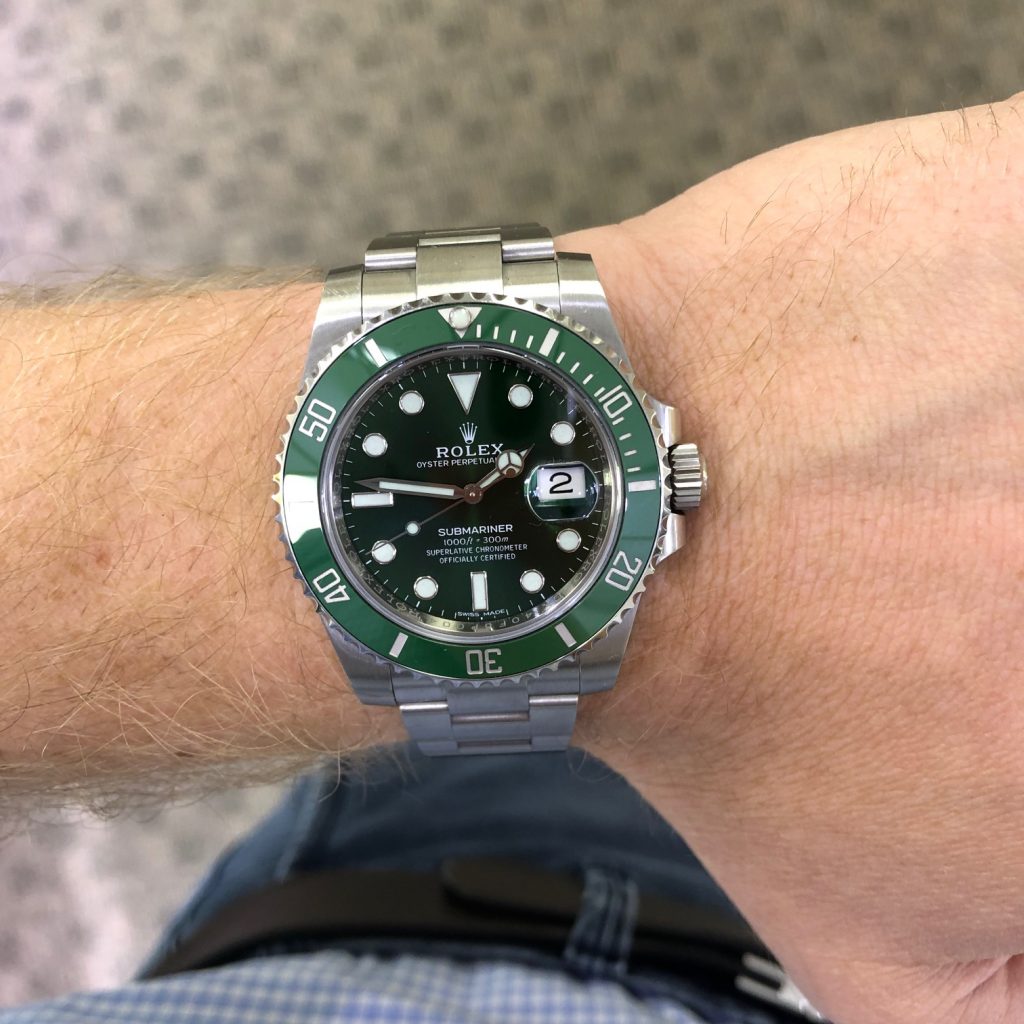 One Submariner previously mentioned that is well known in Rolex history is the Submariner Hulk. It was a 50th anniversary model released as reference 16610LV. Its most stunning characteristic is its green bezel, a detour from the more traditional colors usually available through the Rolex line.
Other characteristics include its larger hands and hour markers. It also had a redesigned case with thicker lugs and a bezel insert made of cerachrom, a proprietary type of ceramic that is virtually scratchproof and UVA and UVB resistant.
Because both the insert and the dial are green, the watch has a bright, extroverted appearance that quickly earned it the nickname 'Hulk'.
If you are looking to buy a Hulk Submariner, you will find out that it can be quite expensive sometimes running close to the $20,000 mark. However, there are ways you can get the look for less.
Buying used can be a great option for getting luxury goods at discount prices. However, you need to make sure you are buying from a reliable seller so that you can feel confident that the product is authentic and in proper working condition.
That's why purchasing from a pawn shop is a great option.
Now, we know that pawn shops may have gotten a bad rap in the past, but the truth is many of them are owned by reputable business people. They are also often government regulated so that they must adhere to the highest standards when it comes to the products they can accept to be sold in their shops.
When it comes to the Hulk Submariner, if you are looking for one that is reasonably priced, Boca Raton Pawn has one available.
The Hulk BRP has in stock features a stainless steel 40 mm case and bracelet. The bezel and case are telltale green with the case featuring luminescent hour markers. The crystal is scratch resistant sapphire and the movement is automatic. The watch also has a date display.
But the best thing about this watch may be the price. Boca Raton Pawn is selling it for just $16,995.
If you can't come into the store to make a purchase, you can order directly from the website to have luxury delivered to your door.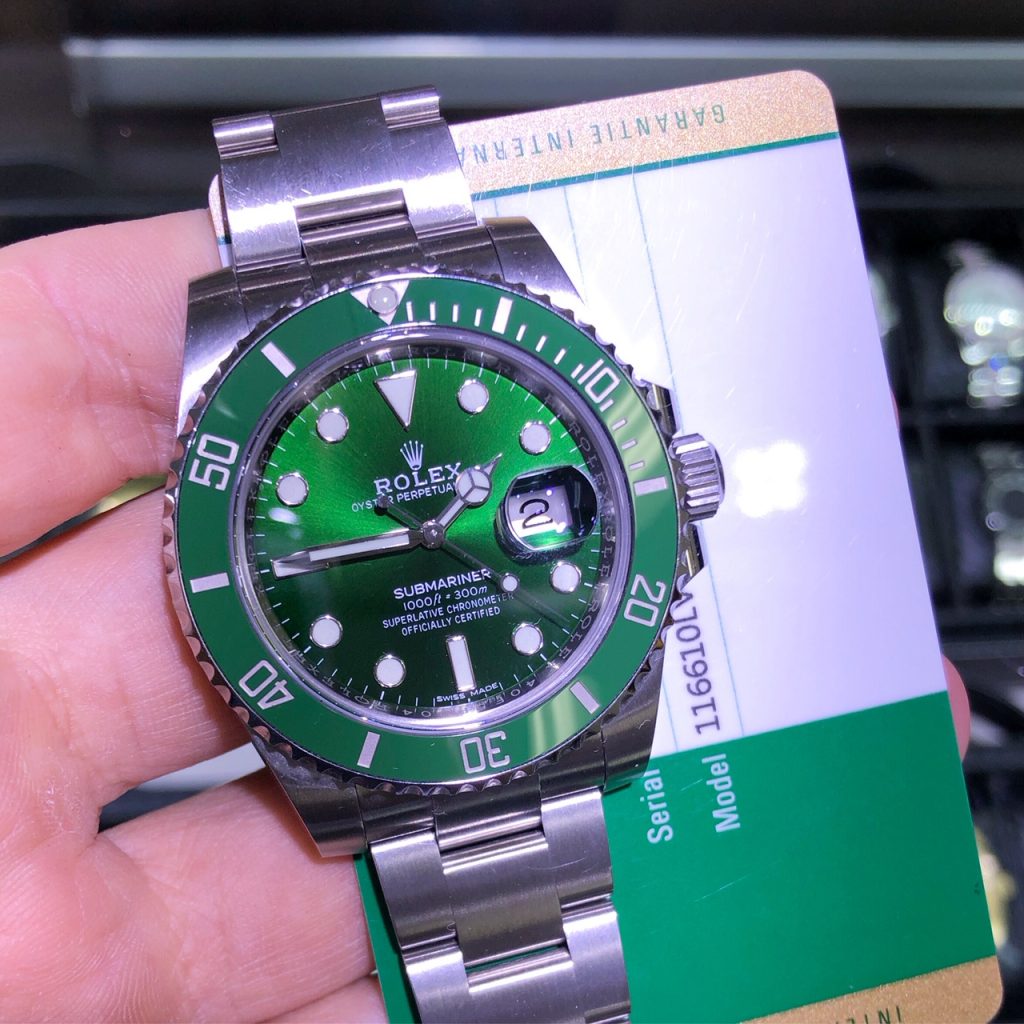 The Submariner Hulk as an Investment
But pawn shops aren't just a great place to buy luxury goods. They can also make you loans for your luxury goods that can help you get out of a cash crunch. Here's how it works.
If you find yourself in a cash crunch, it may be tempting for you to sell your luxury items. However, it can be hard to part with these goods that are so lovely and have surely accrued sentimental value over time.
Well, did you know you can get a loan for your item that can help improve your financial situation and still get to keep your item? Here's how it works.
To get a loan for your item, all you have to do is bring it into a pawn shop. They will assess its value and offer you a loan based on how much it is worth. The loan will not be for the full value of the item but for a percentage of its worth.
If you agree to the terms of the loan, you will begin making regular payments until the loan is paid off. Once you have completed paying off the loan, your item will be returned to you. If you are unable to pay off your loan, the pawn shop will keep your item, but the unpaid amount will never go into collections or appear as an unfavorable mark on your credit score.
Finding the Right Pawn Shop for your Loan
If you are thinking of getting a loan for your luxury item, it is important to remember that not all pawn shops are created equal. Some will offer higher values and lower interest rates so you can get more cash up front and make lower payments until it is paid off.
If you are looking for a pawn shop in the South Florida area that offers these great deals on a loan, once again, it's Boca Raton Pawn to the rescue
Not only does BRP offer great values, low interest rates and awesome deals on luxury watches, they have a high level of service that puts them over the top. Their knowledgeable staff will help you find the items of your dreams.
And when it comes to selling or getting a loan, they can have you in and out quickly with cash in hand so you can go ahead and get on with your day.
If discretion is a concern, they also offer private appointments which can be scheduled in advance.
If you decide to sell or get a loan with Boca Raton Pawn, there are a few things to take note of in advance. First, BRP specializes in luxury watches, handbags and jewelry. These are the items the store is most likely to sell and accept for loans.
BRP also has certain designers they prefer to deal with. These designers are listed on their web site. It is best to consult this list to make sure your item is likely to be accepted and to make your experience as pleasant as possible.
Finally, as with selling any item, items are more likely to be accepted and receive a higher evaluation if they are in good condition and proper working order. Having the original receipt and authenticity certifications will be an added bonus.
The Hulk Submariner is a stand out in a line of innovative watches. BRP provides ways for you to get the most out of the watch as an investment and to get the look for less. How will you be enjoying your Hulk?