Rolex Boca Raton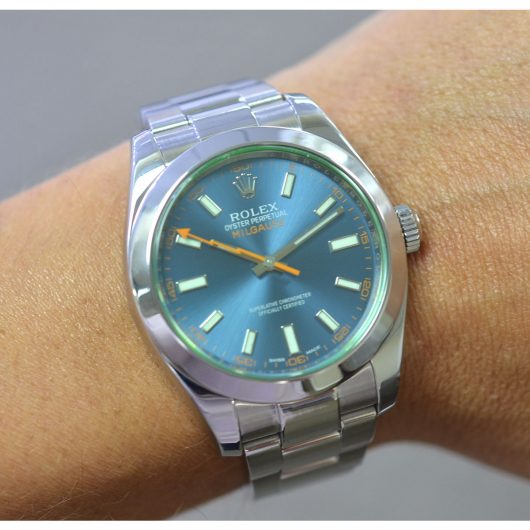 Spotlight on the Rolex Milgauss and Why it is a Great Investment
When we think of luxury watches, the name Rolex instantly comes to mind. The brand is known for manufacturing watches that are durable, attractive, innovative and tailored to the needs of the modern man and woman.
Rolex has been known to create watches that are suited to different industries. The Submariner, for instance, is perfect for divers. The Daytona is ideal for race car drivers. A slightly lesser known model is the Milgauss, an antimagnetic watch specifically designed for those who worked in the fields of science and medicine.
Read on to find out more about the Rolex brand with a spotlight on the Milgauss model. Find out why it makes a great investment and how you can get the look for less.
Brief History of Rolex
The Rolex company was founded in London in 1905 by Hans Wilsdorf and Alfred Davis. It was opened as Wilsdorf and Davis, a company that worked at importing Swiss movements to England and placing them in watch cases which would then be sold to other jewelers.
In the coming years, the company would make several changes. Taking steps to become a luxury brand, they began designing their own watches. They would also change their name to become the Rolex brand. The new name was chosen because it translated well in any language and was small enough to fit on a watch face.
The company also moved to Geneva, Switzerland in order to avoid Britain's high business taxes.
Rolex would soon become well known for being innovative in the luxury watch industry. In 1914, Kew Observatory awarded the brand a Class A precision certificate, a distinction normally granted exclusively to marine chronometers.
In the years that followed, Rolex would continue on that path by providing updated technology to improve the functioning of self-winding and waterproof watches.
The History of the Milgauss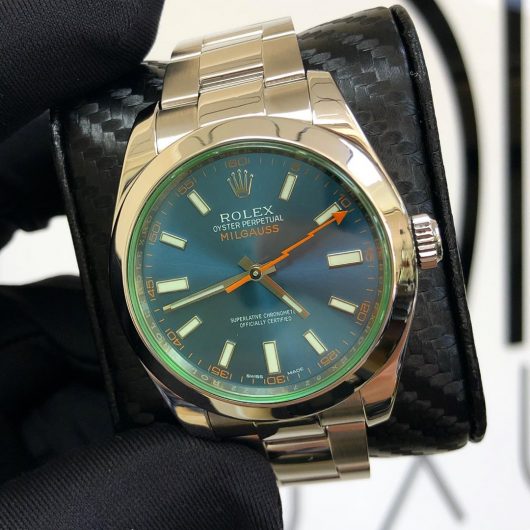 As stated earlier, Rolex liked making watches that were suited to different industries. While the Submariner and Daytona were geared towards action and adventurer sorts, the Milgauss took a more practical approach catering to scientists. The watch's antimagnetic properties made it perfect for those who worked in power plants and at medical facilities and research labs.
The antimagnetic watch solved a serious problem for these professionals. Many worked in electrical fields greater than 50 to 100 gauss which would disrupt the timing of the watch making it dysfunctional.
The Milgauss was tested at the European Organization for Nuclear Research (CERN) where it was determined that it could resist magnetic fields up to 1,000 gauss, a huge technological advancement for both Rolex and the scientific community.
As a result, many of the scientists at CERN started wearing the watch which helped it to catch on in the scientific community.
The name reflected the watch's capacity as Mil is taken from the Latin word mille which means one thousand and gauss is the unit of a magnetic field.
The first Milguass was introduced in 1956 and was known as the Rolex Oyster Perpetual Milguass ref. 6451. It was very similar in appearance to the Submariner featuring an oversized case and bezel, a patented Twinlock crown and a riveted Oyster bracelet.
The second hand was in the shape of a lightning bolt, a feature that immediately became synonymous with the Milgauss. The second hand can be stopped when setting the time to ensure precise setting and is still seen on current models today.
After the release of the Milgauss in the 50's it was a long time before any modified versions would be released. However, the Ref. 1019 came out as a popular model in the 60's and 70's. Unlike the original model, it offered two dial options, black and silver. Though some models did not feature the lightning bolt, many had it added later.
Even though the Milgauss was a distinctive model, it was discontinued in 1988 and forgotten about for nearly 20 years until it reappeared in 2007. The new model was ref. 116400 and came out in three versions. Two of the versions feature a black or white dial with a standard colorless crystal sapphire.
A special Glace Verte (GC) or anniversary model was also released at that time. It features a black dial and is highlighted by a green tinted sapphire crystal which gives the model its name. It is the only Rolex that offers this feature.
The newer Milgausses also feature some technological updates. For instance, they include a shield inside the Oyster case that is made of ferromagnetic alloys specifically chosen by Rolex watchmakers. This shield surrounds and protects the movement to keep the watch running precisely.
It also includes a magnetic alloy Parachrom-Blu hairspring. The hairspring is finer than a human hair, but it is resistant to magnetic fields and 10 times more resistant to shocks that may occur if the watch is dropped or hit against something.
It also includes the symbol for magnetic flux density (a capital B with an arrow) engraved in the magnetic shield. This is a hidden feature that will only be visible to a Rolex certified watchmaker.
The Milguass magnetic shield makes it thicker than other Rolex watches but it does maintain the same width and weight of 157 grams. The case is made of 904L polished stainless steel, a super alloy usually used in technology, aerospace and chemical industries where a maximum resistance to corrosion is necessary. Its Oyster case ensures it is water resistant in depths up to 100 meters.
The watch is equipped with a caliber 3131 movement, a self-winding mechanical movement developed and manufactured by Rolex. It is a certified Swiss chronometer, a distinction reserved for high precision watches that have passed Swiss Official Chronometer Testing Institute Tests.
It is complemented by the Oyster bracelet which is both attractive and practical.
Because the Milgauss was not the most popular model and was discontinued for many years, it gives it a rare status so that it can fetch a pretty penny when being sold at auctions and secondhand.
Getting the Milgauss Look for Less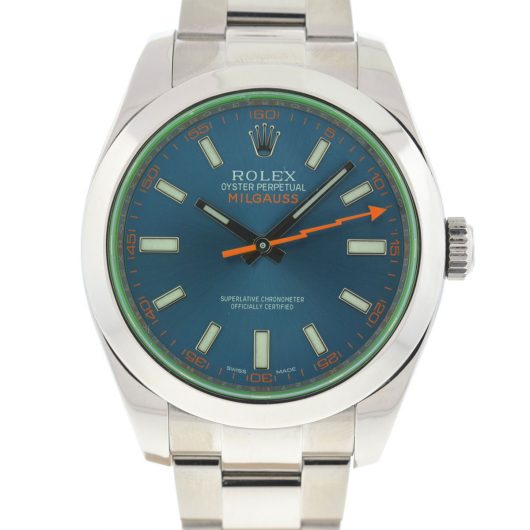 Even though the Milgauss is a rare and expensive watch, there are ways you can get the look for less. One way is to buy used.
Of course, buying a luxury item second hand can be complicated. You can never be sure if the item you are buying is authentic and in good working condition. However, you can feel better about the items you are purchasing if you buy from a pawn shop.
Pawn shops have gotten a bad rap over the years but many of them are owned by trustworthy businesspeople who are trying to make a good name for themselves in their communities. They are also government regulated which prevents them from using dishonest business practices.
When it comes to the items they accept in their shops, they are inspected thoroughly to make sure that they are authentic and in proper working condition.
One shop that is known for being exceptionally trustworthy is Boca Raton Pawn. And it just so happens that they have a Milgauss available for sale right now.
The Milgauss they are selling is exceptionally rare because it a 116400GV which features a blue dial and green crystal which is a scratch resistant sapphire. Other features include its 40 mm stainless steel case and automatic movement. Its bracelet is also stainless steel and it fits a wrist size of 6 ¾".
BRP includes a video in the listing which shows the watch to be in excellent condition.
But the best thing about this watch is its price. Once being sold for a reduced $8200 the watch has been further discounted and is now available for only $7995.
If you can't make it into the store, you can also purchase the watch directly from the BRP web site. There you can order the Milguass as well as several other luxury items the store carries and have them delivered to your door.
The Milgauss as An Investment
The Milgauss is an attractive and practical watch that is sure to endure the test of time, but it can also be useful in helping you out of a cash crunch. Here's a bit about how it works.
If you find yourself in a financial bind and own luxury jewelry, it may be tempting for you to sell your items. However, the thought of parting with these items can be distressing. After all, these are beautiful items which surely have increased in sentimental value over time.
Well, there is a way you can use your luxury items to help relieve your financial stress and, best of all, you get to keep your item. Once again, a pawn shop can help in this capacity.
It starts when you bring your luxury item into a pawn shop. The brokers there will assess your item to determine its worth. Then they will offer you a loan based on the value of the item. The loan will not be for the entire amount the item is worth but a percentage of the total.
Terms of your loan will then be worked out so that you will be making regular payments until the loan is paid off. Once all the payments are made, the item will be returned to you. If you are unable to pay off the loan, the shop will keep your item, but the unpaid amount will never to into collections or show up as an unpaid balance on your credit account.
Finding the Right Pawn Shop for Your Luxury Item
If you are in a financial bind and would like to get a loan for your luxury item, it's important to note that not all pawn shops are created equal. It is best to find one that offers low interest rates and high values so that you can get a good amount of cash up front and make low payments until it is paid off. That's why Boca Raton Pawn is a great choice.
Boca Raton Pawn will always offer you the best values and lowest interest rates. That, along with our great selection of low priced luxury items are just some of the reasons you will love coming into our shop.
BRP also takes pride in offering the very best when it comes to customer service. Our knowledgeable staff will see to it that you find the items of your dreams and walk away with a smile on your face.
And if you are coming in to sell or get a loan, we promise you will be in and out quickly and leave with cash in hand. We even offer private appointments that can be made in advance if discretion is a priority.
If you are thinking of coming in to sell, there are a few things you should take note of in order to make your transaction go as smoothly as possible.
First, we specialize in luxury jewelry, handbags and watches. These are the items we are most likely to accept for a loan and that you are most likely to find in our store.
We also prefer to deal with certain designers. These designers are listed on our web site. Please review the list in advance so that you can be sure the items you are bringing in are likely to be accepted.
Finally, all items should be in good condition and working order. Do your best to clean them up before bringing them in. It will also be helpful to bring in any original receipts or certificates of authenticity so we can be sure your item is the real deal.
The Milgauss watch is an innovative and beautifully designed luxury piece. Boca Raton Pawn can help you get the look for less or use the piece as a way to get out of your financial rut. Invest wisely so you can make your high end items work for you.