Why the Rolex Datejust Makes a Great Investment
There is something about a luxury watch that sets it apart. It is both attractive and functional and many styles are perfect for everyday wear. Watches like these become a part of your life style, growing in sentimental value every day.
Luxury watches are also a symbol of status. Many of us wait for the day when we get that promotion or close that deal to treat ourselves to such an item. Then we wear it to remind ourselves of our accomplishments.
If you are at the stage of your life when you are ready for a luxury watch, you should choose carefully to pick one that is perfect for you. For many, the Rolex Datejust may be that watch. Read on to find out more about the Datejust and why you should make it your luxury watch.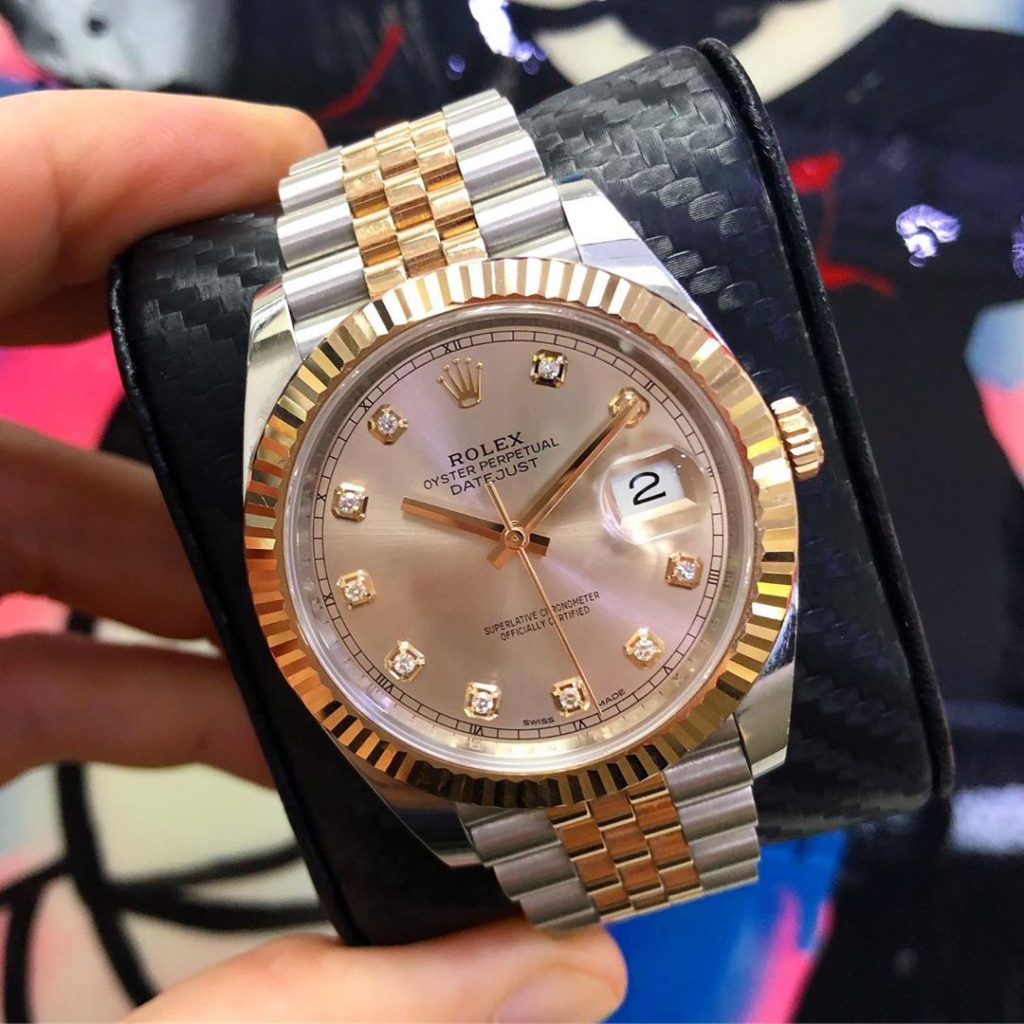 About the Rolex Company
The Rolex company was founded in London England in 1905 by Hans Wilsdorf and Alfred Davis. Originally called Wilsdorf and Davis, the company started off by importing Swiss watch movements to England and placing them in watches sold by British jewelers.
Wilsdorf and Davis quickly began expand to become watch manufacturers and designers in their own right. Several other changes would take place over the next decade as well.
Most significant was the changing of the company name. Wilsdorf preferred the name Rolex because it was easy to say in any language, had onomatopoeic value and was short enough to fit on the face of most watches.
The company also made the move to Geneva, Switzerland to escape Britain's high business taxes.
Once settled, they began making some of the most innovative watches of the time. They are known to provide watches with exceptional waterproofing, self-winding and time telling capabilities.
In 1914, they won a Class A Precision certificate from Kew Gardens, a distinction normally awarded exclusively to marine chronometers.
The Rolex Datejust
Rolex went on to design and manufacture several watches that gained them recognition. One that is truly iconic, but often doesn't get the same amount of attention as some of the other designs, is the Datejust.
The Datejust was introduced in 1945 to commemorate Rolex's 40th anniversary. It was the first self-winding watch that had a date window that would automatically update every night at midnight.
The first Datejust to hit the markets was the reference 4467. It was only available in 18k yellow gold. However, in the 50's models like the 5030 and 5031 would feature different metals like stainless steel and Rolesor, which is a two-tone mix of stainless steel and gold.
Another new feature of this second line of Datejusts was that the name 'Datejust' was printed on the dial.
The Datejust would be the first watch to feature the 'Jubile' or Jubilee bracelet. It is a five-piece, metal link bracelet that is a popular option for Datejust watches to this day.
Other updates would be made to the Datejust as the 50's went on. The reference 160x series was released which featured updated 1560 Calber movement. There were also changes made to the hands, bezel and hour markers. The crystal would come with a cyclops magnification lens.
The Datejust would not undergo any other major changes until the late 1970s when the reference 160xx series was introduced featuring Caliber 3035 movement. Also introduced was the 'quickset' date feature that allowed users to adjust the date without adjusting the time hands.
Other updates were made to the dial. Originally featuring a sloped 'pie pan'style, these newer watches had dials with a completely flat surface.
Most iconic of this line was the 16013 which was a classic Rolesor version fitted with Rolex's iconic fluted bezel.
The late 80's would see a new generation of Datejusts as the reference 162xx series was unveiled. These offer Calber 3135 movement. Along with this new movement came improvements in timekeeping, readability and day to day convenience.
But perhaps the most significant update would be made to the watch's crystal. Rather than being constructed of acrylic, these were now made of a scratch resistant synthetic sapphire, a more reliable material that is still used in several Rolex models today.
The Datejust II and the Datejust 41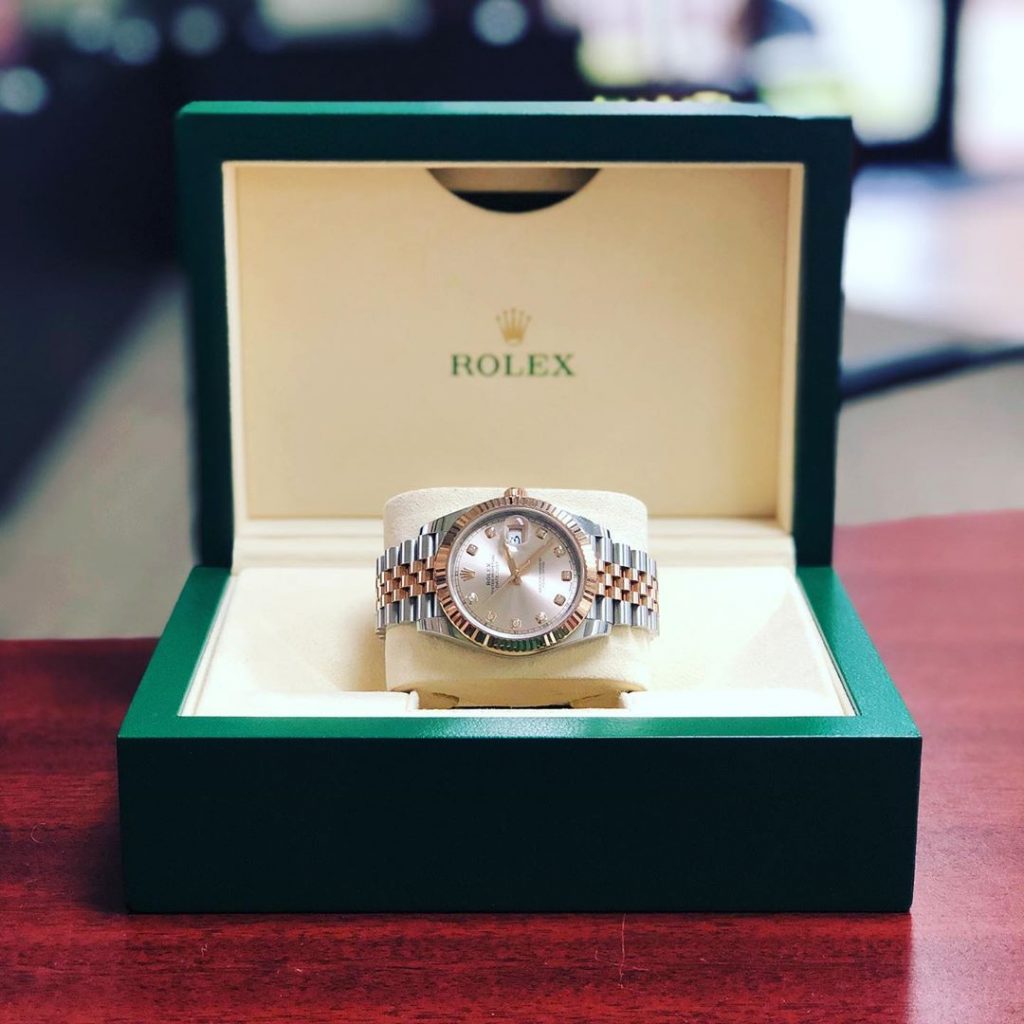 No significant changes would be made to the Datejust again until 2009 when the 163xx generation was launched. Along with the traditional 36mm case, a bigger case was now introduced. The case measured 41mm in diameter and was called Datejust II.
The Datejust II would feature Calber 3136 movement providing more efficient movement for its larger case. It was also the first Datejust to come exclusively with an Oyster bracelet. This three-link signature Rolex bracelet would be the only choice available for those purchasing the new model. (With previous Datejusts, wearers had a choice between the Oyster and the Jubilee).
The Datejust II was created to satisfy the public demand for a bigger, sportier watch. However, it didn't catch on right away and was discontinued after a few short years due to slow sales.
However, not one to give up, the Rolex brand worked on making improvements to the watch and re-released it in 2016 under the more identifiable name of Datejust 41.
This newer watch would feature a new reference number, new movement and minor aesthetic revisions. It has a thinner bezel and smaller indexes as compared to the Datejust II.
The Datejust is still available today and comes in a wide variety of metal combinations. The Datejust collection as a whole has more dial, bracelet and bezel options than any other line of Rolexes guaranteeing there will be a style to suit just about anyone.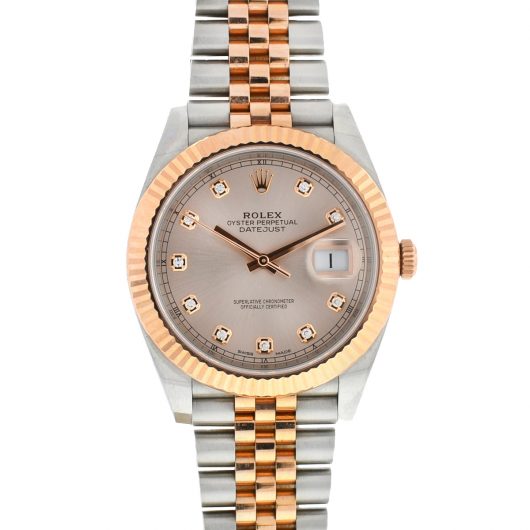 Getting the Datejust II Look for Less
If you have just gotten that promotion, or closed that big deal, you might be looking to get your first Rolex to celebrate. Modern yet elegant, the Datejust II is a perfect choice. However, with prices ranging close to $20,000, many would agree that even with that big raise, a Datejust is quite an investment.
But there are ways of getting the look for less.
Buying used is a great way to save money on luxury items, but it can be problematic as you can never be sure of the condition the piece is in or its authenticity. That's why buying from a pawn shop may be your best choice.
Pawn shops have gotten a bad rap in the past, but the truth is, many of them are government regulated businesses that are run by trusted members of their communities.
When it comes to the items pawn shops accept, the brokers go to great lengths to make sure each is piece is authentic and in the best condition possible.
One pawn shop that is well known for carrying items that are fairly priced, authentic and in excellent condition is Boca Raton Pawn; and it just so happens that they have a Datejust II in stock now.
The Datejust BRP is carrying is a Reference 126331 Jubilee Datejust II. It is a Rolesor watch with case metals and a bracelet that are a mix of 18k rose gold and stainless steel. It has a pink diamond dial and an 18K rose gold bezel. The crystal is a scratch resistant sapphire and the movement is automatic. There are diamonds on the hour markers and the watch is in excellent condition as pictured.
But the best thing about this Datejust is the price. Marked at an already low $15,000, Boca Raton Pawn has further discounted it to $13,900. Get it while it lasts! And note, if you do not live in the Boca Raton area, you can also order directly through the BRP web site.
Other Reasons Pawn Shops and Luxury Items Go Together
We've established that pawn shops are great places to buy luxury items second hand, but did you know that are also great places to get cash for your luxury items?
Most of you already know that a pawn shop will buy luxury items from you, but do you know that they also offer loans that can help you get out of a cash crunch? And you can still get to keep your item?? Here's how it works.
Say you're in a cash crunch. If you have luxury items in your home, it may be tempting to sell those items to get rid of some of the financial stress.
But these are lovely items that have grown in sentimental value over time, so it's understandable that it can be difficult to part with them.
A great alternative is to get a loan at a pawn shop.
Start the process by bringing your item to your local pawn shop. They will take a look at the item to assess its worth. Then they will offer you a loan. The loan will not be for the full value of the item but a percentage of its total value.
If you agree to the loan amount they are offering, they will set up the terms of your loan. Terms may vary but basically, you will be making regular payments, including fees and interest, until your loan is paid off. Once you have completed the payments, your item will be returned to you.
If you are unable to make the payments, the pawn shop will keep your item, but the unpaid amount will never go into collections or show up as an unfavorable mark on your credit.
Finding the Best Pawn Shop for Your Loan
If you are looking for a pawn shop to give you a loan on your luxury item, be warned that not all pawn shops are created equal. Certain pawn shops will offer higher values and lower interest rates than others. That means you can leave with larger amounts of cash and make lower payments on your loan.
If you are looking for a pawn shop in the South Florida area that gives you great values and low interest rates, once again, it's Boca Raton Pawn to the rescue. That's right, not only do we give you great deals on luxury items, we also give your great rates on your loan that are sure to make your financial troubles a thing of the past.
And beyond great deals on loan and luxury items, there are so many other reasons you will love BRP. Here are just a few.
Great Service: Our knowledgeable staff has what it takes to help you find the items you are looking for. With years of experience in the luxury industry, they can help you make your dreams come true.
Fast Loan Process: When you come to Boca Raton Pawn, you won't have to wait around for hours while we assess your item and work out the terms of your loan. We work quickly so that you can get in and out with cash in hand.
Private Appointments: We understand that privacy can be an issue for many of our clients. Our private appointments offer you the utmost in discretion. Just call ahead to schedule.
There are a few things you should take note of before coming into our store to make a loan. First, we deal primarily in luxury handbags, watches and jewelry. These are the items we are most likely to accept and the ones you are most likely to find in our store.
You should also be aware that there are certain designers we prefer to deal in. These designers are listed on our web site. Please take note so you can feel more confident that the items you are bringing in will be accepted by our shop.
For many people, a luxury item like the Datejust II, can make their dreams come true. Let Boca Raton Pawn help you get a little closer to your dreams with affordable prices on high end goods and loans that can relieve your financial stress. We look forward to doing business with you in the near future!