Are Richard Mille Watches Worth the Money?
A luxury watch is an impressive status symbol. Many have unique designs that make them exquisitely beautiful, and they are functional in a variety of ways. In addition to using them to tell the time and date, they may have other features that make them useful for sports and outdoor activities.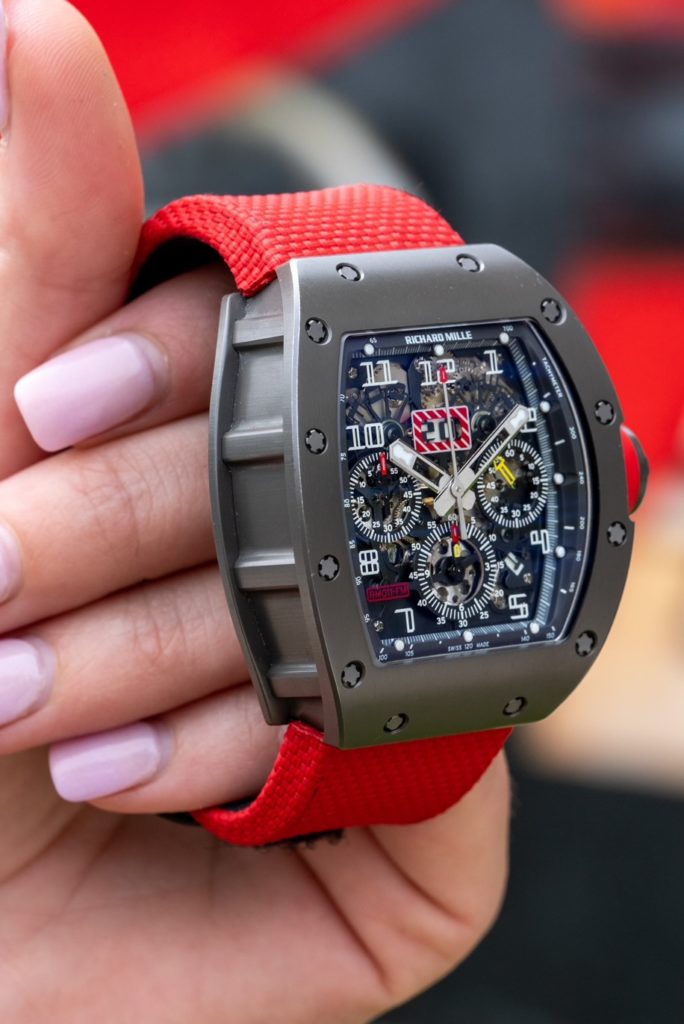 But one downside of luxury watches is, they are quite expensive. Good luxury watches can cost thousands of dollars making them completely unaffordable for some.
Richard Mille watches are one type of watch that's known for its high price tag. Some people may wonder, are Richard Mille watches worth the money? This article will break it down for you so you can determine whether you should be making an investment.
Richard Mille History
Richard Mille is a relatively new name in the luxury watch space. The first Richard Mille watch, the RM 001 Tourbillon, was introduced in 2001 as part of an initial series of 17 watches.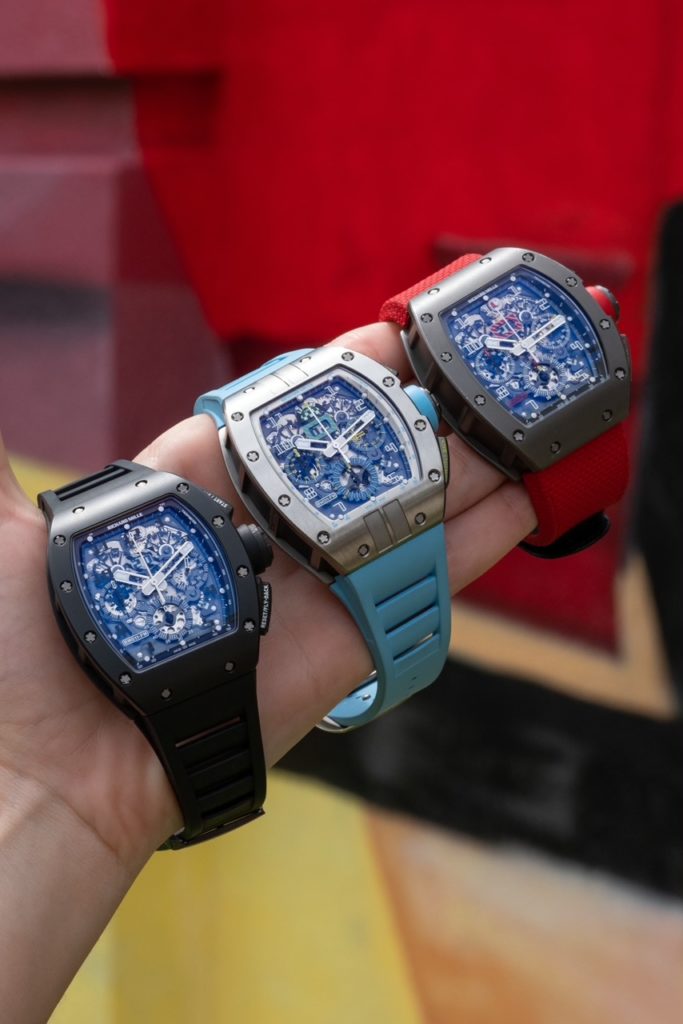 This was followed by the RM 002 model, an enhanced version of its predecessor. It came with innovative features such as a movement baseplate in titanium and a function indicator with neutral, winding and hand setting positions.
Mille's decision to open his own company was born of inspiration that had been brewing for some time. He has had years of experience guiding upscale watch and jewelry brands working from the ground up to see high profile projects to fruition. His passion for racing cars also came into play in the design and ergonomics of the pieces he produced.
When Mille decided to take the first step in launching his company, his aim was to create the watch of his dreams with little regard as to how expensive it would be. He wanted to push watch making beyond the boundaries that currently exist by taking a contemporary approach.
The watch he came out with had several innovative features including an ergonomic tonneau case design complemented by distinctive torque screws. All this came at an extraordinary six-digit price tag.
Mille did not embark on this adventure on his own. He had the help of partner Dominique Guenat, owner of Guenat NA Montres Valgine. The two met while Mille was Head of Watchmaking and CEO of Jewelry at Mauboussin. Their relationship was fueled by a love of luxury, automobiles, aeronautics and mechanics.
Despite Mille's high price tags, the company thrived. Customers were impressed by his dedication to luxury and integrity. Twenty years later, the company has more than 80 watches on the market, each of which features the uncompromising detail and quality the Mille brand is known for.
What Do Richard Mille Watches Look Like?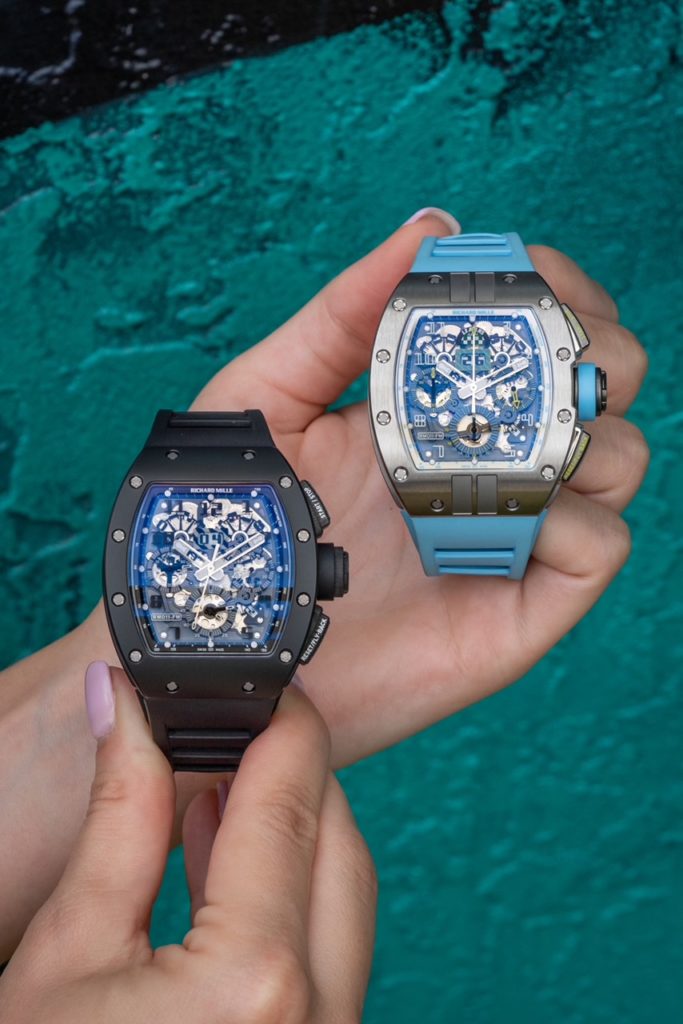 There is no one answer to this question.
Richard Mille watches vary greatly in terms of face shape and details, bands used, colors incorporated and other elements. The only overriding common features may be the torque screws and other design elements that appear around the face of the watch. These do not always appear as screws but come in a variety of shapes and sizes.
Let's take a look at some Richard Milles to provide a better idea of the brand aesthetic.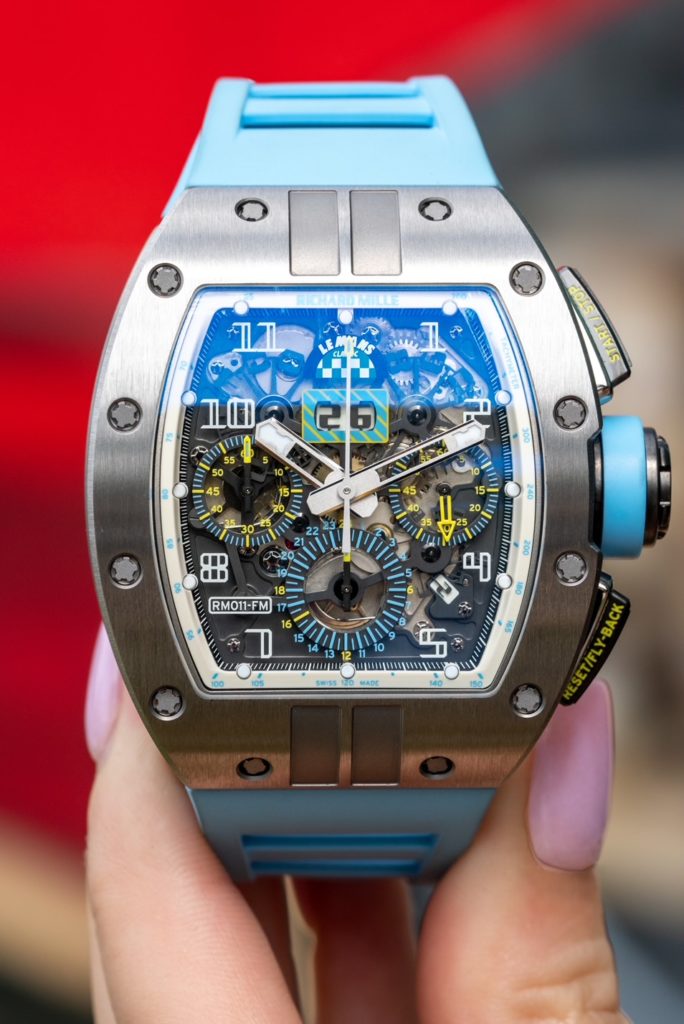 RM 60-01
This is an automatic winding flyback chronograph with a distinctly sporty look. It was inspired by the Les Voiles De St. Barth boat race.
The watch has a chunky, busy face with various dials in a skeletal setting. The exterior of the face shows a compass marked by bright red N, S, E and W. Other turquoise elements stand out against the black background. The band has a rubbery look.
Features of the watch include:
Automatic winding movement with hours minutes and seconds running at three o' clock.
An oversized calendar that shows the date, month and year
A flyback chronograph with a central seconds' counter and a 60 minute countdown timer at 9 o'clock
A 24-hour totalizer at 6 o'clock
UTC function
A variable geometry rotor
Movement diameter: 39.15 mm
Thickness: 9 mm
Number of jewels: 62
The watch was released in a limited edition of 80 pieces.
RM 40-01
This watch is described as an automatic winding tourbillon inspired by the McLaren Speedtail race car.
Like the racecar, the watch has a sleek, innovative design. Its face has a rectangle-like shape that narrows at the bottom inspired by the car's teardrop tail. The face has a skeletal look. The basic black is complemented by chrome details and small red and blue racing stripes on the face of the watch.
The watch boasts the following features:
Automatic winding tourbillon movement with hours and minutes
A variable geometry rotor
Oversized date
Power reserve indicator
Function selector
Movement dimensions: 30.48 x 35.5mm
Thickness: 6.81 mm
Number of jewels: 37
A limited edition of 106 pieces are available.
RM 71-02
Mille also makes a woman's collection, and the RM 71-02 is one of the most luxurious. It is an automatic winding tourbillon talisman.
The face of the watch is basically rectangular, but it widens at the center. It is decked out with colored stones that sit in the face of the watch and outside its exterior. It comes in a variety of colors and designs each of which includes a skeletal face, and a retro, cultural look. Some bands feature each side in a different color.
The watch includes the following features:
Hours, minutes and variable geometry rotor
Power reserve circa 50 hours
Movement dimensions: 30.70 x 23.70 mm
Thickness: 6.20 mm
Number of jewels: 23
The watch is available in ten variations with just seven watches made in each design.
Why are Richard Mille Watches So Expensive?
There are several reasons why Richard Mille watches come at such a high price point. Here are some to consider.
Materials: In an attempt to emulate the designs of racecars and aerospace equipment, Mille incorporates technological materials that are durable, practical, exquisite and expensive.
Time Investment: Richard Mille watches take a considerable amount of time to create. Each takes months of research before the manufacturing process begins. Each material is investigated carefully before it is added to the watch.
Manufacturing is also a tedious process. Even a tiny screw may require twenty operations to make it functional within a model. The company has been known to put more than 1,000 hours of machining in to make one block of sapphire.
Latest Technological Breakthroughs: Every model Mille produces features some sort of innovative technological breakthrough. It may come into play in how the gear teeth move, in the flexibility of the movements or the refined shock resistance.
Visual Identity: Each Richard Mille watch has a visual identity that sets it apart and makes it instantly recognizable as a Mille original. Additionally, their shapes are created to provide optimal comfort.
Limited Edition: Richard Mille watches are made in limited edition runs that greatly add to their value.
How to Get a Richard Mille for Less
Richard Mille's high price tags may make them unaffordable, but there are ways you can add these luxury pieces to your wardrobe without shelling out quite so much dough, and that's buying used.
If you buy used, you can end up with a luxury piece that's in terrific condition at just a fraction of the price, but it's important that you buy from a dealer you can trust. If you buy from just anyone, you may end up with a piece that does not work properly. And when you try and get a repair or refund, you may find that the dealer is suddenly impossible to reach.
Boca Raton Pawn is a reputable dealer of luxury used goods. We have been serving the community for years and we promise that you will get an item you can count on. If you have any issues…you know where to find us.
Boca Raton Pawn Can Also Get You Out of a Financial Rut
BRP offers great deals on luxury items, but we also provide our customers with ways to deal with short term financial issues. Our collateral loans can take some of the stress off your shoulders. Here's how the process works.
Say you have a luxury item in your home. You know that selling it will get you out of your financial rut, but you are reluctant to do so because it's so beautiful and it's grown to have sentimental value.
Well, here's an alternative. Why not loan it to Boca Raton Pawn?
All you need to do is come into our shop with the item. We will appraise it and make an offer. The offer will not be for the entire value of the item but for a percentage of its worth.
If you agree to the terms, you will leave with cash in hand.
We will hold on to your item for a set number of months while you make payments that include the amount of the loan, fees and interest. Once you pay the loan off, we will return the item to you.
If you are unable to pay off the loan, we will keep the item but your failure to pay will never show up as a blemish on your credit report.
What You Should Know Before You Come in for a Loan
There are a few things you should know before coming into BRP for a loan. These are as follows:
Only Certain Items are Accepted: BRP specializes in luxury watches, bags and jewelry. As such, these are also the items we are most likely to accept for a loan.
Only Certain Brands are Accepted: We prefer to carry select luxury brands. These are listed on our web site. If your item is not made by one of our preferred designers, it may not be accepted for a loan.
Condition Counts: You will get more for an item that's in good condition. Before coming in, make sure your item is clean and perform any repairs necessary to get a higher valuation.
Authenticity Counts: Customers will be more likely to purchase an item that they know is authentic. If you have a certificate of authenticity that you can bring in with your item, it will help you get a higher loan. Receipts and original boxes may be helpful as well.
Your Privacy is Our Priority: We realize a lot of clients are concerned about their privacy when dealing with financial matters. We make customer privacy a priority and we can even schedule private appointments in advance.
Other Reasons to Love Boca Raton Pawn
People love Boca Raton Pawn for our terrific prices on our extensive collection on luxury items as well as our low interest, high value deals. Here are some other reasons people prefer us over other dealers.
Great Customer Service: We have a staff of dealers that are highly experienced in the luxury field. When you come in, you will be treated like a star.
Terrific Selection: We have a terrific selection of goods. Our staff will show you to items that interest you most and you will be offered pricing that fits your budget.
The Shop Online Option: If you are not located in the Boca Raton area, you can get great deals on our web site. We ship all over the country.
Are Richard Mille Watches Worth the Money?
So to go back to our original question, are Richard Mille watches worth the money, there really is no wrong or right answer.
Their rarity and high-quality manufacturing and materials are part of what justifies the astronomical price point. However, for most people it will come down to individual finances and whether it's worth it for them to part with a good amount of money to have one of these babies sporting their wrist.
In any case, the watches certainly are lovely and unique making them enviable pieces for most people to own. And with the option of buying used through dealers like Boca Raton Pawn, you may just get them down to a price point you find affordable. Would you take the plunge in adding one of these beauties to your jewelry box?