How Your Patek Phillippe Watch Can Help You Fight Gas Prices and Inflation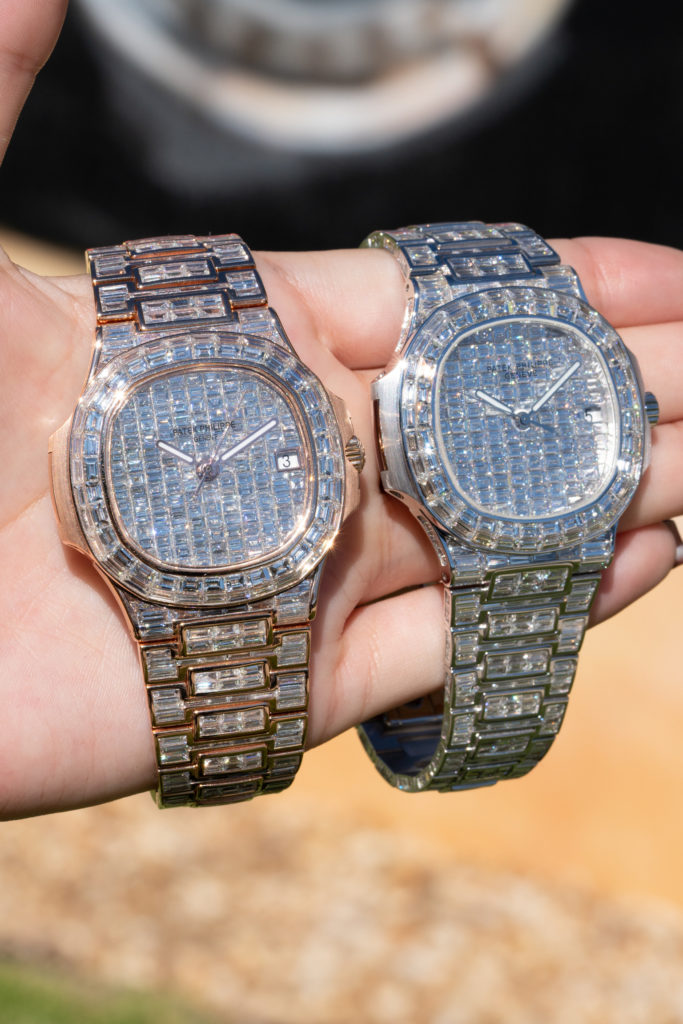 Gas prices! Inflation! It can all get to be too much. But if you have valuables at home, such as a Patek Phillipe watch, you may have the key to getting out of your financial rut.
Now, I know what you're thinking. You probably don't want to sell your expensive watch. After all, it's a lovely piece that is likely to have gained sentimental value over time.
Well fortunately, there are ways to get money for your watch without having to sell it. It's a little something called a pawn shop loan. Read on to find out how it can get you out of the red and into the green.

What is Patek Phillipe?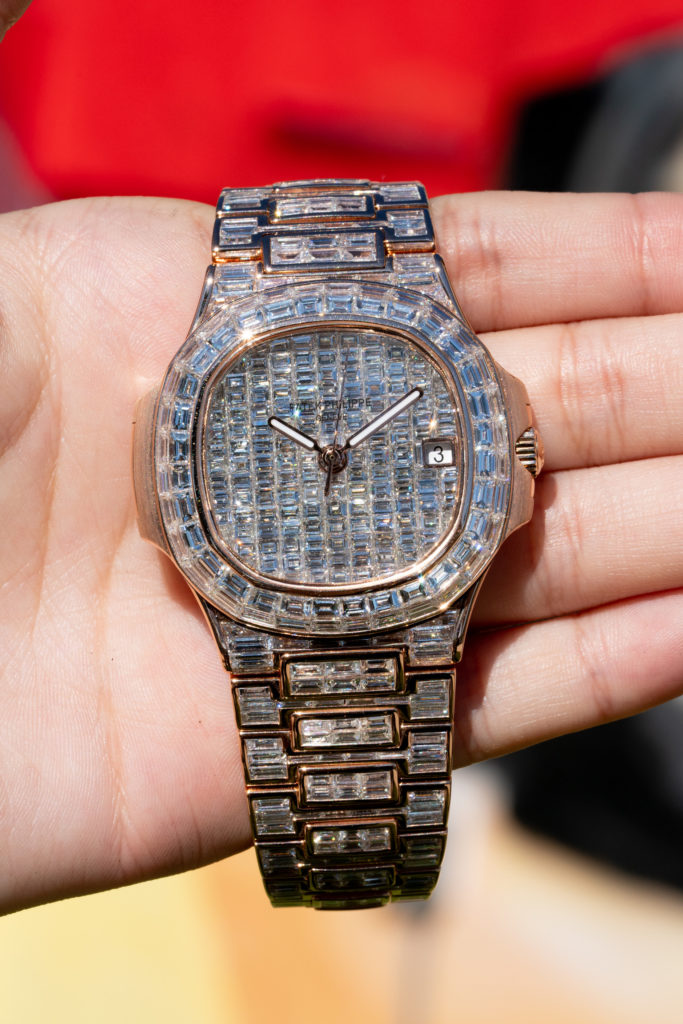 Patek Phillipe is a Swiss luxury watch and clock manufacturer established in 1839 in Canton of Geneva and the Valle de Joux. It is named for its founders, Antoni Patek and Adrien Phillipe. It is one of the oldest watchmaking companies in the world offering uninterrupted service since it was founded.
The company, now owned by the Stern family of Switzerland that took over in 1932, is known for making some of the most complicated timepieces. They currently have 400 retail locations around the world as well as distribution centers in Asia, Europe, North America, and Oceana.
Patek Phillipe is considered to be among the most prestigious watch manufacturers in the world. The company's pieces have been worn by Queen Victoria, Queen Elizabeth II, Princess Diana, Marie Curie, Albert Einstein, Pope Pius IX, John F. Kennedy, Nelson Mandela, Pablo Picasso, Leo Tolstoy, and Pyotr Tchaikovsky. There is even a Patek Phillipe Museum that opened in Geneva in 2001.
As of December 2020, Patek Phillipe held the spots for eight of the ten most expensive watches sold in an auction. The top spot is claimed by the Patek Phillipe Grandmaster Chime Ref. 6300A-010 which sold at auction for $31.13 million USD. The Patek Phillipe Henry Graves Supercomplication held the title as the world's most complicated mechanical watch until 1989 and is still the most expensive pocket watch sold at auction going for a whopping $24 million USD.

Innovative Watch Manufacturing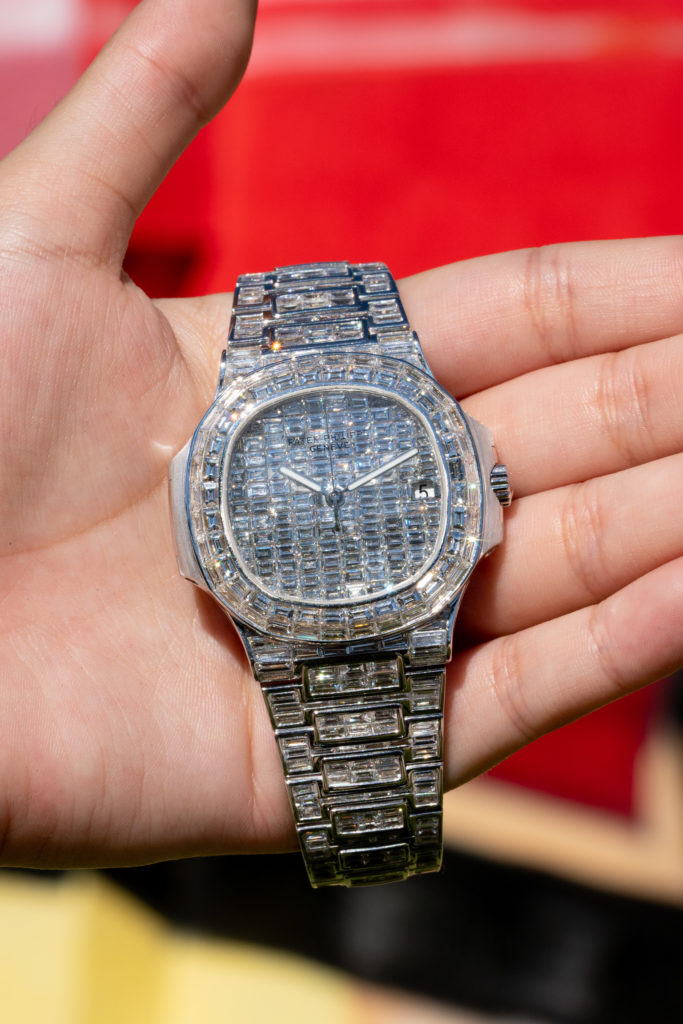 Patek Phillipe manufactures its own watch components and has come out with some innovative developments in its time. The company produces mostly mechanical movements with automatic or manual winding mechanisms but has also produces some quartz watches. They were one of the twenty Swiss watch companies to co-find the Centre Electronique Horloger which developed Swiss quartz watches and was responsible for the Beta 21 movement which was used by several watch manufacturers.
The company also popularized mechanical watch complications like the split seconds hand, the perpetual calendar, the chronograph, and the minute repeater. In 2009, the PP announced that all its mechanical timepieces would be imprinted with the Patek Phillipe seal which symbolizes a -3/+2 second per day precision for diameters of 20mm and more and -5/+4 seconds per day for diameters under 20mm. This would surpass the highest watch manufacturing industry standard and do away with the Geneva Seal.

What are the Most Expensive Patek Phillipe Watches Sold at Auction?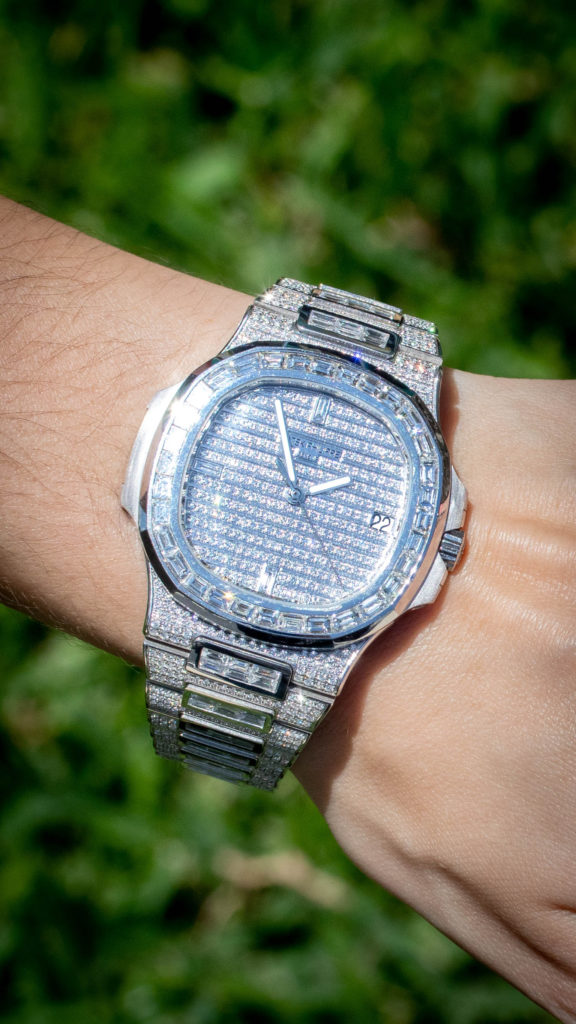 The most expensive Patek Phillipe watches sold at auction are as follows:
Patek Phillipe Star Calibre 2000 Ref 990/1: This watch was sold at a Christie's in Hong Kong for $3.28 million USD in Nov. 2012. It was named as the most expensive wristwatch ever to be auctioned in Asia. The 2008 watch features 21 complications including minute repeating, lunar orbit, and Westminster Chimes.
Henry Graves Supercomplication: The Supercomplication sold at Sotheby's Geneva auction for $23.98 million in November 2014. It was the most expensive watch ever sold at auction at the time and it held the title until Nov. of 2019. The watch was made in 1933 for the well-known banker Henry Graves Jr. It featured a whopping 24 complications and was the result of the banker's friendly competition with James Ward Packard. After Graves' death, the watch was held by his daughter and then passed down to his grandson before being transferred to the Time Museum in Rockford, Ill. It was eventually auctioned to Skekh Saud Bin Mohammed Bin Ali Al-Thani of the Qatari royal family.
A steel version of the Patek Philippe Ref. 1518 won the title as the most expensive watch ever sold at auction when it went for $11.14 million at Phillip's Geneva auction house in November of 2016. Unfortunately, the title was short lived as another watch was auctioned at a higher price in October 2017, less than a year later. However, it held other distinctions such as being the first time a steel case 1518 sold at auction. It was the first of four of its kind to be manufactured and features a chronograph and perpetual calendar.
Patek Phillipe quickly regained the honor of having the most expensive watch sold at auction in Nov of 2019. The Grandmaster Chime Ref. 6300A-010 sold for $31 million USD at Christie's Geneva auction.
The company also manufactured the most expensive wristwatch auctioned online. The Patek Phillippe Nautilus ref. 5711 with Tiffany blue dial world sold for $6.5 million in a Phillips New York auction.

Other Notable Patek Phillippe Watches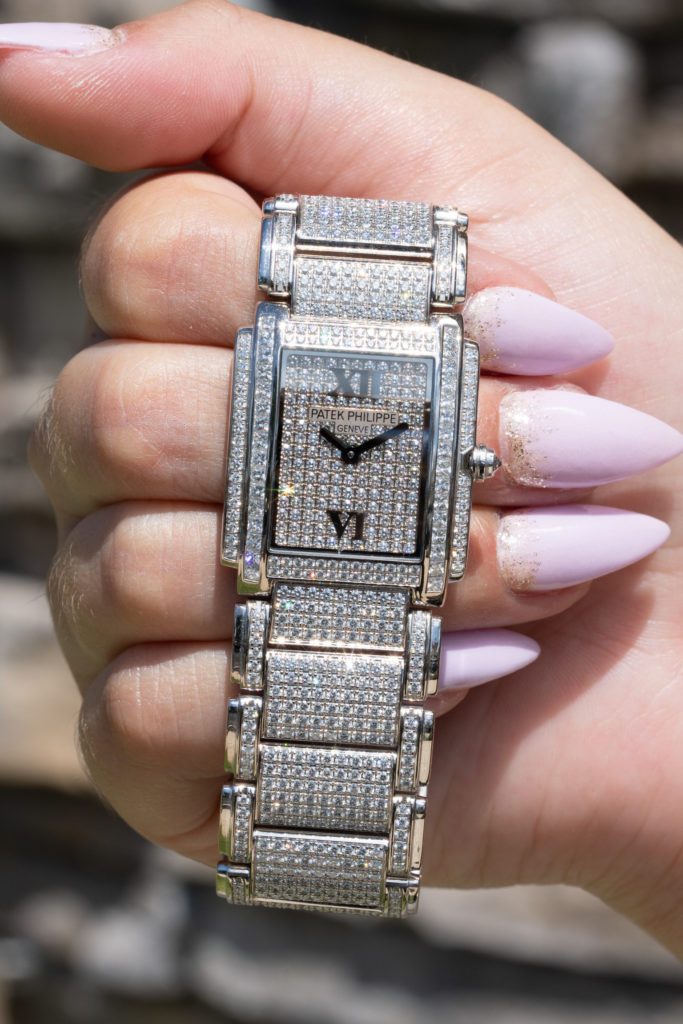 Here are some other notable PP watches to look out for.
Calatrava Wristwatch: The Calatrava wristwatch came out in 1932. It was designed by David Penney, an English horologist who was inspired by the Bauhaus movement. It has a simple, elegant design and has been a flagship model for the brand since it was introduced. The first model was the Ref. 96, but the Ref. 2526, 3520 and 5196 are some other notable designs released throughout the years.
World Time Wristwatch: Also known as Heures Universelles, the World Time Wristwatch came out in 1939. It was invented by Swiss watchmaker Louis Cottier. It can show the time for all 24 time zones. As of 2018, it held 6 spots in the world's 58 most expensive watches sold at auction.
Nautilus Wristwatch: The Nautilus was the first PP sports watch. It was designed by Swiss watchmaker Gerald Genta and came out in 1976. It worked to update the brand image and became one of the designer's more popular watches.
Perpetual Calendar Chronograph: The Perpetual Calendar Chronograph was introduced in 1941. It is considered to be one of the greatest watch models in the world. As of 2019, it held 11 of the 59 spots for most expensive watches sold at auction.
Sky Moon Tourbillon: The Sky Moon Tourbillon came out in 2001. It has two dials and 12 complications including a minute repeater, sky chart, moon phase and orbit and tourbillon. It was the most complicated PP watch until 2014 with only 3-5 pieces released a year. The updated model took 7 years of research and development and engraving each piece takes 100 hours. Consumers wishing to purchase a Sky Moon must complete an application to be approved by PP President Thierry Stern before moving forward.
150th Anniversary Edition: The company released the Calibre 89 in 1989 in honor of its 150th anniversary. It features 33 complications including the time of sunrise, the sidereal time, the date of Easter, a star chart and the ability to account for leap years. Only four pieces were made, one in white gold, one in yellow gold, one in rose gold and one in platinum. The yellow and white gold were sold at auction and for over $5 million each.
175th Anniversary Edition: The Grandmaster Chime was released in 2014 in honor of the company's 175th anniversary. It was the manufacturer's most complicated watch ever built featuring 20 complications and no tourbillon. Only seven pieces were created with one permanently sitting at the Patek Phillipe Museum in Geneva. The other six can be purchased for over $2 million with an approved application from Thierry Stern.

How to Make Money with Your Patek Phillippe Watch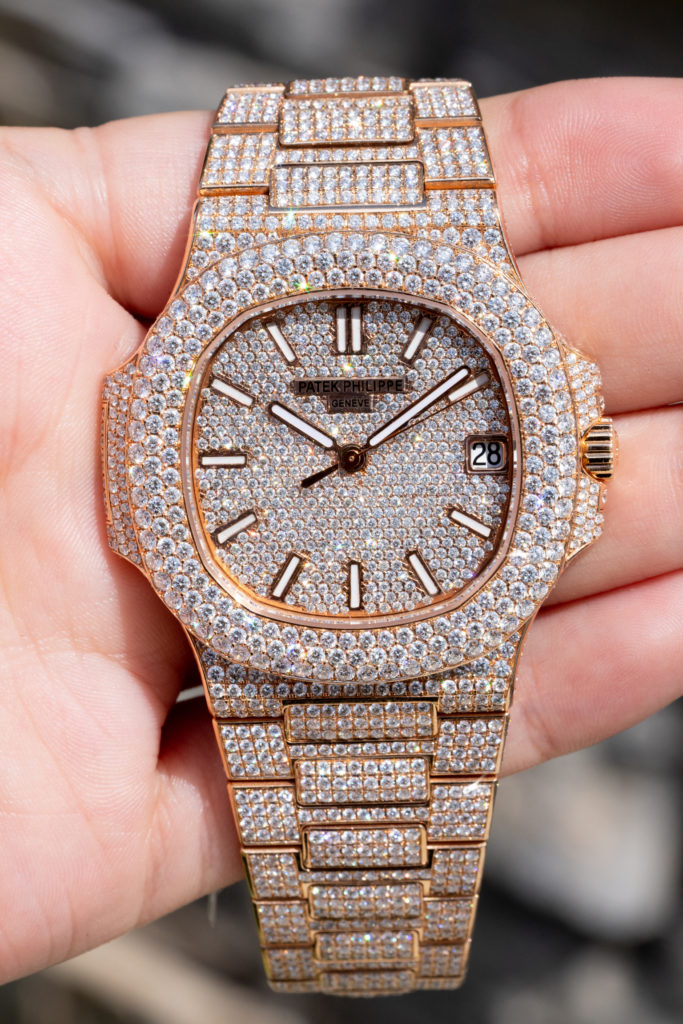 With times being tough, you may be tempted to sell your PP watch outright. But this is not the best option for most people. After all, the watch is a beautiful piece that's likely to have grown sentimental value.
But did you know there is another way to generate cash with your PP watch? You can loan it to a pawn shop. Here's what you need to do.
Bring in your Watch: The first step is easy. Just bring your watch into a pawn shop near you.
Have it Appraised: The sales person will appraise your watch to determine its value.
Accept the Offer: They will then make you an offer for the percentage of the watch's value. If you are happy with the offer, accept. The salesperson will explain the terms of the loan.
Walk Out with Cash in Hand: Leave the store with cash in hand.
Pay Off the Loan and Get Your Item Back: You must pay off the loan with fees and interest in accordance with the relevant terms. Once the loan is paid off, the item will be returned to you. If you are unable to pay off the loan, the pawn shop will keep the item, but the unpaid amount will never go into collections or work against your credit score.

Why is a Pawn Shop Loan Better Than a Bank Loan?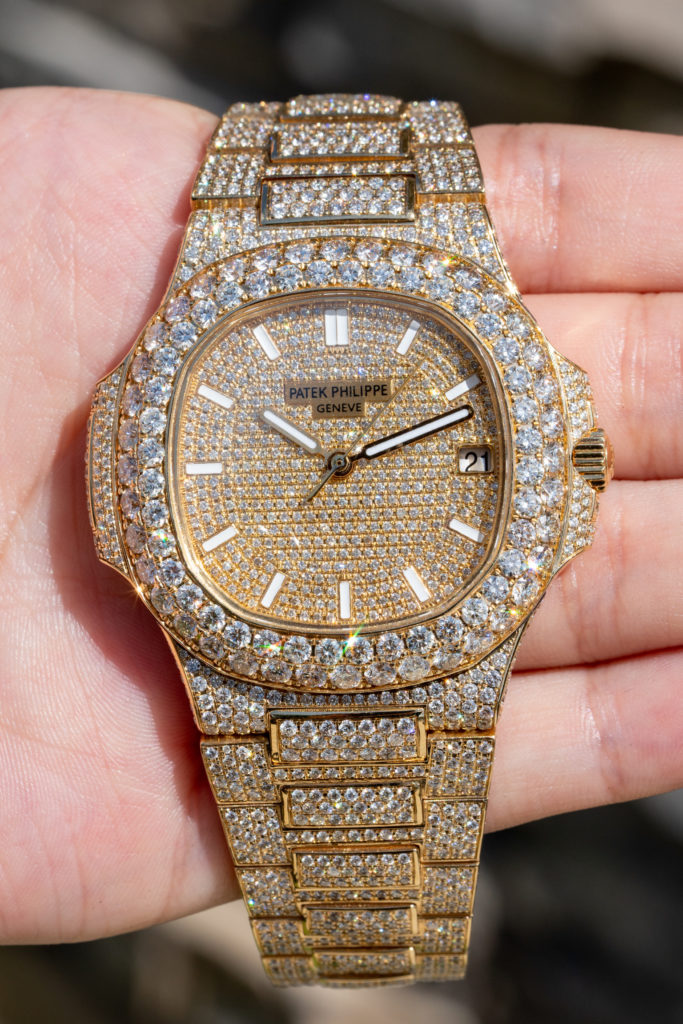 With gas prices and inflation on the rise, you may be tempted to go to a bank for a loan. Here's why a pawn shop loan is better.
Fewer Qualifications: To qualify for a bank loan, you must show a good credit score and steady income. To get a pawn shop loan, all you need is a valuable item to loan.
No Wait Time: After you apply for a bank loan, you could be waiting weeks or even months to get funded. With a pawn shop loan, you leave with cash in hand.
No Collections, Reduced Credit Score: If you don't repay a bank loan, it will go into collections and reduce your credit score. If you don't repay a pawn shop loan, it will never lower your credit score or cause collectors to call your home for the money.

Why Boca Raton Pawn is the Best Choice for Your PP Watch Loan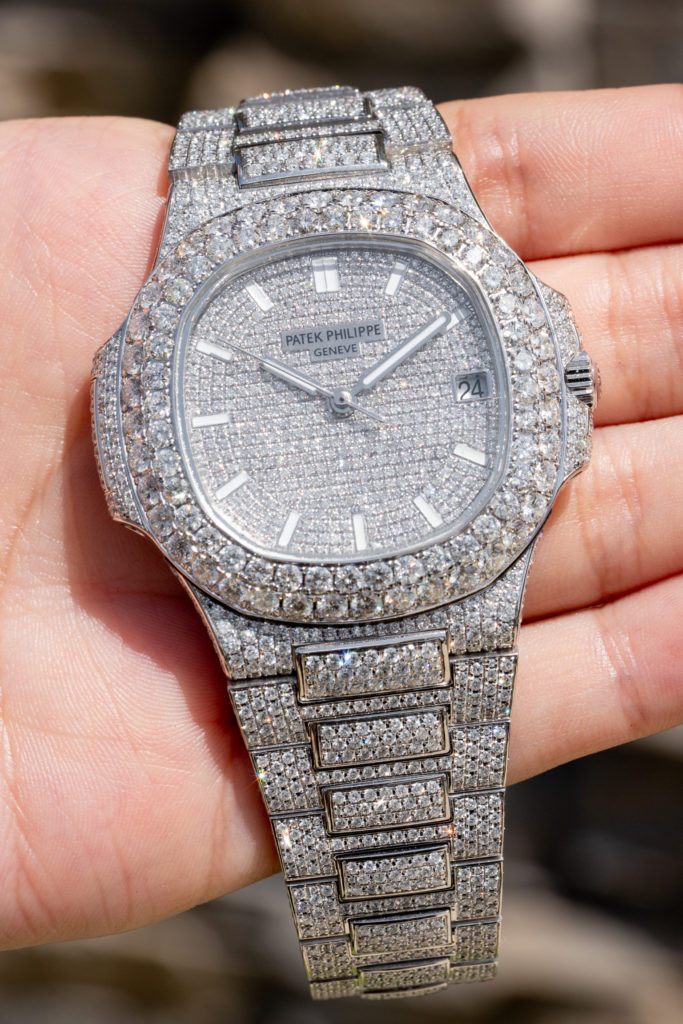 If you are looking for a pawn shop in the South Florida area that offers loans for PP watches and other high-end items, Boca Raton Pawn is the place to go. Here's what we have to offer.
High Valuations: We offer customers high valuations for the items they are loaning. We will give you top dollar for your goods.
Low APRs: Most pawn shop loans offer high fees and APRs. Our APRs are never more than 24%.
Long Term Loans: Another thing you will find with pawn shop loans is, they tend to be long term. BRP allows you to pay off loans in as little as a day or as long as 10 years, so you have a good amount of time to get rid of your balance.
No Additional Fees: With BRP, you will never have to pay additional fees. We do not charge fees for early repayment or anything else that comes up down the line.

Other Things to Know About Boca Raton Pawn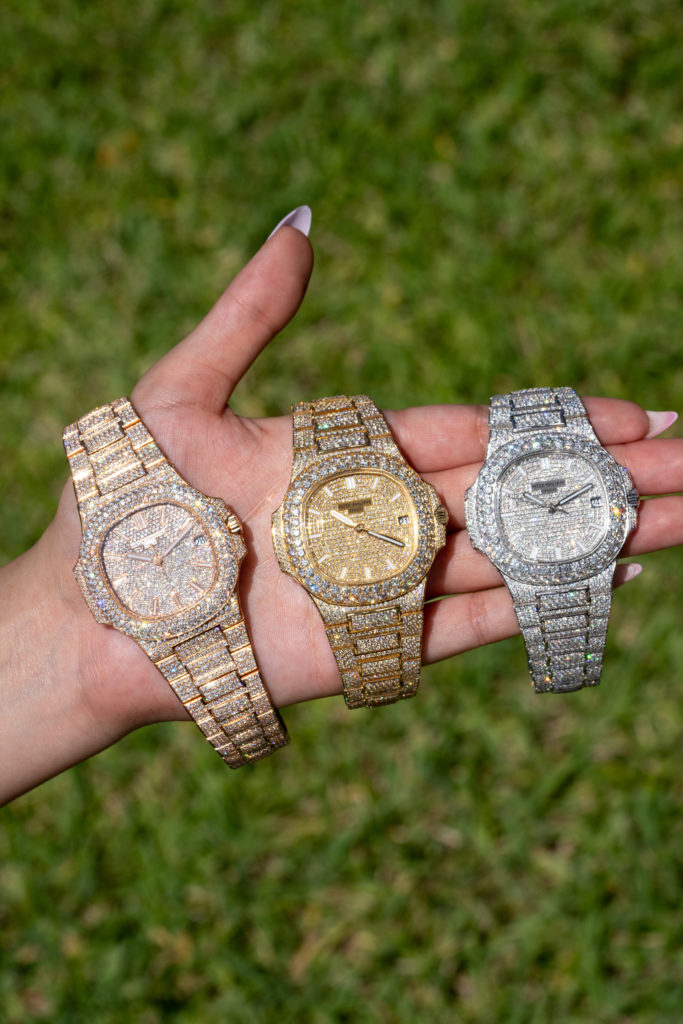 BRP specializes in luxury items including high end handbags, watches, and jewelry. We have a knowledgeable staff that knows how much your item is worth and will provide you a top dollar evaluation. We specialize in certain designers; please write in advance to find out if your piece is likely to be accepted.
In addition to offering terrific loans, we also sell luxury goods at discount prices. Shop our selection to get the items of your dreams for less. If you can't make it into our store, you can also make purchases on our website.
Times are tough all over. BRP provides a solution to your financial woes by offering top dollar loans for your PP watches and other valuable items. Contact us to find out how we can get your cash crunch so you can move forward to stress-free living.